I've tested, reviewed, and shared a lot of makeup items over my blogging years (not to mention the ones I used before I started blogging). There are plenty of products I try and either pass on to my family or just don't use them again. However, there are a few products that have stood the test of time. A few old beauty favorites I still use to this day.
I typically try not to share the same products over and over again…that's why I do empties posts- that way you know what I actually use until its gone. Anyway, I started using some old favorites again, even rebuying some, and I thought it would be a fun post to share with my readers. Some of these are products I haven't used in a while and have begun using again. There will be products that you will find that will become a ride or die products. Today's post, I'm showing you a few of the old beauty favorites that I still use to this day.
5 old beauty favorites I still use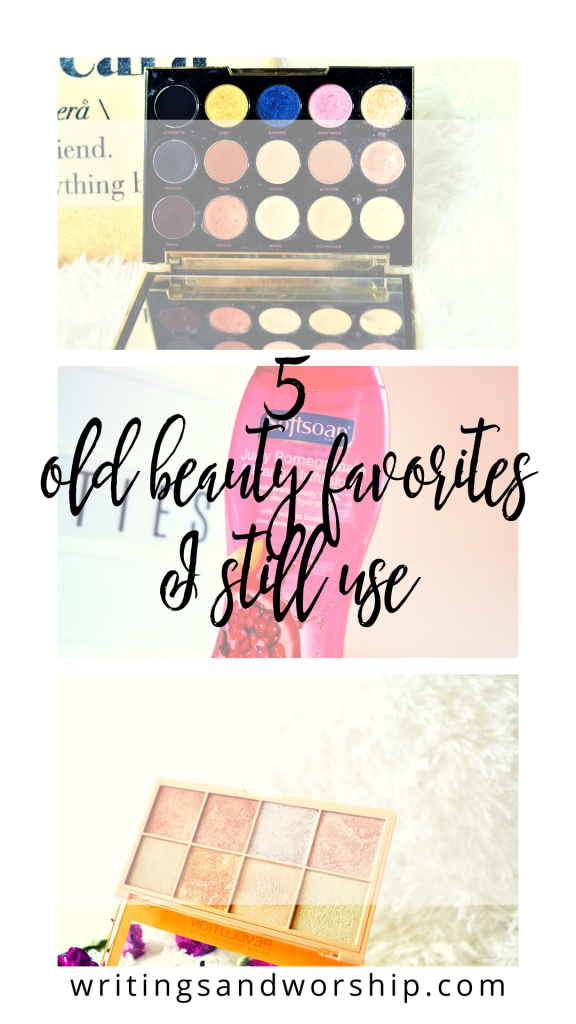 This was one of the first real highlighters I really used in my makeup routine. Soph is a UK beauty Youtuber that collaborated with Makeup Revolution and this highlighter palette was one of the products from that collab. First off, this is a great palette for many skin tones. Because of the various shades, it really works for many skin tones other than just deep or just fair. The deeper shades, I can use as eyeshadows and the other ones are perfect for my skin tone. I love the shade variation too. There is a golden one, a champagne one, one that has more pink in it, and even a lavender tinted one! This is very versatile and it is still one of my favorite highlighters that I use all the time. This palette was originally from my February Favorites 2018.
Rimmel Stay Matte Pressed Powder
Let's go way back…this powder was first featured on the blog on my first ever monthly favorites- January Favorites 2016. I hadn't been using this powder lately because I had been focusing on loose powders instead of pressed powders like this one. However, I picked up one again a few months ago and have been using it again. It is such a great, cheap powder. I have used both the translucent and the one with a little color tint to it- both are great for setting your foundation or giving you a little coverage.
I almost didn't share this one because this palette is no longer available. BUT just in case you ever see it at a discount store or online somewhere (that is a safe and clean option- never buy used makeup) you should get it! I bought this years ago and it was my first real high-end makeup palette. I saved up and finally bought it and I was ecstatic. Honestly, this is still one of my go-to eyeshadow palettes. the colors are amazing and the formula is wonderful and easy to use. There are many looks you can get out of this palette from neutral to more exciting looks. I'm finally starting to hit pan on a few of the shades I use the most and it's the saddest thing. Seriously, one of the best makeup buys I've ever gotten. It pays off to do research and look into more expensive products you want. I watched a lot of videos and read a lot of reviews before buying it and it paid off because it's one of the best purchases I've made.

YSL Rouge Volupte Shine Lipstick
I did a full review on this lipstick a bit ago and you can read that here. Now, I'll be honest…this lipstick is probably past its prime and should be thrown away. But I just can't let go. And please, we've all held onto makeup a little too long, right? But even when I throw this one away, I'll be buying more. The formula of this lipstick is one of my absolute favorites. It's a mix between a lipstick, oil, and chapstick. It has the soft, moisturizing feel of an oil or chapstick but the great pigmentation of a lipstick. I love the shade 49 but would wear most of the shades they sell because I love it so much.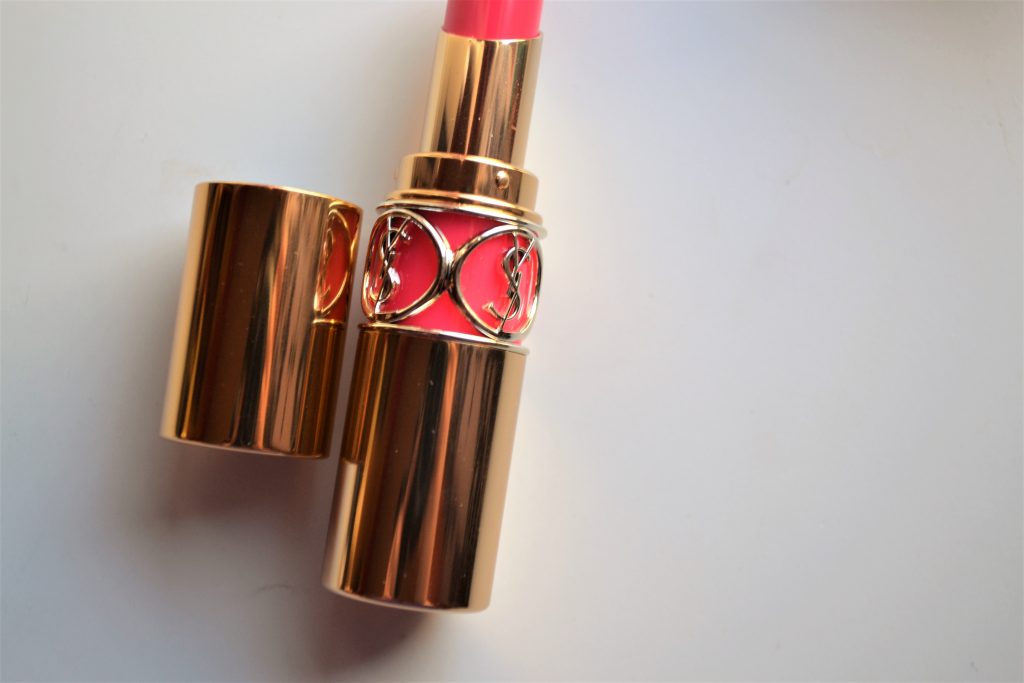 Seriously, I think I'm on my 3rd bottle of this…and it's a pretty bi bottle! I never get tired of this scent. Most importantly, while it smells good…it really does make you feel clean! So many body washes make me feel like I'm showering with perfume but this one from Softsoap isn't like that. It's cheap, smells great, and works well! There's a reason I keep buying it, friends! I buy mine at Walmart or Walgreens. This was in my first empty products post back in 2017!
There are many more old favorites that I still use such as Shape Tape, Batiste dry shampoo, Maybelline Superstay foundation, and many more. But I wanted to share a few less obvious favorites which I shared specifically. What old beauty favorites do you still love? I'd love to know, let me know in the comments below.