Miracles: the second miraculous catch of fish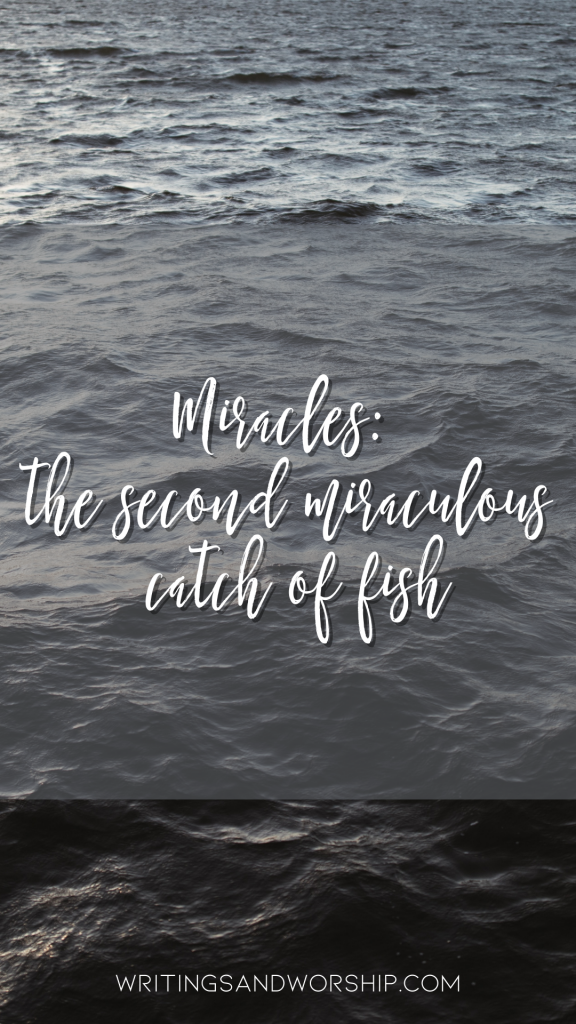 Overview
Miracles. Jesus had already been beaten and crucified. He had already been risen from the dead and appeared to the disciples. But Simon Peter decides to go fishing at the Sea of Galilee and Jesus decided to appear to them once again. When Peter said he was going fishing, a few other disciples decided to go with him including Thomas, Nathanael, and a few more.
But after fishing for a while, they had caught nothing. Early that morning, after no rewards for their night of fishing, they see a man on the shore. It's Jesus, but they don't recognize Him from their boat at first. The man encouraged them to pick up their net and place it on the right side of the boat and then they would get fish. Once they did as the supposed stranger had suggested, their net was so full of fish they couldn't even lift it out of the water.
One of the disciples in the boat exclaims, "It is the Lord!" When Simon Peter heard those words and it dawned on Him who the stranger on the shore was…He jumped into the water to meet Jesus. When the disciples reached the shore, Jesus already had a fire going with fish and bread laid out. They counted the fish and they had caught 153 fishes, yet their net was still in one piece. They dared not ask anyone who this stranger was because they all knew it was their master, Jesus.
Scripture
As usual, if you have read any of my miracle series, I encourage you to read the scripture. The synopsis above is just my take on the verses. You can read that whole account here in John 21.
Thoughts
I wanted to share this miracle because a few things really stuck out to me as I was reading it. According to the scripture, this was the 3rd time Jesus had appeared to His disciples since His resurrection. Yet, the disciple didn't recognize Jesus from the boat at first. Granted, they are out on the sea and Jesus is on the shore…but Jesus has also already done one miracle of catching fish. You would think they might recognize what Jesus was doing (then again, I'm not judging the disciples for not know…just making an observation).
The reason that really stood out to me was because of this, how many times have we ignored Jesus when He is right in front of us? Maybe we when denied salvation even in which all the evidence was staring us in the face. Maybe we are too caught up in our grief, brokenness, or sin to see that God's hand has been helping us all along. I know I am guilty of that all the time.
There are times in my life when my flesh thinks, "how can we know God is real?" And then I feel guilty because I know those answers. But then I think of the disciples. They watched Jesus perform miracle after miracle. They saw him after he rose from the grave and yet they had doubts. Even in the presence of Jesus, the disciples didn't realize that it was Jesus until after he performed the miracle of filling their nets with fish. I often think about the disciples, I feel like they are some of the most relatable people in scripture. They were ordinary people that were called by Jesus. The disciples followed and traveled with Jesus. They saw His power and yet they still had to be reminded of WHO Jesus truly was.
I feel like that is one reason I was drawn to this miracle. When you look at a list of the miracles of maybe if you've done a study on them, many more miracles stand out in the list such as raising Lazarus, healing the leper, etc. But for some reason, Jesus led me to this miracle. Maybe because I feel like the disciples right now, anyone else?
Do you ever feel like you need to be convinced of God's power even when it's really all around us if we would just look for it? Or are you good at recognizing when Jesus is working around you? I think all Christians can say they've probably been in both places.
One other note I wanted to make about this miracle is that it is a 2-in1 miracle. The first miracle is that the nets were full of fish. Remember they had fished all night and caught nothing. Jesus, all-powerful, of course, has control of all things…including fish. But the second miracle is that the net didn't break. With that amount of fish in their net, you would expect it to break, tear, etc. but it wasn't. Their obedience to Jesus actually led to two miracles. If they hadn't have put their net on the other side as Jesus had instructed, they might have never caught any fish but they did…and beyond that…Jesus spared their net as well.
I just think there is so much to discover in God's word. One thing I love is that God could point out something different each time you read scripture. I've read this miracle many times before…but some of these points never really hit home until now. Jesus is still that God of miracles. And I pray I will learn to recognize His power all around me immediately.
To catch up on the rest of my Miracles series click here!