Easter is this Sunday, I cannot believe it! It feels so early this year. Easter is such a beautiful and inspiring holiday and I am always so ready to celebrate the death and resurrection of my Jesus. Without Easter, we would have and be nothing. Without Jesus, we wouldn't have hope.
I know there are many, many songs that are geared toward Easter and the resurrection but I like to try and find some other songs that would be great to worship to during the Easter season and holiday. I have done this for the last two years and they have always been successful posts so I thought I would keep going. Don't forget to check out 2017, 2016, and 2015 version, those songs are still applicable of course!
Here are 5 songs to prepare your heart for the Easter Holiday!
Click To Tweet
Let's work together to set our hearts right for Easter. I know I get caught up on the commercial side and sometimes don't spend enough time focusing on why we celebrate Easter in the first place.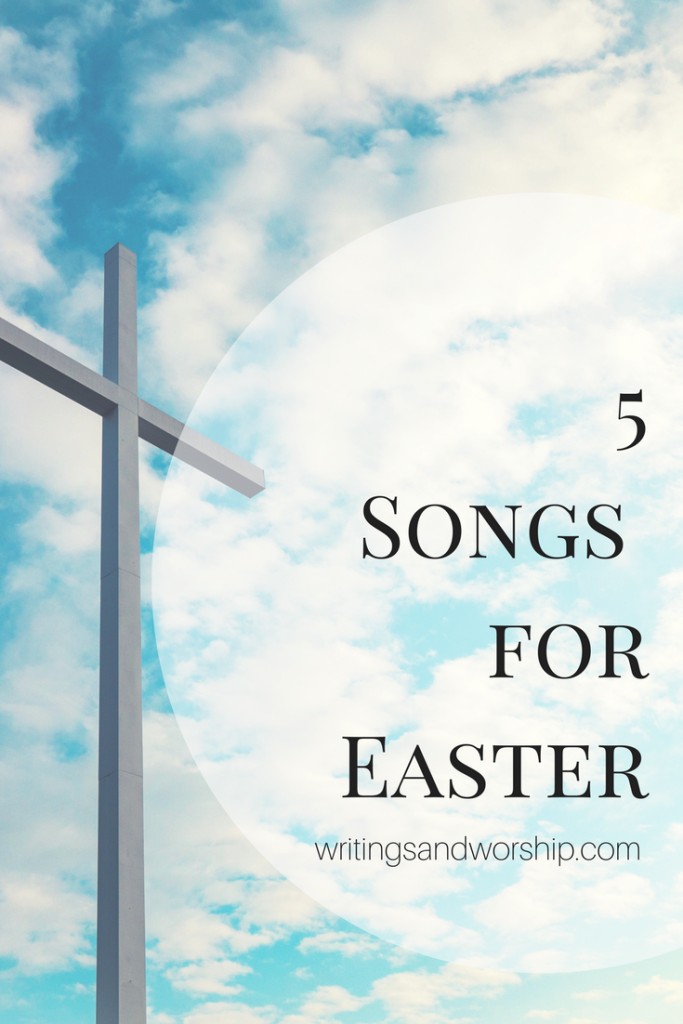 A new song from The Belonging Co, I just heard this song this week but have fallen in love with it. When I think of songs that would be good for Easter Sunday I think of two things: the celebration of the resurrection and celebration of who God is because without God we wouldn't have the resurrection. This song is all about proclaiming the characteristics of God. Remembering He is worth all our praise and admiration. He is wonderful, lovely, kind, beyond compare, and so much more. I love that this song leads us to praise those characteristics of God- because He alone is worthy.
And You alone be honored and adored
And You alone be glorified and praised
And You alone will reign forevermore
And You alone are the Name above all names
Hello, childhood. Avalon was a big part of my teen years, I loved this band! They literally went through more members than any band I know, but they're still going strong. Anyway, this song….so powerful. If you've never heard it, stop, click the title, and take a listen.
Have you listened to it? Isn't it just incredible? It paints a beautiful picture of what Easter is really about. A reminder that His body was broken for us. A reminder that He is to be glorified for raising Jesus back to life on that third day.
The glory of the blood
The beauty of the body
That was broken for our forgiveness
The glory of His perfect love
Is the heart of the story
The glory of the blood
He has triumphed over death! I love this song because it is proclaiming the miracle of the resurrection. Jesus didn't just die- He triumphed over death! Death had no power over Him, death had no sting. At that moment, His love and mercy won over death and hate. Satan waged a war against God, and God won- to save us. Because of this, He deserves our total praise and honor. Such a good song!
Jesus You have won me, You've broken every chain
With love and mercy
You've triumphed over death and You are worthy
Of glory and praise
I cannot think of a better song to sing to honor Jesus on Easter than this one. Please make sure you read the lyrics because it is such a well-written piece of what Jesus did for us. Jesus is the only hope we have and He is the only hope we would need. I have loved this song for many years and only recently found it again. I highly recommend playing this song to think about what Easter is really about. I'm so thankful He found a way to save us.
We stand in awe
Of what You've done for us
At the cross
Warning, this song is a little repetitive, and by a little, I mean extremely. But the words are such truth that I had to mention it. This would be perfect for a little prelude to another song or a bridge between two if you're looking to use it in an Easter set. Anyway, this song is simple but yet so powerful. Just like in the songs above, it's about the fact that Jesus triumphed over death. I love this song because it is so true: the cross had and will have the final word.
The cross has the final word
The cross has the final word
Evil may put up its strongest fight
But the cross has the final word
The cross has the final word! #easter #resurrection
Click To Tweet
What songs remind you of Easter? Let me know in the comments! I'd love to hear some new music. Come back Friday for my March Favorites!