I love full glam makeup. I enjoy putting on a full face of makeup and playing with new products but I would be lying if I said I did my makeup every day. Especially because I technically work from home blogging and freelance, I very rarely wear makeup every day during the week. And I bet I'm not the only one!
Sometimes I just don't feel like putting on makeup but I also don't want to look too dead if I'm going out. I have really red breakouts and extremely dark under-eyes. So dark it almost looks like I have black eyes!  There are of course days that I don't feel super confident without makeup but It's very important to me to not wear makeup to feel beautiful.
Today I wanted to share a few tips for those no makeup days! I want you to feel confident going out without makeup. I personally wear makeup because yes it looks good but also because I just love makeup! Ladies, let's work on being proud of our looks with or without makeup. I hope these tips might help you feel a bit better in your no makeup skin.
5 tips for those no makeup days!
Click To Tweet
Tips for No Makeup Days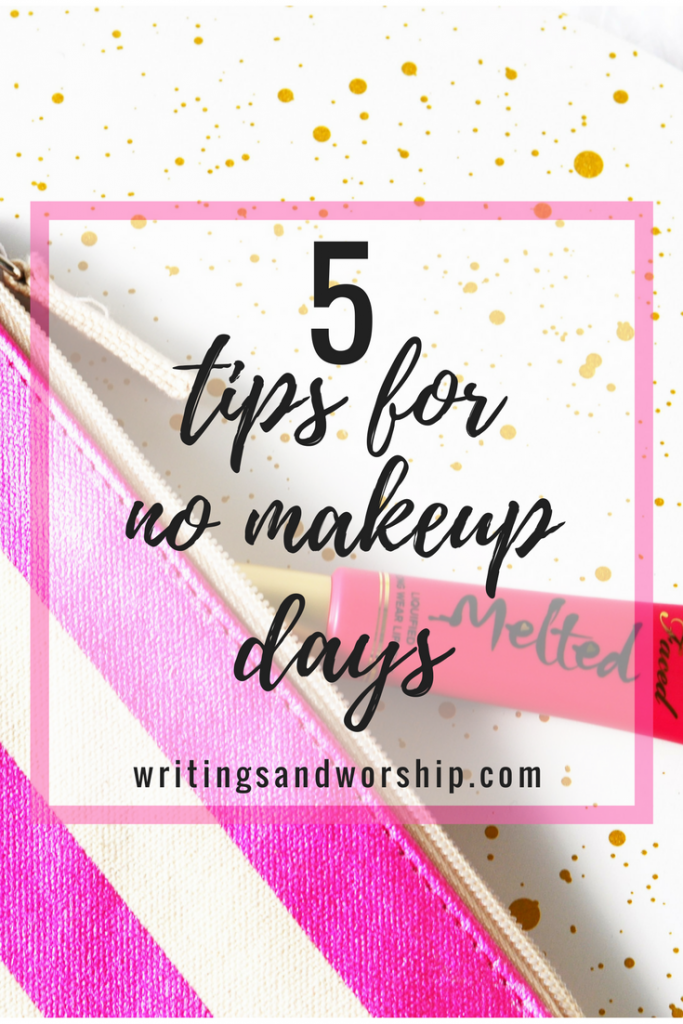 Tip #1 Wash your face and moisturize
Whether you wear makeup or not, washing our face and moisturizing is always a good thing in the morning. But when I am planning not to wear makeup, I try to make sure I do a really good cleansing on my face. I love a fresh clean face and it just makes my face feel more awake and alive. I haven't always done this and I can promise, it makes a difference if nor nothing else just helps you feel cleaner and ready to start the day. I also think it helps my skin feel alive and have a healthy look. When you're not wearing makeup, you want your skin to look glowing and flawless (even when it isn't).
Tip #2 Invest in a brightening primer or moisturizer
I've been watching a lot of YouTube (shocking) and they're normally all beauty gurus. One thing I have seen so many of them talk about lately is using a brightening product under your eyes when you're not wearing makeup. Like I said, I have extremely dark under eyes so when I don't wear makeup, I look dead. There are many different brightening products that would work great: primers, moisturizers, blurring products, and creams. You can always wear primer without makeup, don't forget.
Any kind of brightening product would work, some might have some shimmer in it, so if you aren't a fan of that- be aware. I think that these brightening products would be amazing just to brighten up your under eyes and bring some life to the skin. Here are a few examples of products: Garnier SkinActive Clearly Brightening Moisturizer, Juice Beauty Green Apple Brightening Emulsion, Benefit POREfessional Pearl Primer.
Tip #3 Be drinking a lot of water 
Drinking water is something that will help your skin look flawless, and when I don't wear makeup I want my skin to look good. So in order to keep your skin glowing and healthy for those no makeup days. This is something I have really been trying to integrate into my own life. I love water but I don't seem to drink enough of it and my skin shows it. For A+ skin that looks awesome without makeup, get to drinking that water!
Tip #4 Curl your lashes anyway 
My lashes are long and usually pretty full but they have no curl to them whatsoever. On no makeup days I highly suggest going ahead and curling your lashes. I know many people don't curl them anymore, but I still carefully curl them when I do my makeup and when I don't. I just find that even lashes that are just curled help my eyes seem a little more open and awake. And hey, slap some mascara on if you want! I sometimes just wear a bit of blush and mascara when I don't want to wear a full face of makeup.
Tip #5 own it
No matter if you have spots, dark circles, or anything…you don't need makeup to look beautiful. Own your look no matter if you've got no makeup, natural makeup, or full glam on. I'm a firm believer in that fact that makeup doesn't make you beautiful, it can enhance the beauty you already have. Never feel like you have to measure up to anyone.
I love makeup and I really enjoy wearing it and learning new techniques but I'm also someone who will go out worth no makeup when I want to. Own it, girl! Who cares if you have a few spots.
Are these tips helpful for you?? I hope so! Let me know some of your tips for no makeup days as well! XO!
Special announcement!!!!!
I was thrilled to find out I was named one of the "Top 30 Christian Lifestyle bloggers" by Feedspot. I was so excited to find out and it's an honor. Go check out the post!