There is nothing better in the world than giving. While it is nice to get a present, it's even better to give something. As Christmas approaches, we need to start thinking of what we are going to get everyone in our lives. Soapbox Soaps has your gifting needs covered.
Ya'll know how much I love Soapbox Soaps. Their products and their mission are something I will continually talk about and support. If you haven't read my first review, make sure you check it out for more information about the company. I then had the opportunity to work with them for Global Handwashing Day and it isn't stopping there.
I am thrilled to team up with Soapbox Soaps once again to share a special bundle available for Christmas. This is a great bundle and perfect for anyone in your family or in your friends circle. The Soapbox Soap bundles are a great way to both give an impressive gift AND give a gift to someone in need.
Normally, for every product purchased Soapbox Soaps donates a bar of soap to someone in need (both in America and abroad). But for this holiday season, a purchase of their nourishing and moisturizing coconut bundle will send 5 bars of soap to someone in need. That is a perfect way to gift and give back to the community and needy at the same time. The coconut bundle includes: 16 oz. shampoo, 16 oz. conditioner, 16 oz. body wash, 5 oz. bar soap and a 12 oz. liquid hand soap all in the coconut and sandalwood formula.  
Right now, a purchase of the Coconut Bundle at @soapboxsoaps will send 5 bars of soap to someone in need. And you can get 10% off your order!
Click To Tweet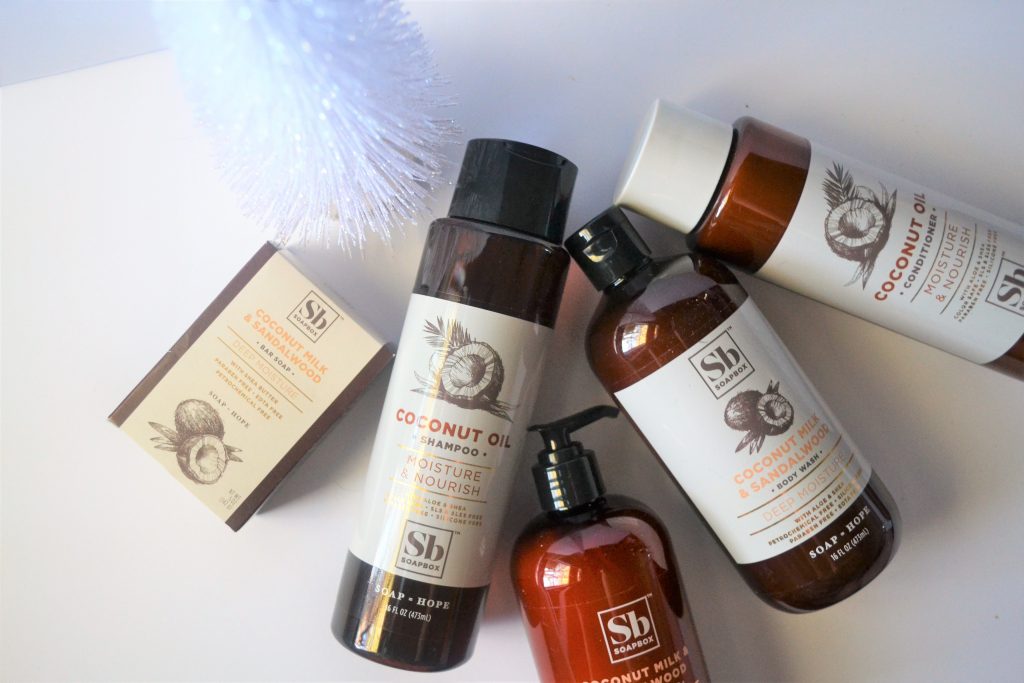 I thought I would share a few quick reasons why you should purchase this awesome bundle:
This moisturizing set will be perfect for dry winter skin
In winter, our skin tends to get dry, cracked, and lifeless. Coconut and their moisturizing formula will be perfect to hydrate, nourish, and keep your skin soft and glowing this cold winter. I have always found coconut to be one of the best ingredients to help aid in moisturizing my skin. I was thrilled to see that coconut was one of their key ingredients in this bundle. Not only could you give a great gift to yourself or friends, but you could be helping your skin while doing it!
This bundle allows you to both gift and give
If you gift this amazing coconut bundle to your friends, family, or even yourself you will also be giving to those in need. Like mentioned above, the coconut bundle will give 5 bars of soap to those in need instead of the normal 1 bar. Soapbox Soaps is stepping up their giving this holiday season, and we would love for you to help spread the word and the soap around the word.
Soapbox Soaps quality products + affordable prices = perfect holiday gift
Everyone in your life loves to be clean, so I believe that Soapbox Soaps offers perfect presents for anyone you need to buy for. The affordable prices are one of my favorite parts about the company- I can afford to buy the whole bundle. Not only are they affordable, but they are high quality products. I explained more about their great ingredients in my first review of them if you would like to know more.
Right now until December 31st, you can receive 10% off your order at Soapbox Soaps!
Use code bestgift17hilaryp to receive the 10% off now!
Also, use the hashtags #soapequalshope #giftofgiving to let us see your purchase!
Are you ready to gift and give with Soapbox Soaps this holiday season? You won't be sorry with their products or their mission.