*I received these products complimentary for testing purposes. All thoughts and opinions are my own*
SoapBox Soaps joins to of my favorite things together in one company: personal care products and giving back. Unlike many companies, SoapBox Soaps has an overall humanitarian purpose behind their mission. It's simple: buy a soap, give a soap. There is nothing easier than this people! The #soapequalshope is the drive behind their company. I want to share a little about the company and give you a little review of what I was sent.
For every product sold, SoapBox Soaps gives a bar of soap to a person in need in both the US and overseas. I love companies that have purpose to their business; other than just making as much money as possible. SoapBox Soaps saw a need and continues to try and fill it. They are sending soaps to Liberia, Uganda, India, Haiti, and many more places. Their much more than soap, they are working to help the world. Their motto is "Stand for something" and this is an incredible way to both indulge in great products and help people in need.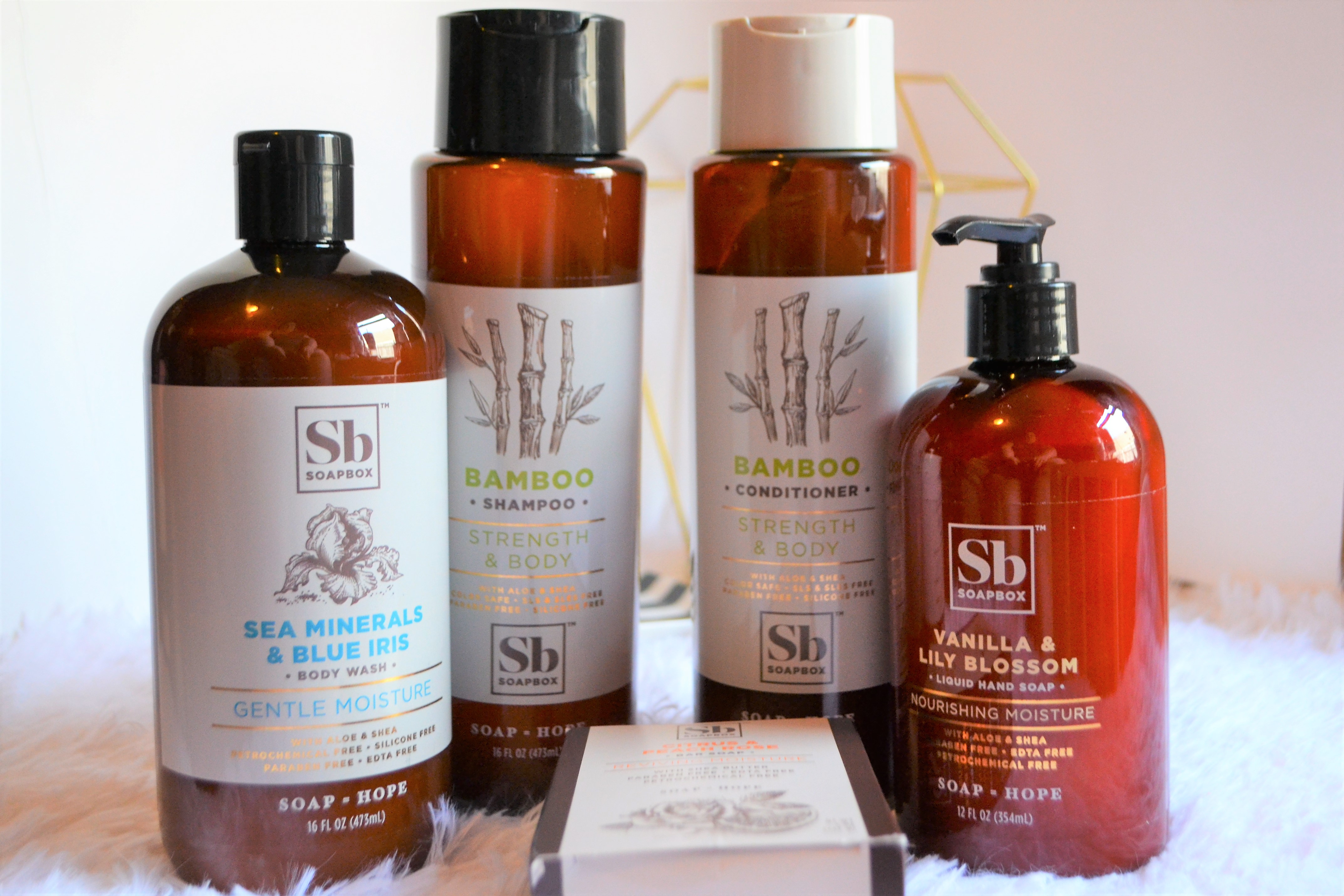 SoapBox Soaps sells a little of everything to get you clean and smelling incredible: bar soap, shampoo, conditioner, body washes, and liquid hand soaps. I was thrilled when they contacted me about testing these products! Here are few facts about these incredible soaps:
paraben and chemical free
all natural
use of ingredients like: shea butter, coconut oil, citrus, blue iris, argan oil, tea tree, and peach rose
NEVER tested on animals and vegan
made using lyle
"natural and thoughtful"
Over 2 million bars donated
I was sent some incredible products I have to share with everyone! I was sent: Citrus & Peach Rose Reviving Moisture Bar Soap, Bamboo Strength & Body Shampoo & Conditioner, Sea Minerals & Blue Iris Gentle Moisture Body Wash, and Vanilla & Lily Blossom Nourishing Moisture Liquid Hand Soap.
These soaps and products are high quality, natural, and meaningful. Each ingredient is carefully selected for best use and smell. I would have never thought of some of the scents they have came up with but they compliment each other so well. I love that they smell natural while still smelling incredible and inviting! I honestly have nothing but good and amazing things to say about these soaps and this company.
I must say that these are some of the best soaps I have used in a long time. They feel great on the skin, they lather well, and gives me joy that I can help others at the same time. Each scent/soap has its own amazing benefits. The bamboo shampoo/conditioner helps lock in moisture and builds strength & body into your hair. The citrus & peach rose hand soap has dual hydration to leave your hands silky and soft. The vanilla & lily blossom liquid hand soap is packed full on B-vitamins to get your hands clean and moisturized. Lastly, the sea mineral & blue iris body wash is a natural detoxifier to make skin feel refreshed.
All of these liquid products are 16 oz and the bar is 5 oz. Soapbox Soaps makes shopping easy! You can buy separately or buy in a bundle. The prices are incredible: all products are under $8 and the bundles right under $30. For as high quality and natural as these products are…the prices are just as good! I plan on purchasing more when I get done with these they have sent me.
There is something about knowing that your purchase will help someone that makes it just that much special. This soap brings HOPE! Even more exciting is that SoapBox Soaps is quickly approaching their 3 millionth donation!
SoapBox Soaps has graciously offered my readers an exclusive 10% off your purchase AND double donation credit. That means that you will recieve 10% off your purchase AND they will donate 2 bars of soap for every 1 product sold to celebrate the approach of 3M donations.
Use promo code hilarySbS3M
Remember soap = hope