Kate Spade. My holy grail designer. My guilty pleasure. But lets be honest, I definitely do not have the money to buy everything I want and definitely not things full price. While Kate Spade is expensive, it is very high quality. I have never had any problems with any of my bags breaking or any problems at all. So far I have: a laptop case, a wallet, a few phone cases, and a couple of bags. And newsflash, I have never paid anywhere near full price for it.
I am a bargain shopper, especially for items like this, I go all the way to save any dime I can. I love Kate Spade but I will most likely never pay $400 for the purse. However, I will pay $150 if it's a good deal. I can honestly say, I probably pay on average at least 60% off the original price for anything KS that I buy.
I wanted to share a few tips and tricks with you because I know I am not the only broke girl with pricey taste. All of us want to save some money on things, am I right? And today, I want to give you a few tricks I have learned so far from my experiences trying to afford some staple Kate Spade pieces.
Disclaimer: I blame my sister for this addiction. She bought me my first bag when I graduated college! 🙂
Trick 1 // Get on the email list for katespade.com
I know that sometimes those thousands of advertising emails get annoying and you rarely subscribe to new ones because you can't stand them. But Kate Spade does numerous flash sales and "an extra % off clearance" sale and these emails are how you will know. Almost anything I buy from the actual website is usually from the sales that takes an extra % off the already clearance price! That can take a $398 purse down to under $200 or a $250 purse to under $100! Those emails are golden, I would miss all those sales if I didn't sign up for the emails.
Trick 2 // Try reputable resale apps or websites
I'm by no means saying buy every KS from a no name user on Ebay. But there are reputable resale apps/websites that offer some really great sales! I personally use Poshmark and Tradsey the best. I know some people might not have good things to say about it; but I can only share from my own experience. I have never had a problem with those 2 apps. I have always received the exact item I bought with the condition they explained. You get to see pictures of the product before you buy and you can make an offer on the item or just pay the listed price.
Poshmark also protects you. Your payment info is always kept safe and if you product does not match the description you can open a case and file to be reimbursed within 3 days after delivery. Poshmark wants you to be happy and wants to only sell real and authentic items. My biggest worry was receiving a counterfeit but I have never had that problem. I suggest just trying it for yourself and seeing how you like it! I have bought many iphone cases for $10-15 that are normally upwards of $40 from this app and never had a problem. In fact, many of these items listed are new with tags!
I also have no problem buying a used item IF it is obviously kept in really good shape. Of course, I would always love new, but I am not above buying something used.
Trick 3 // Remember that katespade.com almost always offers free shipping
For big items like a purse or a tote, the shipping can be outrageous these days. I believe that KS offers free shipping all the time. I have never paid shipping even when I just a coffee mug on sale for someones present. I also cannot confirm for sure, but I believe that their prices must include tax. Tax has never been added to my cart when I have bought from the website. I couldn't find where it said anything it explained the taxing but I can just say from personal experience I haven't been charged tax.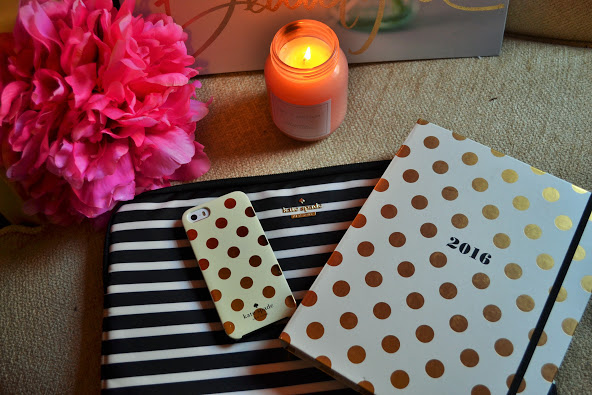 Trick 4 // Splurge on staple items
Things like phone cases, wallets, or laptop cases I almost always will buy from a third party like Poshmark. They aren't things I want to splurge on and don't want to spend much on at all. They aren't something I need to buy but just sometimes like to buy if I found a cute one. BUT, my bags, I definitely put a lot of thought into before I ever press "PAY NOW." I rarely buy something crazy or a fun pattern. KS has some great, fun pieces like a flamingo printed purse but I never buy those. If I am going to splurge on a KS bag, I pick something that is classic and that I can get a lot of us out of. A lot of my bags are subtle or neutrals. The purse pictured above is the only exception, and honestly, that is the one bag I regret buying.
I do a lot of research and thinking before I buy one. And if you're like me and can buy a discounted one every year or more, I highly suggest buying something universal and classic. Buy something that can become a staple in your closet. Get something that you can use for a long time and most of the year- it'll be worth every penny.
Trick 5 // Remember you get what you pay for
I know this isn't really a "trick" but it is a tip! As cliche as it sounds, you get what you pay for. When you save up and spend money on a bag from Kate Spade, remember that it is top quality and will most likely last much longer than anything cheaper.
Click To Tweet! http://ctt.ec/dQ_9L
Like I mentioned above, I have never had a problem with any of my KS bags. Not a tear, a loose strap, anything! I might pay a good amount, but it is honestly worth it. And it's even better if you use my money saving tricks above!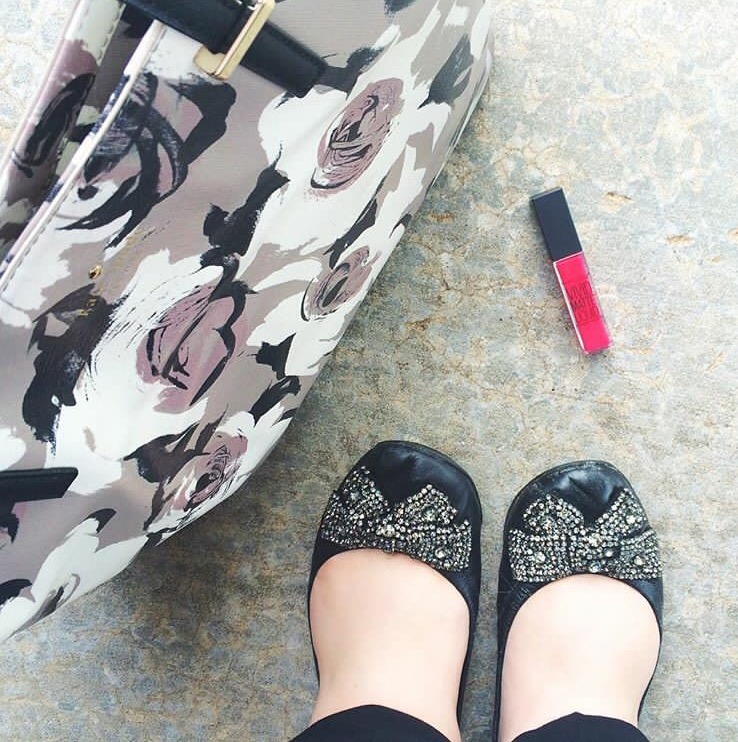 Do you have a favorite high end brand?? Let me know! I hope these tricks help! XX
"All unauthorized use of this blog post or pictures is strictly prohibited. These posts may not be copied or posted other places without the writers knowledge and consent."