A new Elevation album can only mean one thing…more songs to add to my favorites list! If you're new around here, some of my most popular posts are from the "Top 10" song series. Elevation Worship has already been featured twice during this series…and it's back for a third!
If you haven't seen the first two posts, catch up here- part 1 & part 2. Elevation Worship just released a new album called Graves Into Gardens and quite a few of those songs will be featured in this part 3. I honestly just cannot get enough of their music.
Top 10 Elevation Worship Songs || part 3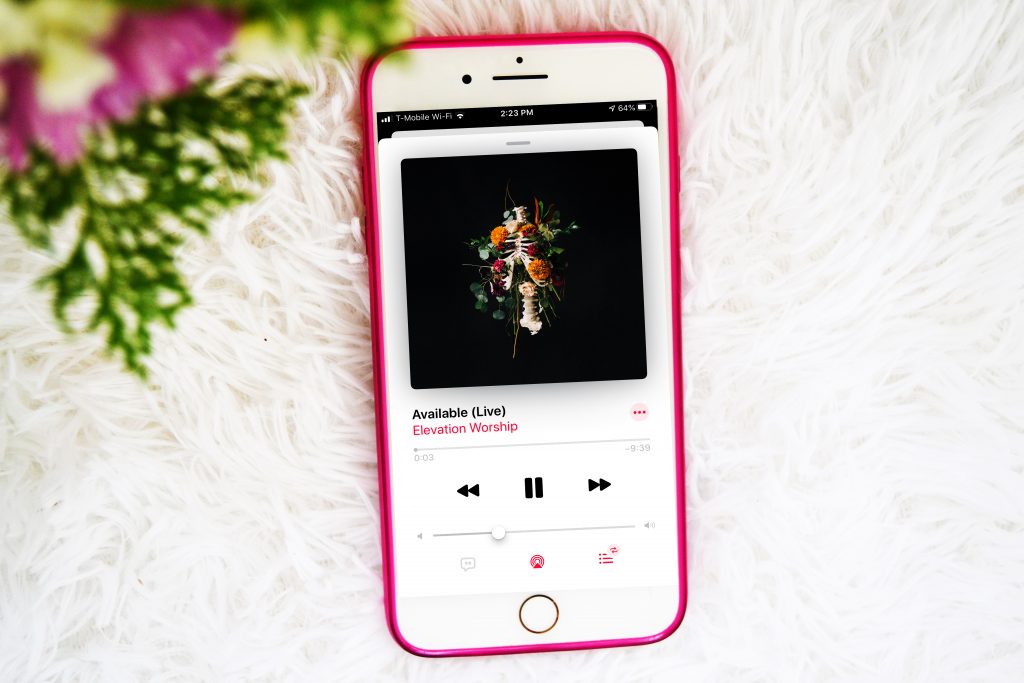 Graves Into Gardens
One thing I love about this latest Elevation Worship album is all the different sounds. A few of these songs have a different feel to them. For example, "Graves Into Gardens" almost has a bit of folksy, gospel feel to it- which I love! The whole song is made better by the edition of the choir singing in the background. Not only is the beat catchy but so are the lyrics (as always). It's one of those songs that get you pumped up and excited. It also really celebrates all the things God can do. He can turn seas into armies, mourning to dancing, and graves into gardens. No matter what our situation looks like, God can change it in an instant. Also, I really loved that Brandon Lake joined them for this song…great mashup!
I'm not afraid
To show You my weakness
My failures and flaws
Lord, You've seen 'em all
And You still call me friend
Available
I pre-ordered this album months ago but there was something wrong with my phone and I didn't get it downloaded for a little over a week after it launched. Available was one song I was dying to hear and really sit and ponder. Everyone was talking about how good it was so when I finally got the album downloaded it was one of the first songs I really sat and listened to. And it did not disappoint. So often we ask God why He isn't using us but have we asked Him to us? Have we told Him we are ready to do whatever He calls us? Have we laid everything at His face and said, HERE I AM? This song really convicted me personally, it was something I really needed to hear. I want God to use me but I have to give it all to Him and trust Him. I need to be available whenever God calls and to do whatever He calls me to do. Listen. Worship. Repeat this song. We should WANT to say YES to God.
Here I am with open hands
Counting on Your grace again
Less of me and more of You
I just wanna see You move
It is So
Back in 2019, Elevation Worship released an EP with just 5 songs (including With You and See a Victory). I, naturally, just bought the whole thing after hearing a few of the songs. "It Is So" was another song on that EP that I honestly hadn't really heard or cared much about. But it played in my car a few weeks after getting it and I was amazed at how good this song was and I hadn't even taken the time to hear it yet. This song, in particular, reminds me of a lot of scripture. Like the fact that it says, "You have spoken, and I know that it is so." That reminds me of all the prophecies in the Bible that have come to fruition and how there is so much power in God's voice. Jesus calmed the storm using His words, the word was created by His mere words. For some reason, that song reminds me of all that and so much more.
By Your stripes, I am healed
With one touch I am made whole
You have spoken, and I know that it is so
Top 10 Elevation Worship Songs || Part 3! #elevationworship @elevation_wrshp
Click To Tweet
My Testimony
The latest album, Graves Into Gardens has a lot of more upbeat, exciting songs. I love this song because it really is a way to minister to people and tell people what you believe. The song honestly walks through a lot of what salvation is and what your testimony is. It would be a great ice breaker to open up conversations if you are trying to minister to someone who loves music. I also just love Chris Brown's vocals, so I always love a song that he leads, such as this. I'd say one line in the song makes this song so powerful and influential for me- "If I'm not dead, you're not done." God isn't done working in us even when we feel distant from Him. If you are still here, there is a reason and God is still working.
If I'm not dead, you're not done
Greater things are still to come
Oh, I believe
Love Won't Give Up
Honestly, I've been obsessed with this song since the moment I heard it. It came at a really crucial time. A time that I felt extremely far away from God and just overwhelmed with everything. And I needed this song. I was questioning my salvation and why a Christian would feel so far away from God. But this song played, and I was reminded that I had been pulled away, lost my way, but I wasn't forgotten. God is patient with my questions and my pain. The last few years have taken a toll on me but I can still feel God and I have to fight to trust Him and not let Satan win…but even when I pull away…God pulls me back. Even when you run, God will be waiting. I think all Christians deal with this issue at times. We need to be reminded that God is always there and just because we falter doesn't mean we don't love God..we just need to get back on the right path and reading the Word.
No matter how far I run,
I run into Your love
And when I'm falling apart,
You won't let me go
See a Victory
For a long time, the only tattoo I ever even considered was the word "VICTORY" on my hand. There are a handful of reasons I thought that word would be good. For a deeper look into that, you can read my victory post. But this song, once again, embedded the idea of victory into my mind. One thing I love about this song is that it says, "I'm gonna see a victory, for the battle belongs to you Lord." I love that because it reminds me that the victory we ask for might not look how WE want it to look. So often I ask God for a victory in a situation and expect it to be handled exactly like I want it to work. But the battle is Gods, not ours. He is powerful and knows what is best for us even when we don't understand it. And it is a powerful thing to pray for God's will and not ours. For God's victory, not mine.
You take what the enemy meant for evil
And you turn it for good
You turn it for good
With You
I've mentioned this song in a "5 Elevation Worship songs you need to hear today" post in the past but never in my Top 10 Series. This song reminds me of stillness and that draws me in. I'm reminded of one of my favorites verses- Psalm 46:10 He says, "Be still, and know that I am God; I will be exalted among the nations, I will be exalted in the earth." The song talks about wanting to be with Jesus and how His presence brings peace and comfort. There's no more we could ever want than to spend time sitting in His presence and to be consumed with who God is. It is a vital reminder to let all else fade away and to spend time in His presence.
Here in the waiting
I won't worry about tomorrow
No need to focus
On the things I can't control
All my attention
On the wonder of this moment
Jesus, Your presence
Is the comfort of my soul
Never Lost
This song is another one with a different, fun feel to it. Along the lines of "Grave Into Gardens", this song has a fun folksy vibe to it (I hate the word vibe, but it sorta fits in this instance). This song is almost reminiscent of the old school gospel songs I'm used to. It's got a catchy beat and melody as well- which makes it easy to learn. Tauran Wells joins Elevation for this song on the Graves Into Gardens. "Never Lost" is such a great reminder that God can do all things and He has never lost a battle and never will. Isn't that comforting? He faced Satan and won. He faced the grave and rose. It's a praise to God, thanking Him for what He has done. But also a great reminder for us of who God really is. Another song that utilizes the choir in a beautiful way. Worship music isn't always about being somber but about being excited for who God is and what He has done in our lives. Side note, a great song to clean to, haha!
You can do all things
You can do all things but fail
Cause You've never lost a battle
No you've never lost a battle
And I know, I know
You never will
Gone
"Gone" is another song from that EP from 2019 that I had to include because it is just a great song to get pumped too! As I said above, sometimes worship can be getting pumped, excited, and thankful for God. I'm not sure about you…but my spirit just needs some upbeat praise sometimes. How about you?
Praise is a weapon that will overcome
Oh, I'm gonna shout like the battle's won
Fall back devil 'cause your time is up
Oh, I'm gonna live like the stone is gone
No One Beside
First off, I had to mention this song because I love Anna Sailors. And I'd recognize that voice anywhere! This song is definitely led by Anna. But aside from that, it's just a great song. It honestly reminds me of some of the songs I grew up worshipping to like Dennis Jernigan (not sure why it just does). If you've been in the church for a while, you'll know a lot of older worship music had words like magnify, exalt, etc. in them, and this song just reminds me of the old days. There is nothing better than just praising God's name and this song does that. Elevation Worship does worship songs so well that they fit so many different styles and needs. There isn't much to say about this one except it is just beautiful.
Oh magnify the Lord
Let us exalt His name together
No one beside You, Lord
Honor and praise are Yours forever
Have you listened to their latest music? Which songs would you put in your Top 10? Let me know in the comments below.