*This post contains affiliate links, please see legal page for more info*
Amazon. It's always been a weakness of mine….but even more so the last few months when we've been practicing social distancing. Especially if you have PRIME, Amazon is such a convenient place to grab all kinds of things you need (and a lot of stuff you don't need but get anyway). Amazon Prime products have quickly overtaken my life, and I know I'm not alone! 
I've purchased anything from medicine and dog food to phone cases and desk accessories from Amazon Prime. What I love about it is the variety and the number of reviews. The fast shipping and the review section has saved me so many times, anyone else? Over the years, I purchase some really exceptional products that I really wanted to share with all my readers. This isn't sponsored and there are NO affiliate links…just me sharing good info on good deals.
My 10 must-have Amazon Prime products
*These exact ones are no longer available, so I've linked ones very similar- same brand! As soon as I accepted my new job, I knew I needed to grab some new earphones. One of my besties had just told me about their Bluetooth earbuds that were a knockoff pair but they worked great. I grabbed this pair on Amazon for less than $20 and was completely unsure how they would be. Score! They're amazing. They are easy to charge and hold a charge pretty well. Because I wear them at work, I only keep one ear in at a time so that I can hear obviously which really helps maintain long battery life. They fit in my ears really well and are very comfortable. When one earbud starts to get low, I just switch out and it works well for me. I also have noticed that even if I use them all day if I leave them alone all night they will still have charge the next day. These earbuds can go a couple of days, typically, before needing to charge them. I would recommend these to everyone! Great buy and great quality so far. 
I'll take gold anything! I have this 5 piece accessory set for my desk at work and I love it. It's very affordable compared to buying each piece separately. These are really well made and super cute! I highly recommend them, friends, they're awesome!
*The flash drive I bought is currently not for sale, so I linked one just like it. Recently, I just upgraded to the iPhone 11 simply because I had 0 room left. My 8+ was only 68 gigs and I had completely filled the space. I was having to delete apps just to take pictures. But before I decided to upgrade, I wanted to make sure I could get the pictures off of my iPhone and onto my computer. For some reason, my laptop has a really hard time reading pictures off a phone or even an SD card. It takes FOREVER just to transfer a couple of pictures because it doesn't read them correctly. I knew I had to find a solution. And I knew there had to be a USB iPhone adaptor and lo and behold, there was! This device uses an app and allows you to download pictures from your phone onto the USB. So it's one end- iPhone adapter and one end- USB. It's very user friendly and easy to figure out. If you want an easy way to get your iPhone pictures onto your laptop- this is a perfect way. 
*The original set I purchased is no longer available so I'm linking ones just like them! Newsflash….I'm a peony addict. The smell, the look, I love it all! Peonies are my weakness and I would have them everywhere if I could. I had been wanting some real-life-looking peonies to decorate my office with and these seemed like the most reasonable and life-like bunch. These are stunning. They're a gorgeous pink color and came with 10 bulbs which is pretty great! And they were pretty middle of the road in price. Some of the bouquets on Wayfair that I love are over $100. If you enjoy peonies like me, you gotta get you some of these friends!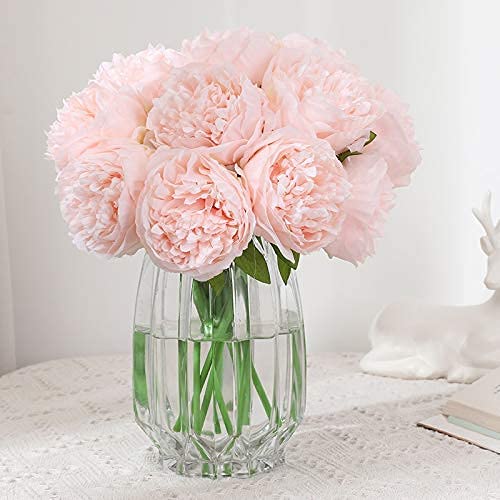 Another obsession, friends. Since I've been so into hair accessories lately, I knew I'm mediately I needed to find something to keep it all in. Because honestly, I am so horrible at keeping up with little hair things. All my girls know this pain, right? So I found this multi-level acrylic storage container off Amazon and it is perfect! There are two little buckets with lids that sit on top of each other…and headbands fit around them! The pictures will better show how it works but it is amazing! Completely worth every single penny. Must have for all my hair accessory loving ladies!
At the same time I bought the acrylic storage, I purchased these adorable pearl turban headbands. There were 6 in this set and came in some great colors: tan, baby pink, grey, mustard yellow, navy, and deep turquoise-greeny color. Which I loved because these were great colors for both summer/spring and fall/winter. Side note, these fit perfectly on the acrylic storage. One thing I loved about them is that they are pretty big. I hate tight headbands…I already have enough headaches…your girl don't need my headbands contributing to it. They're all roomy and sit nicely on my head. 
Because I'm that extra, I had to have a pink mousepad. But I do a lot with the mouse and gel wrist pads on a mousepad are my favorite thing. This mousepad is cheap but really good quality for the price. It has a great sticky material on the bottom to keep it from moving. I enjoy using it and it adds a nice pop of color to my desk.
My 10 must-have Amazon products! Storage, office supplies, and more! #NOTsponsored #amazonprime
Click To Tweet
Some of you just rolled your eyes. I'm not on the trend of essential oils healing everything and taking them over medicine, etc. What I do think they are good for is mood. I do believe that some scents can help us. Dealing with anxiety like I do, I do find some scents more calming and some scents more energizing. Whether its a placebo effect or not, I simply like the smell. Haha! I bought this 12-pack on Amazon and was really pleased with them. One thing I loved about this pack was the variety of oils, A lot of times all packs come with the same 6 smells and sometimes some really random ones no one uses. This pack comes with: lavender, sweet orange, tea tree, eucalyptus, lemongrass, peppermint, bergamot, frankincense, cinnamon, rosemary, ylang-ylang, and lemon. I really enjoy lemongrass…it's one of my absolute favorites! So this is a great starter pack with a great variety of scents for you.
I received this as a Christmas present and had to share it! This is a great size and has a gorgeous grey felt background. It comes with a stand so you can set it up wherever you want. It also comes with both white and black letters. One thing that is great about it is the fact that it comes with so many letters! I hate when letter boards don't come with enough letters to really spell anything. So annoying! But this one seems to have enough of the common letters you would need. Letterboards are a great way to decorate and add some personalization to your room!
Popsockets are a lifesaver for me and I have been buying them from Amazon for quite a while. Honestly, I think this is the best place to buy them. They're as cheap as you can find them and real Popsocket brand (if you buy the right ones). Not only that, but they have tons of colors, patterns, etc. whereas some stores only have a small selection. I've also seen a lot of stores raise the price on them. Most of the ones on Amazon are under either $10 or $15 for the more decorative ones.
So friends, what Amazon Prime products are your favorite? Do you buy anything on there that you're dying to share with someone? Share it in the comments so we can all know! I'm always looking for new deals and good finds.