Huda Beauty is quickly becoming one of the most well-known and loved makeup brands in the beauty community. From full coverage foundation to lip kits, there are lots of awesome options to try from Huda Beauty. One of my favorite things from them is their Huda Beauty Obsession Palettes.
Huda Beauty Obsession Palettes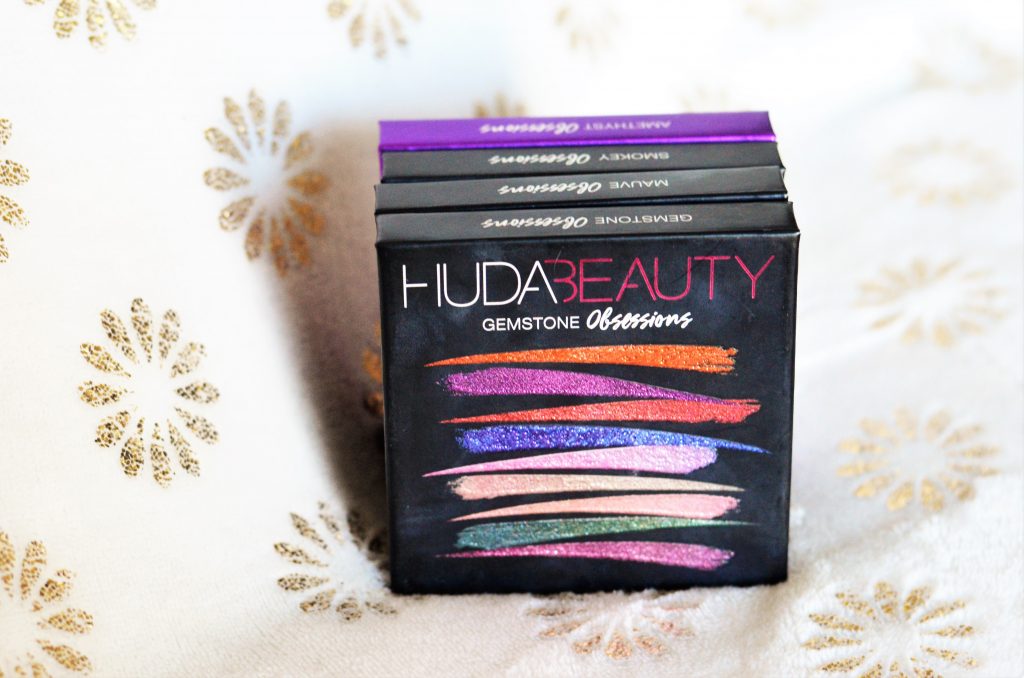 These palettes are small, 9 pan palettes that are packed full of awesome shadows and shades. They are constantly bringing out more and more of these little palettes in different themes and color schemes. I personally have four of these palettes- Gemstone, Mauve, Smokey, and Amethyst. I have shared some of these in past monthly favorites but I wanted to share a whole post on whether or not these are worth your purchase.
The palettes are $27 and have 9 pans in them. The shadows are different formulas from matte to metallic. Most of the Huda Beauty Obsession Palettes are a mix of formulas with the exception of one like the Gemstone palette which is all shimmer/metallic shades. All these palettes are specific- they all have a color scheme or theme. So there is an all blue palette, an all coral palette, and so on. I love this aspect because you're only getting what you like to wear.
For instance, I don't wear really warm or coral shades…so I don't plan to buy those. I buy the colors I am most likely to wear and use! While these are smaller palettes, they are filled to the brim with shadow. They don't waste any space in their design and the pan sizes are perfect for getting your finger or brush in them. I personally love that they are a good size for the money. So often high-end brands have these palettes where the actual shadow is only in a third of the palette and barely big enough to dip your brush into.
Tips for wearing & applying
Use your finger! || If you read the info online about these palettes, they even specifically say to use your finger or a wet brush to use the shimmer shadows. These gorgeous palettes are full of shimmers that will look stunning- you just need to work with them the right way. So don't be afraid to play around with the application and see what works best for you. I find using my finger to apply the shimmer or metallic shades give me the most pigmentation.
Consider doing your eye makeup before your face makeup || Some of the palettes are full of really bright or highly pigmented shades. One thing I do when I use any of these Huda Beauty Obsession Palettes is to do my eye makeup first so any fall out doesn't ruin my face makeup. These are really buttery shadows that blend well but they do have a little kick up and the shimmers can crumble a little.
Be careful using an eyeshadow primer || I have used these palettes both with and without a primer base. I believe they can be used each way, honestly. But I have had a couple of times where I use a primer that I find the matte shadows sticking in one spot and not blending. However, I have used it other times with a primer and it works well. So I would say try both and see what you prefer! And if you use a primer or base- don't let it get too sticky or put a smoothing shadow down before you apply the actual shadows. I've added a picture of what I am meaning down below.
Are they worth the hype?
Yes! I love, love, love these palettes! They are a pretty affordable price for such a high-end brand. Not only that but they are full of shadow so you really get a lot for your money. They are a fun way to try new colors like blue or purple without buying a huge palette. Not only are these just pretty, but they are small and compact but well built so they are easy to store or travel with. Below are pictures and swatches of the 4 Huda Beauty Obsession Palettes I have. I wanted you to see how pretty they can be!
This palette is definitely a fun one! You would have to use some other shades along with it most of the time because it only contains shimmer/metallic shades. I love adding these fun colors onto a look to add a little pop of fun. There are a few shades I never thought I'd really like but actually love like the green and the blue. Also, there are a few good light pink, champagne like shades that will go with tons of different looks.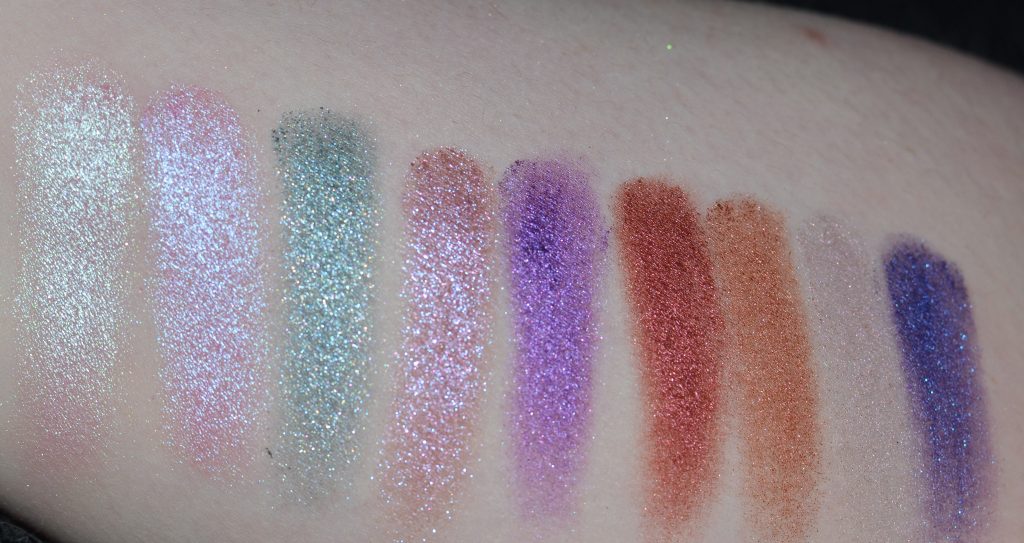 My first Huda Beauty Obsession Palette. This is the one that really made me want to try these palettes in the first place. I've used this for so many different things- including my best friends wedding. You really have the ability to make a simple, everyday look and a more glam look with just this one palette. There is also a great crease shade, highlight shade, and good colors to deepen the crease- you can get tons of diverse looks with this small palette.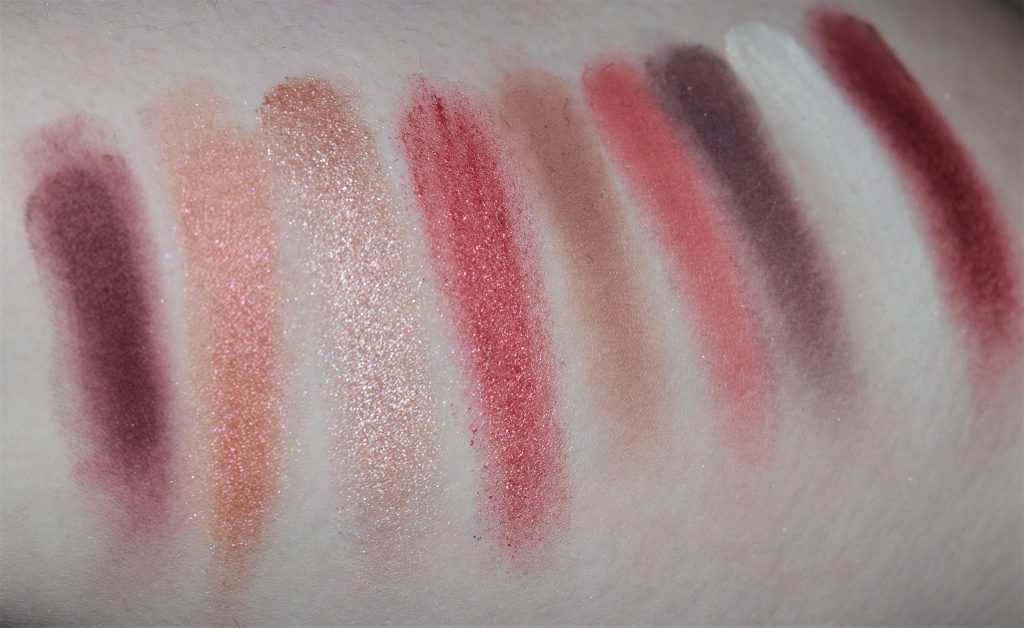 Huda Beauty Obsession Palettes | Are they worth the hype?? #hudabeauty
Click To Tweet
This gorgeous thing was from Christmas! I love, love a good purple eye so I added this right to the top of my list. It is important to note that it's almost more magenta/pink than straight purple…but I still love it. I think this one has a few more shimmer shades than the mauve palette has so keep that in mind. While this is a fun palette, you can definitely do a more understated look with it by using some other nude colors and using a light hand.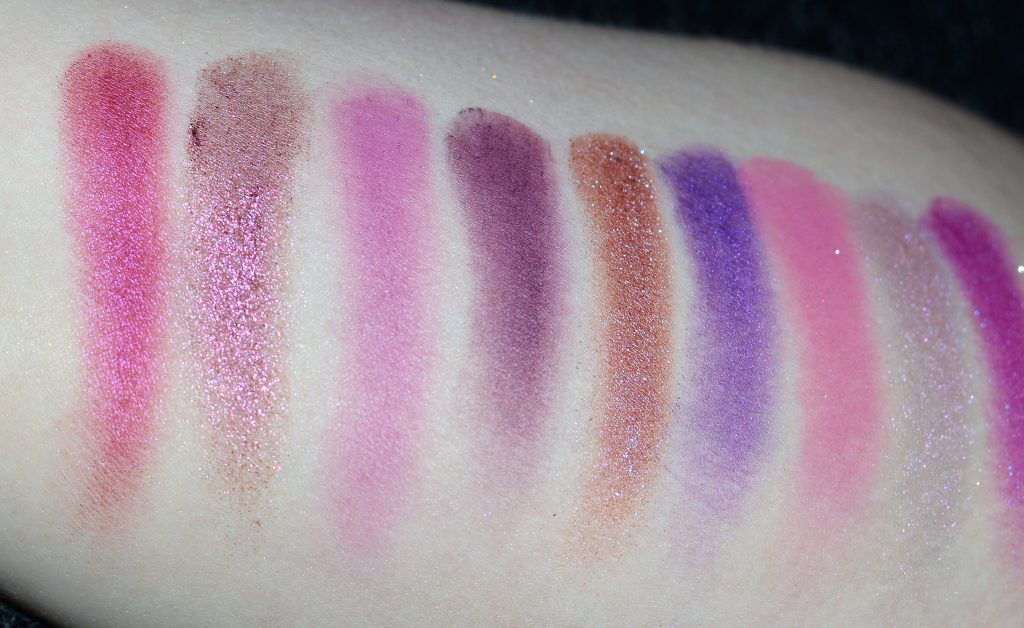 This was just recently added to my collection but I'm already obsessed with it (see, they named these palettes well). Ever since I did a silver smokey eye for my Christmas glam look, I have been in love with using a real metallic, shocking silver on the lid. The silver was what really drew me to the palette in the first place. This is great for any kind of nude or smokey eye look! Good mix of shimmers and mattes. Also, most of these shades are pretty cool toned which I loved!