As soon as I decided on my makeup for my best friends wedding, I knew I had to share it with my readers. For both makeup lovers and not, a wedding can be a stressful time as far as makeup is concerned. If you are in the wedding you feel the pressure of wanting a nice, long-lasting look that isn't too much but will photograph nicely. Today I wanted to share my bridesmaid makeup with you!
All wedding photography was done by Epic Productions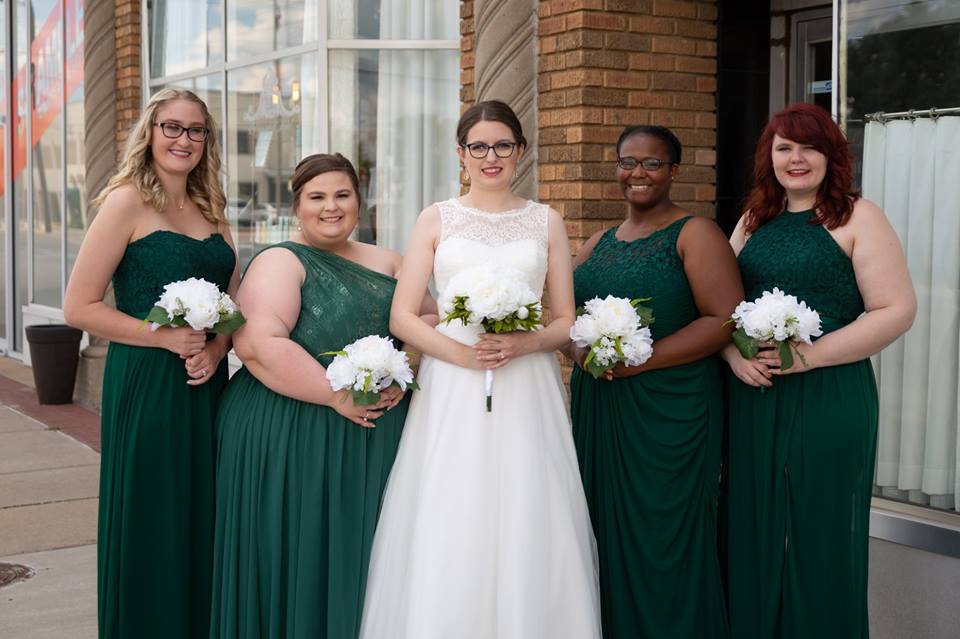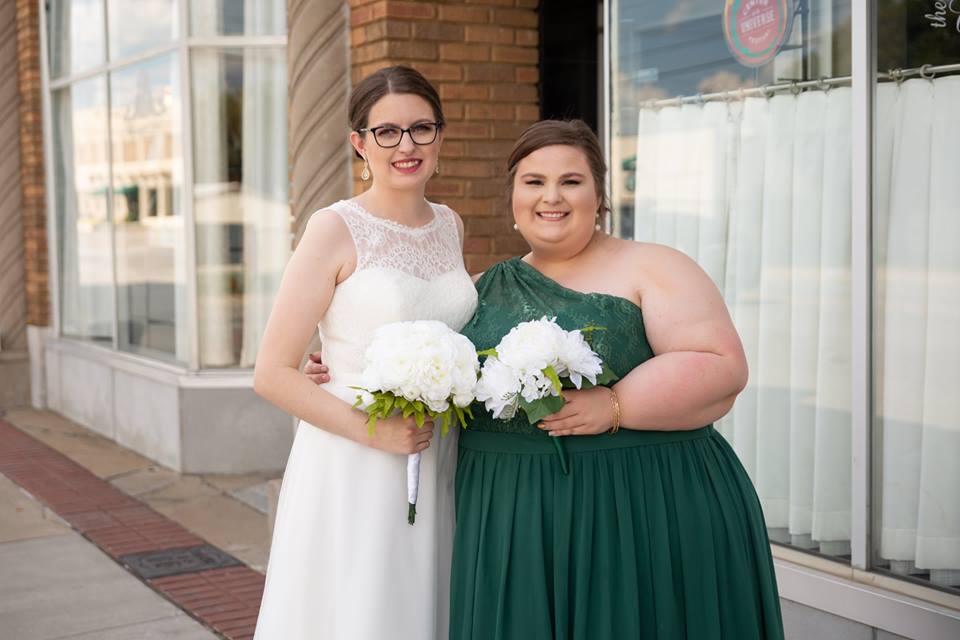 My sweet friend's wedding was in mid-September and her colors were dark green and gold. Such a beautiful color combo for a fall wedding! She used a lot of greenery and foliage as her decor as long as lovely pops of gold. Our dresses were long, formal style and dark green in color.
Because of the makeup fanatic I am, I started doing trials my makeup week before the big day so I could tell what worked the best and so I could accomplish a good look in a short amount of time because wedding days can be crazy.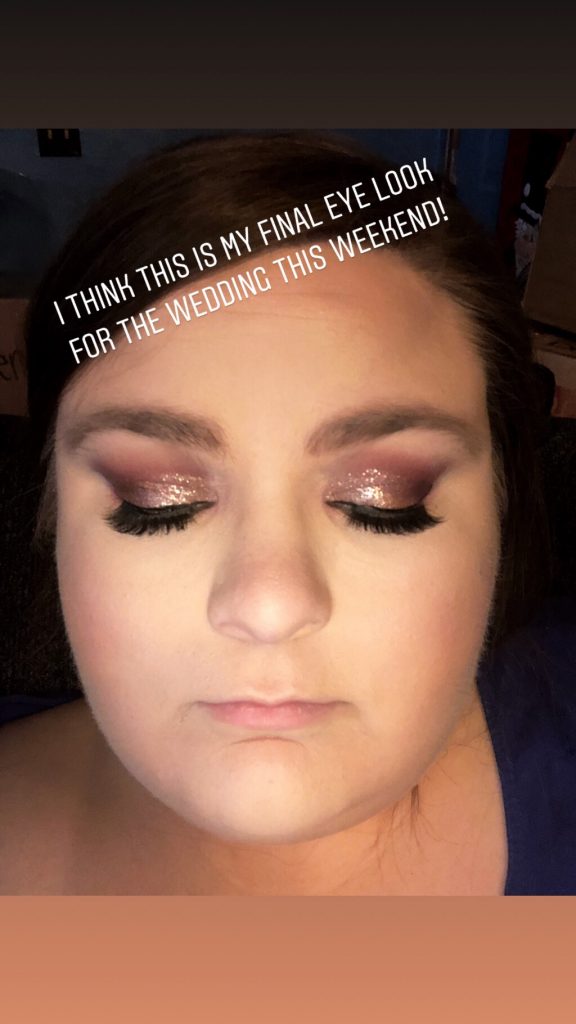 Thank the good Lord that I had practiced my look because we realized early on in the day that my friend's makeup artist wasn't showing up. So, surprise! I ended up doing the brides makeup. So I had to very quickly finish my makeup and get started on the star of the day, the bride. (I wish I could remember everything I used on her but by that time I was so focused on getting a good look she loved that all things blog went out the door)
The products
BareMinerals anti-redness mattifying primer
Maybelline instant pore eraser primer
Maybelline Super Stay foundation in Natural Ivory
Maybelline fit me powder in fair
Too Faced cocoa contour & bronzer
Tarte blush in paaarty
Tarte highlighter in spellbound glow 
 Stila glitter & glow in kitten karma 
 Urban decay all nighter setting spray
 MAC Lipstick in Viva La Glam II   
The details/tips for the look
My bridesmaid makeup was glam but fairly neutral. I didn't want to look too overdone but I also had fun with the look. I thought I would share a couple tips about how I achieved the look and obviously share some pictures.
First thing I wanted to mention was that I actually did color correcting. I practiced ahead of time because I had never used it before but I am amazed at how well it did. I used a simple e.l.f. stick in green to counteract some red areas and bumps I had. No redness of those spots peeked through at all!
For the face, I used 2 primers which I really never do. Because I wanted to get this look to be as flawless and long-lasting as I could, I went all out. Would I typically wear 2 primers? No. Did it work well for a wedding? Yes. I used a pore filling primer on my T-zone and then a mattifying anti-redness primer on the rest of my face. Of course, all of these products are easy to swap out- I just wanted to share exactly what I used.
For foundation, I went back and forth on what to use. I almost bought a new high-end one to try to achieve the best look. But I went with a good drugstore classic- the Maybelline Super Stay. Concealer and powder were my normal products, I just made sure to really set my whole face well so I wouldn't get oily. Bronzer, blush, and highlighter were pretty typical. I did my highlighter a little stronger just for pictures but I didn't go too drastic of course.
I used my go-to Primer Potion for my eyes and set it with a light neutral shadow. For the eye look, I used my Huda Beauty Mauve palette. I focused on the browns, the cranberry, and then one of the darker shades just to deepen the look. I buffed those into my crease but kept my lid pretty bare. But I didn't stop there! I added a little of Stila's Kitten Karma on my lid to add some glam to the look.
To finish off my eyes, I did a thin black line on the top of the lash line but no wing. I opted for no wing because I wanted little chance of runoff or smudging. I just knew if I cried my wing would quickly disappear! And I threw on some of my favorite lashes- the Ardell 120's, These lashes are the most comfortable, wearable lashes I have ever found.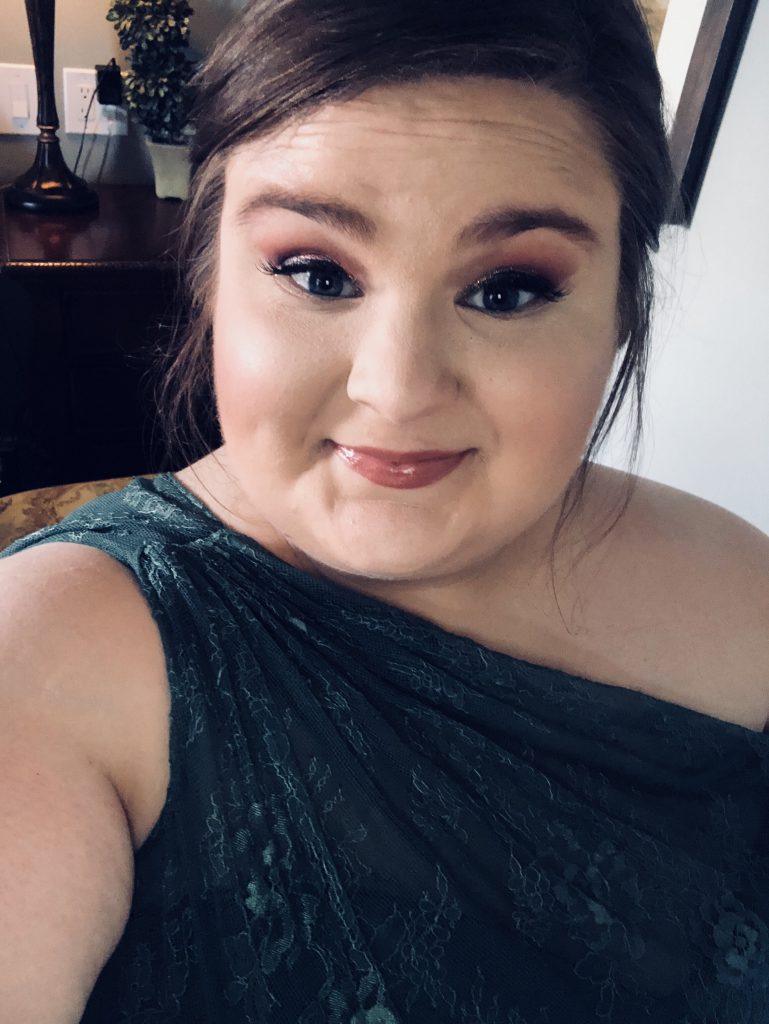 My lips were something I really couldn't decide on but finally settled on a combo I am now obsessed with! I put on a lipstick and topped it with a gloss…they lasted really well! I went for a very nude shade that leaned more toward brown and I think it really set off the look well. By the way, those H2O glosses from Tarte are A++++.
I am really pleased with how this look turned out and how well it lasted! Those primers, foundation, and setting spray were a really great trio. A full "get ready with me" bridesmaid style is on my FB live! Watch it HERE!