This post contains affiliate links and complimentary products sent for testing purposes
How exciting! I am working once again with Smile Brilliant to bring you a review on their electric toothbrush (and a chance for you to win one!). A few months ago I worked with them to share their easy at-home teeth whitening system and I was amazed at the results.
When they contacted me again about reviewing another product of theirs- I didn't hesitate at all to try! Smile Brilliant started off as a family-owned company that wanted to provide quality teeth whitening in at-home kits and they have grown to now include an impressive ultrasonic toothbrush!
Smile Brilliant sent me a cariPRO complimentary to test out for you and I'm ready to share my thoughts about it! Today, I'll give you a quick rundown of what they capriPRO is and does as well as my personal thoughts on the product. As my readers, you know I only offer giveaways and coupon codes for items I really love so that's a bit of a hint as to what my personal thoughts might be. 🙂 Read all the way down to see how to enter the giveaway to win your own cariPRO and get a coupon code.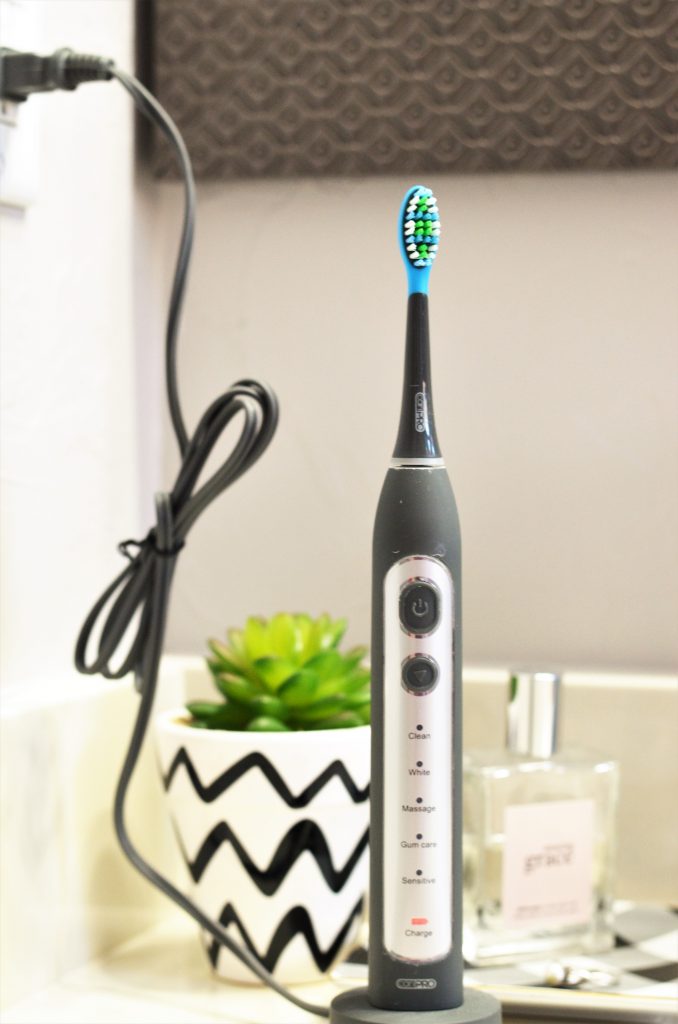 Getting my best smile with capriPRO + a giveaway! #ad #smilefearlessly @smilebrilliant Click To Tweet
About the product
I have used other electric toothbrushes in the past but nothing as high quality as this. I've always wanted to use a more professional grade electric toothbrush but the price point can be extreme. In comes the cariPRO, a more affordable option that can battle against those toothbrushes with a higher price tag (and I'd say it would win out). I love seeing some bulleted points about the highlights of the product, so I thought I'd do that for you:
30-day battery life

40,000 vibrations / minute (VPM)

5 brush modes (clean, white, massage, gum care, and sensitive)

40,000 vibrations / minute dynamic cleaning action

2-year full warranty

7x plaque removal than typical

2x whiter

60-day trial

results guaranteed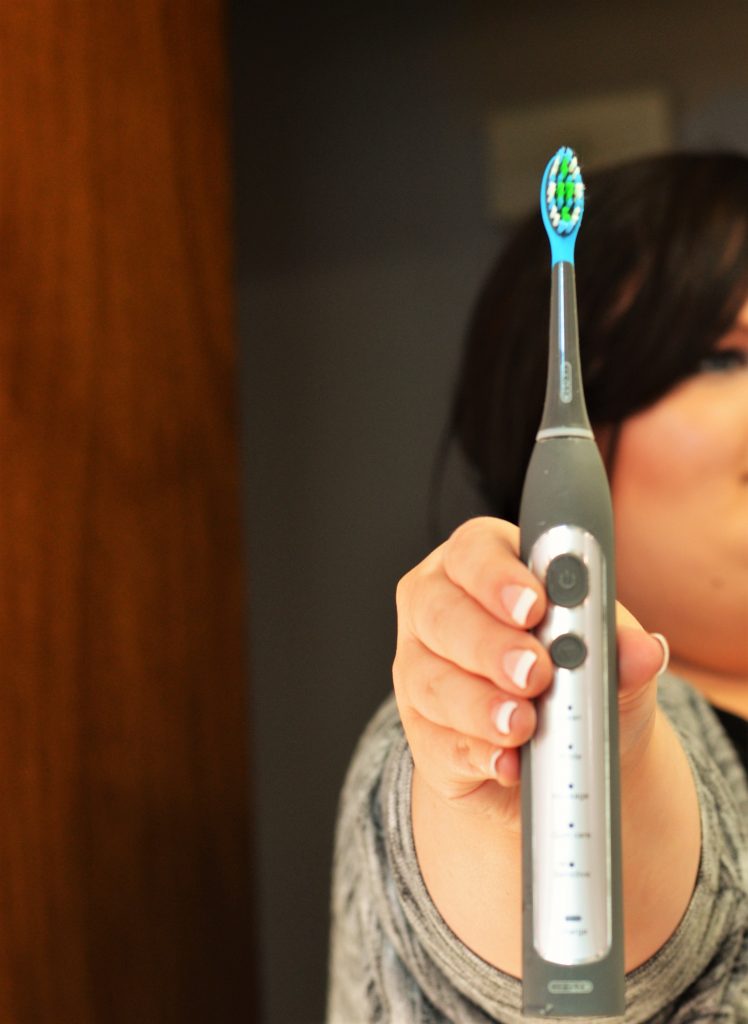 Smile Brilliant gives you three reasons you should try the cariPRO: your mouth will be healthier, your teeth will be whiter, and there is no risk & high reward. The cariPRO offers you a better value with better features compared to other electric toothbrushes on the market.  The toothbrush is equipped with a 2-minute routine timer that has a pause in intervals of 30 so that you know when to change the mode. The individual package will come with one charging station, one cariPRO toothbrush, and 2 electric toothbrush heads that have a tongue scraper and DuPont bristles.
I also want to point out that while it has 5 modes it runs off of one head. You don't have to change brush heads to go to a different mode which is unlike some I have seen on the market. That is one thing I found really unique and loved.
My thoughts
Wow. That was honestly my first thoughts after starting to use this brush. I couldn't believe how powerful but gentle this brush is on my teeth. By far the best electric toothbrush I have ever used. You know how you wake up with that film on your teeth? (yuck!) Well, my normal toothbrush wasn't getting my teeth all the way clean which I didn't even realize until I started using the cariPRO.
After using this brush for only a week or more, I could honestly tell that my teeth felt and looked cleaner and whiter. I believe it's because the modes are so good that the brush really breaks through all that grime and gets my teeth cleaned well.
One thing unique to the cariPRO that I've never had before are those modes. I love them! Let's take a quick look at what they do:
Clean
Made for optimal cleaning results. This is a typical vibration that you expect from an ultrasonic toothbrush. While it moves so fast, it is still very gentle on the teeth and gums. You can feel the power but its a safe and soft power that is perfect for getting your teeth as clean as possible.
White
This mode is for high-speed polishing. I find this mode a faster version of the clean but still as gentle. While I was skeptical at first, I really believe that this is getting my teeth whiter. Partly because I think that this is finally getting all the film and grime off my teeth completely which helps it seem whiter- they're just so clean!
Massage
Massage is for gentle stimulation. Out of all of them, I would see that this is my least favorite mode out of the set but I still enjoy this one. Overall this mode gives you a nice stimulation, and I prefer to use this on my tongue. I have a very sensitive gag reflex so I have to be very gentle and careful when I brush my tongue- so far this works well!
Gum Care
One of my favorite modes! Gum Care is a timed pulse for gum and gumline health. In the past, I haven't been able to really "brush" my gums because the brush is too strong and it hurts my gums. I love this mode because it is so gentle but allows me to really clean my whole mouth including my gums.
Sensitive
Obviously, ideal for sensitive teeth. When I first started the process, I figured that I would need to mainly use this mode because my teeth are sensitive. Honestly, I don't have to necessarily use this because the whole cariPRO is so well made and gentle but effective. But this is still a great and helpful mode for people who have sensitive teeth or dealing with some dental work.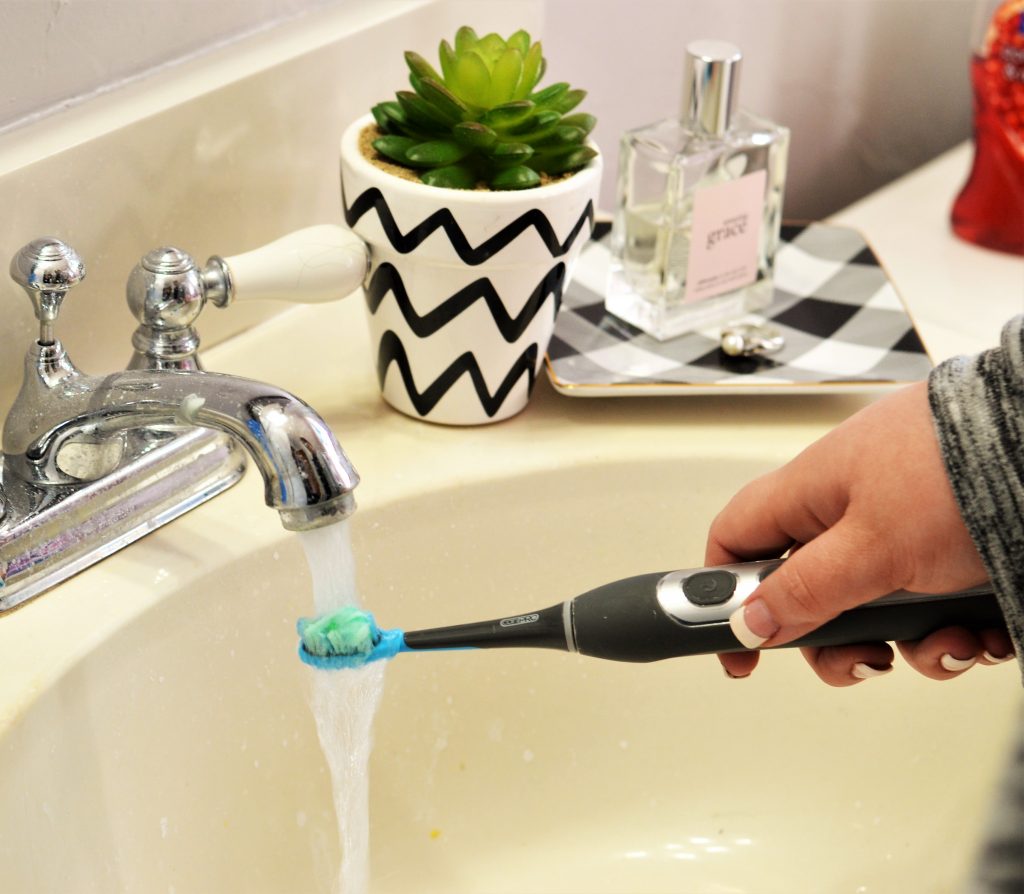 No matter what mode you use you will be getting a great and high-quality ultrasonic toothbrush that performs amazingly for cleaner and whiter teeth. Now the part you've been waiting for! Smile Brilliant has graciously offered to host a giveaway for my followers! The giveaway is simple! All you have to do is fill out the quick form below and you will be entered into the giveaway to win your own capriPRO valued at $119!
And in case you want to go ahead and order one now, I have a coupon code for 20% off Smile Brilliant's electric toothbrushes.
Use code writingsandworship20 at checkout!
I would love to answer any questions you have about the performance of this toothbrush. I'm also planning to do a follow-up here in a couple months about how it continues to perform and work on my teeth. I am honestly blown away by how well my teeth look and feel after using this brush for just a few weeks.
I know for some of you the price still seems a little high (even though it is still more affordable than most on the market) but I wholeheartedly believe that it is worth the money. Because of how well it performs and how my teeth feel cleaner after each use, I think it's worth every penny and I highly recommend saving up some money and purchasing one for yourself. PS they'd make great Christmas gifts!

electric toothbrush