Y'all know I am a big Harry Potter fan. I was searching for a fun tag post to share today and I realized I had never done a Harry Potter related one! How can that be??
Today is just a quick and fun post answering some hard hitting Harry Potter Questions. I found this post from Howling Libraries– make sure to check out their answers as well. And I'd love to hear your answers to these questions, so answer a couple in the comments for me to read!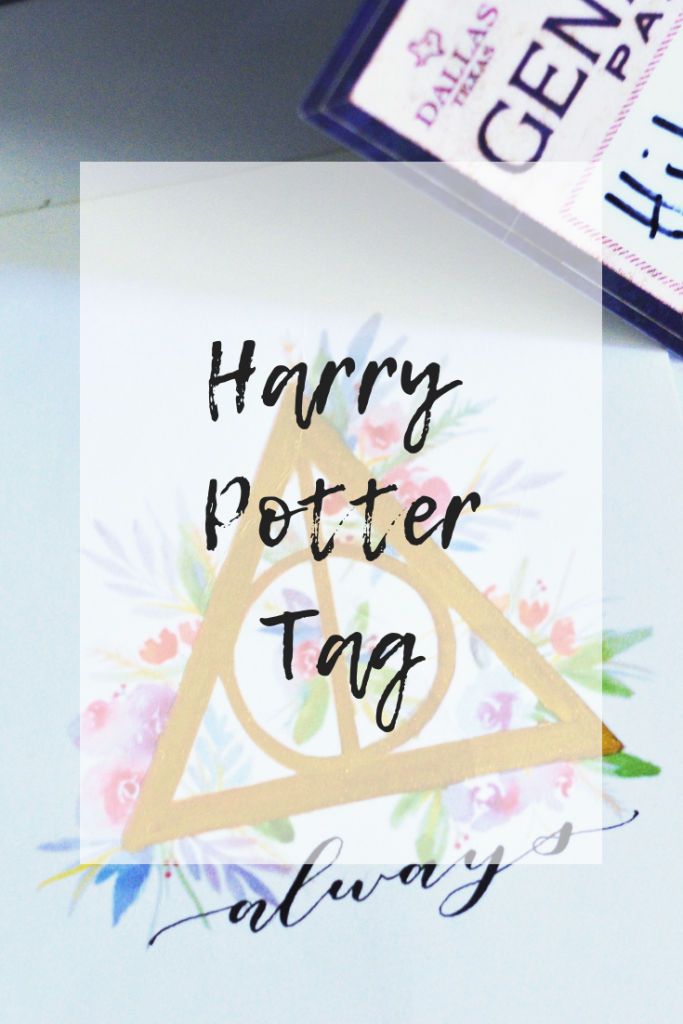 1. Favorite book?
Starting off hard I see! I would honestly say probably Order of the Phoenix or Goblet of Fire. 
2. Least favorite book?
If I had to pick it would be Chamber of Secrets, not because I don't like it but because its just last on my list. 
3. Favorite movie?
Half Blood Prince. 
4. Least favorite movie?
Order of the Phoenix. They left so, so much out of the movie that I think is pretty vital to the story, honestly. 
5. Favorite quote?
"And there she was…walking by…you know how I like it when they walk." – Ron talking about asking Fleur Delacour out to the Yule Ball. 
6. Favorite Weasley?
How is this even a questions. Ron Weasley obviously. Forever and ever. 
7. Favorite female character?
Tonks. She doesn't get enough credit honestly, she's amazing. 
8. Favorite villain?
Umm, none? I guess maybe Draco because he honestly just wanted to impress his dad and the Dark Lord but he was still a jerk. 
9. Favorite male character?
Ron Weasley. He never gets enough credit either. People always think he was the dumb one who didn't contribute much, I think he is much more vital than anyone thinks. 
10. Favorite professor?
I love Lupin, for obvious reasons, but I also just love Flitwick too. He's just so cute and sweet. I always love when he accidentally gets knocked off his pedestal during class because the students charmed something to had.
11. Wash Snape's hair, or spend a day listening to Lockhart rant about himself?
Honestly, Lockhart…I could tune him out. 
12. Duel an elated Bellatrix, or an angry Molly?
Bellatrix. Nothing can stop an angry mothers love. 
13. Travel to Hogwarts via Hogwarts Express or a flying car?
Hogwarts Express. Because who wouldn't want to run through a wall? 
14. Kiss Voldemort, or give Umbridge a bubble bath?
This is a weird question. I'm going to say neither. 
15. Ride a hippogriff, or ride a firebolt?
I think I'd be more comfortable on a Hippogriff. 
16. Is there a character you felt differently about in the movies versus the books?
The book Dobby is just so much more involved and caring. I liked him in the movies but he wasn't as big of a part in the movies like he was with the books. You really see how much he cares and wants to be respected in the books. 
17. Is there a movie you preferred over its book?
I would say maybe Sorcerers Stone just because seeing it all is so much more cool than hearing about it. Especially when watching for the first time, you kind of feel like Harry as he begins to experience it.
18. Richard Harris or Michael Gambon as Dumbledore?
I would have loved a mix of both. Harris was a little too boring for me but sometimes Gambon was a little too intense for who I think Dumbledore's character was. 
19. Your top thing (person or event) which wasn't included in the movie that annoyed you the most?
Most of Tonks and Lupin's relationship. 
20. If you could remake any of the Potter movies, which would it be?
I would say Order of the Phoenix. Too much was let out in my opinion. Obviously they can't put everything single thing in a movie but personally I think there are some big plot points left out. Or at least things that would better help the story. 
21. Which house was your first gut feeling you'd be a part of?
I honestly thought I'd be in Ravenclaw but I'm not! 
22. Which house were you actually sorted into on Pottermore?
Hufflepuff! 
23. Which class would be your favorite?
I think Charms would be fun! 
24. Which spell do you think would be most useful to learn?
Accio, for those times I'm just lazy. 
25. Which character do you think you'd instantly become best friends with?
Neville. Score one for the nerdy, quiet kid! 
26. If you could own one of the three Hallows, which would it be?
None. I think we saw how they can cause some major problems. But if I had to pick one it would be the invisibility cloak. 
27. Is there any aspect of the books you'd want to change?
None. 
28. Favorite marauder?
Lupin or Black. Both are pretty awesome in my book. 
29. If you could bring one character back to life, which would it be?
Dobby. No doubt about it. I mean, who is helping Winky with her drinking issues now that he's dead?
30. Hallows or horcruxes?
Hallows. Horcruxes are too evil.