The more this world deteriorates- the more I want to fill my life with all things Jesus and my faith. I've always loved supporting small business owners and I hope you do too. Lately, I have been obsessed with some faith-based businesses that help keep my mind on things above, as the Bible commands us too.
No matter if it's a shirt, a mug, a print, or a home decor item I find it 10x's more special when it is faith-based and has meaning behind it. Don't you agree? The Lord has really been working on my heart lately about not filling my time and life up with the proper things and a faith-based business helps me do what God is calling me to do. Does that make sense, friends?
Today I wanted to share a few of the faith-based businesses I have been enjoying. Most of these I have found through Instagram and love what they sell and, more importantly, what they stand for. With Christmas fast approaching, maybe this post will give you a few new places to shop for your friends and family! Also, please note that this is NOT a sponsored post. It contains no affiliate links at all. These are just businesses I honestly liked and wanted to share. Although- business owners- I'd love to work with ya! 😉 
Check out these 6 faith-based businesses you need to see! #shopsmall
Click To Tweet
6 faith-based businesses I am loving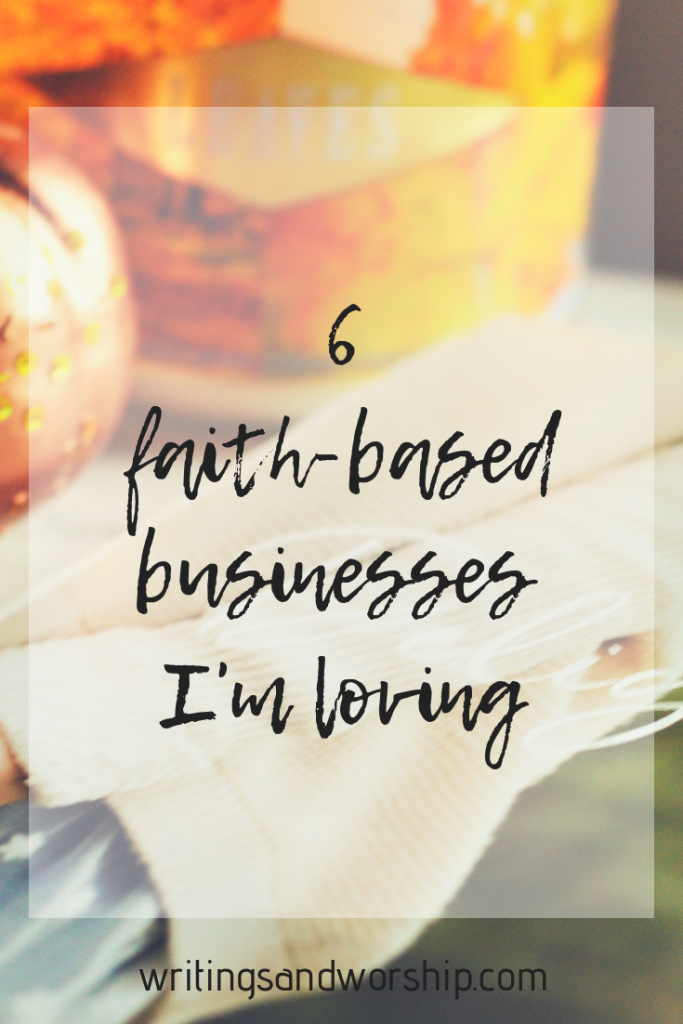 Raise your hand if you love cute shirts!? Elly and Grace sell some of the cutest clothing and they're all faith-based in meaning. They sell items for women, men, and kids. But they also sell accessories! I love their phone cases and plan to get one soon! If you're looking for a tote bag, mug, or phone case- definitely take a look at Elly and Grace. Most of what they sell have a gorgeous hand-lettered font on them with cute sayings like "you were made for this" and "created with a purpose." I'm obsessed with anything that has a hand-lettered type font so I would buy all this stuff if I could. One other thing I love is that they have a blog. I love when small businesses have a blog as well. I feel more connected to them.
I found Disciple Designs on Instagram by simply searching #faithbasedbusiness, man I love social media sometimes! Disciple Designs also sells apparel for women with cute and inspiring sayings on them. My favorite shirt is one that says, "He turns my struggles into my story." How true! Most of their shirts sell for around $24.99 which is an awesome price!
Oh my goodness, friends, Andrea Howey & Co is print heaven. Y'all know how much I love cute prints for my gallery wall and I'm actually looking for a few new pieces now that we have moved. One thing that is unique and so exciting is that she offers a monthly subscription for her prints. So for $25 a month, you can receive 9-12 mini prints that are made to bring encouragement. Not only does Andrea Howey & Co sell prints but they sell greeting cards, notepads, and more. From the minute you hop on the website, the heart of this business is obvious and so encouraging. Andrea creates some incredible and inspiring prints that are minimalist but full of encouragement and faith. Even from just reading her website, you can tell Andrea has a heart for people and a heart for Jesus. I'm looking forward to adding some of her prints to my room soon.
My, My! Crew + Co sells scripture cards that blend my two favorite things hand-lettering and bright colors (well for most of the sets). This business offers scripture cards, thankful cards, and even digital downloads. Their cards are in gorgeous, happy colors that just make them even more fun! I love how she makes scripture cards seem even more exciting and my first thought was they would be great for blog photography. The digital downloads are only $5 and there are endless choices! If you have a hard time memorizing scripture as I do, these cards would be extremely helpful. If you've never seen Crew + Co's cards, you must go look! So pretty, so encouraging.
Soul Stamps is a business I have actually worked with in the past, you can see that here. But Soul Stamps is such an amazing company that sells temporary tattoos that are filled with encouragement and purpose. These tattoo's come in different sets with different meanings such as affirmation, faith, etc. The Soul Stamps are extremely affordable and completely worth it. And if those aren't enough, they have started selling other things like shirts, pencil bags, and more! I have also had the chance to chat with the owner through social media and she is just a complete gem. God has given her a heart for encouraging people and I'm so thankful I found Soul Stamps.
I've chatted about Daily Grace Co for a while on the blog and my Instagram. I'm currently doing their Delight: a study of Psalms for my quiet time and I love it. Unlike many devotions or Bible studies, that typically share more about the personal experience this one is all about the scripture and what the verses are saying- I love that. But that isn't all that they sell! They sell mugs, scripture cards, jewelry, pens, planners, and more. They offer some great sells so make sure you keep an eye out for those! I love Daily Grace because it's not only about encouraging women but about equipping them to study the Word. I'm looking forward to trying more of their Bible studies in the future.