Sunday morning as I sat at my vanity to do my makeup, I was struggling. My allergies have been awful so I had my glasses on. When I took off my glasses, I could hardly see anything so makeup always becomes a bit more interesting (anyone deal with that issue??).
As I started doing my makeup, I began thinking of how I do my makeup when I wear glasses. For a long time, I didn't like wearing glasses when my makeup looked good because I thought it would hide it. And glasses always caused me to hate the makeup process. All of this brought me to the idea of sharing some tips I use when I wear makeup with my glasses on.
I know I'm not the only lady who struggles with what to do with my makeup when I wear my glasses. So I compiled a few tips and tricks I have been or am starting to use when I do makeup when I'll be wearing glasses. Remember I'm not a professional makeup artist, these are just the things that I believe help me and I hope they help you too. These tips are my personal preferences.
6 tips for wearing makeup with glasses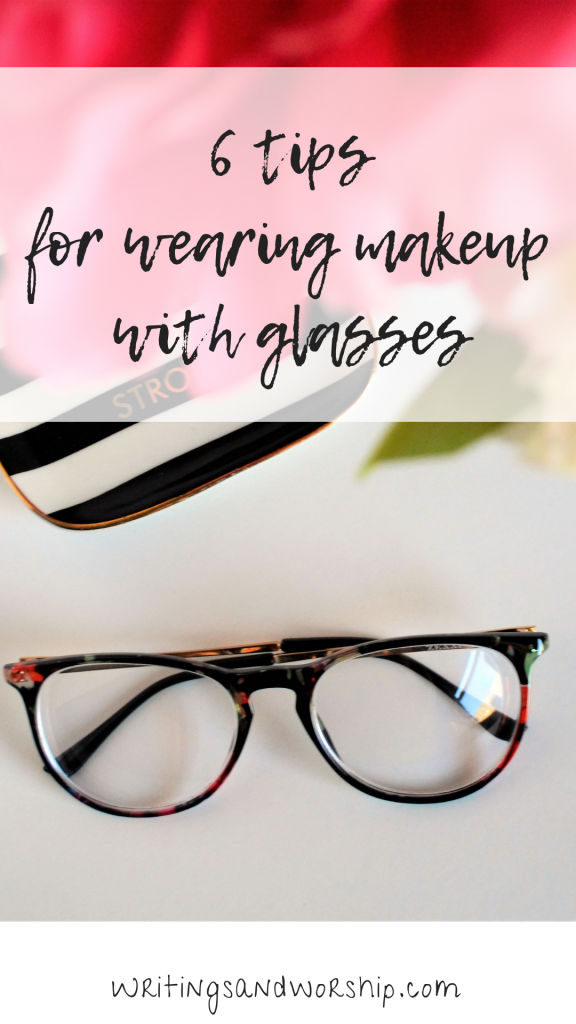 #1 Do the Brows
This was one tip I actually learned recently and I'm so glad I did! I had actually been doing the opposite for a long time. My original thought was "well, my glasses hide most of my brows, why fill them?" Oh how I was wrong. Even as I researched, the most listed tip for wearing makeup with glasses was-do your brows!
And I even tested this tip! I did my makeup and left one brow unfilled and filled the other…I definitely loved the filled brow more. It just felt more complete and really framed the glasses on my face. You don't have to do anything fancy, Just define them and fill them in! I use a pencil but you can use a powder or a cream even. Just make sure to do the brows, no matter what you use!
#2 Curl your lashes
While I don't recommend wearing false lashes, I absolutely recommend you curl them and wear a good mascara. Some of my favorite pictures of my makeup when I'm wearing my glasses is when my lashes are curled and visible even through my lenses. This helps widen your eyes and makes them look more awake.
The problem with glasses is that they cast a lot of shadows on the eye and under it. So anything you can do to open your eyes up and make it brighter is the best option. When your lashes are curled you can see them more defined and keeps your eyes open. My biggest tip is to curl your lashes and use your favorite mascara. I typically curl and use a couple coats of mascara.
#3 Keep some powder to touch up where the rim hits your skin
One of the most aggravating thing about wearing glasses with makeup is the dreaded lines under your eyes and on your nose when you take your glasses off for any reason. Whenever the rims or nose pieces of your glasses sit against your skin for a while, it will rub off your makeup in those areas. My easiest trick to keep that from happening is to keep a pressed powder with you to touch up those areas where the glasses can rub off your makeup.
Especially if you're just wearing sunglasses, it's very important that you keep any kind of powder in your pocket or bag to just do little touch-ups when needed. This takes no time at all and it will save you from having random lines and circles of no makeup areas.
#4 Use a white or nude liner in the bottom waterline 
Like I mentioned above, the main goal when doing makeup for wearing glasses is to keep things light, bright, and open so that the shadows cast by the glasses aren't too strong. One of the best way to do that is use a nude or white liner in your bottom waterline. I typically always wear black eyeliner on the bottom and then smudge it out with a shadow I used on the top lid. But when wearing glasses, and even when not, it is a great idea to wear a lighter liner in your rim because it helps brighten that area up.
Emilynoel83 on YouTube is a great example of using that light, nude liner on that lower rim. And she doesn't even wear glasses! But it definitely really helps keep that eye area wider and brighter when wearing glasses.  Wet n Wild has a great nude stick that Emily uses all the time- get it here.
Use a white or nude liner on the bottom rim when you are doing makeup for wearing glasses!
Click To Tweet
#5 Brighten your under eyes
I know this might seem repetitive, but all of these are different steps that all tend to do the same thing: brighten! If you are like me, I already have very dark under eyes. So when I wear my makeup, it is just a dark, muddled mess under my eyes and the darkness is even more accentuated.
One of the best decision you can make is to make sure your under eyes are brightened. I do this by using a concealer a shade or two lighter than my foundation color. I blend it in and set it with powder. My Maybelline Fit Me is an incredible brightening power that doesn't overdo it. When I say brighten your under eyes, I don't mean to make it so white that it's unnatural- make sure it is natural looking and not overly bright. I know, I know…kind of confusing! Once you work on it some, you'll get it!
#6 Try lighter shadows on your lids 
Keeping with this theme! I typically love a good deep, dark smokey eye. But when I wear glasses I try to keep it lighter and more "upbeat" if you will. And I think that lighter colors stand out better on the eyes when you're wearing glasses. That is my goal when wearing glasses, I want m makeup to still be noticeable and look good. Just because you wear glasses, doesn't mean you can't have fun with your look! There are hundreds of fun, mid-tone to lighter shades that would work perfectly for glasses wearing.
I also love adding shimmer to the lid because it adds something eye catching to the look, even under glasses!