*This post contains affiliate links and was sponsored by Smile Brilliant but all thoughts and opinions are my own*
Hello friends! Today I am excited to announce my partnership with Smile Brilliant to inform you about their easy at-home teeth whitening system; and give YOU an opportunity to win some yourself! Read till the end for a chance to enter the giveaway and receive a coupon off your order!
If I'm honest, I struggle with letting my true smile out because my teeth are definitely stained and worn. My coffee and tea addiction really hurts the color and quality of my smile. So when I was contacted by the amazing people at Smile Brilliant, I knew it was something I needed to go forward with at once!
Smile Brilliant allows you to make custom fitted trays at home, mail them back, then receive your molds and start your sessions to a better and whiter smile! Now this was a big deal for me. I, like many, are terrified of the dentist; so knowing I could make the molds in the comfort of my own home without having to sit in a dentist chair or use generic trays was a BIG positive of this company.
I also have extremely sensitive teeth so the fact that this product is tailored to help sensitive teeth is amazing!  So if you have sensitive teeth or are prone to sensitivity like me, don't worry, this kit is perfect for you! Also, for those who are cognitive of what you put in your body, Smile Brilliant's ingredients are vegan and cruelty free!
Today I am giving you a little run down of the process and my first impressions! I will post an updated review in a few weeks to show you my results! HINT: I could already tell a difference after only two treatments. Also, if you have questions about getting started, Smile Brilliant has 7 things to know before buying to help answer any questions.
Step 1
Order your package, either sensitive or non-sensitive, and get ready to do some easy at-home whitening! Each package includes: whitening gel, impression trays, custom work on your impressions, desensitize gel (if you order the sensitive package), 3 way postage, and 3 sets of the impression material. They also allow you to choose how many applications you want, based on the level of stains you have; which I love because you can tailor it to your needs. I highly suggest if you have sensitive teeth in the slightest to get the sensitive package. That is what I have used and I love using the desensitize gel to help my teeth throughout the process.
Step 2 
When your package arrives, it is time to make your molds! I promise this is easy and not as intimidating as it sounds. All you do is mix the base and the catalyst together, apply it to impression molds, and press the mix into your teeth (one at a time). Once you wait the allotted time, take the impressions out and mail them back in the pre-addressed and paid for return envelope. Mailing them back is so easy and they make it a simple step in the process.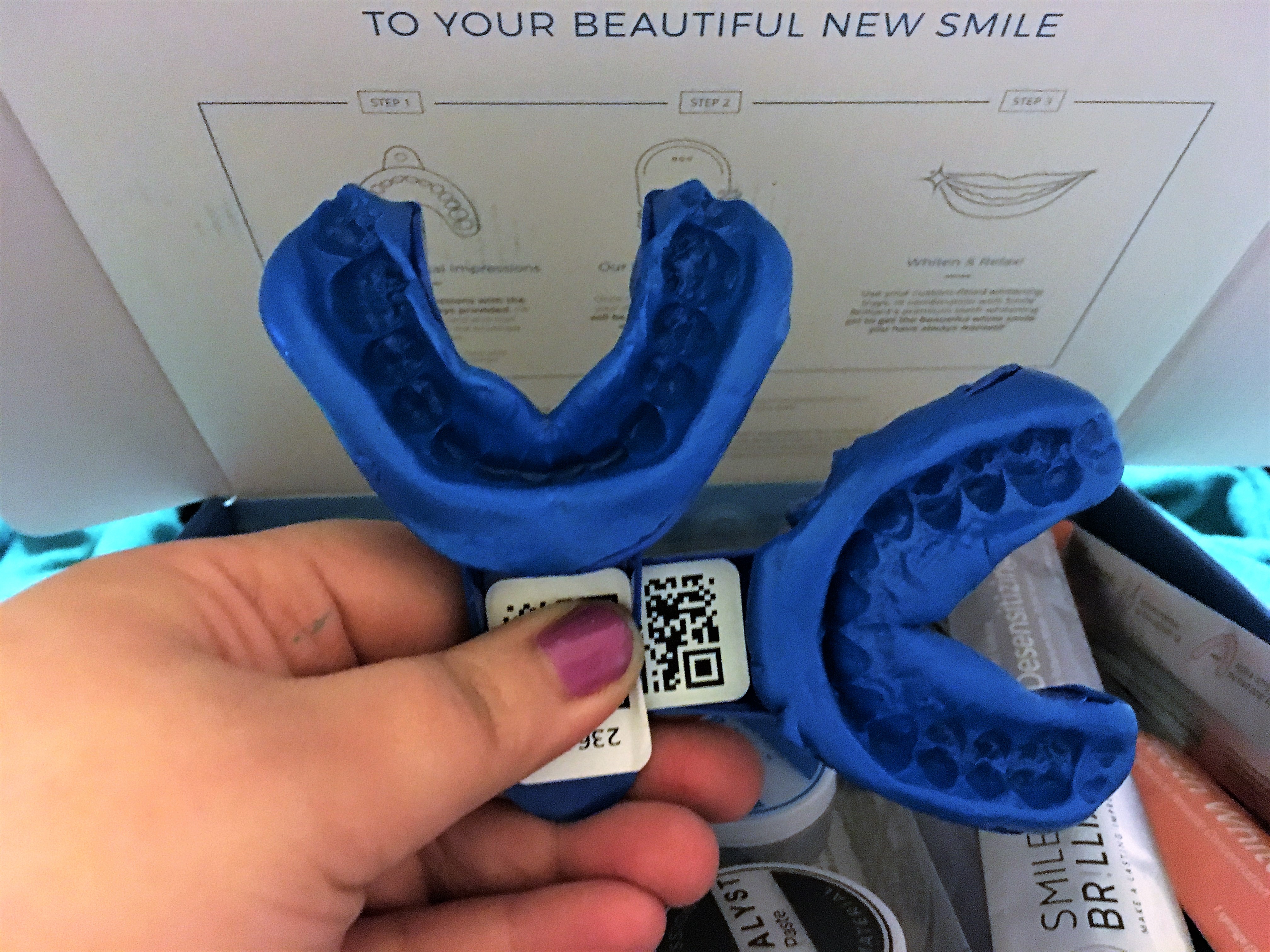 Step 3 
Once your custom fitted trays are mailed back to you, you can start the process! The process is very simple:
Wash your teeth with water
Apply whitening gel to the trays
Wear the trays for 45 minutes to 3 hours
Take them out and wash your teeth with toothpaste
wash off trays and pat dry
apply desensitizing gel to the trays
wear the trays for 15-20 minute
DO NOT brush teeth after this, spit out the excess and clean your trays
These are the steps in their simplest form. Your package will come with full instructions, I just wanted to give you a little glimpse at how easy and fast Smile Brilliant makes getting your teeth brighter and whiter.
I can't wait to update you on the process but so far, I am loving it and already seeing results. The process is easy and Smile Brilliant makes it easy to achieve whiter teeth all while catering to your sensitivity.
Giveaway!
Want a chance to win $139 worth of product from Smile Brilliant?? All you have to do is fill out this information in the link given and wait to see if you win!  http://www.smilebrilliant.com/g/writingsandworship 
This giveaway will run from 5/17 until 5/31 and is open to USA, UK, Canada, and Australia! Don't forget to enter through the link above!!
Coupon!
Interested in getting 5% off your purchase? Use the code writingsandworship5 on your order to receive 5% off!