Let's face it, we don't always have a few hours to make slowly get on our makeup all while dancing to our favorite tunes. Sometimes, we have, maybe, five minutes to throw on something to make us look semi-alive in the morning.
Over the years, I've gathered my own tips and tricks to help you when your in a rush but want to do a quick and easy makeup look. Now these are just my ideas-and I'm no expert. But I thought it would be fun to share my tips and maybe give you a few ideas to help you next time you hit "snooze" one to many times.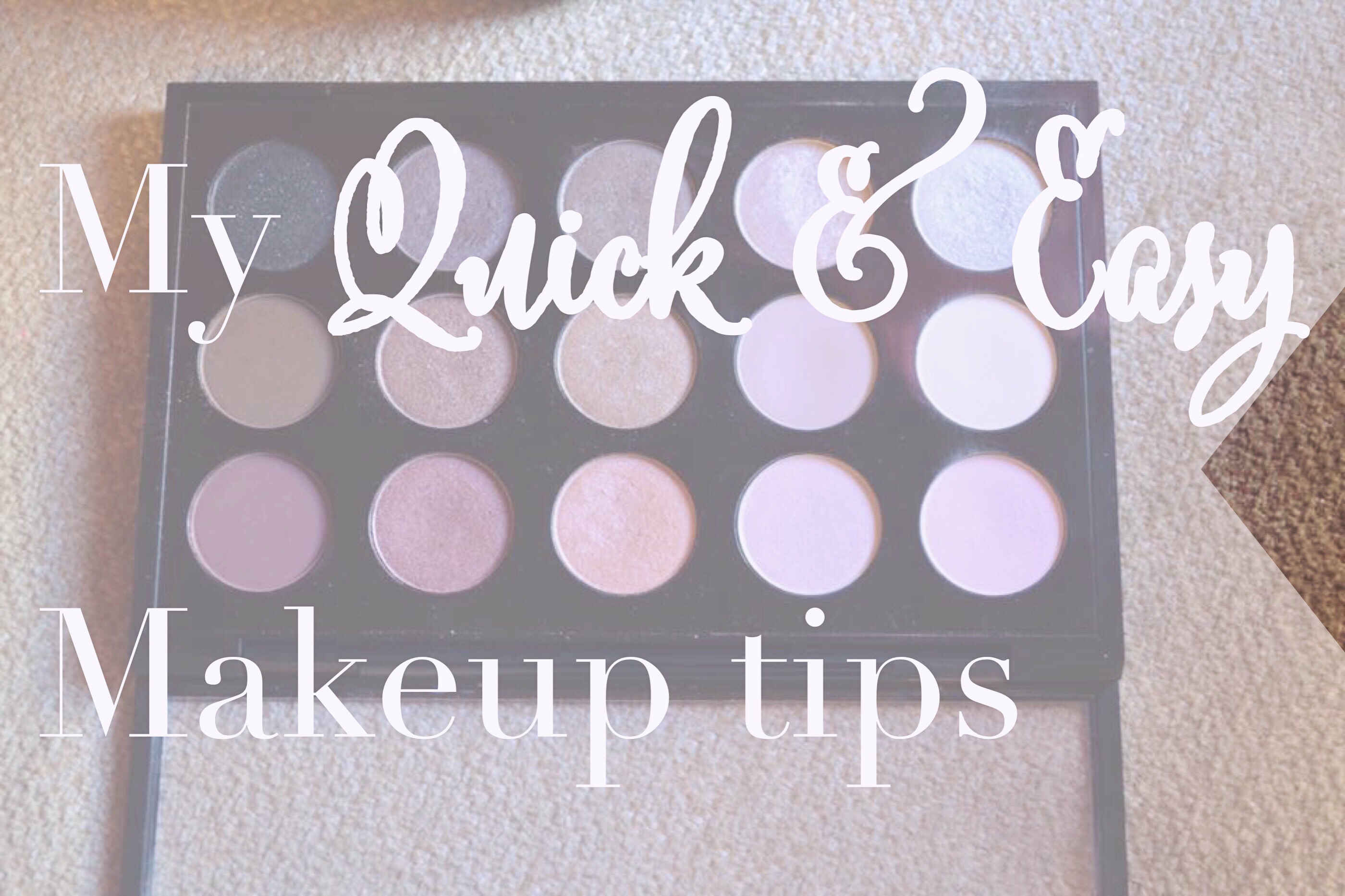 Tip #1 – smudge pots are your best friend 
Every brand has a name for it: smudge pot, paint pot, cream gels…its all one in the same. Basically it's a cream eye-shadow in a pot. If you're in a hurry, these help make a quick but beautiful eye look! On busy days (or lazy ones) I slap on the smudge pot all over my lid and simply blend it out. One color, one products, and one step- it's that easy.
Some of my favorite smudge pots are actually from elf- super cheap! Below is a picture of my look with just a elf smudge pot on my eyes! So simple but looks great! 
Tip #2 – forget the contour 
Maybe you love contour but for me, it's something I don't mind dropping from my makeup routine if I'm in a hurry. Most of my "makeup wearing" years have been spent having no clue what contouring even was so it's never a bad thing to just forget this and just go for blush.
Don't get me wrong, I love contouring but it's not an absolute essential for me. If you're in a hurry don't be afraid to just do foundation and blush on the face!
Tip #3 – try a full coverage powder foundation 
My routine is normally a liquid foundation, concealer, and a finishing powder to set it. But if I'm in a hurry I don't mind grabbing a one step powder foundation. One of my favorites is the Clinique SuperPowder Double Face! Most of the time I prefer a fuller coverage liquid but when I'm in a hurry, a powder foundation might be all I have time for; just apply to the whole face and you'll get some much needed coverage. All while still being fast and easy!
Tip #4 – Mascara is your best friend
My lashes are one of my favorite features and I try not to neglect them even on a rushed morning. If you're anything like me, a little mascara can do wonders for you. I might be extremely tired, but mascara always seems to brighten and perk up my face! It makes my eyes seem awake.
Slap on mascara as you walk out the door or in the car and you are set to go! I'm a believer that there is always time for a little mascara.
Tip #5 – Don't be afraid to go natural
While I love makeup and looking put together and fresh, I don't wear it 24/7. If I am running late, just running to the store, or don't feel like it…I go without makeup at all! Most of us are a little uncomfortable about that, but if I am taking good care of my skin and getting some sleep-then I am much more confident in my own skin.
Never feel like you HAVE to put on makeup when you're in a rush or just not up to doing it. Be confident in yourself and wear that bare skin proudly! Makeup isn't what makes you beautiful friends, don't forget that.
What are your tips for easy makeup looks?? Let me know in the comments!
DON'T FORGET TO ENTER MY GIVEAWAY!
 I partnered with Smile Brilliant for this giveaway! See the original post for info on how to enter.