Today I'm taking a little break from my Miracle series to hop back on another series. (I've got series coming out my ears) I was driving today in my car with the windows down worshiping to some All Sons & Daughters and was reminded of a beautiful song I have loved for a long time.
This worship time prompted me to want to share 5 songs for the waiting. Maybe you're in a season of waiting, and could use some encouragement. Whether your waiting for a spouse, healing, a job, or maybe a baby…He comforted today by the fact that God is with us. I feel like this is something someone needs to hear today, so I hope it ministers to you today.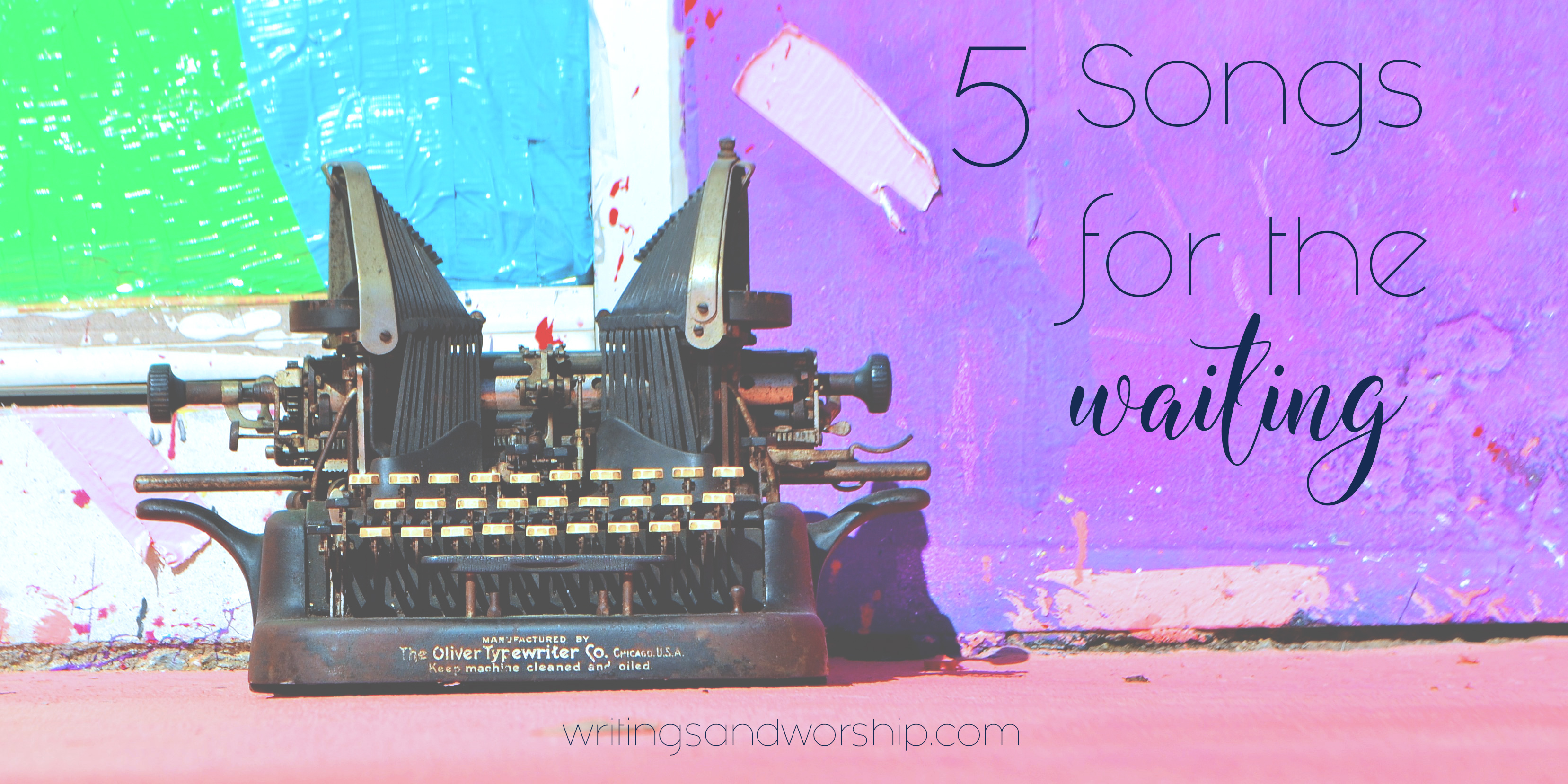 If I were to ever get a tattoo, this song would be the lyrics I would get. There are two phrases in this song that I constantly cling to and recite when I need comfort or reassurance. "Reason to Sing" is a favorite song for many reasons. It is a beautiful reminder that no matter our circumstances we have a reason to sing and that reason is Jesus. I love this song because it is so raw and real. It's saying Lord, please if there is a victory could you sing it over me. I can tell this song was written at a dire moment and at a moment that maybe they were waiting for God to do something.
Another line in the song really spoke to me today, "if this waiting lasts forever, I'm afraid I might let go." Again, it is a honest and real moment with God saying if this waiting lasts forever we're afraid we will lose hope or give up on it. The song ends simply by saying, "That is a reason to sing." Because even after everything happens, Jesus will always be reason enough to live, praise, and have hope. 

"If there be a victory, will you sing it over me now? – Reason to Sing
One thing I love about worship/Christian music is that it's much more than empty words. They are Scripture, or God inspired, and anthems to Christ. For me, I consider this season of waiting a bit like a season in the desert. It's hard and empty sometimes. This song says, "this desert holds a song, I will sing on and on." Meaning, even the dry seasons, the hard seasons, are worth praising and singing about. Even when it is tough, God has a purpose. Just like the song above, there is always a reason to sing.
We are called to continue to serve and grow as we wait. We cannot let those seasons defeat or define us.  I wrote a previous post on just this song, if you would like to read it too.
"As I wait, As I wait on You

I'm gonna run and not grow weary
I'm gonna walk and not grow faint
Rise up on wings like eagles
To soar." – Soar

Kari Jobe is always on these 5 Songs Series because she just knows how to write songs that people need to hear. She paints a story with her words and they are real and genuine.
Are you seeing a pattern with these songs? They are all about continuing to sing in the waiting or various seasons because we must maintain our hope. This song reminds us, once again, to sing. Through long nights, dark times, hopeless situations, we must sing and have faith in God and His timing. It is also about asking God to show us that He is still with us and give us comfort when we need it.
"I need to see You here
I need to know You're in control
Though my heart is torn wide open

I will trust, I will remember." – I Will Sing
I also spoke on this song in a previous post, but it is too perfect for this post not to share. I have been listening to this song all the time recently because it is such a great worship song and says exactly what I want to. I love this one because it not only encourages us to keep singing and praising but to be full of courage and have enough faith in what God has in store.
I love the encouragement that this song gives me anytime I'm facing hard times or pain. The first verse is all about calming your spirit down and setting your mind on God instead of the worries around you. We can take a deep breath because in His time, He will reveal the what is to come. His ways are higher and greater and we must rest in that. He is with us, though it all, never failing us.
"Slow down, take time
'Breathe in,' He said
He'd reveal what's to come
The thoughts in His mind
Always higher than mine
He'll reveal all to come." – Take Courage 
What can I say, I love Bethel worship songs. This song is literally about 3 phrases but it is still beautiful. (But for those who don't like repetitious worship songs, you've been warned). I find this song so simple and so meaningful to just say over myself in times of worry or anxiousness. We must look to God in our time of waiting. We must look to Him to know what our next step is and where we should go. This is a great reminder to set our eyes on Christ no matter what season we are in at the time.
"God I look to You, I won't be overwhelmed
Give me vision to see things like You do
God I look to You, You're where my help comes from
Give me wisdom; You know just what to do." – God I Look to You
What songs do you listen to when you are in a season of waiting or having to fully rely on God? Let me know which of these speaks to you the most!
"All unauthorized use of this blog post or pictures is strictly prohibited. These posts may not be copied or posted other places without the writers knowledge and consent."