Makeup Monday! Who is excited, other than me?? I hope your weekend was fun and relaxing. Today is Monday, but that doesn't have to make it a bad day! For all my lipstick lovers, I have a great post for you.
Today I am continuing on my series about my personal lipstick collection. I've already shared my reds and today is pinks! Seeing as though pink is by far my favorite color, I also love pink lips. Now, they can be hard to pull off…most of the time the pinks can be PINK and very bright. But they're still beautiful nonetheless.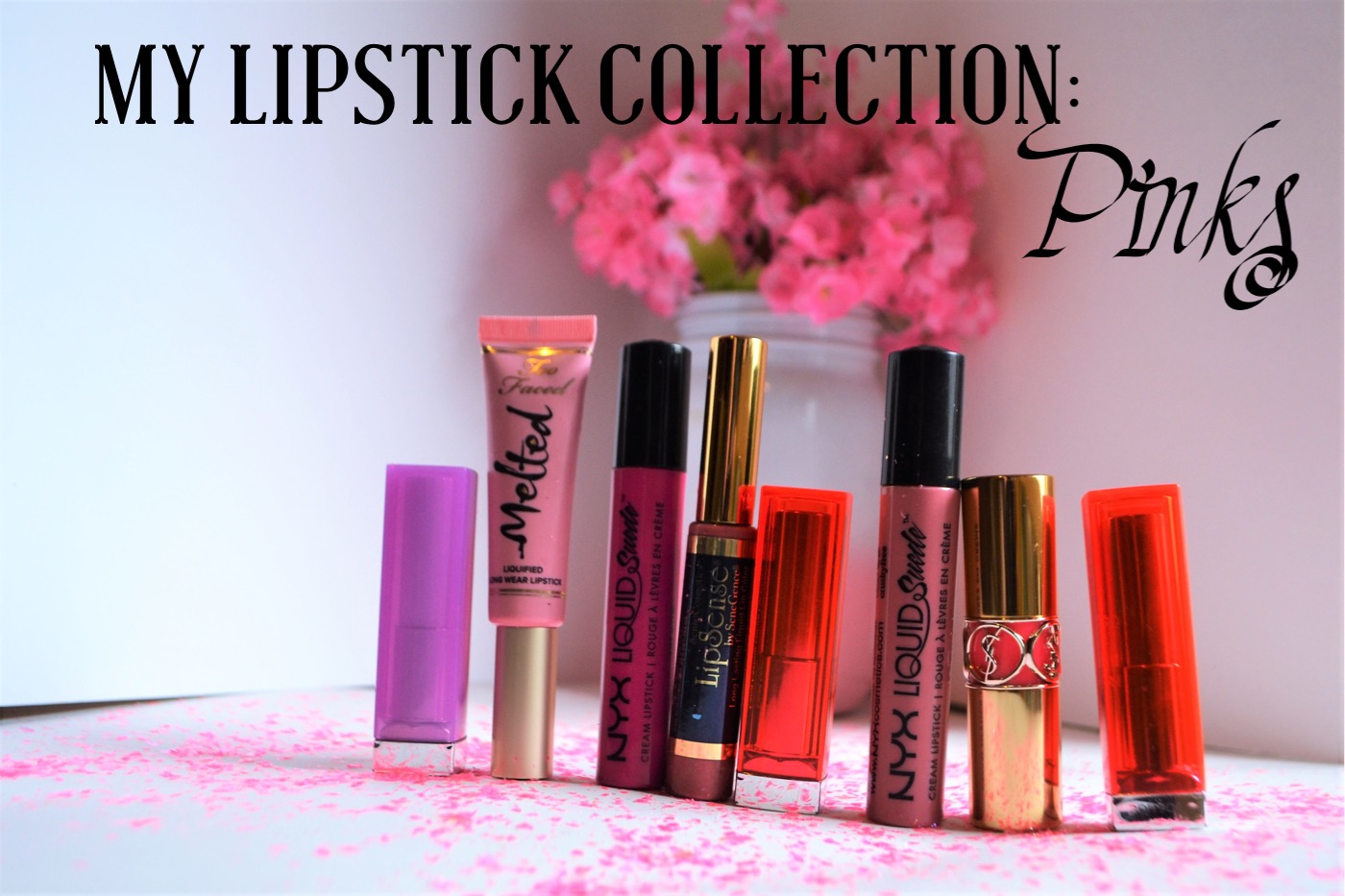 My pinks have a very big range from nude, subtle pinks to electric, barbie pinks, to coral pinks. I will say I had a hard time categorizing some of my pinks/nudes. Because I have a lot of pink colors, some more pinky toned nudes will still go in the nude category down the road. Most of my "nudes" are skin color or pink and not brown so they were hard to decide where they fit best.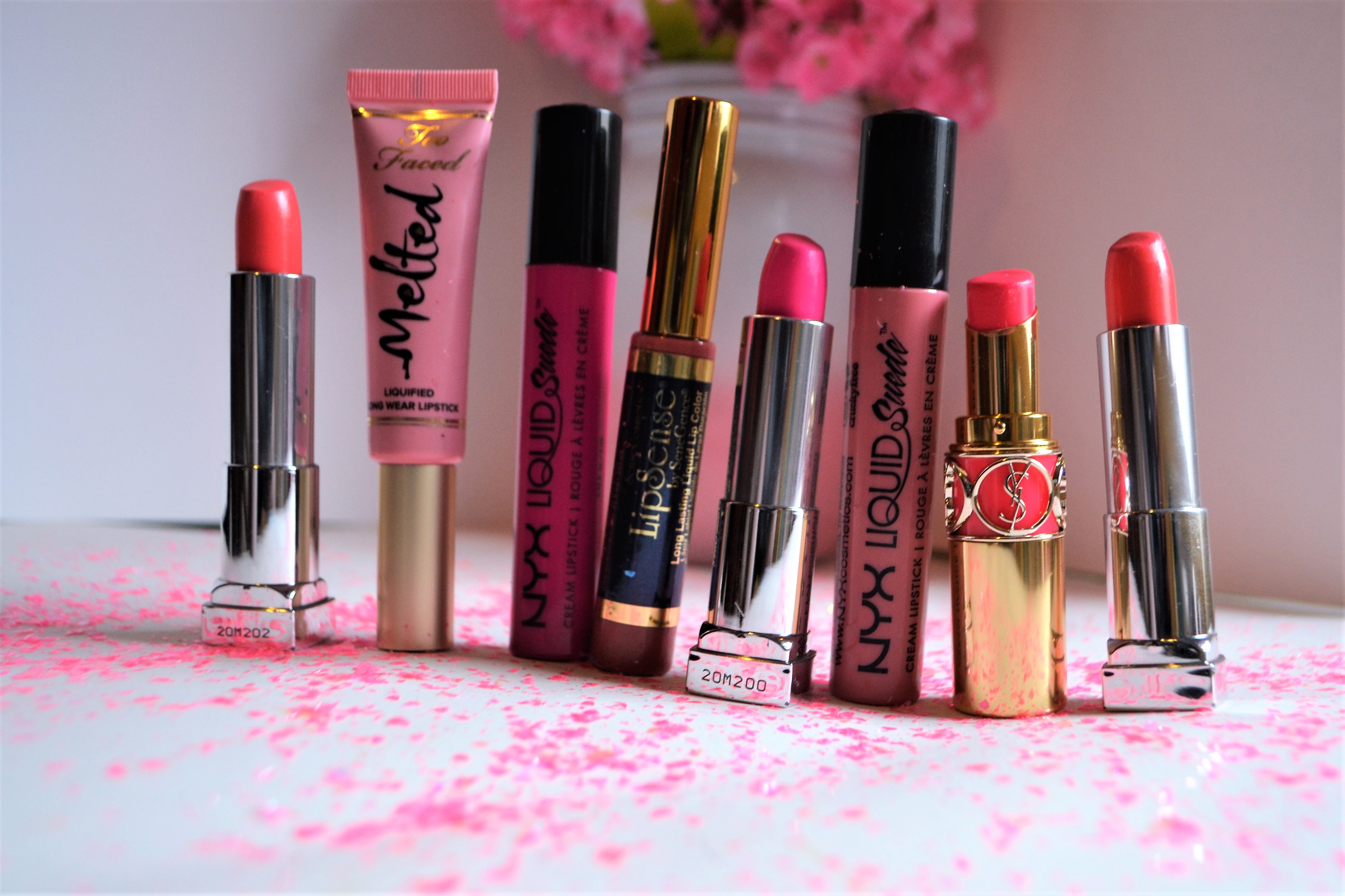 Maybelline Color Sensational Vivids in 870 Shocking Coral ($7.99) And by shocking, they mean shocking. 870 is another really fun, almost electric, coral color. I don't wear this often but when I do…I love it! While it is coral, it isn't orange toned at all (I don't look good in warm orange tones). I was so glad when I found this shade because it was coral without being outside my comfort zone. It is a beautiful summer and spring color! This color looks more orange in the swatch, but on my skin, it isn't.
Too Faced Melted Peony ($21) As I wrote about this one I realized I need to wear this more often. It is a beautiful subtle pink with an amazing formula. While Melted lippies are a bit pricier, they are so thin and pigmented that they last for a very long time! You can barely tell I have used any at all. I love this for an everyday pink; it is classic and not overpowering.
NYX Liquid Suede Cream in Pink Lust ($6.99)  You know that electric bright pink I spoke of? This is one of those! I received this in Ipsy and MAN is it a fun color! Almost too bright for me to wear, but every once in a while you need a fun color like this! I love the cream consistency of this line of lippies, I have talked about them many times.
Lipsense Dark Pink ($25) This is one of my favorite everyday colors to wear. I love this shade so much and I wear it all the time. I have mentioned it in favorites posts before and I still use it almost daily. This is a great simple pink color; a little brighter than most nude pinks but looks great on the lips with any makeup.
Maybelline Color Sensational Vivids in 865 Fuchsia Flash ($7.99) Seeing a pattern here 🙂 Just like the NYX Pink Lust, this is a beautiful vibrant pink shade. I just couldn't resist its bright beauty. I once again love this formula and price point. I love to pair this with a very subtle makeup look since it is so vivid.
NYX Liquid Suede Cream in Tea and Cookies ($6.99) Tea and Cookies is another great everyday color to wear. I consider it a light pink almost shy of a nude. The cream formula dries matte and is easy to wear during the day. Because of it being a cream, it isn't overly drying on the lips either. Beautiful color!
YSL Rouge Volupte Oil-in-stick in 49 ($37) Ya'll know this is my pride and joy! There is no greater pink lippie than this classy and beautiful pink shade from YSL. It is high shine and extremely moisturizing. It has great pigmentation all while feeling like a oil or chapstick. I could not say enough great things of this line of lippies. I'm looking forward to buying a fall/winter shade soon. It's pricey but worth it.
Maybelline Color Sensational in 740 Coral Burst ($7.49)  *exact color no longer available, linked closest shade* I have been a big fan of the Maybelline Color Sensational line for many years. I love how affordable and pigmented they are! Maybelline really knows lippies and these shades are so creamy and feel great on the lips. Coral Burst is a beautiful coral/pink color that is definitely not too orange or bright.