Happy National Lipstick Day! If you hadn't heard, today is all about lipstick. In honor of such an occasion, I am starting a new series: My Lipstick Collection. Normally I don't post on Saturday, but today is a perfect day to start this series!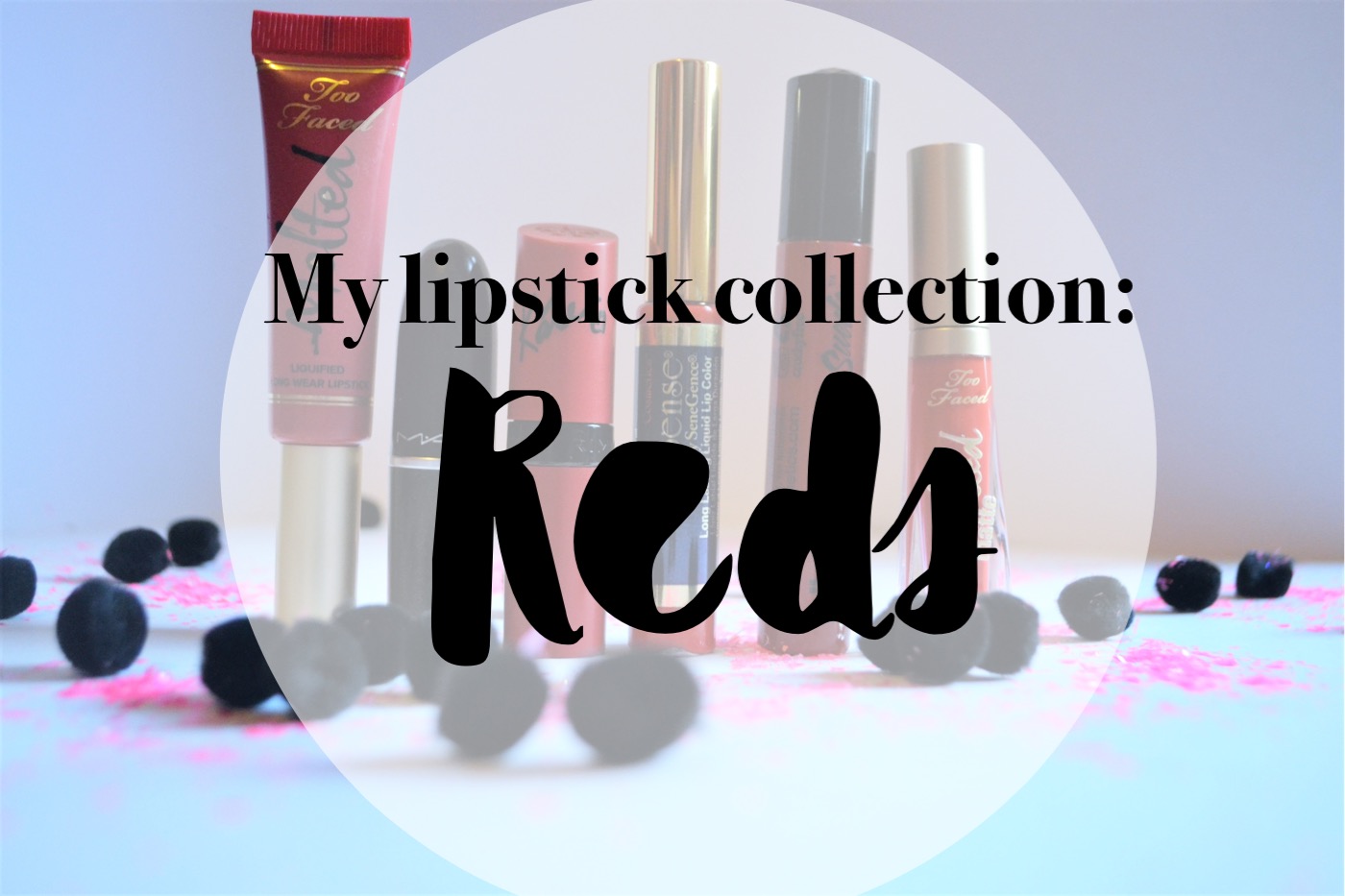 My Lipstick Collection will be a quick look through the lippies I own. I have a pretty good collection, but definitely not too big that I can't do this series. I wanted to share before I got too many that it would be impossible to share them all. I plan to break it into colors: reds, pinks, berries, and nudes.
First up, REDS! I know that most classic reds look exactly the same, but you have to have some different brands. I have a mix of liquid, cream, and lipsticks. Who doesn't love a classic or deep red, am I right? Here are all my red lippies:
Too Faced Melted Ruby ($21)  This was the first real "high end" lippie I ever bought. I do still love it, but it is very liquid like, almost like water. So application is a little tricky until you get the hang of it. Melted Ruby is an odd color, the bottle shines deep classic red but the actual product is borderline just pink! It does have a red base to it though which is why I included it in this collection. You definitely don't need much, it will go a long way!
MAC Red ($21) This was the first MAC lipstick I ever bought. While this is another classic red like the others, it is a Satin instead of matte. Sometimes I like a satin red because it shines so nicely. I like MAC lipsticks but I don't find them any better than any others I have tried but I'm glad I at least tried them. I'm glad I got a classic red because it's something I wear often.
Rimmel Kate Moss Matte Lipstick in 107 ($5.49) I first found this color from Zoe Sugg, she mentions it all the time and I knew I wanted to try it. It is by far my go-to in fall and winter. It is a deeper red, close to wine or burgundy. It is the perfect fall red color and so affordable. I love the whole  Kate Moss line from Rimmel and this is my favorite shade so far. I highly recommend it!
Lipsense in Cranberry ($25) This is a bit of a tricky color. It swatches extremely pink but it goes on very red. Either way, it is a beautiful, stunning color. Lipsense is something I am still working on a review for, lots of testing! But this is by far one of my favorite colors so far! Perfect for summer and into fall. You can never go wrong with a red.
NYX Liquid Suede in Kitten Heels ($7)  If you're looking for a cheaper version to the Too Faced color, this is a great option. I love the liquid suede line from NYX. Creamy, matte colors with great staying power. I purchase mine from Ulta or online, they have some great fall colors too. Kitten Heels is a perfect classic red and is less than $8! Perfect for any budget! I love the creamy consistency of this because it is really easy to apply and doesn't bleed too much.
Too Faced Melted Matte in Lady Balls ($21)  I actually have a smaller version of this that was in a Christmas set but it is by far one of my favorite red liquid lipsticks. It truly does dry matte but isn't too drying on your lips. It has great pigmentation and staying power. I will say I have to wear this with a liner, and if I don't it tends to bleed and get everywhere on my mouth. But I haven't had those problems when I used a liner. Great classic matte red for anyone wanting a little something on the higher end side.