One thing I love about music and worship is the fact that songs allow us to be refreshed, encouraged, and sit in Gods presence for a little bit. On our most weary days, God is there; and one way He can encourage us is speaking to us through a song.
Today I'm sharing 5 songs for the weary. These are ones that I clinge to when I'm just worn out and in need of Jesus' strong presence. Word are powerful and sometimes certain worship songs are just exactly the words you needed to hear in that moment, these are those songs for me.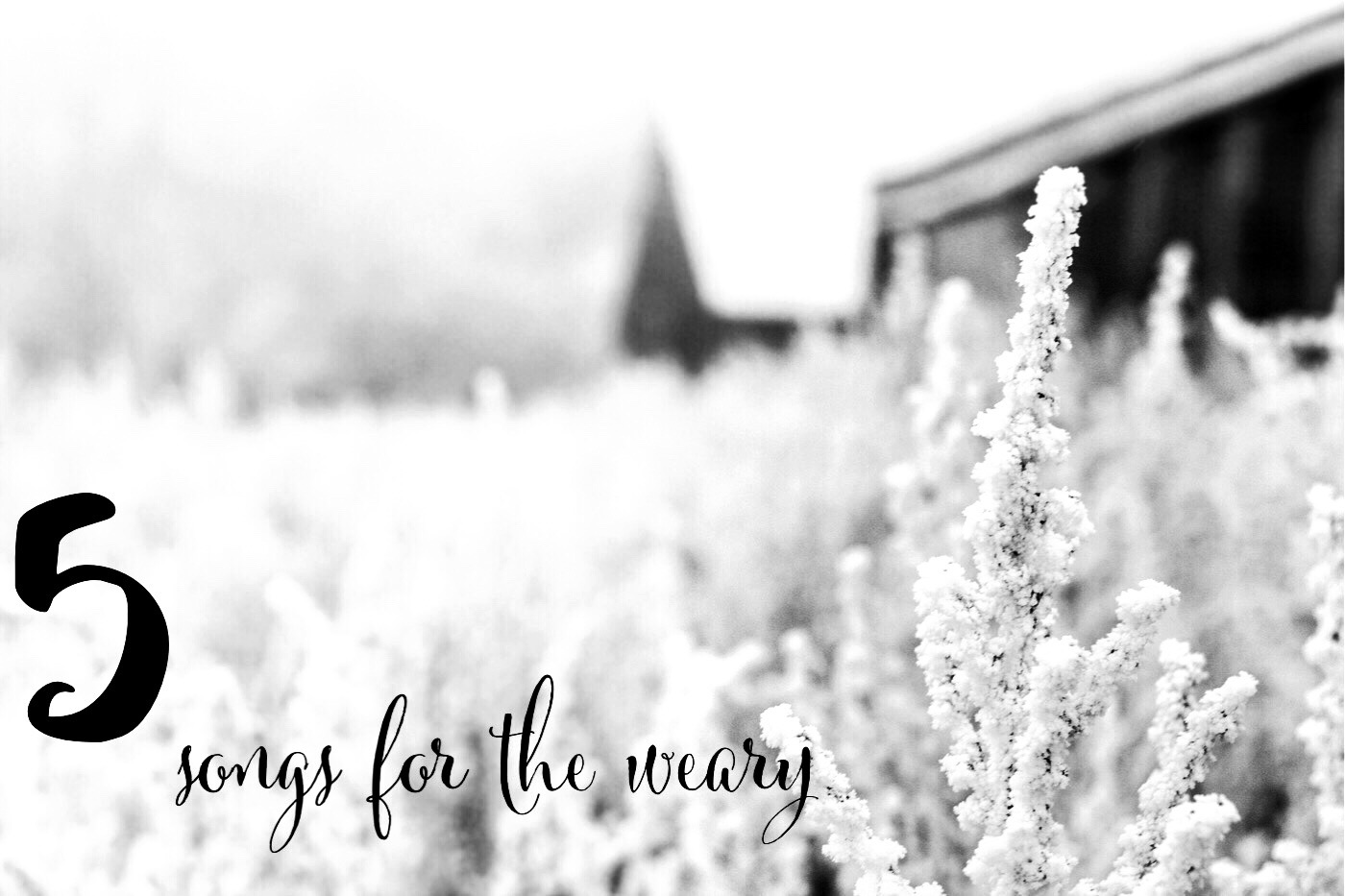 Impossible by Meredith Andrews
I stumbled upon this song on accident one day (well, not an accident, Jesus lead me to it I'm sure!). This song is all about reminding us that it's impossible for God to fail; impossible for Him not to go before us.
In a world that constantly fails and let's us down, knowing God never does is a huge comfort. I don't think we dwell on that thought enough. On our weariest days, God is there and walking with us. No matter if we're in the valley or high on the mountain God is there is nothing sweeter than that. Listen here.
"It's impossible for You to fail me
There's not a day that You won't go before me
Even when I'm at the end, I will not forget
It's impossible for You to fail."
Find you on my knees by Kari Jobe
Kari Jobe is known for writing worship music that is for the broken and the hurting; music that encourages and uplifts. Find you on my knees is a song about finding God on our darkest days and in the weakest moments.
The Bible says that the Lord is closest to those with broken hearts. This song is a proclamation that we will find God no matter where we are; and sometimes where we need to be is on our knees at our end with nothing except for a longing with God. This song is incredibly powerful and anointed- I could talk about it for days. Sometimes all we have to offer God is our brokenness and that exactly what He wants. Listen here.
"But I will find you in the place I'm in,
Find you when I'm at my end,
Find you when there's nothing left of me to offer you except for brokenness."
Come to the River by Housefires II
When we're weary, what we need to do is come drink from the river of life. We need to soak up Gods presence and love. Our soul needs to be filled with His word and His love. He is always ready to give us fulfillment we just need to com and receive.
Come to the River is a call for us to come to the river and take in what Jesus offers; for us to taste and see. So that our soul can rejoice and not be weary. Listen here.
"Those who are weary, those who are needy
Come receive
Come to the river, come to the river
Taste and see."
Deeper by Meredith Andrews
Deeper is an upbeat and exciting song that is a call to rejoice in every situation. Our valleys will make us lift our eyes up, our sorrows make our joy grow deeper, and our our giants are calling out the fighter inside of us.
Even when we are worn out we don't give up because even at rock bottom God is working and moving in our lives. He's taking us deeper and our love for Him grow deeper every trial and valley. This song makes me want to dance and praise because it has such encouraging words in it that my weary heart needs to hear. Listen here.
"Thrown down but not defeated
I'm worn out but not giving up
I've hit ground but even at rock bottom
I'm just getting started, yea, I'm just getting started."
Fighting for Me by Warr Acres
Restlessly. God is fighting for us relentlessly. Warr Acres writes such incredibly deep messages in their songs. This song is all about knowing that even when we feel the waves crash over us, Jesus is fighting for us. His love is chasing us.
When we are weary, it's probably because we've been trying to do and handle everything on our own. But even in those moments when we get ourselves into those pits and swells: God never stops for fighting for us. There's nothing more comforting. Listen here.
"Buried beneath the waves, my heart was fading calling me from a grave, Your love was waiting though I fight against You, You will never stop fighting for me. Relentlessly, Your love is chasing. "
What songs do you listen to when you are weary? I really encourage ya'll to go listen to these!