A few weeks ago I shared 5 songs for the weary and I really loved that post because those were songs that had really touched my heart and lifted me up out of the valley. However, not all seasons are seasons of weariness and struggle. We tend to focus on the bad and forget the good. We seek God the most when we are broken and need Him.
God deserves our praise and attention at all times not just those valleys but the mountains too. We need to praise and be joyful no matter what we face in life. Today I wanted to focus on being joyful and grateful so I am sharing 5 songs for the joyful. I've noticed that one thing that makes a song "joyful" is the beat. If you listen to these 5, you'll notice a pattern of a faster tempo and fun beat compared to the songs for the weary.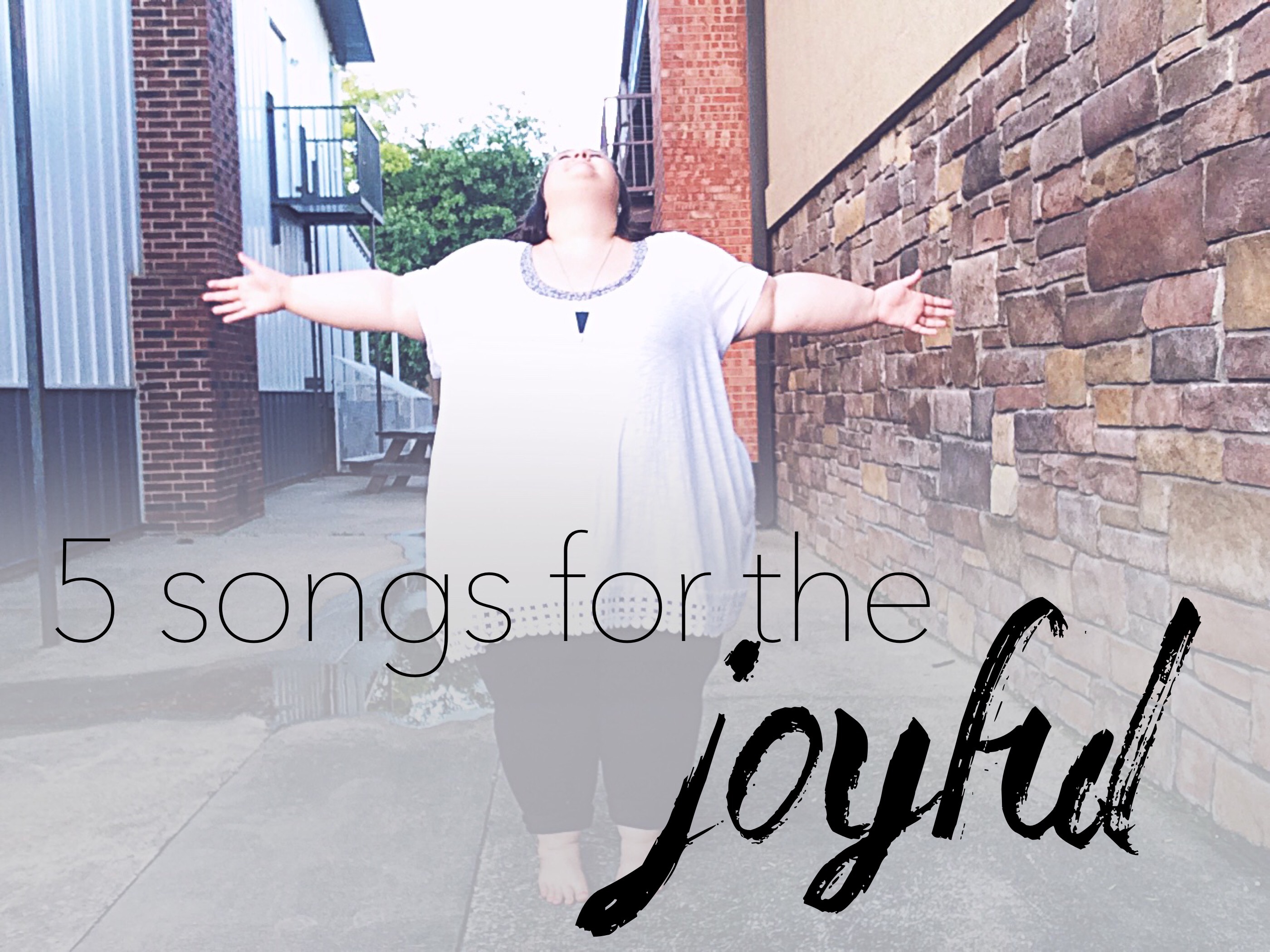 Only Your Love // Kari Jobe
While Kari Jobe writes some incredible anthems for the broken and hurting, she also knows how to be joyful and give God that praise and honor. "Only Your Love" is all about who God is and what His love is about. It's upbeat and exciting and reminds us why we love the Lord. I always am reminded how thankful I am for the Lords love and His and in my life when I worship to this song. When we focus on who GOD is and less than who we are, we find more joy.  Listen here.
"Your love is overwhelming
Brought me to life again
Your love, it lasts forever
In You there'll be no end."
Your Love Never Fails // Jesus Culture
Joy comes in the morning. That phrase is the whole idea of this song. His love never fails and because of that, joy comes every morning, even if the night is long. What else could make us joyful but that simple fact? Oceans rage, nights are long, but none of that matters because God is working it out for our good and His purpose. Part of being joyful is knowing that God is never failing; God gives us comfort because when the world fails He never will. Listen here.
"You stay the same through the ages
Your love never changes
There maybe pain in the night but joy comes in the morning"
Open up the Heavens // Meredith Andrews
Show us your glory, Lord! There is nothing more joyful than looking up to the heavens and asking to see God. Another upbeat song, "Open up the Heavens" is an exciting song that is fun to sing but has incredibly powerful lyrics. We want God to hear our praise and to feel our joy. We need to ask for more of God when we are joyful not just forget Him when things are going well. The Bible says that the Heavens declare the glory of God; talk about joy. Listen here.
"Open up the heavens
We want to see you
Open up the floodgates
A mighty river
Flowing from your heart
Filling every part of our praise"
Come to Jesus // Warr Acres
I've talked about Warr Acres before but they are a worship band from a church here in Oklahoma called Victory Church. I listen to a lot of worship music, and I can honestly say that Warr Acres is one of the best worship band's I have ever listened too. Not only are the insanely talented singers and musicians, they can write songs with such anointing and  meaning that I am always amazed at their abilities.
"Come to Jesus" is about coming and rejoicing with Jesus. The lost, the broken, the restored, everyone…coming to Jesus because of what He has done for us. If there was ever a perfect song for the joyful, this would be it. I really encourage you to listen to this worship team, they're on iTunes too! Listen here.
"Come and rejoice with lost ones found,
with the chained who've been unbound,
with the sick who now are healed forever.
Come and sing praises to the King,
who in humble suffering,
gave His life to make us whole forever."
Wake // Hillsong Young & Free
First off, Taya Smith can SING. But secondly, this song has a beat and a message that you need to hear. If you are looking for really exciting worship music that still has a great heart to it "Wake" is for you. It is about asking God to wake within us and let Him be seen by all. I love to get up and express my joy to the Lord in dancing and praise with this song! Listen here.
"You will never fade away, Your love is here to stay
By my side, in my life, shining through me everyday.
You wake within me, wake within me
You're in my heart forever."