Passion is probably one of the most popular worship bands. A church, a band, a conference… it's one of those. But, so far, seems to be less controversial than other big-name churches. I've been listening to Passion since my early youth days.
While I was prepping for this post and reviewing all their songs from over the years…I was reminded just how long I've been singing Passion songs. When I first started leading worship in youth group, we sang so many Passion songs such as Sweep Me Away, Marvelous Light, and so many more. I'm talking years and years of popular music.
Passion music always confuses me a little because while it is a band, the albums are usually from the conferences and include many other big-name worship artists. So some of these songs might be original songs by others but were covered by Passion. Today I'm sharing my Top 10 Passion Songs. There are dozens of options, but these are mostly my favorite, more recent favorites.
Top 10 Passion Songs #passionworship #top10songs
Click To Tweet
Top 10 Passion Songs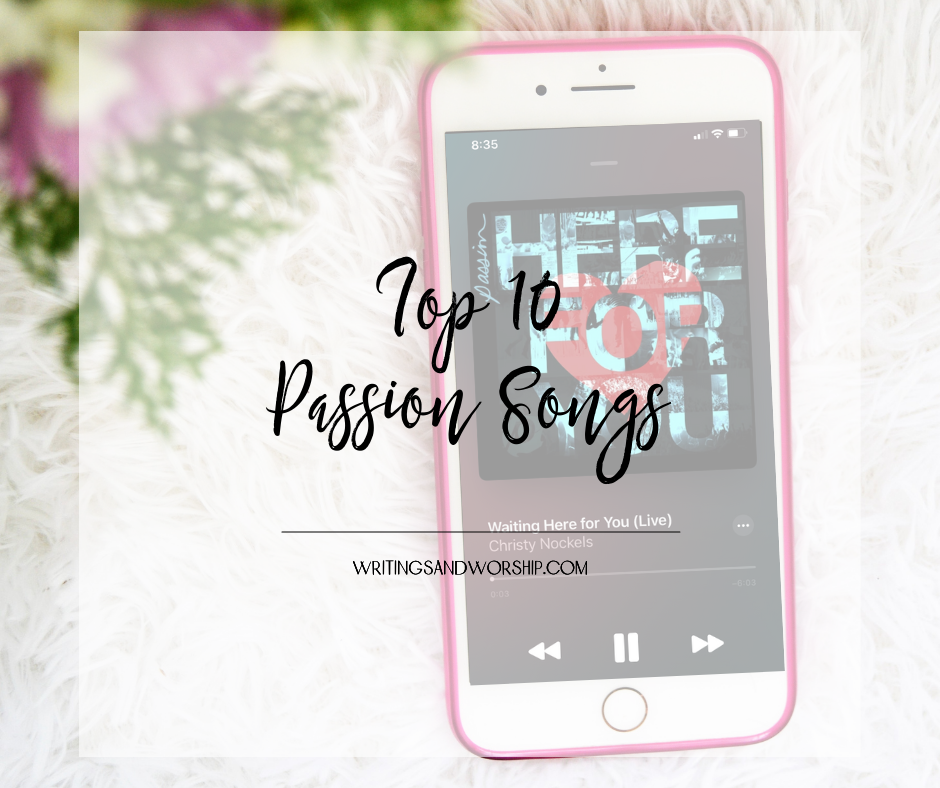 #1 Let it Be Jesus
Christy Nockles is one of my favorite worship leaders that has ever been with Passion. She has such a great voice and a great spirit. This song, "Let it be Jesus," is probably one of my all-time favorite Passion songs. Because as someone who always tries to turn to my family or friends first, this song reminds me that Jesus should always be my first answer. It is such a simple song but so profound and a very important lesson we all need to remember.
Let it be Jesus
From the rising of the sun
Let it be Jesus
When all is said and done
I'll never need another, Jesus there's no other
#2 Raise a Hallelujah
How often do we think to raise a hallelujah when the storms are raging? I love the premise of this song- the idea that we should sing in the middle of the storm and that God will continue to pick us up from even our ashes. Even in the darkest moments, Jesus has already defeated death and is alive! That alone is reason enough to praise Him in all the hills and valleys we face in our Christian walk. Always a great song to sing & a great message for us all to hear.
I'm gonna sing, in the middle of the storm
Louder and louder, you're gonna hear my praises roar
Up from the ashes, hope will arise
Death is defeated, the King is alive!
#3 The Lord our God
One thing I love about many of these songs from Passion is that they are often about who God is and His power. So often worship songs become too much about us when they should really be all centered on Jesus because He is truly the one who deserves our praise. Forever, I want my lips to say that He is the Lord my God.
The Lord our God is ever faithful
Never changing through the ages
From this darkness
You will lead us
And forever we will say
You're the Lord our God
#4 At the Cross (Love Ran Red)
This song is probably most known from Chris Tomlin but I still wanted to include it because it was still performed and recorded by Passion as well. I remember singing this song at church camp as a teen-brings back some memories! I love the visual this song gives us…"where Your love ran red, and my sin washed white." I think the use of the colors really help us paint a picture of the cross. Without the cross and the resurrection, we would have nothing.
At the cross, at the cross
I surrender my life
I'm in awe of You
I'm in awe of You
Where Your love ran red
And my sin washed white
I owe all to You
I owe all to You
#5 Waiting Here for You
I've had this song on my playlists for years and it is still a favorite of mine. I think because I have had many season of waiting…this song has a special place in my heart. Waiting can get so tedious that we lose sight of what truly matters. This song is a great reminder that we should be worshipping in the waiting- without hands lifted high to Jesus. I still even need this reminder daily. I have spent many worship sessions singing this song to the Lord out of desperation for my heart to be in the right place in the hard seasons.
Waiting here for You
With our hands lifted high in praise
And it's You we adore
Singing Alleluia
#6 All My Fountains
Passion does know how to put out some great, upbeat worship songs. This song is definitely one that is great to listen to while driving or cleaning. Honestly, this is just a fun song to worship to. The beat is fun and the music is really catchy. I wish I had more elaborate reasons for why I chose this one…but honestly, it is just because it is a fun, uplifting song.
Open the heavens, come, living water
All my fountains are in You
You're strong like a river
Your love is running through
All my fountains are in You
#7 Healing is in Your Hands
This is another song that has been on my playlist for many years. I remember listening to this during some scary family medical issues we were facing. There is nothing more comforting than remembering that God is the ultimate healer. Healing is in HIS hands. Not ours, not even the doctors…but in God's hands. No matter what we are facing it is in His hands. No sickness is too strong for Him, nothing we face is bigger than He is, friends. Hold onto that. Sing this song over your life if you are dealing with an issue today.
How high? How wide? Oh, Lord
No matter where I am
Healing is in Your hands
#8 White Flag
If I'm being 100% honest with you guys…I didn't even like this song at first. Maybe because it was so overplayed that I got sick of it…but I couldn't stand it. However, it has grown on me. I also think this is a great, well-known Passion song that so many of us probably know. It is a simple song but still powerful. The idea of surrendering everything to Jesus is easier said than done, but something we all must do. With someone who deals with anxiety, surrender is not something that comes easily to me. I really struggle with surrendering everything to Jesus. I pray that I can live out this song daily.
We raise our white flag
We surrender
All to You
#9 Glorious Day
Just like the song "All my Fountains," this song is another fun, upbeat song that is just fun to sing. How exciting is it that Jesus calls our name! He calls us out of our darkness and into His glorious light- what a beautiful thing! Love this song!
You called my name
Then I ran out of that grave
Out of the darkness
Into Your glorious day
#10 Build my Life
I actually only found this song, maybe a couple months ago. But it is still become a favorite of theirs. I really love the lyrics of this song. There are so many good lines that should remind us of many things in our Christian walk such as Jesus' name being the name above all else. And asking God to lead us to love those around us. Such an important lesson.
Holy, there is no one like You
There is none beside You
Open up my eyes in wonder
Show me who You are
And fill me with Your heart
And lead me in Your love to those around me
These are just my personal top 10 passion songs. What would be on your top 10 list? Let me know in the comments if they are different ones from what I listed! If you've never heard these, I suggest taking a little time and checking them out! Let Jesus speak to you through these songs.