My absolute love of broadway musicals is rather surprising because I could absolutely never actually perform in one. I'd love to, in theory, but my anxiety could never. I'm too quiet, too shy, but that is why watching broadway musicals is such a great pastime for me…I can live vicariously through these insanely talented people.
I've seen a small handful of shows compared to the many, many broadway musicals that have graced the stages and I'm hoping to see a lot more in the future. I've seen shows such as Mary Poppins, Beauty and the Beast, My Fair Lady, Phantom of the Opera, and more. I've seen many, many (probably illegal) TikTok bootlegs of many more shows that I am dying to see in person such as Wicked, Mean Girls, and more.
Today I wanted to talk about all things broadway musicals. First off, I wanted to share my *current* top 3 broadway musicals. Secondly, I thought I'd share some of my dream or favorite castings of those 3 shows. Lastly, I thought I'd share what shows I'm utterly dying to see in person.
Current Top 3 Broadway Musicals
Dear Evan Hansen
I recently saw DEH and honestly, I'm still daydreaming about it. Our shows Evan was played by Sam Primack and man, is he good. I would say he is by far one of the best Evan's I've heard (and we all know how many clips I watch). Sam Primack, Jordan Fisher, and then Ben Platt are my top 3 people to play Evan. I'd kill to see Jordan Fisher as Evan…and let's be honest, I'd kill to see Sam perform as Evan again.
I'm actually working on a post about DEH and the lessons to learn from it, so I won't say too much about the show…but if we are speaking strictly music…this one is incredible. The lyrics, the music, all so good. I could listen to the soundtrack constantly.
Dream cast: Jordan Fisher, Sam Primack, Ben Platt, or Ben Levi Ross as Evan.
Newsies
Before DEH Newsies was the top show I have ever actually seen in person. I saw Newsies in Tulsa Oklahoma years ago and just loved it. My sister and I love Newsies and we sing it often in the car. I love the combo of great music along with the dancing that Newsies incorporates. I'd obviously LOVE to see Jeremy Jordan reprise his role as Jack Kelly just so I can go see it. New York accents, dancers, and catchy songs…what else could I ask for? Newsies is one I would definitely see again and anytime I'm given the opportunity.
BUT thanks to modern technology, you can actually see a live taping of Newsies (the Broadway show) on Disney+ with the one and only Jeremy Jordan as Jack. The movie version is also on Disney+ and worth a watch too. If they ever put a live taped version of Wicked or DEH like they have Newsies or Hamilton…I would have no life. 
There aren't many songs in the Newsies that I don't love…but my sister and I really love blasting Seize the Day, Carrying the Banner, and King of New York. If you've never seen it, I highly recommend running to Disney+ and watch the live version of it.
Dream cast: Jeremy Jordan as Jack Kelly.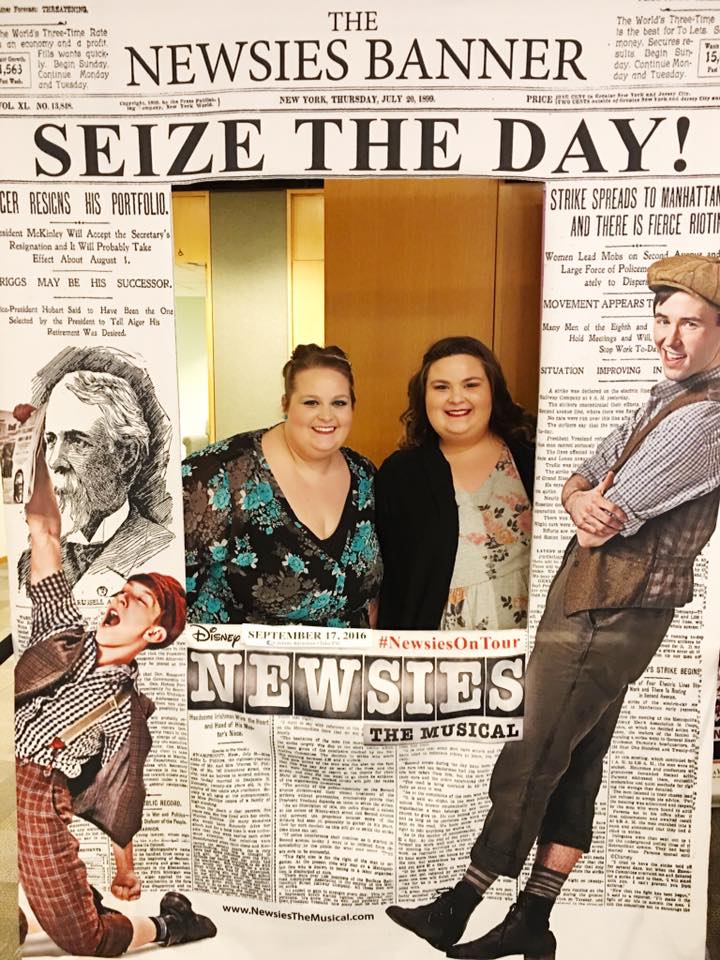 Wicked
I went back and forth on if I should include this in my top 3 because I've technically never actually seen it live. But if you were to ask me my top broadway musicals…I would say Wicked because the music is just that good. I have a few dream cast roles for Elphaba that I would die to see perform live including Jessica Vosk, Rachel Tucker, and Shoshanna Bean. I have yet to hear more crisp and clear vocals than my girl Jessica Vosk. She sings Defying Gravity as her life depends on it. Covid ruined by chance to see Wicked…so I just have to make sure it happens at some point. Until then, I'll just watch clips on TikTok.
Seriously though, Wicked is such an iconic Broadway musical that I am just dying to actually see it in person. However, it is just iconic enough to have to include it in my top 3.
Dream Cast: Jessica Vosk or Rachel Tucker as Elphaba. And I actually think Jordan Fisher would make a good Fiyero.
Current Top 3 Broadway Musicals
Click To Tweet
Shows I want to see…
Some of the shows I'm dying to actually see live are obviously Wicked. As I said, I was supposed to see that in 2020 but, ya know, Covid. I'm honestly still bitter about that. I'd also love to see Aladdin, Mean Girls, Hairspray, Waitress, Hamilton, and more. Those are a few of my tops I'm dying to see. However, there aren't many broadway musicals I would skip a chance to see.
What broadway musical is your favorite? Have you ever seen one live? Let me know in the comments what your favorites are!