A few weeks ago, YSL held a huge sale on a few of their items. Some of their iconic lipsticks were buy 1 get 1 free and some of their items were up to like 40% off. So, naturally, I jumped at the chance to get some luxury makeup at a fraction of the cost. Ironically I had just previously purchased one of their lipsticks at full price- but I went ahead and included it in this little haul! Today is all about YSL lipstick my friends! Are they worth the price?
If you aren't familiar with YSL, Yves Saint Laurent Beauty is considered some of the best of the best makeup. It goes beyond high-end into the luxury category so it isn't a brand I buy from very often (aka one other time in my life).
I've done a review, years ago, on here about their iconic Rouge Volupte Shine Lip balms- you can read that here. But seriously, to this day, that lipstick is one of my all-time favorite products I've tried. While it costs a pretty penny, it is at least of incredible quality and for some of you, I would say is worth the price sometimes.
Today I am going to review my 4 purchases from that sale- 2 of the Rouge Volupte Shine sticks, 1 Rouge Pur Couture lipsticks, and finally 1 of their Vinyl Cream Lip Stain.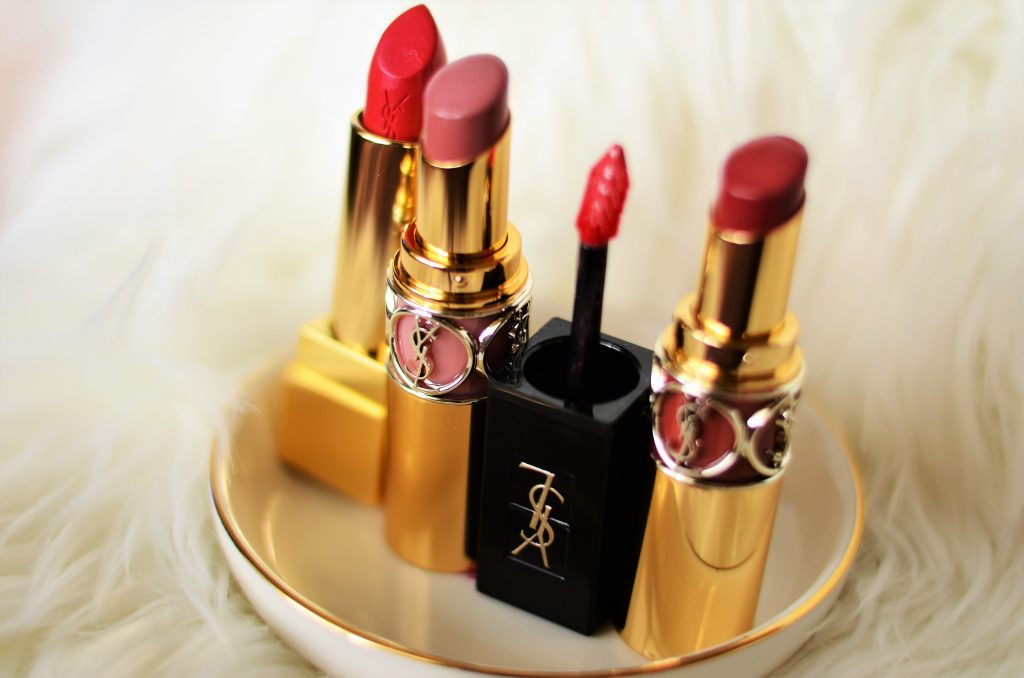 Mini YSL Lipstick Haul | Luxury Makeup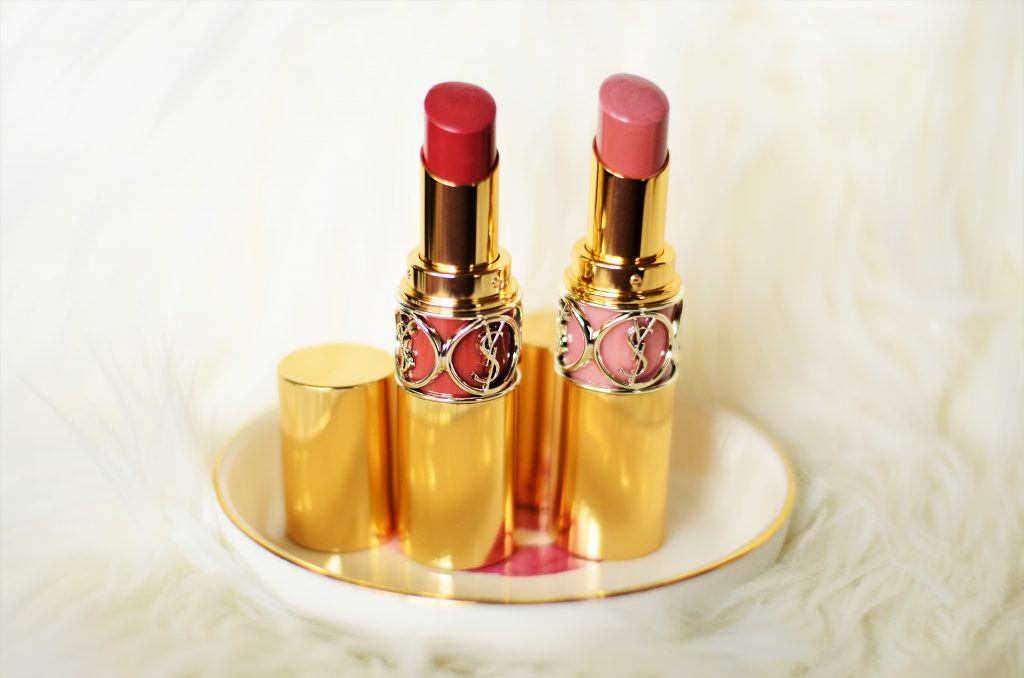 By far, these are still some of my favorite lip products to date. Their pigmentation is what is so unique about this product. It is formulated like a balm in a stick…but it has the color pay off of a normal gloss or some lipsticks. These lipsticks are moisturizing and filled with such great and hydrating ingredients- you can actually wear lip color without drying out your lips constantly. They offer a wide range of colors from really basic nudes to bright pinks and reds. The 2 shades I purchased were 44 and 124. One of these I purchased full price a few weeks before the sale and one of these was part of the BOGO free sale.
Both colors I purchased are gorgeous, very wearable shades. I love a bold lip but sometimes, you just need a good pinky nude to wear every day. The shade 124 is very close to my actual lip color but it still gives it more of a richness as well as hydrates and makes it shiny! The best thing about all YSL products is, of course, their packaging. Here are a few things to expect from this lipstick:
oil-infused lipstick
high shine color
hydrating and nourishing balm care
medium-coverage
After four weeks of continued application, your lips look healthy and more nourished
If you don't like a lot of deep color and heavy lip products on your lips…I highly suggest grabbing one of these oil-based lipsticks is a great option for you. They apply like a balm but pack a good amount of color. When you pick a nude color, you get a nice bit of shine and some subtle color added to your lips.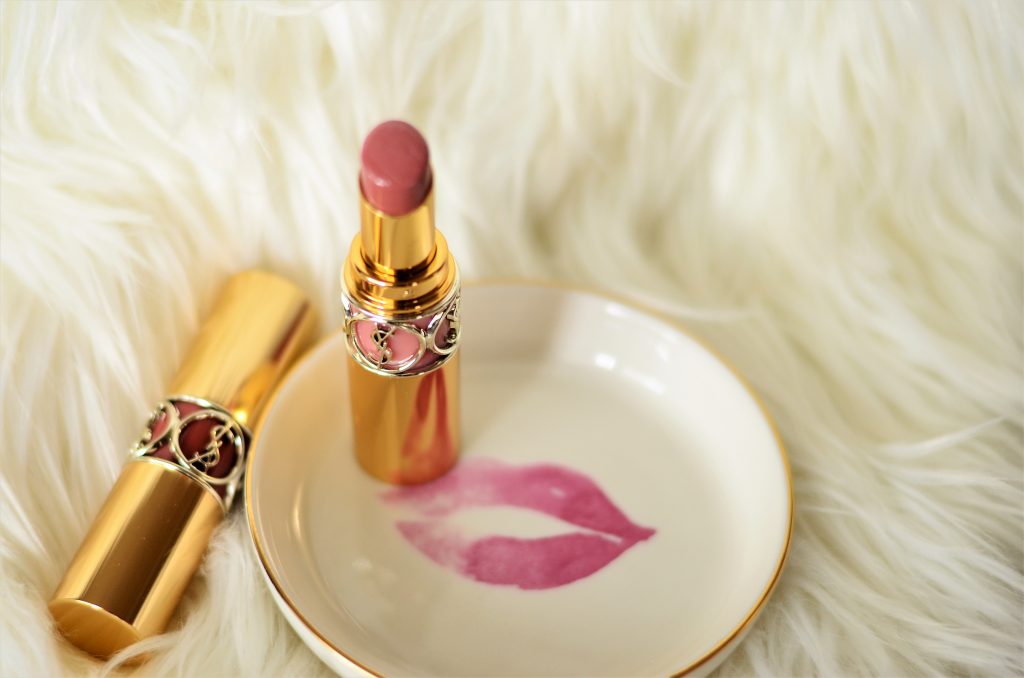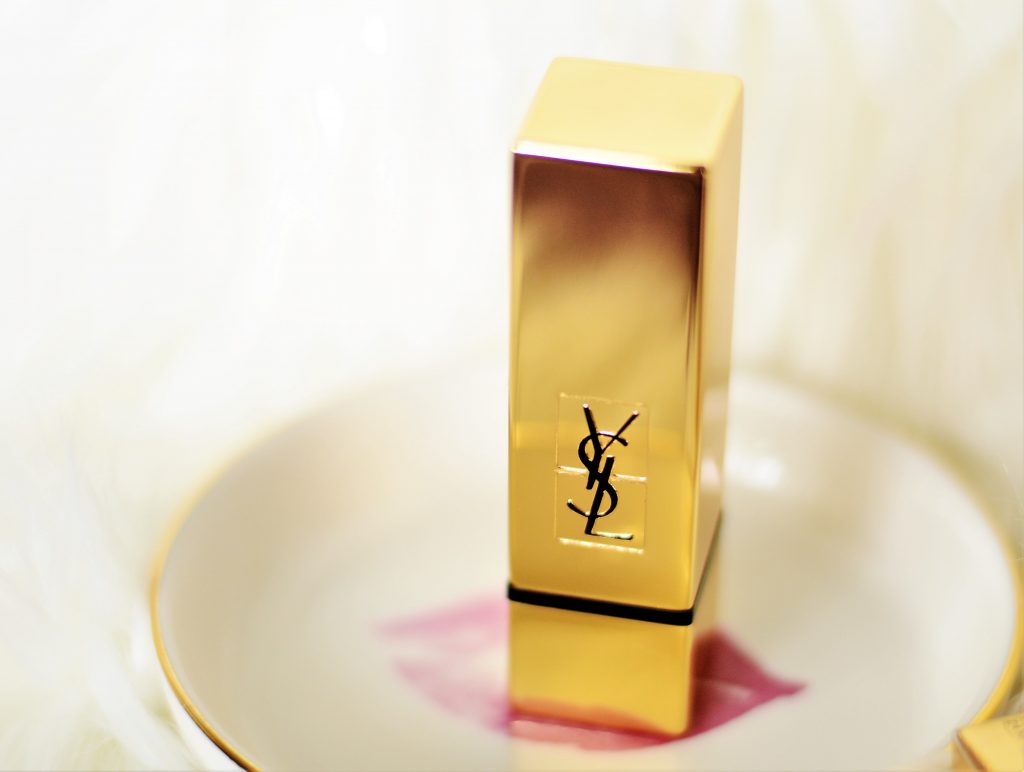 I had never tried YSL's typical lipstick so I was looking forward to trying it. And while I prefer the packaging of the Rouge Volupte, this solid gold packaging is just stunning. They really know how to make lipstick look expensive (which it is) but at least you know you're buying a good quality product. The shade 57 is called Pink Rhapsody which has a satin finish. It is a stunning, bright pinky-red shade. Here are a few things to expect from this lipstick:
rich and highly pigmented color
intense hydration and antioxidant care
high color payoff
dresses the lips with intense hydration and antioxidant care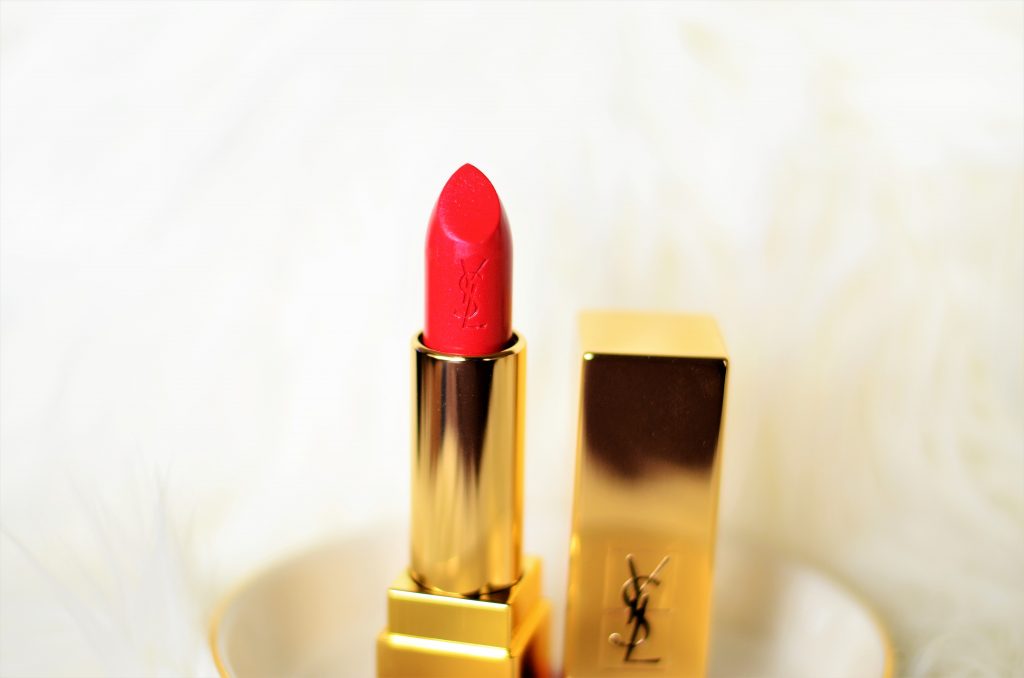 The cream lip stains were also a product I was really interested in try. The packaging is sleek black but has that iconic gold YSL emblem. The applicator is diamond-shaped and really makes the application a breeze. The shade I purchased is no longer in stock right now, but I think any of these shades would be great. It truly does stain your lips but not in a bad way honestly. These are highly pigmented and come in a lot of exciting summer colors.
high-coverage
high shine
long-wearing
a high-coverage liquid lip stain that delivers high shine all day long
the diamond-shaped applicator allows for perfect lip contouring and color glides on evenly in just one stroke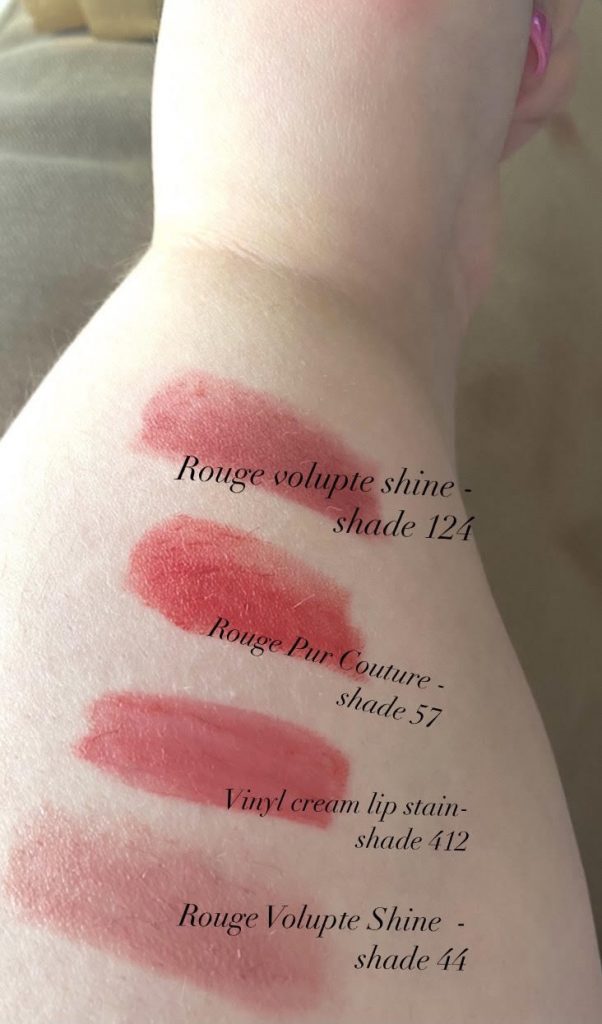 I think with any YSL lipstick you purchase, you are truly buying great quality products. They offer a wide range of finishes and kinds of lip products with numerous color options. I might not be able to buy these lipsticks constantly, but if you enjoy makeup…I think a YSL lipstick is worth the splurge every once in a while. Many of my followers won't want to pay this much for a lip product, which I understand, but girls…they are incredible quality and both long-wearing and easy to wear.