Friends. It's been a while since we talked about skincare. Honestly, it's because I haven't been using much. But after some medicine changes, my skin has been incredibly bad. Some of the worst breakouts I've had…much worse than my teenage years. So I'm trying a new set of products to help combat this hormonal acne.
I'm actually on a prescription solution right now but I wanted to go ahead and share the new products I've been using apart from that medicine. These are still new products so it's more of a rundown of my routine and first impressions. I'll be doing an updated post on results and how these products are working for me down the road.
I'm most likely dealing with some bad hormonal acne along with anger from mask-wearing. Please consult with a doctor before using anything strong or prescription (obviously). I have done a lot of research on the OTC products I decided to use. I've read a lot about them and watched countless videos. That would be my first suggestion-do your research or talk to a licensed professional or doctor.
*Just to emphasize, I'm not a licensed professional and these are just the products I have started using personally. Do your own research and consult with a doctor before using anything strong*
Trying a new skincare routine + hormonal acne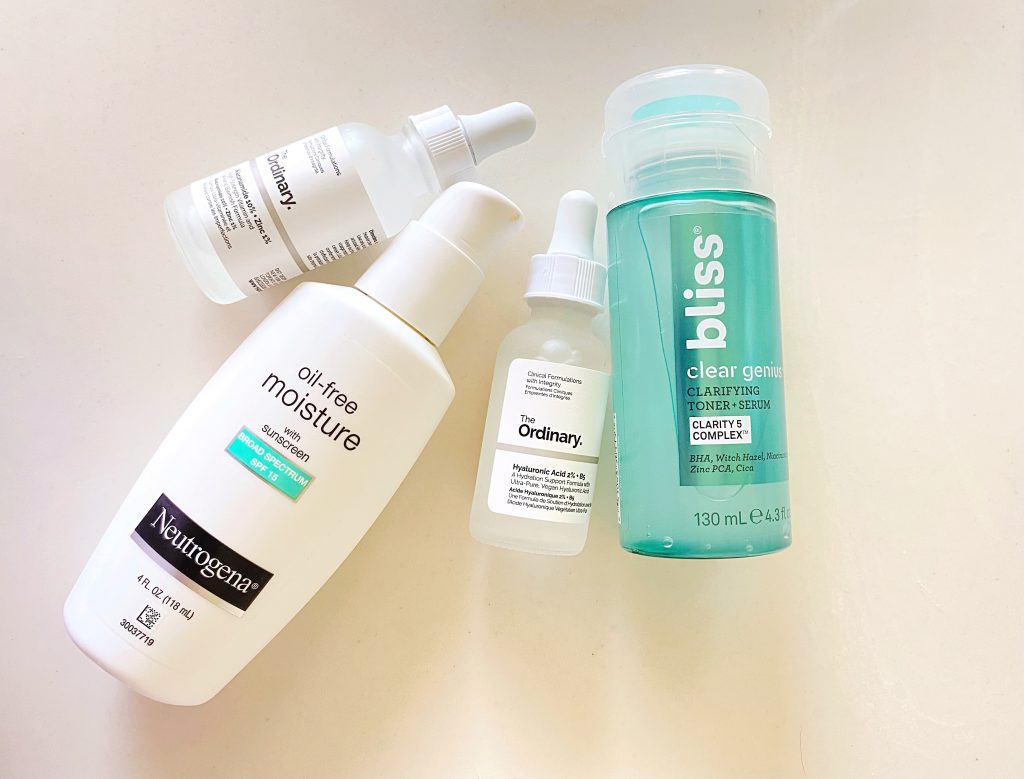 I actually prefer a peeling exfoliant over a scrub. My skin is very sensitive and scrubs just tend to irritate it rather than help. However, I still need to exfoliate! I grabbed this e.l.f. peeling exfoliant because it was gentle and it reminded me a lot of my ORG Mineral Peel solution that I adore (but is not overly cheap).
This exfoliant is a liquid, gel consistency. I put a dab on my fingertips and gently rub it onto my face. What is both cool and slightly gross is that you can actually feel the dead skin just rubbing off while you work in this exfoliant. After that, I just wash it off with water and my skin feels more soft and fresh. I only use this a couple of times a week maybe, typically in the shower. I don't exfoliate my face every day. Especially in this cold weather with all the hormonal acne I've been dealing with- it is important to exfoliate but do it in a gentle manner.
Doesn't the name just make you feel fancy? This cleanser came highly recommended by various videos and articles about dealing with hormonal acne and sensitive skin. The formula is made especially for normal to oily skin. No parabens, no synthetic fragrances, sulfate-free, are just a few of the great things about this cleanser. It's a liquid, slight gel consistency but it foams up when you put it on your skin. I will say that the consistency is thick- you don't need much to wash your face! It is also a huge bottle so you definitely get your money's worth and it's less than $15 at Target.
I was actually sent this bliss toner by bliss & Influenster free for testing purposes. I am so glad they did because I hadn't even heard about this brand but so far, I'm pretty impressed. This is less than $13 at Target and the packaging is great. The toner is more of a gel-like consistency that had a pump on it. *see images for better understanding* But the packaging is really useful and great for getting some product on a cotton round to apply to your face.
The Ordinary is an exceptionally popular brand right now. They're well-known for their solutions such as the 2 I am using. I did a lot of research before using them because whether or not they're a good company, it's still concentrated ingredients that should be used properly. The brand, while looking incredibly expensive, is actually affordable and found at stores like Ulta. This Niacinamide and Zinc serum is supposed to fight against blemishes and brighten the skin. The Ordinary has very sleek, simple packaging and branding. This serum comes with a dropper. I just use a drop or two and press it gently into my skin.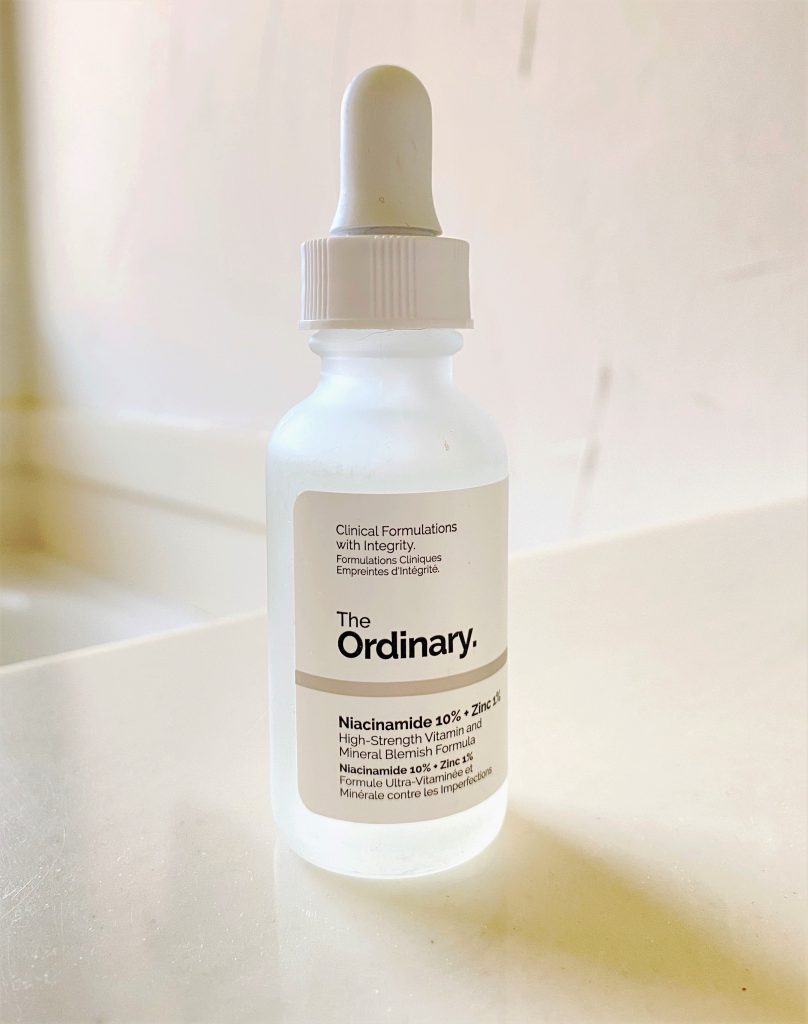 When you have sensitive skin as I do, the word acid is a little scary…but hyaluronic acid is a good acid for skincare! This serum is supposed to "replenish lost moisture, maintain healthy-looking skin, and provide enhanced barrier support." It has the same consistency as the previous serum, clear liquid that is a little thick. It's also the same packaging which I love. I also use about two drops of this serum and pat it into my face. So far I haven't had any adverse reaction to either of these serums. They leave the skin a little sticky which is why I highly recommend finishing off with a moisturizer.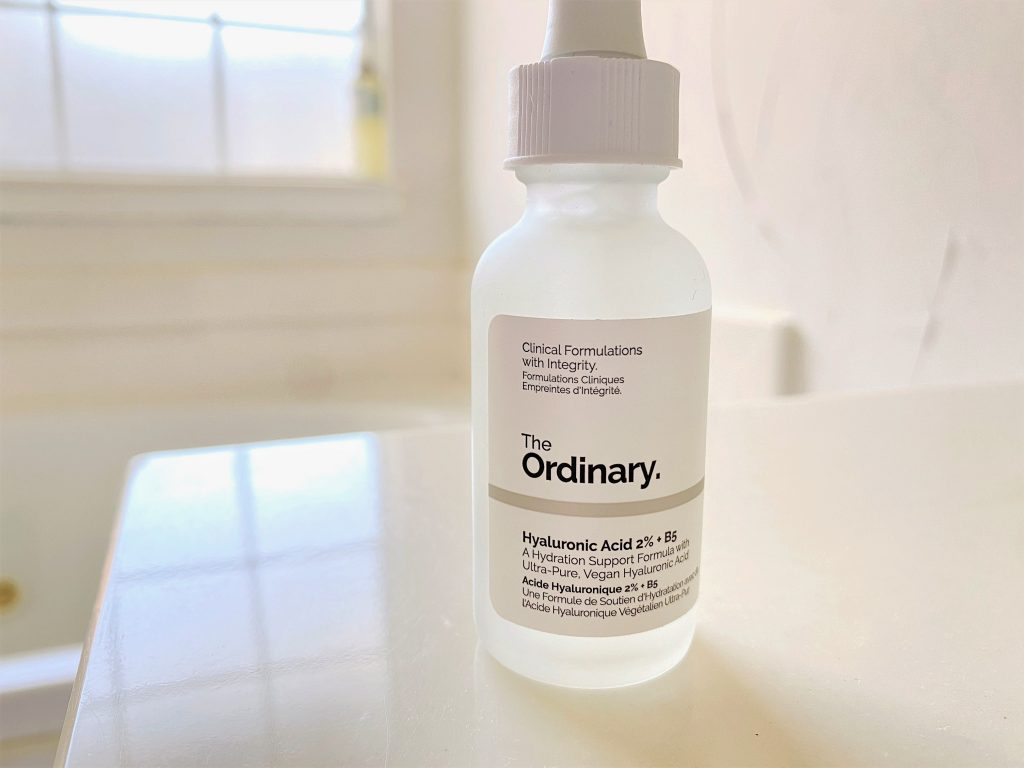 Trying a new skincare routine + hormonal acne
Click To Tweet
I know a lot of skincare gurus aren't huge fans of Neutrogena but I've seen many of them recommend this oil-free moisturizer. I felt like it was a little expensive for a Neutrogena moisturizer, however, skincare itself is usually more expensive. This is a plastic bottle with a pump. The moisturizer also has an SPF of 15. The formula is oil-free, fragrance-free, and "hypoallergenic and non-comedogenic, so it won't clog pores." Overall, I felt like this was a good, simple moisturizer for my skin as I battle this hormonal acne right now.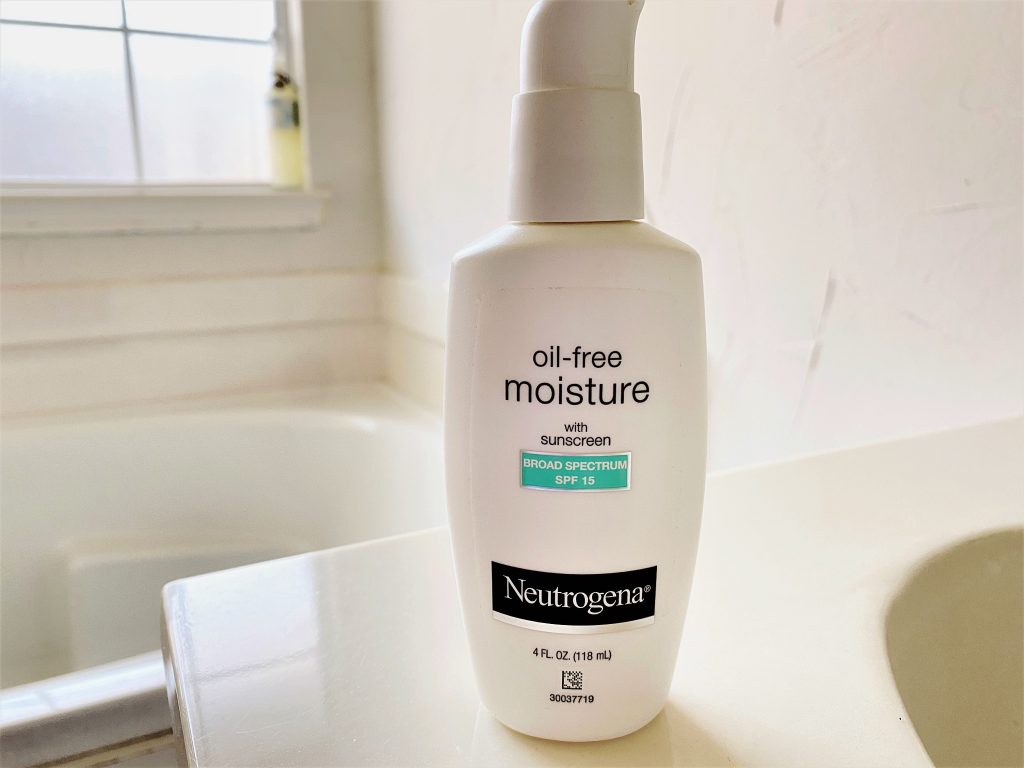 Prescription – Clindamycin Topical Solution
I obviously can't really recommend this to you since it is a prescription but I thought I would at least share what I was prescribed so I can tell you have it helps in the future. So far, it seems to be doing okay on my skin. My doctor warned me that it could get worse before it got better but so far, so good.
This is currently my skincare routine. I'll be sharing updates on how these products work on my skin and help heal my hormonal acne. Stay tuned for updates! What skincare products are you currently using?