Well friends, are you bored yet in quarantine? I know things are so up in the air right now but I wanted to share a few book recommendations since it seems we might still be quarantined for a bit. I'm not sure when we might get set free but with the fact that I have a few family members that are very high risk, I'm not going to be out and about on the town anytime soon. One good thing that has come from this time at home is getting to read again! So I'm sharing a few of my personal favorite books to read so maybe you can read them too!
Reading has always been a favorite hobby of mine. But I often don't take the time to settle down and actually read…even though I absolutely love it. But given that I've literally been looking at the same four walls for the last few weeks…I've been finding the time to actually read! So these are just 5 books I recommend! They're a little mix…Christian fiction, mystery, and science-fiction/dystopian books. Hopefully, books to read for everyone.
5 books to read during quarantine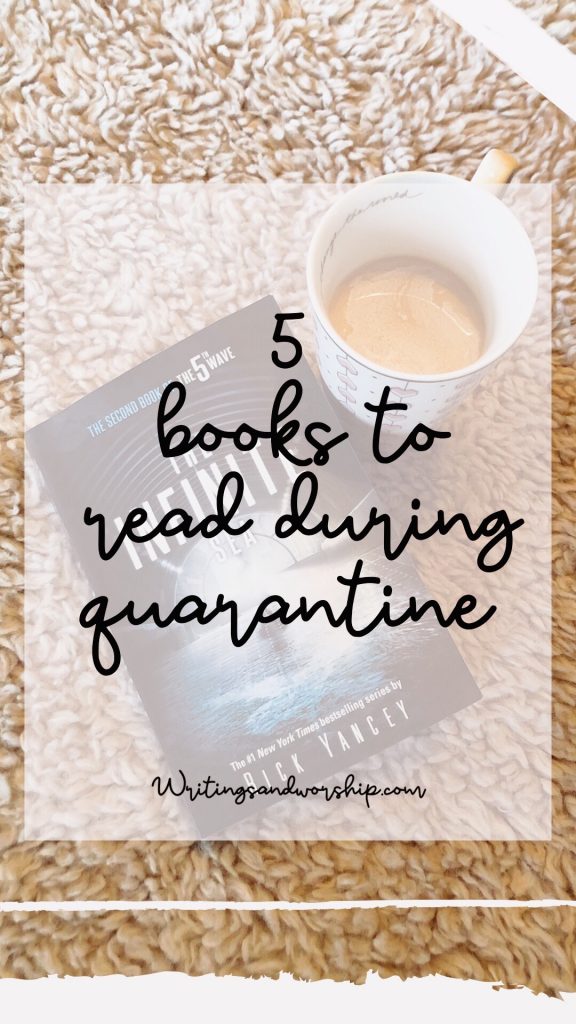 I had to mention this entire season because I couldn't just pick one. These are some of the first books I really fell in love with that were not just typical YA easy reads. I know I've mentioned these before on the blog…but I had to mention them again! They're all about this family of orphans who took on each other as their family. They also all live extraordinary lives such as a US marshal, fireman, trauma psychologist, hostage negotiator, and more. These books are Christian mystery fiction so they all have a good storyline of both mystery and faith. My absolute favorite from the series is actually the first book which is The Negotiator.
Fair warning: this book talks in-depth about a virus that wipes out a ton of the population. It is a dystopian novel so just get ready for the crazy concepts. But this was made into a movie a few years ago and I watched the movie then but only recently (like 2 weeks ago) finished the book. I actually really loved it. Even though there is the crazy plotline of the aliens and the world pretty much being done, there are also a few really good subplot lines that are really interested and personable. I'm actually currently reading the second book (pictured above). If you enjoy science-fiction type books that aren't overly hard to follow…grab this one!
5 books to read during the quarantine!
Click To Tweet
Proof that googling random authors or popular book lists can help you find a real winner! I found Lisa Harris after I searched for popular Christian mystery authors. I quickly grabbed this book from my local library (yes, I use the library because I love reading real, true books not Ebooks). Anyway, I love supporting lesser-known authors and this series is a really unsung hero of the Christian fiction world in my opinion. This is a 3-book series that is excellent! It has a great romance storyline mixed in with the mystery. There is also a book that is technically a prequel, I believe, that I still need to read. But I have read this whole series and absolutely loved them. Definitely a must-read in my opinion!
Now, I am going a limb with this one…because I haven't actually finished this book. I started this right after my dad died two years ago and finished most of it. I never actually finished it because I had checked it out of my local library and didn't finish it on time. And after I returned it, I just wasn't in a reading mood while I continued to grieve. However, I loved what I read. This book really inspired me to get into trying my hand at dystopian fiction- something I had never considered writing before. This book is on my list of books to read next! I love the forbidden love aspect of this book…it's a great storyline woven into a great dystopian book.
For all my old school fiction lovers, I love Agatha Christie. When Murder on the Orient came out in movie form, I found a love for this amazing author! I will say, the way she writes is a little hard to follow sometimes (for me anyway). I'm not sure how to describe it…but you really have to follow along at first till you get used to her older, English writing style. But Agatha Christie is definitely the queen of crime and knows how to write a mystery. This particular book is a fairly quick read about 10 strangers who are called to a mysterious island…as you can imagine..they are killed one by one. She really does keep you guessing until the last moment! If you've never read any of her books, I suggest starting this one and enjoying a great mystery.
These are just 5 of the many books to read I could suggest. I love to read and have read since I was little. It's always been a huge hobby of mine. Now writing almost occupies most of my time, but this quarantine has forced me to get back into reading. To step into another world and enjoy some time in the fiction world. What's your favorite book? XOX