e.l.f. has released new eyeshadow palette's called Bite Size palettes. There are 8 of these bite-sized palettes in various color schemes! I purchased three of them to share with you guys: Rose Water, Truffles, and Cream & Sugar. When I saw these little palettes, I knew they would be perfect for some of my readers.
These are on sale at Walmart, the e.l.f. website, Target, CVS, and Ulta. e.l.f. really put these on the market! Some stuff is only found online at their website but this is available all around. Are they worth it? Let's see!
e.l.f. Bite Size Eyeshadow Palettes || Review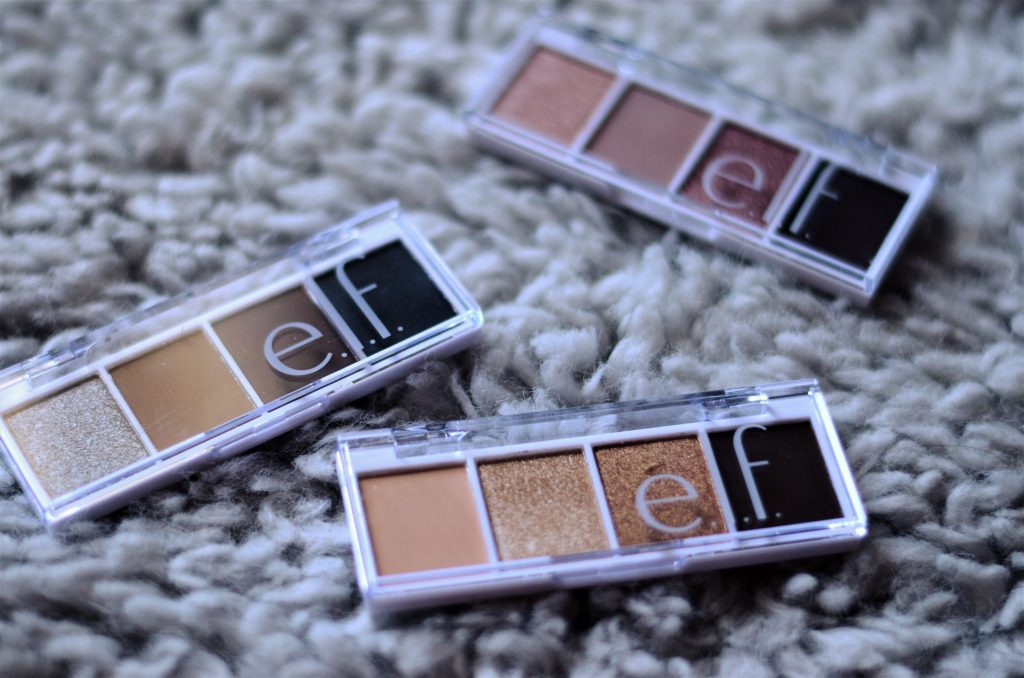 Like I mentioned above, there are 8 shades of these tiny palettes! There is a blue one, smokey one, rose-toned one, and many more! I was really impressed by the color options. Because e.l.f. is such an affordable brand that sometimes the color range is a little small. However, these are the exception.
Each little palette has 4 shades in them. Overall, there are typically 2 shimmer/metallic shades and 2 matte shades. I did notice 2 of the dark matte shades had just a slight hint of glitter to it in the pan but didn't seem to show on the eye. However, other than that they seem to follow that pattern of 2 and 2. There is a lighter shade, a darker shade, and the shimmers are typically mid-tones.
One of the reasons I highly suggest these for a lot of readers is because they're set up for really easy eyeshadow looks. You have everything you really need for it. A crease shade, a shimmer shade, and that dark shade. No matter how new to makeup you are these little bite size palette's are perfect! They're color-coordinated so you have the choices already picked for you.
I'm sharing pictures of looks I did with these palettes. These pictures have no filter, none of the eyeshadow has been edited or digitally changed. I also took these in normal, natural light so you could see what it looks like in normal, everyday lighting.
Cream & Sugar: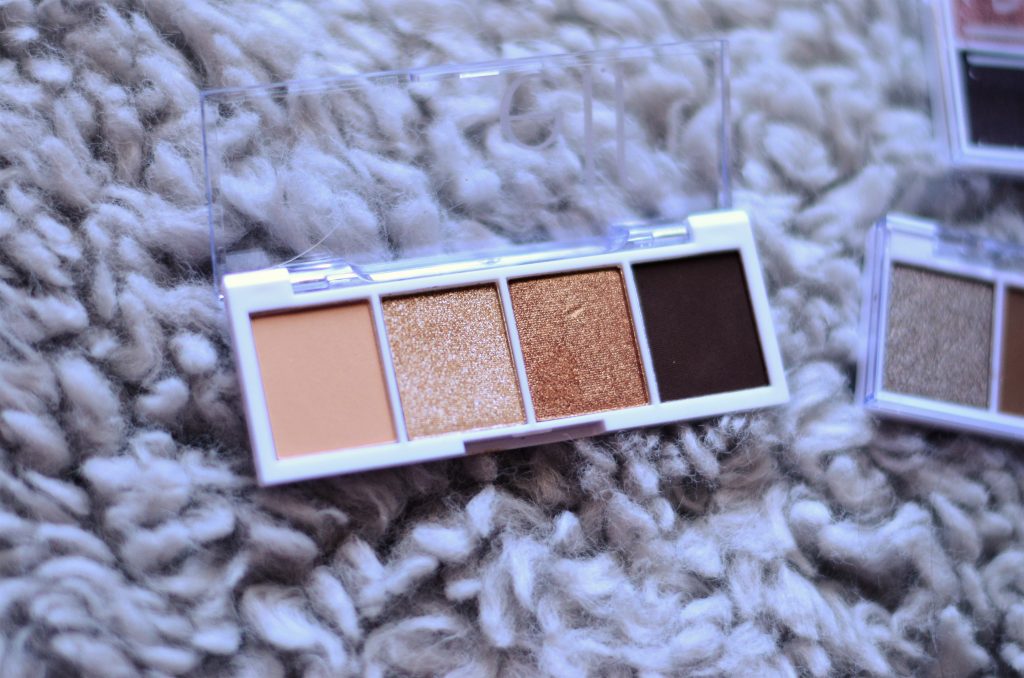 The light matte shade in this little palette is practically my skintone so I just lightly swept it all over my lid to pretty much smooth out any discoloration. I then blended out the deep brown matte shade into my crease and outer corner The shade blended pretty easily and I was able to get a good color pay off. Even with just that one shade you can tell that the outer corner still looks darker because I applied more in that area. I then placed the darker shimmer over the lid leaving a little at little space at the outer corner. LAstly, that lighter shimmer shade went on the inner corner of the lid so it would pop just a little. You can tell in the photos that the shimmer really looks great in different lighting. That's why I love adding that pop of lighter shimmer because it reflects that light really well.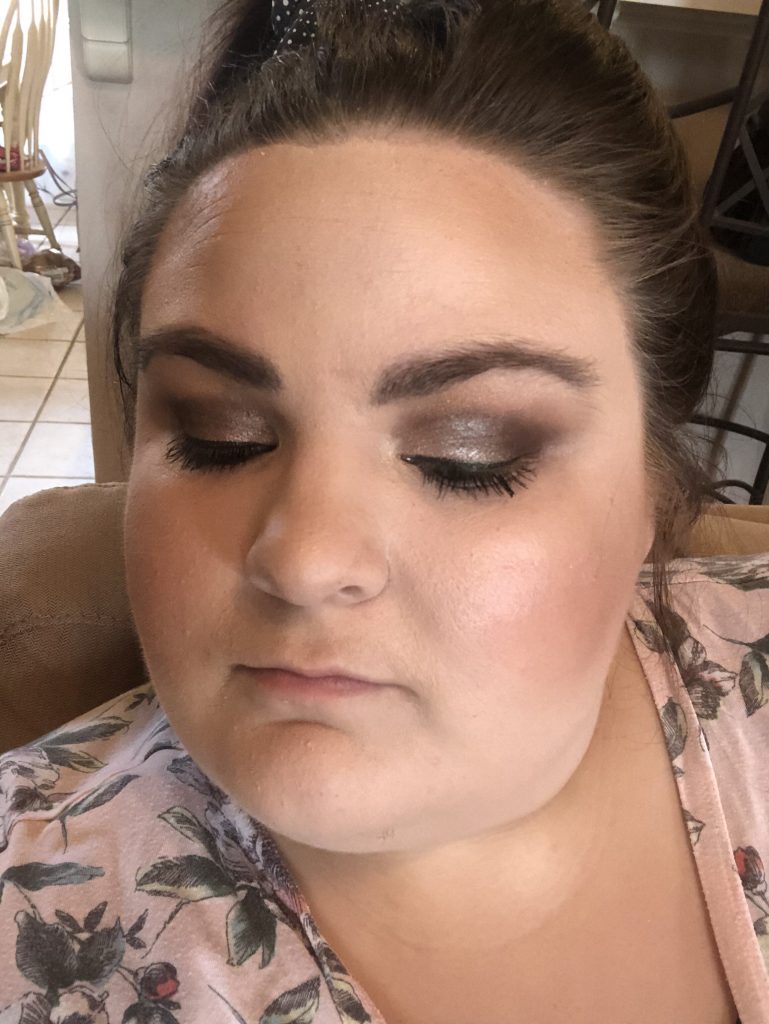 Truffles: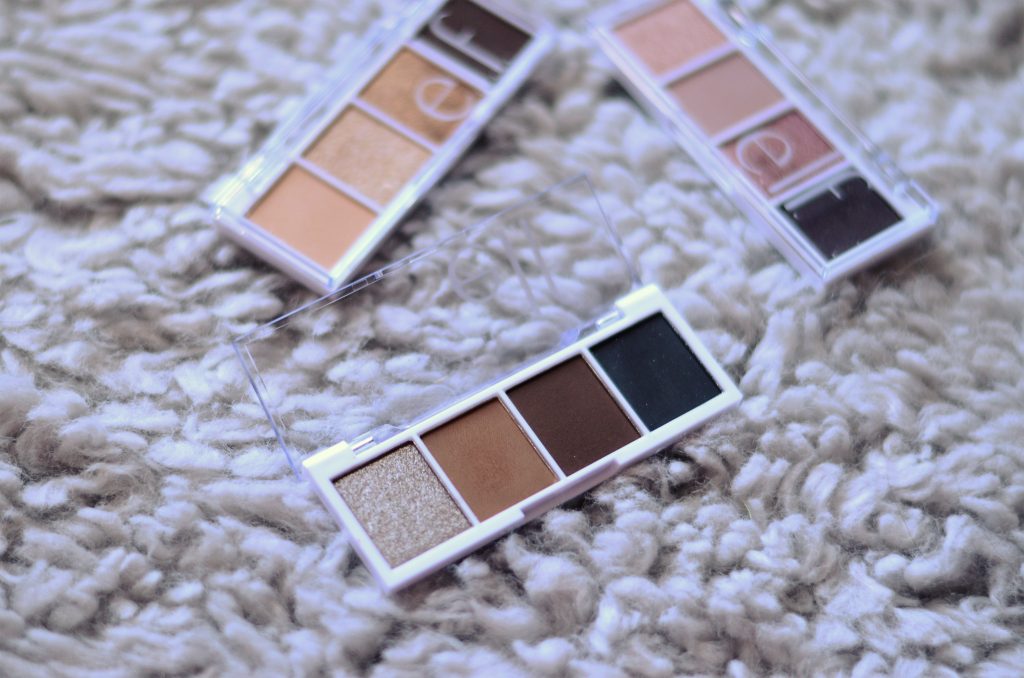 This is my favorite palette of the three. It's perfect for a smoky eye and that shimmery shade…gorgeous! This one is a little different. There are 2 true matte shades, a full shimmery shade, and the darkest shade is pretty much matte but you can see a few specs of glitter in the pan but it doesn't really show up on the eye! Anyway, those matte shades are the best ones from all three I have tried. They were really creamy, very blendable, and didn't leave much fall-out. A lot of times I can get streakiness from some matte shades and patchiness but I didn't at all with these. And the shimmer shade was just gorgeous!
Rose Water: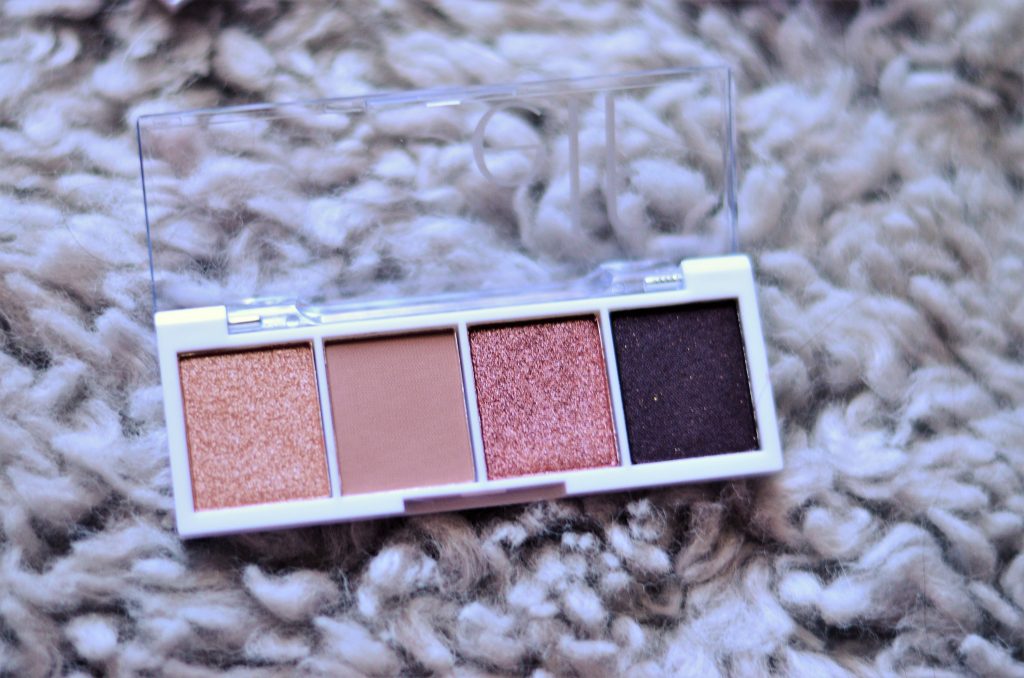 Shockingly, my least favorite palette of the 3 I tried. The dark purple shade was incredibly hard to work with. It was patchy, didn't blend well, and was really not great color-wise. The light matte shade was really pretty and worked fairly well but it wasn't dark enough to do a whole look on. The shimmers worked well and were just as soft and creamy as the other palette's but once again, that dark matte was so hard to work with it kinda made me hate the whole thing! Ha! And seriously, for a palette called Rose Water…it isn't very rosy at all. I was disappointed in the lack of purple/pink shades. The darkest shade of this one also has a little glitter seen in the pan but I didn't see any actually on the eye at all.