This post includes reviews of complimentary products sent to me for testing purposes. The Evian Facial Spray was sent to me but all thoughts and opinions are my own.
I was sent the Evian Natural Mineral Water Facial Spray by BrandBacker to review for you guys! I used it a while back for a long time but ran out. So this is a bit of a "new review" because its been so long. I also wanted to share a post on winter skincare and this product is a perfect product for the wintertime.
This is a quick, less formal review- I just wanted to share the benefits on this awesome product I was sent. What do you think, should we do a giveaway of a bottle of this?? Let me know in the comments!
Evian Facial Spray + winter skincare|| Sponsored
Review + info of the product
In all honesty, one of my favorite skincare products for winter (and all the seasons actually) is this Evian Facial Spray. Before I tell you all about why I love it, lets look at some of the info about this spray. First off, this spray can be used for many different purposes such as boosting skins hydration, blending makeup, reviving makeup, and soothing/calming sensitive skin. This spray comes straight from the French Alps. According to their website, the "Evian® Natural Mineral Water Facial Spray is so pure that it's the only mineral water spray that comes with a companion bottled water for drinking." Here are some of the benefits they give for this facial spray:
87% less tightness in skin

89% Smoother, softer skin

92% healthier skin
On their website, Evian sells one thing: this facial mist! The can keep a whole company going on that one product because it is so well loved by the public. They sell various sizes of this spray from big 10 ounce bottles to smaller, travel sizes. I actually prefer the travel size because its great for throwing in your purse or bag to use throughout the day. The size I was sent is the travel size, for reference.
When a company can make a whole business on one product…you know it has to be good! I've seen this at Ulta, TJ Maxx, and of course, online. Spray this, add some moisturizer, and even use those rollers on your skin for a quick treatment that will feel luxurious.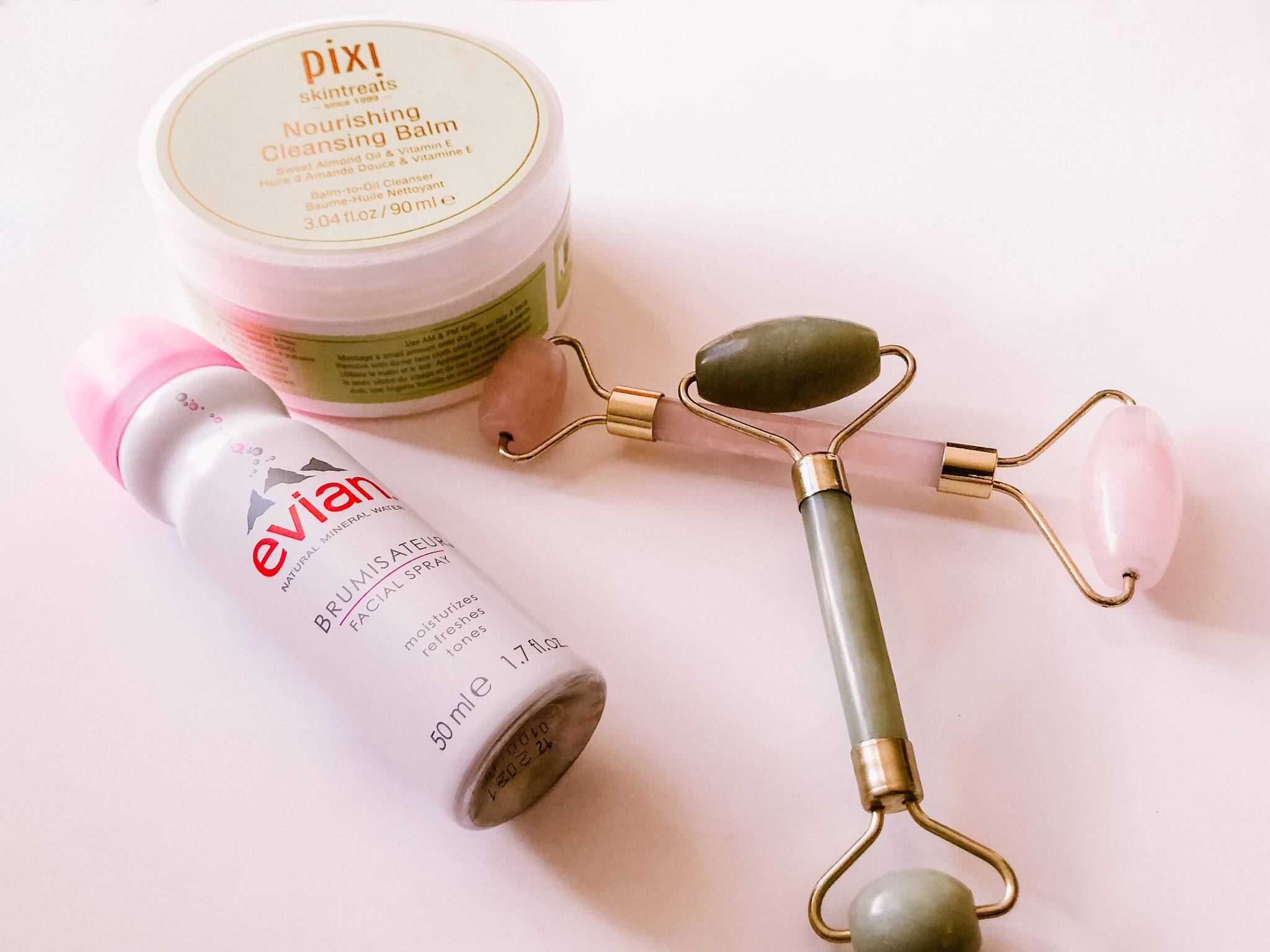 Winter skincare
One of my favorite times to use this spray is the winter and summer. In winter, your skin gets incredibly dry. I did a post a few years ago where I shared some of my favorite winter skincare tips that you should make sure you read. But one of my biggest tips is to keep your skin hydrated! One of the best products that keeps it hydrated is the Evian Facial Spray.
I use this facial mist for so many things. You can use it to prep your skin for makeup, set your makeup, hydrate your skin, refresh your skin, cool off, and so many other things. Because this spray has literally NO smell, I don't mind using it anything. There are some facial mists that have a heavy scent that make it impossible for me to use regularly- apparently I am sensitive to smells! My #1 favorite thing about this facial mist is that there is no smell and you feel like you are honestly spraying fresh, Evian water on your face.
One of my favorite thing to do is use it before bed or during the winter, I'll keep it around to spray when I remember to because it is so easy to get your skin dried out during this season. During summer I love to use it as well, it's perfect to spray during a really hot and sweaty day. It add moisture back in and gives you hydration. Seriously, this spray is an addictive product that is extremely versatile in its benefits and uses.