Under-appreciated characters are all around us. Movies, books, TV shows…they all have characters that we love but don't get enough credit. I'm sure that there are characters that are coming to your mind right now, go tell me what they are in the comments!
Most of those characters that immediately come to mind, for me, happen to be mainly Harry Potter characters. There are 7 books and 8 movies…hundreds of pages. So it's natural that some of the characters aren't as appreciated as they should be. And, of course, each person has their own favorites. Today I wanted to share a few of my under-appreciated characters from the Harry Potter series and why I think they deserve more attention. These Harry Potter characters are some of my favorites and I hope you will see why. In my opinion, the characters I'm mentioning deserve much more attention…what do you think? Do you agree? Let me know in the comments below what characters you think are under-appreciated!
5 under-appreciated Harry Potter characters I love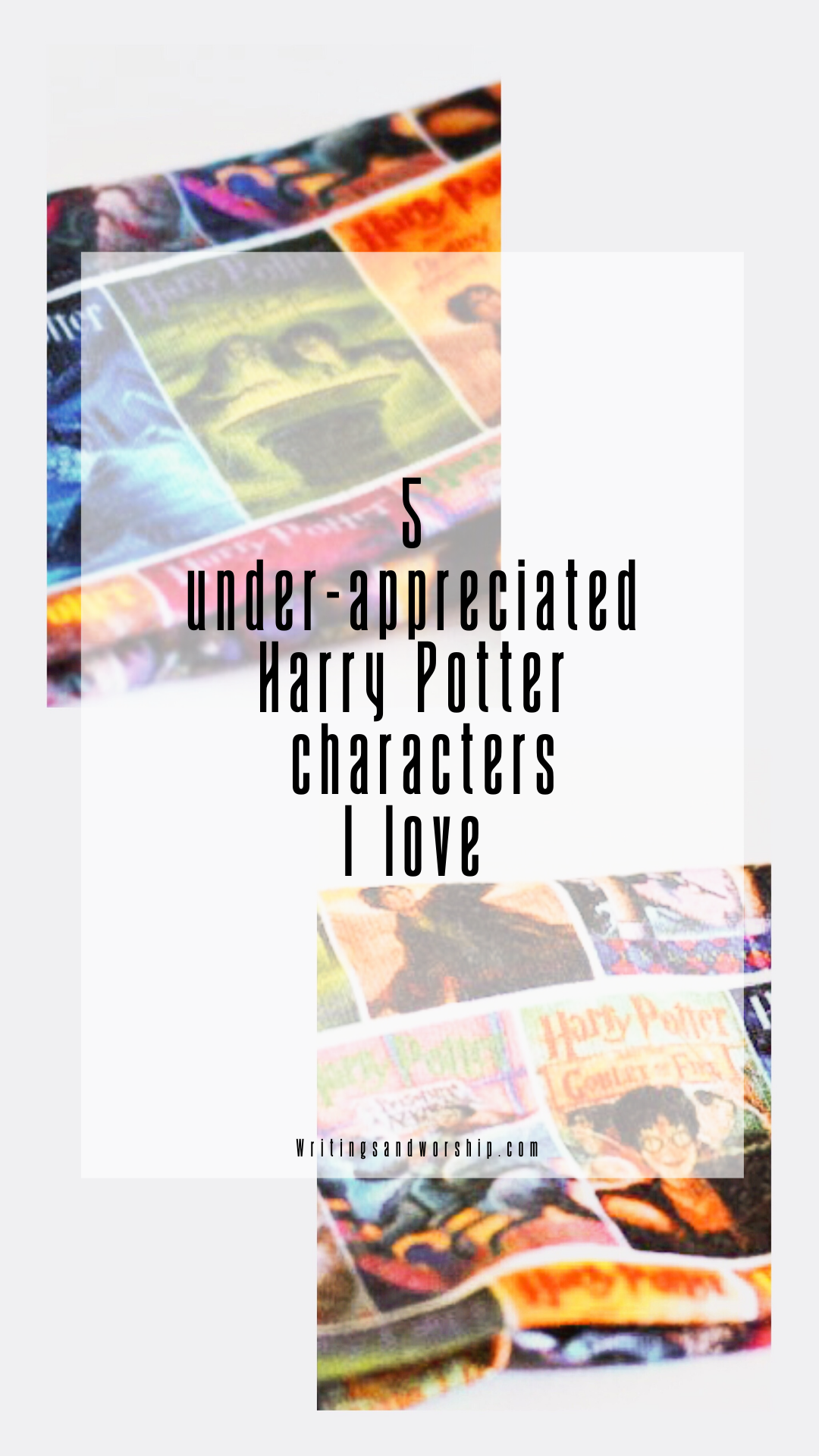 1. Neville Longbottom
Neville is made to look like his typical silly, sorta stupid self in both the books and the movies. However, I think the movie leaves out some key parts that keep Neville from getting all the attention and appreciation he deserves. Neville knows he isn't overly talented. He knows that he often makes situations worse…but he tries anyway. Especially in the last 3 books…Neville starts to step up in huge ways. He fights at the ministry in Order of the Phoenix- most of the time having no wand, a broken nose, and still trying to help Harry. In Half-Blood Prince, he fights the death-eaters that came through the vanishing cabinet. In fact, the book says that Harry finds him laying on the floor and thinks Neville is dead. But he isn't, he's cursed and can't move…but begs harry to keep going and leave him- that he'd be okay. Of course, he also fights at the Battle of Hogwarts but the movies cover that pretty well.
Neville isn't shied away from by the fact that he is far less capable than the rest of the group and continues to fight with them. I'd say that is pretty honorable. He's often looked at like the weakest link, the problem, the one that's always behind…but he is braver than most of them in many ways. Do you agree?
2. Winky the house elf
If you're looking at that name and have no idea who it is, I can almost bet you…you've only watched the movies. Because the movies don't even speak of this house elf that appears throughout the book of the Goblet of Fire. Winky is the house elf of a ministry member Barty Crouch Sr. At the beginning of Goblet of Fire she is fired because they (well, only stupid people) think she might have conjured the dark mark. Barty is embarrassed because of the elf so he fires her. She's a very nervous house elf. You later find out that she has come to work at Hogwarts, in the kitchens. The reason I think she is under-appreciated is that she is actually a pretty big plot point in my opinion. I think them finding her and thinking she conjured the dark mark makes more sense than how it played out in the movies. And I would have loved to see her crying in the kitchens with Dobby because she was fired. There's a little more info that I think makes her worthy of more appreciation but I also don't want to spoil the book if you've never read it. Winky also shows how a typical house elf finds pride in working for their family. She is honestly devastated when Crouch fires her.
5 under-appreciated Harry Potter characters I love
Click To Tweet
3. Nymphadora "Tonks"
I saw an interview with the actors that played Tonks and Lupin once and they were asked what their favorite part of the books was that the movie leaves out…they chuckle and say "our whole relationship." And boy do I agree! I hate the lack of Tonks content, especially Tonks and Lupin, in the movies. We see her here and there and offhandedly find out that she is dating Lupin. However, the books show a much stronger Tonks. She's a female Auror and one of the very few women in the order. She protects Harry fiercely and also provides a lot of comic relief.
Tonks falls in love with Lupin even though he is a werewolf and is very protective of him. She's strong but loving. Funny but serious when she needs to be. I wish her little quirks and clumsiness made it into more of the movie. She also battles to her death knowing she would leave behind Teddy (I don't want to spoil who Teddy is in case you don't know). She is loyal and fights for what's right because she would rather Teddy live in a world without Voldemort.
4. Dobby the house elf
You might be thinking…"how is Dobby an under-appreciated character? Everyone loves him." And I would agree! But he also has a lot more plot lines and interaction in the books which I believe would make you love him even more. For instance, he is actually a pretty pivotal part of harry doing well in the second task in the Goblet of Fire. He's actually mentioned throughout many of the books and seen more than the movies show. He comes to work at Hogwarts so he is around a lot. Dobby takes his ability to wear clothes very seriously…often wearing multiple pairs of mismatched socks and multiple tea cozy's for hats. I've included a picture from Google that I found that illustrates that Dobby. Ron even gives him one of his famous Mrs. Weasley sweaters.
The books show an even stronger loyalty to Harry and Dumbledore. He would do anything for them…which the movies do show…but I think the books make you even more thankful for Dobby and all his quirks. You see even more of his silly side in his clothing and honestly, he's pretty hilarious in the books.
5. Dudley Dursley
Dudley is an awful person at the beginning of the series…well, let's be honest, he's an awful person really until the last book. He's awful, mean, and completely fine with his parents berating and hating Harry. He's spoiled and scared of what Harry is but it doesn't seem to stop most of his attitude toward Harry. The last book, however, holds some really special moments with Dudley. He's grown up by the beginning of the Deathly Hallows and begins to see Harry as family. There's a really touching moment when Aurors are taking the Dursley's from the house and into protection that Dudley shows his true heart. He even seems really upset that they have to leave Harry, in my opinion, he's scared he might never see him again. Dudley even thanks Harry for saving his life. I've heard that the Cursed Child even reveals that they stay friends and in communication with each other.
There's also a moment also at the beginning of Deathly Hallows where Harry steps on a cup of tea as he leaves his room. Originally, Harry believes it's there as a sort of booby trap but in all actuality, it was Dudley trying to be thoughtful. It really shows the arch of his character. How he's grown up and began to see Harry for who he is not who his parents say he is. I think the dementor attack really changes Dudley's view of Harry…and for good reason!
So do you agree with me? Are these characters under-appreciated and actually big parts of the story. And long story short…go read the books. Most of these characters are under-appreciated because the movies don't fully do them justice. Who would love some more Harry Potter content?