Anxiety can feel never ending. If you've never dealt with anxiety then you probably can't even comprehend what I meant when I say that anxiety can feel crushing and exhausting. Did you know that there are often physical symptoms of anxiety? Heart palpitations, increased heart rate, fatigue, sweating…just to name a few. There are also cognitive symptoms such as racing and unwanted thoughts. There are behavioral symptoms such as hyper vigilance and irritability. Having an anxiety disorder is much more than just feeling worried.
I've shared a few ways I personally combat anxiety, you can read that here. Today, however, I wanted to share a few ways to physically combat anxiety. Because so much of anxiety is unseen and in your mind, it can easily take over. Because no one can typically see your anxiety doesn't mean it isn't there. Trust me, sometimes I might be sitting quietly in a chair at dinner but my mind could feel like a war zone.
If you have an anxiety disorder, you'll understand how hard it is to get out of your head. It's easy to fall prey to the disorder and to Satan when we allow ourselves to wallow in our thoughts. Sometimes you have to physically do things to get your anxiety to calm down, or at least I do. Today I wanted to share a few ways I personally and physically combat anxiety and/or panic attacks. My first advice is to always pray and seek God but after that, these are a few physical ways I try to combat or cope with my anxiety.
Please keep in mind I am not a professional in mental health or psychology. These are things that I have learned and work for myself. I am in no way implying I know how to help or eliminate your anxiety. If you need, please seek professional help. If you are suicidal, please call 1-800-273-8255 or visit suicidepreventionlifeline.org. There is never anything wrong in seeking help. We all need help some times.
5 ways to physically combat anxiety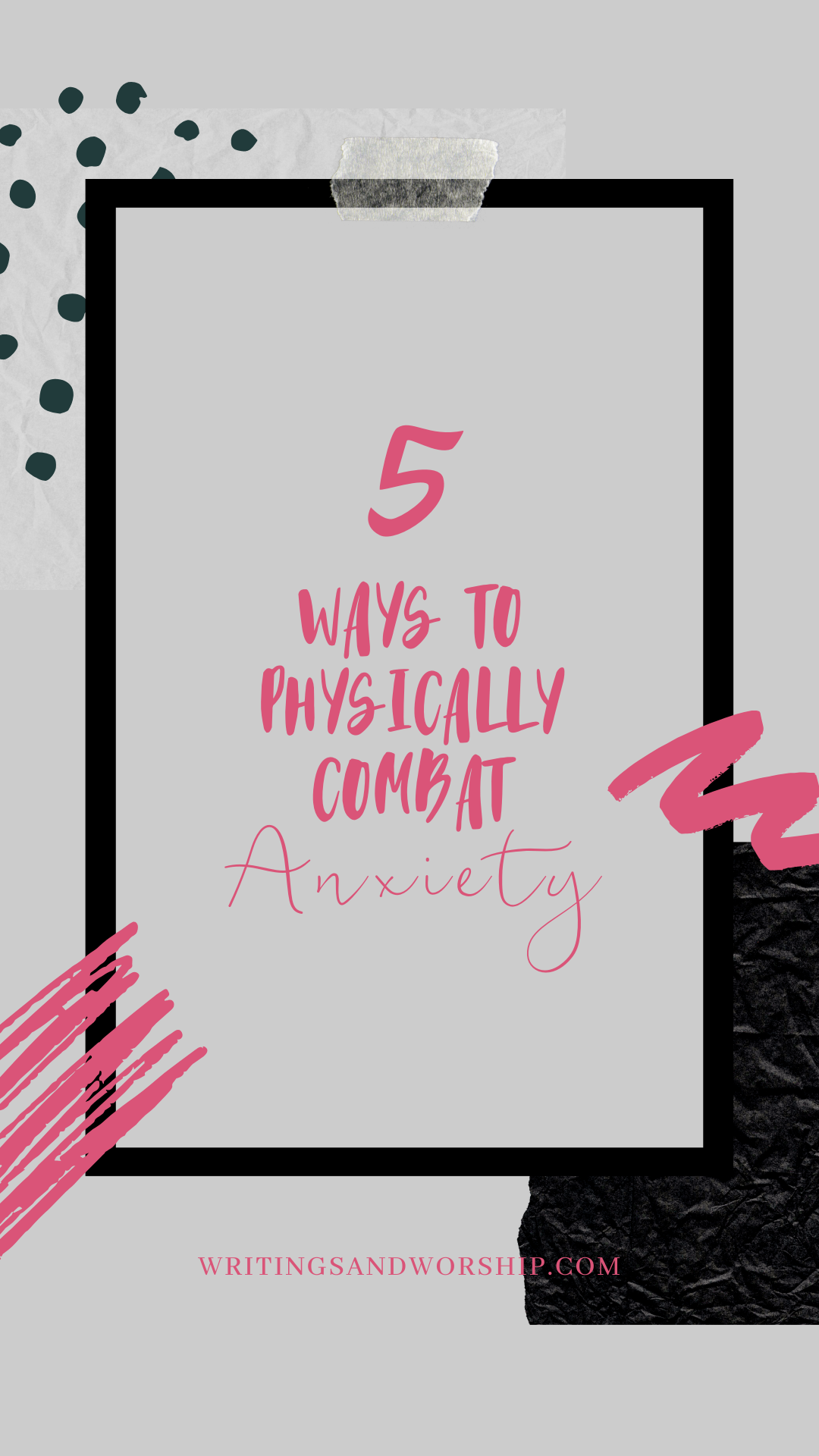 1. Busy my hands by painting, drawing, or playing a game
I've always been a creative person. I've dabbled in drawing but I love painting. My grandmother and great-grandmother were both really amazing painters (wish I had their talent). I recently started getting back into painting but even if you don't use physical paints…if you have an iPad you can get Procreate where you can draw and paint on there. The point is to busy your hands.
So maybe you like video games, sewing, etc. if you can get your hands doing some sort of activity it typically will help me get out of my head and think rationally again. Sometimes I play a game on my phone or recently I've started painting if I can. The procreate app is becoming a big favorite of mine both for anxiety reasons and creative ones. If you can keep your hands busy, you can distract your mind. It's also a great way to spend time. You don't feel totally useless if you're enjoying a hobby of yours.
2. Get up and go somewhere
I can't tell you have many times my anxiety has raged because of the fact that I was just sitting at home. Because the work I do is from home, I don't always get out much. The act of getting up and going somewhere gets your mind to switch onto something else. I'm sure there is a technical term for it but I don't know it.
Get up and go to Target, Starbucks, the library…anywhere that gets you out of that battle in your mind. So many times I've forced myself to go to dinner with friends even if I don't want to or got in the car to just go window shop. It's never good to allow yourself to wallow in that anxiety in your mind. Physically get up and distract yourself.
3. Talk it out with a family member or a counselor
Sometimes the act of literally talking it out can help ease your mind. Because anxiety is typically based on the irrational when you say it out-loud you realize that it is just anxiety and not the truth. I know sometimes it might be embarrassing to say out-loud because you know its irrational but that's what family and counselors are for. If you don't have family willing or aren't comfortable, then seek professional help- there is nothing wrong with that.
If I'm really panicky, i'll go sit with my mom and explain what's going through my head. I'm blessed because she knows how to handle my anxiety very well. She doesn't judge me for asking stupid questions like "could this pain in my shoulder be my heart" or "Jordyn isn't answering at work, do you think something happened?" There is something about physically talking about whats running through your head that can help sometimes.
4. Go for a walk & listen to a podcast or book
At our new house we have a pool and I've walked around it many times. Sometimes I like to start my mornings by walking around the pool a few times to just clear my head and pray. I'm going to try to implement more walking into my life when I'm anxious not just to exercise. But for me, the key is to listen to a podcast or an audio book. The walking gets your mind on something else and the book/podcast keeps your mind on something.
If you don't have anxiety, these tips probably seem stupid but if you do struggle with an anxiety disorder…they make sense. So much of battling an anxiety disorder is in your head, trying to combat it is getting out of your head and occupying yourself.
5. Watch calming videos or YouTube
This tip is all about you. Find something on YouTube that you enjoy that you can watch when you are struggling. Some people like those skincare popping videos, I prefer to watch painting videos. There is a guy that teaches you easy abstract paintings but there are hundreds of them out there. Maybe you like watching Minecraft builds or shopping hauls- just find something that you prefer! Just like any of the tips its all about keeping your mind busy and focusing on something else.
So do you battle anxiety? Did you find these tips helpful? I'd love to know your thoughts…leave more tips down in the comments!