TJ Maxx is known for offering great deals on brand name and designer products. From belts and sunglasses to bags and shoes, TJ Maxx has tons of great products for a much lower price tag. They are an off-price retailer which means they can sell high end and brand name products at a discounted price.
I just recently started shopping in their beauty and makeup section. If you haven't seen my haul post, go read it here before you continue. As I shopped a few times at TJ Maxx trying to find some good makeup deals, I learned a few things I wanted to share with you!
If you've never shopped there, you'll want to run out after this and spend all your money. Sometimes the products they sell are maybe overstock or specials that never sold from other stores. I've noticed a lot of repeats when I go. So I saw one shade of foundation about 5 times, so it's obvious they probably buy up extra products. But who cares when it's at such a great price. Grab a snack and let me give you a few quick tips for makeup shopping at TJ Maxx.
5 tips for makeup shopping at TJ Maxx
#1 Be prepared to dig and hunt
If you've ever been to TJ Maxx, you'll know that organization isn't really their thing. In my local store, there is one long shelving unit that has palettes and things hanging like mascaras, lashes, etc. However, most of the high-end stuff is on two small shelving units that have clear buckets and shelves where the makeup is just piled up. Hints why some of the packagings are sometimes squished.
When I go into TJ Maxx, I am expecting to spend 20-30 minutes combing through all the makeup. It may be time-consuming but hey, it takes dedication to score makeup that cheap, ha! I look through everything, looking at shade names, sometimes opening the top boxes of some to see what the shade looks like. I would say 60% is well packaged, clean, or well-preserved makeup. The other 40% is very obviously touched, broken, used, etc but that's just how most sale makeup is.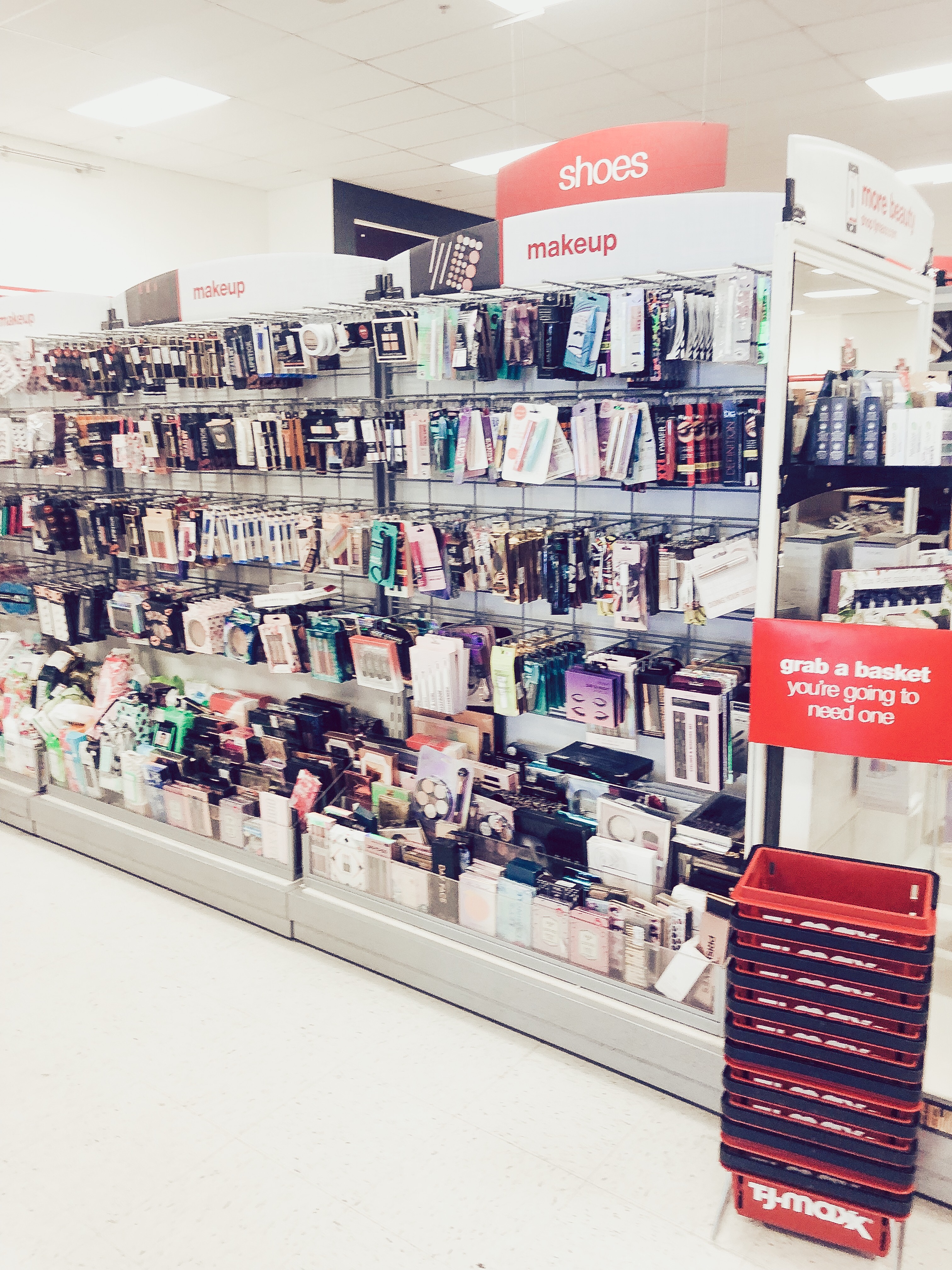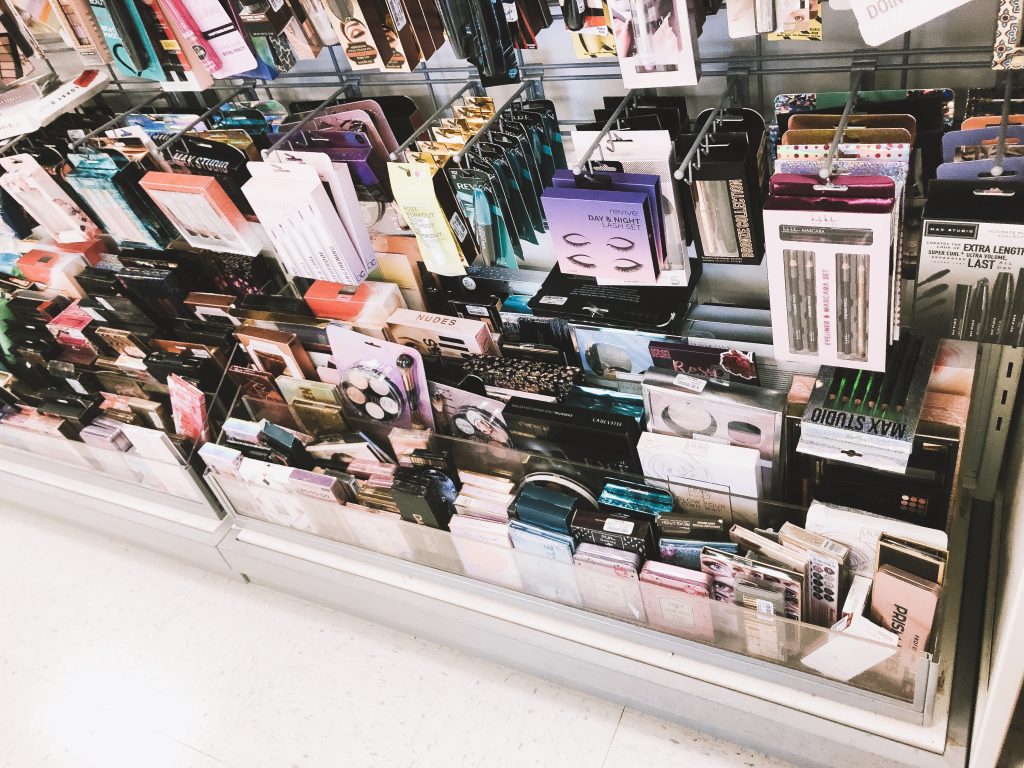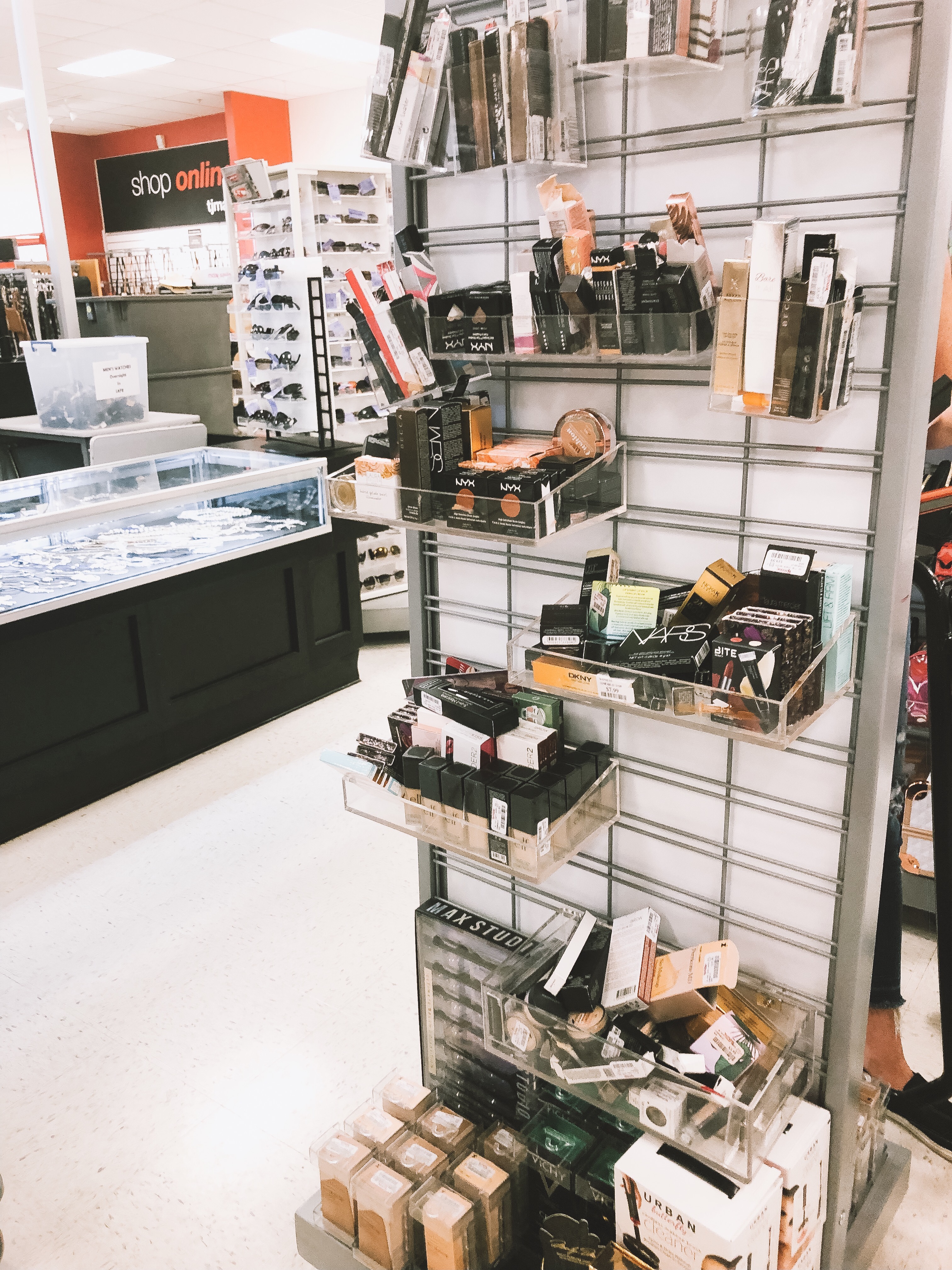 #2 Go back to the store often
TJ Maxx themselves tell you that they get in new stuff each week. They don't purchase a product based on seasons, they are constantly bringing in new products to sell. So make sure you are visiting your store often!
The first time I really shopped TJ Maxx's makeup I saw no NARS or Too Faced powders but the second time they had lots of those plus more! Nothing is really guaranteed so you have to make sure you are checking your store every so often to try to find some great deals.
I love the fact that they bring in new products so often because you'll always see something different! I found a totally new set of stuff I wanted to buy my second trip and I only went about 2 weeks later. It's such a fun thing to just go and see what they have! Sometimes they might not have much but the next time you could score gold!
When shopping for makeup deals at TJ Maxx- visit the store often! They get new shipments all the time and constantly have new stuff.
Click To Tweet
#3 Check packaging and state of product before buying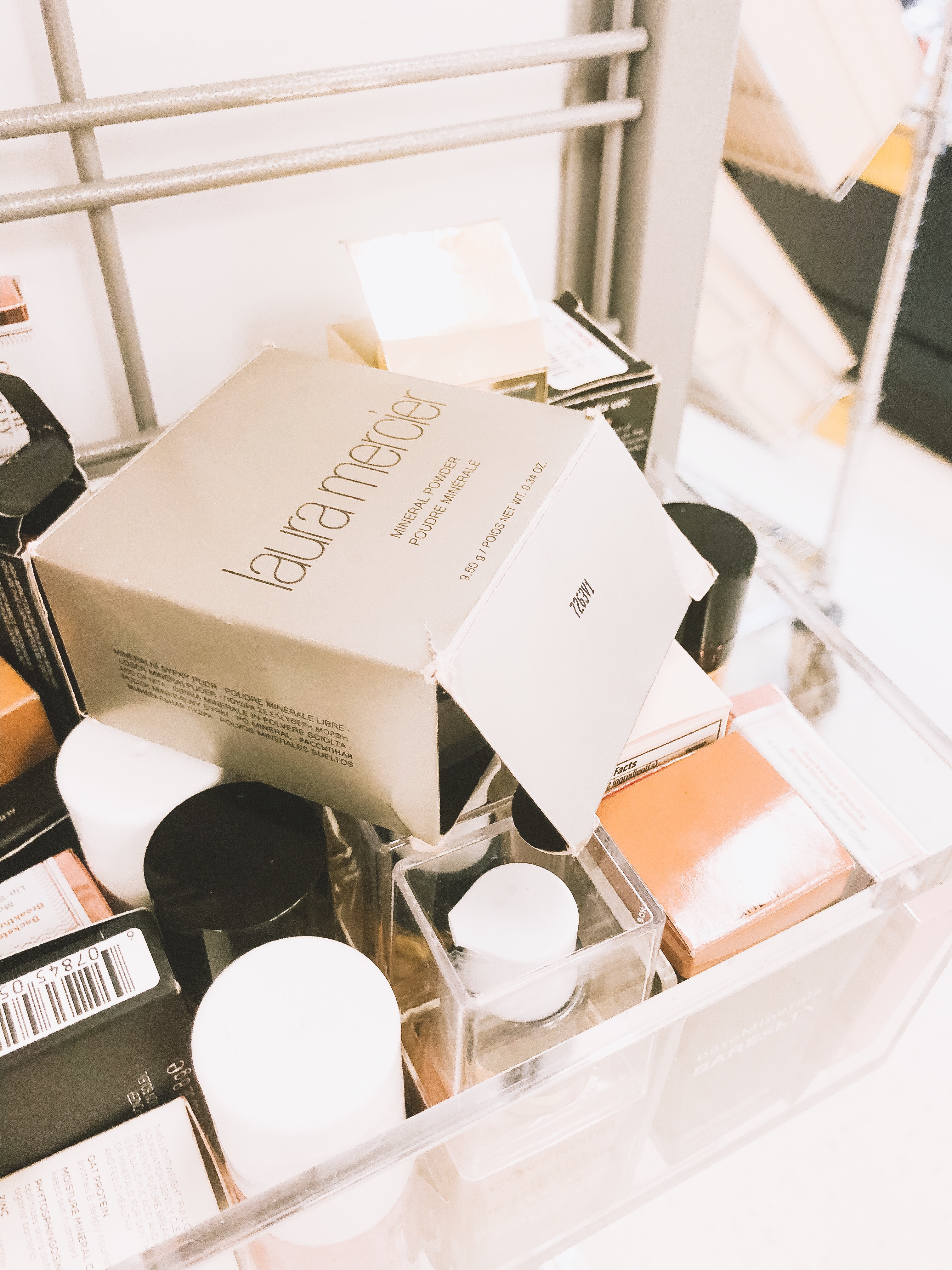 Now, I'm not advocating touching or messing up the product in any way! I am not the kind of person who thinks you should mess with it but I do suggest opening the package and seeing if the product is intact. I actually opened one blush from NARS, planning to buy it, and it was completely broken. So my tip is to just check the quality of the product IF it's not fully sealed. Some stuff has a seal or something that keeps it completely sealed and I never mess with that stuff. I hate when people touch and mess with makeup so I never do it either.
Honestly, as much as there is messed up makeup, there is tons of great and untouched stuff! I found tons of new bottles of foundation and brand new palettes! Some even have plastic packaging on it like the bottles at the very bottom of the picture!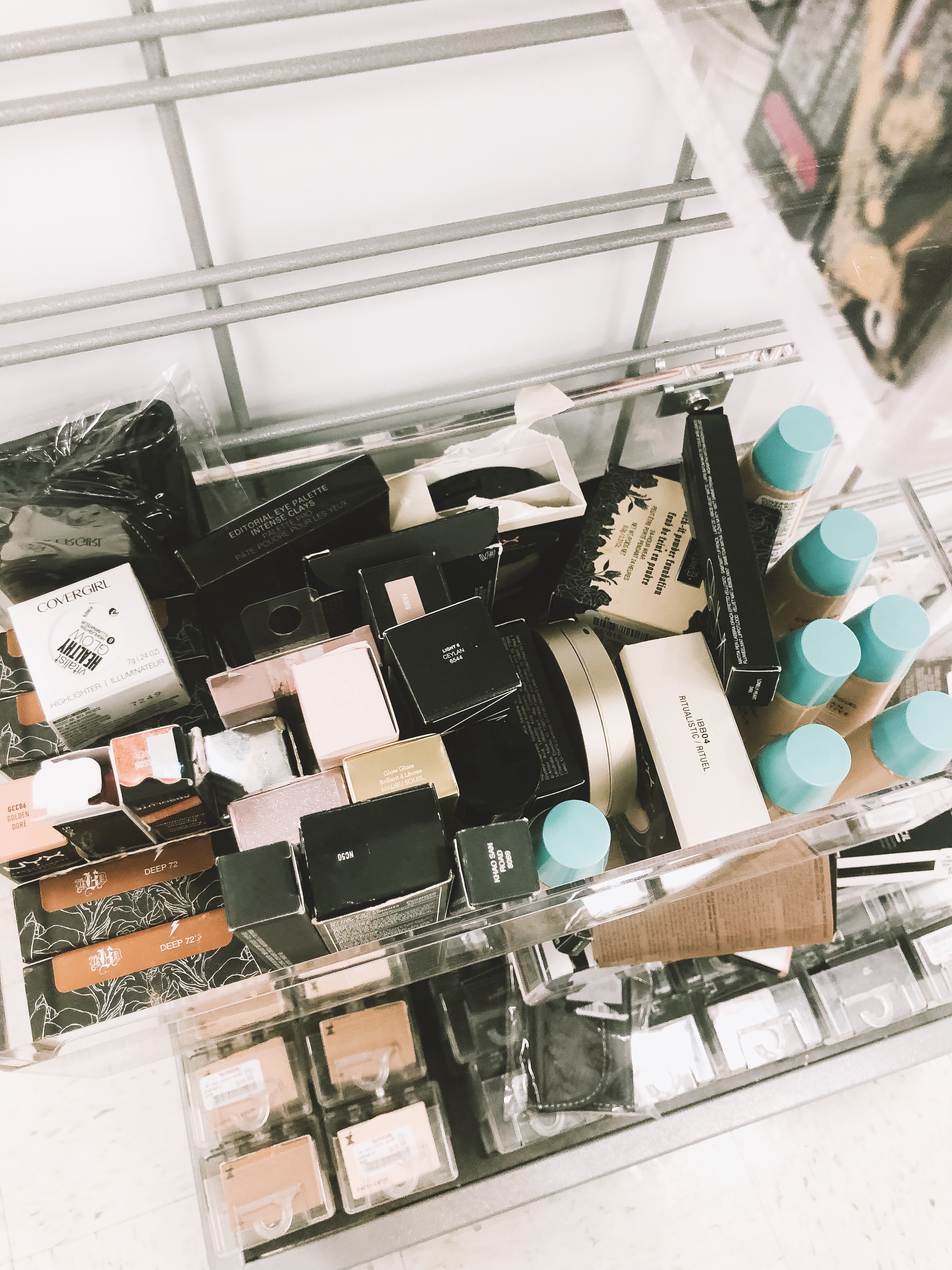 #4 Keep your phone handy
If you're like me, you can never tell by the name of the foundation whether it would be a good color for me. I always keep my phone close so I can search where the shade falls in the range. So, for instance, I saw a NARS foundation called like Barcelona, so I grabbed my phone and checked on the shades of that foundation- too dark for me!
It's so easy to just google shade swatches or info on the foundation. Most high-end brands offer description online of their foundation like "light with warm undertones" or whatever. So my suggestion is to keep your phone around and always take time to look up swatches or more info on the product.
#5 Look for an expiration date
While I would *hope* that they aren't selling expired makeup there is always that possibility. While I think it's more likely that they buy overstocked items or items that didn't sell well…it is possible that they buy some outdated makeup. But the good thing is most high-end makeup has expiration dates or you can google the serial number and see when it will be outdated.
For the most part, you can tell if something is new or pretty old. The pictures below are of makeup that looked brand new and never touched! The packaging was pristine and so clean.
I don't want you to be too worried about shopping at TJ Maxx- just be smart! If the packaging looks old and touched, then pass on that product…if they look clean and new (like what I bought) then go ahead and get it! At least at my TJ Maxx, it's pretty easy to tell if something is new and not even opened yet.
If you don't mind doing some digging, TJ Maxx can offer some great deals on luxury and high-end makeup. Go get you some deals ladies!