Who doesn't love TJ Maxx, I mean, it's a given right?? Well, I always knew this place was awesome for purses, decor, and lots of other deals but y'all…I finally checked out their makeup.
After watching a few hauls from other bloggers, I decided to check it out myself. I mean these ladies were getting high-end makeup at a fraction of the cost. TJ Maxx gets a lot of leftover makeup that didn't sell or whatever- and sells it super cheap. I noticed a few of my products were on sale because they were special releases or no longer ones that are sold. Hey, I don't mind!
I know what you're thinking, that sounds sketchy. I thought that at first too. But as long as you're careful what you buy and double check it hasn't been used- it's great! Sometimes with discounted makeup (in any store) you can tell people in the store have touched the products or they're broken…but everything I bought was sealed or in perfect condition. Just for safety, I didn't get any mascara. As long as you don't buy the obviously messed up products, there are hundreds of items you can score for a huge deal!
I've been twice and scored some great products each time. At my local TJ Maxx, I've seen Nars, Becca, Stila, Anastasia, Urban Decay, MAC, Lancôme, Marc Jacobs, and so many more awesome high-end brands. Today I want to share what I bought, how much I paid, and what the typical cost should be. Just to show you how awesome these deals were. I'd also love to share a post of tips for shopping at TJ Maxx, would you be interested in that?? If you've never purchased or shopped for makeup at TJ Maxx its a bit of a free for all- no organized bins or shelves- just small buckets and shelves where the makeup is all mixed up.
Today is just about the items I've found and how much I saved because I was stunned! And the fact that for the most part, this is good, quality makeup just on sale because of overstock or various reasons. Let's see what I bought!
TJ Maxx Beauty Haul || High-end makeup for cheap prices! #beauty #TJmaxxhaul Click To Tweet
TJ Maxx Beauty Haul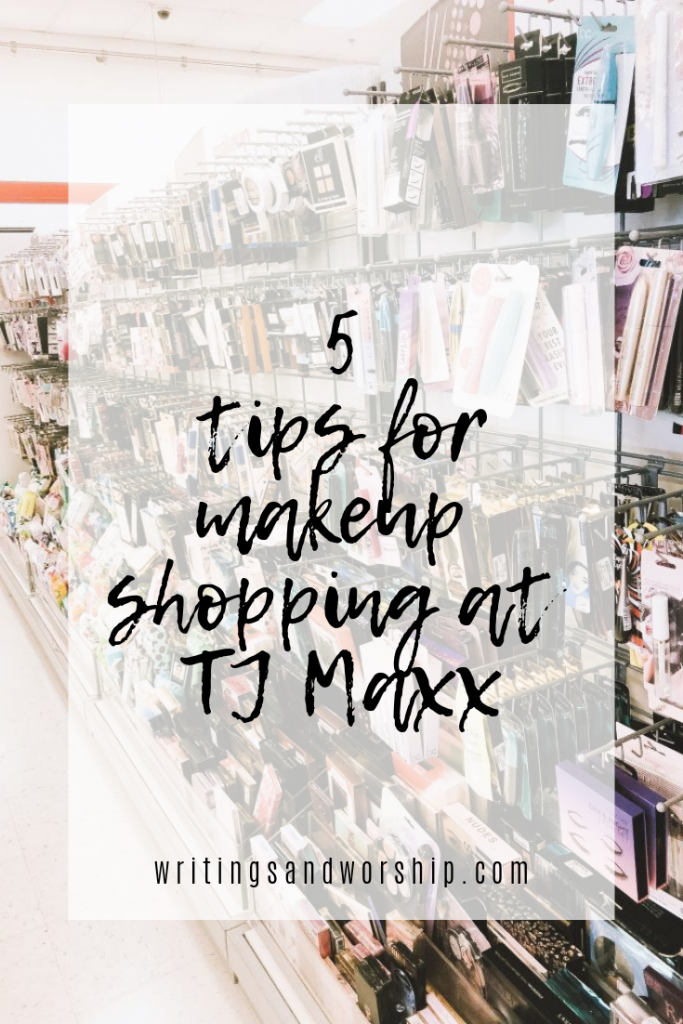 Too Faced "Peach Blur" Translucent Smoothing Finishing Powder
I have never tried any of the peach line from Too FAced but as soon as I saw that pink and orange packaging, I was thrilled! I will say that this compact was definitely in great condition. Some of the others might have squished packaging or broken pieces but this powder was in perfect condition. If you spend any time with makeup and looking at powders, you can typically always tell if someone has touched the powder and this was in perfect shape! The powder has a light peachy sheen to it and is perfect to just set all your makeup down and finish the look. Such a great deal- I'm excited to use this and add it to my collection.
Original Price: $30.00
I paid: $12.99
Stila Glitter & Glow Liquid Shadow || Sunset Cove
If you have been around W&W for a bit, you'll know how much I love the Stila Glitter & Glow shadows. When I saw that little packaging in the bucket- I grabbed it and barely even looked at the shade. I think I actually have had this shade before but who cares! For less than $9, I'll take it! Once again, this product was well packaged and seemed clean to me. I wish they had more colors but this was the only one I could find so far. I'll be keeping my eye out for more.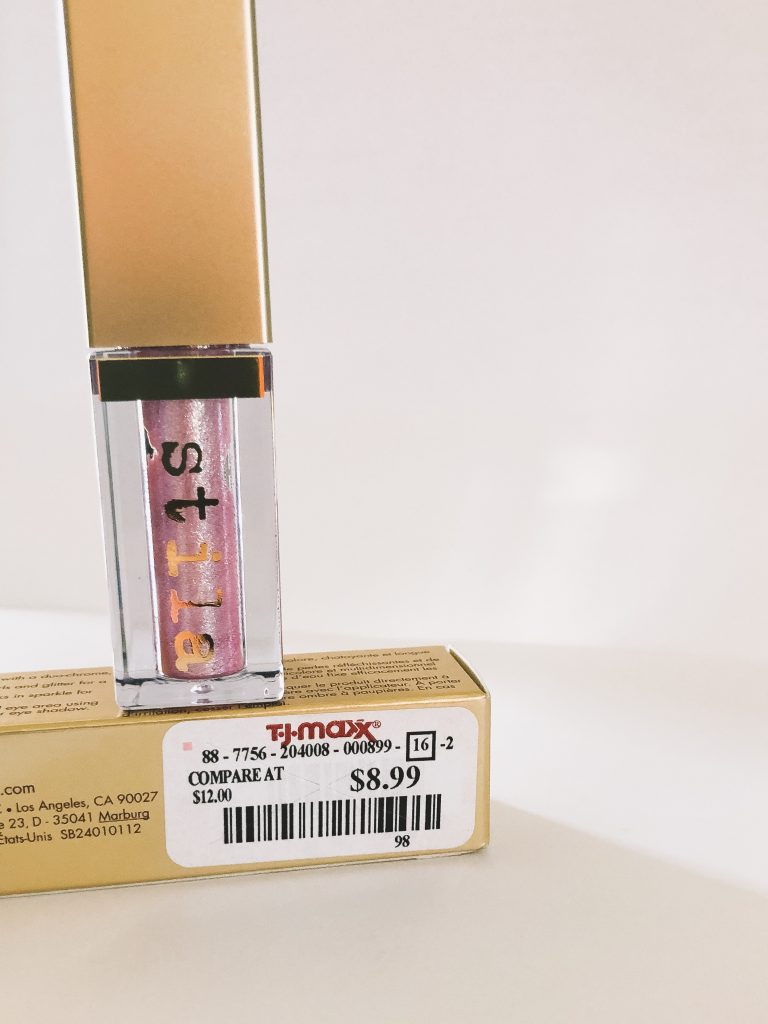 Original Price: $24.00
I paid: $8.99
bareMinerals Marvelous Moxie Gloss || Birthday Babe
I think this was a birthday gift you received if you were part of bareMinerals email club…but it's definitely a full size! Because I couldn't find a place that still sold it, I assume it was more of a reward item but I was still so surprised it was a full-size lip gloss. This is a gorgeous peachy pink shade for summer. I've heard so many good things about bareMinerals glosses that I just had to grab this one when I saw it. And I mean, less than $5, how could I pass it up!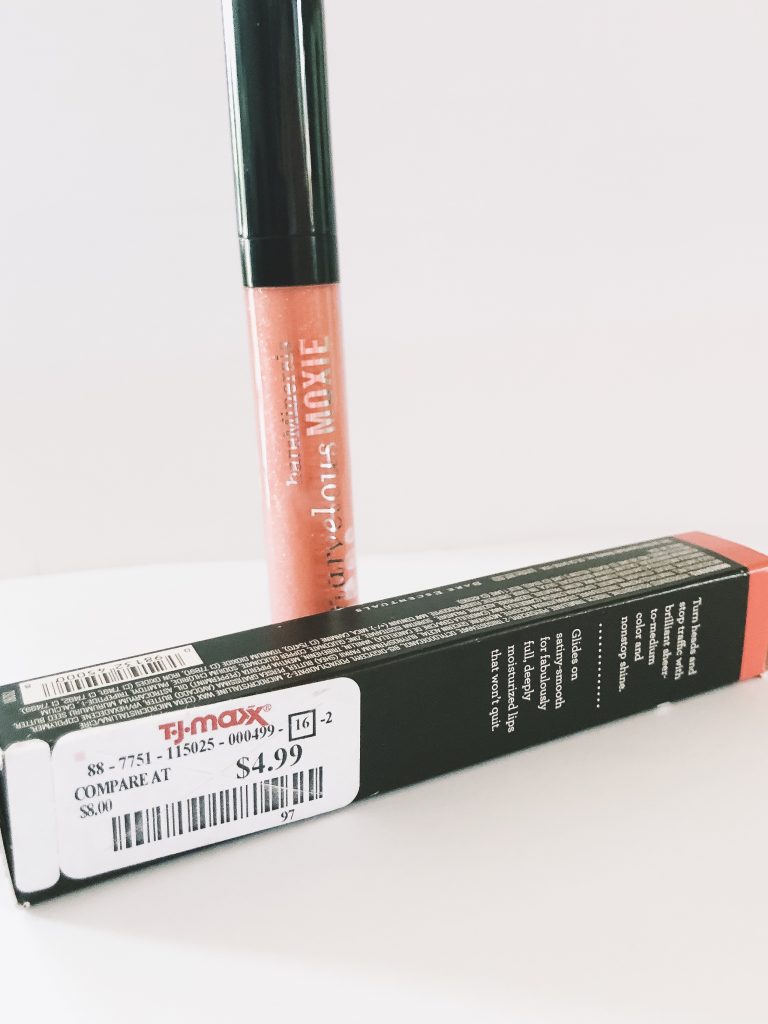 Original Price: $18.00 (approx. this was a special shade)
I paid: $4.99
bareMinerals Original Foundation || Fair C10 (2 g)
I'm going to assume that this was maybe a deluxe or travel size because I couldn't find this size sold anywhere. But this was by far my most well-packaged product. It was completely sealed with a tag that would show if it had been opened so I felt very safe getting this product. I've always wanted to try more of bareMineral's so when I saw this I was excited to try it. I actually haven't used it so I will have to update you on my thoughts. But this will be a great size to keep in your purse for touch-ups or days you forgot to put on a little makeup.
Original Price: $20.00 approx (this is no longer sold as this size)
I paid: $6.99
NARS Sun Wash Diffusing Bronzer || Casino
Y'all, I've always wanted some NARS makeup…but I just couldn't bring myself to pay the heavy price tag. When I grabbed this bronzer, I pretty much didn't care what shade it was but it ended up being a pretty good shade for me. It's actually fairly subtle and easy to blend and build up. I was pleasantly surprised by how little this brushed up…it's a pretty firm powder…but I'm still loving it! And it's NARS, I don't mind having to use a heavy hand with a product for that much of a discount.
Original Price: $40.00
I paid: $16.99
Marc Jacobs The Seamless Brush
As I was about to head to the checkout, I decided to double check the coloring of a foundation I had planned to purchase and I am so glad that I did, turns out it would have been super dark for me (foundation names are misleading). But when I had second guesses on that foundation I went back and picked up this brush instead. I always love having extra foundation brushes and just to have an item from Marc Jacobs is so fun. I've already used this brush and love it so far! I did find one or two bristles that fell out and stayed on my face…but I haven't seen any since then. This is a great little foundation brush. Easy to do both whole face and under the eye- it's a perfect size.
Original Price: $38.00
I paid: $9.99
Stila Heaven's Hue Highlighter || Brilliance
Another Stila product I couldn't pass up! This was the only product I was a little worried about before I opened it and looked at the product. The packaging was a little squished but it looked perfect! If you know anything about the Heaven's Hue Highlighter, it's almost a putty-like substance. So if anyone were to touch this or mess with this, it would be very obvious! You can even see my brush streaks from using it once- so I felt good about purchasing it. I always love adding another highlighter to my collection, anyone else?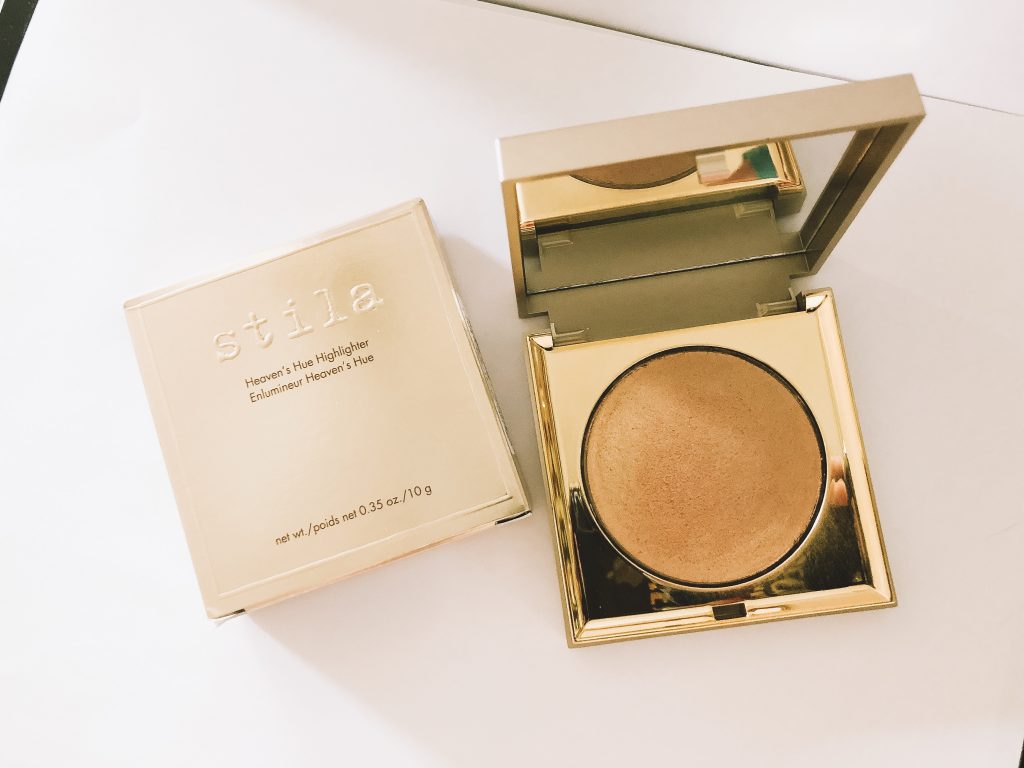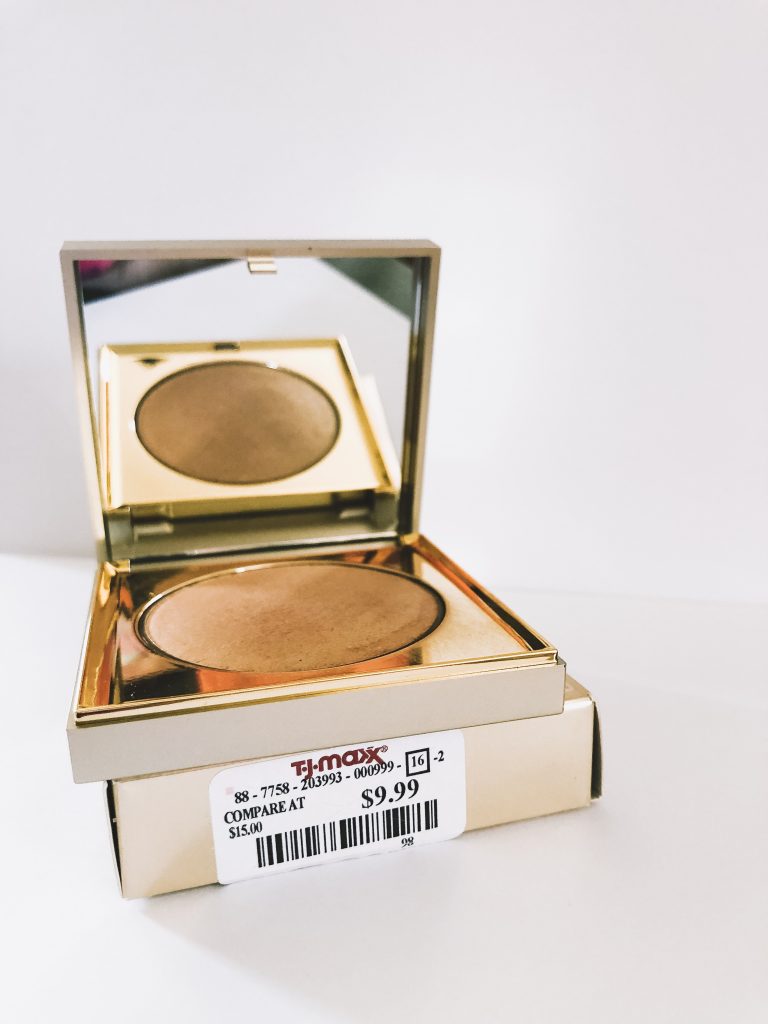 Original Price: $32.00
I paid: $9.99
Overall, I think I grabbed some really great products! I was so happy with what I purchased and can't wait to go and get some more! Take a look at your local store! My store would be the perfect place for darker skin girls to shop because most foundations were darker in tone- so all my OK darker skin ladies, I've got to tell you about my local store! Stay tuned soon for a post all about tips for shopping at TJ Maxx for all things beauty. But, let's just end on me sharing my overall approx. savings from these 2 shopping trips!
Total saving: $125+ (approx)
Over $100 saved on high-end makeup at TJ Maxx! See what I got & for how much #makeup
Click To Tweet
Can you believe that? I don't mind buying makeup a little offseason or no longer sold shades- especially when you can buy high-end makeup at such a great price. Stay tuned! I'm going to share a few tips for shopping the TJ Maxx beauty section! XOX