15-year old Hilary would be thrilled. Who am I kidding… 26-year-old Hilary is loving this come back. I'm sure, unless you live under a rock, that you know that the Jonas Brothers are back together and putting out music again. Can I bet you in on a little secret? I was a diehard JoBro fan. I've seen them live twice, thanks, sissy! My sister surprised me with tickets for my 16th birthday and then we later saw them again…with floor seats right next to the catwalk-I was in heaven, y'all.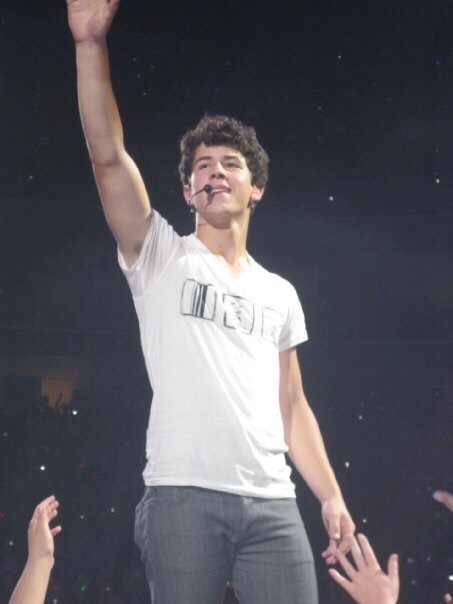 I'm laughing to myself because I know there will be 3 main responses to this post. 1. Oh my Jonas, I was a fan too. My life is complete now that they're doing music again! 2. The what brothers? I don't really keep up with pop culture and 3. Really Hilary? You were/are a Jonas Brothers fan? Seriously! But I am proudly sharing my love for the JoBro's because it has brought back such good memories and fun times. I've never been the kind of person that thinks back on junior high and high school and misses it. But when I think back on the many times I blared Jonas Brothers music in the car with my sister…now that I miss. I have so enjoyed reliving their music and the memories that come along with the songs. In honor of their return, I thought I'd share my Top 10 Jonas Brothers Songs! Buckle up, we're going alllllll the way back!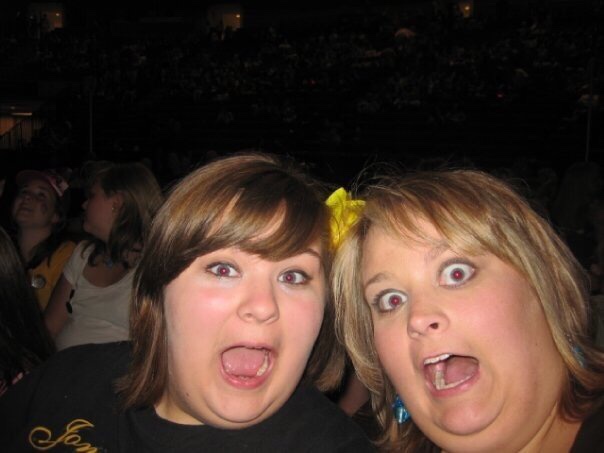 Sitting in our floor seats waiting for the concert to start
Top 10 Jonas Brothers Songs
Top 10 Jonas Brothers Songs!
Click To Tweet
1. Please be mine
This was the one song I ever really listened to from their first album. I found an acoustic version of it on YouTube and was obsessed with little baby Nick Jonas singing it. I mean was there anything cuter? And this is such a sweet song- very junior high but still extremely cute. Even after all these years, I still love this one and listen to it often. I linked that video I first saw down below so you can enjoy it as well!
2. When you look me in the eyes
There were many, many years that this was going to be in my wedding. And I guarantee you, I wasn't the only one! I would say that this was probably one of my most played JoBro song through the years and honestly, I still love it. Who else loved this song?? And did you plan to have it at your wedding, or just me??
Top 10 Jonas Brothers Songs #jonasbrothers
Click To Tweet
3. Burnin' Up
Classic, right? Who didn't love this song?! It was such a great song to watch on stage live as well. The hype was always great and the did know how to put on a good show. "Burnin' Up" was the perfect song to blast in the car with your friends with the windows rolled down. I love these songs because not only are they fun to sing and listen to but they bring up so many great memories.
4. Just Friends
Always a popular one among my friends in high school. I was so mad they didn't play this at the concert I went to- it's one of my favorites (obviously). As a young girl, it was really cool to hear a guy talk about thinking about marriage and building a life together. We are constantly told guys just want one thing and this song was them talking about daydreaming about marrying their girl. Cute, huh?
5. Fly with me
While the Jonas Brothers know how to do really fun, energetic songs, they also do some really pretty slower songs. Fly with me is somewhere in the middle. Just like most of their songs, it's very catchy and easy to memorize. And I just love the sentiment of this song, and for Disney fans…it references Peter Pan and Wendy. I love a good romantic but understated song like this.
6. Lovebug
There is one major reason that this song is on the list…and that's the background commentary that you can hear. If you listen closely, you will hear random mutterings from what you would assume is the studio. Weird but funny things like "get off that cake," "I dropped my pencil," "Ming, Joe's not a girl," and "thanks for the pizza." It's one of those songs that gets better every time you hear it because you pick up more and more of the background chatter.
7. Pushin' me away
I tried to mention some of my favorites that aren't just the ones they are known for like Year 3000. "Pushin' me away" is such a good and, in my opinion, underrated song. I always enjoyed listening to this one and I think I heard it live…I'm not sure anymore…it's been a while.
8. Hello Beautiful
The song that made most teenage girls swoon during my teen years. All things aside, I do think this song is actually really beautifully (no pun intended) written. It's such a simple but lovely song. And who could forget them on their tall stands in the air during this song for the 3D concert experience? Iconic, right? Also, side note, who went and saw that? I may have seen it opening night in theaters…don't judge me.
9. Black Keys
"Black Keys" is another one of the softer, unsung heroes of their Lines, Vines, and Trying Times album. Very mellow and pulled back, this is a simple acoustic song compared to most of their other songs. I also think that this song really paints a beautiful story with its lyrics. The JoBro's can be pretty poetic when they want to be.
10. Goodnight & Goodbye
I would consider this one of my very favorites from their Jonas Brothers album. The part at the end where most of the instruments except the drums and their voices stop is my favorites. And for those of you who have heard this song or seen it live probably know exactly what part I'm talking about. It's a good "rock vibe" moment. I love this song!
Were you a Jonas Brothers fan? If so, what was your favorite song of theirs? Also, what do you think of their new song "Sucker." I think its a pretty good comeback!