I've been working on this post for a couple weeks. I can't seem to find enough words. I think if you've been in this position you will know what I mean. This post has been worked on day after day and I still have nothing. It's not often in my life that I can't seem to find the words to write.
So instead of trying to talk to the people who don't know what it's like to grieve at Christmas…I'm going to talk to the people who do. The ones who are barely making it this season. The ones who are holding on in the shopping malls when one more thing doesn't go right. To the ones who are a little less this year, and seem to have a hole missing in their lives. This is for you.
To those grieving at Christmas...
Click To Tweet
To those who are grieving at Christmas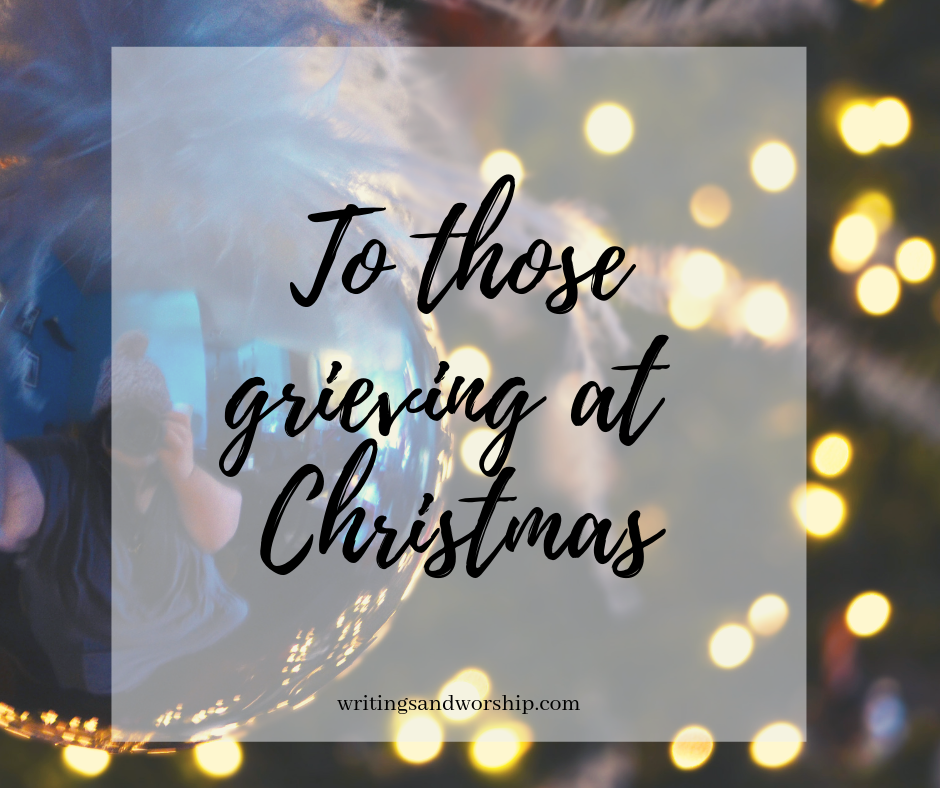 You don't have to put on a show this year. If people don't understand what you are going through, then that's their problem. You don't have to act like you're in the spirit if you aren't. There isn't a book on how you should act while grieving at Christmas- just like with all grief, there isn't a right or wrong way.
If you have to change the radio station when a certain Christmas song comes on, that's okay. For those of you who are trying to balance the need to remember the Christmases where your loved one was still around with the need to not bring up too many so you can "stay strong."
I pray that you will allow God to hold you during this season. That while there is still someone missing in your heart, that God will fill you with His love and peace. God can bring hope and healing that only He can truly bring. He is closest to those with broken hearts and I know there are many out there this Christmas season.
To those who want to hide this season, I get it. For those of you who can't watch your typical Christmas movies because they're too hard to watch, that's okay. You don't have to justify what you want to do this season… do what you need to do to get through it. I understand that everyone grieves differently and I lope that you have people in your life that understand as well and can support you.
To those grieving at Christmas, hang in there. You can get through this just like you've gotten through every day since losing your loved one. One day at a time, sometimes, one minute at a time. God will walk each step with you. Try to find some joy in this season, because it's because of Jesus' birth, death, and resurrection that we will see our loved ones again that died knowing Christ as their Lord and Savior.
There is one song I've heard this season on Facebook, that both made me break down but also gave me a new look at grieving at Christmas. Instead of thinking about everything we are missing without my dad, I'm thinking of everything that my dad is experiencing in heaven right now. He gets to spend Christmas with Jesus. The line "the sweetest gift is knowing where you" is so comforting to my hurting heart. I've shared the video below and I highly recommend grabbing some tissues and listening to it.
To those who are dreading Christmas morning where there will be an empty chair, you're not alone. Grieving at any time seems horrible but at Christmas, it seems a little worse, and I didn't think that was possible. Have peace knowing that your loved ones Christmas is incredible it's just us that are wishing for something more.
I pray that all of us grieving at Christmas can find some peace knowing that our loved ones are having the best Christmas possible with Jesus himself. I do love knowing that, it does bring some comfort to my broken spirit.
Let yourself cry, give yourself a break and allow yourself to do what you need to do this season. Don't be hard on yourself. God loves you and is with you every step during this grieving journey. Merry Christmas, XO.