Did you read the title? If you know me at all, you'll be thinking how is she going to only pick 10. I know, it sounds impossible for a Kari Jobe fan like me. However, by far, my top viewed posts tend to be these top 10 songs from Hillsong and Bethel so I thought I would continue the series.
Kari Jobe is one of my top favorite worship leaders and writers. I have seen her live many times and her spirit of worship is so infectious and raw. I love that her songs are written out of her heart. They are real and relatable. They talk about the bad, the good, and the in-between. Each album has continued to blow me away with more inspiring and incredible songs. Kari Jobe knows worship and she knows how to write what the spirit is leading her to do. Her songs are poetic and tell a story. If you haven't purchased any Kari Jobe albums, go get you one! She will usher you into Gods presence and you will never be the same if you let it work in your heart.
Honestly, I am not sure how to only pick 10 because I could probably mention every single one. Because worship songs can mean so many different things depending on what you are going through when you hear it. But here are my current top 10 Kari Jobe songs in no particular order.
Top 10 Kari Jobe Songs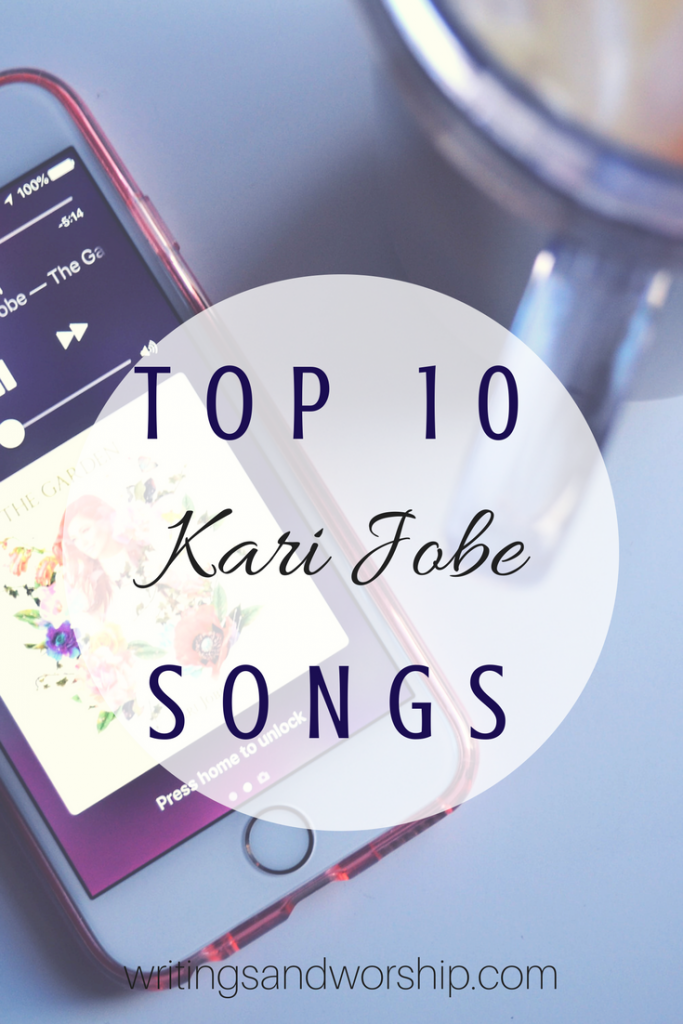 I wrote a whole separate blog post titled "The Garden" on this song because God was really using it to teach me some things at the time. When I am writing this I am listening to the song and it is showing me things even now that God needs me to hear. This song tells a story and gives a metaphor for seeing God work in the midst of chaos. I find this song so beautifully written and it reaches the innermost parts of my heart. Just as the song says, "You will stop at nothing to heal my broken soul." 
I have found so much comfort from this song for so many years. We played this song over and over when my family has faced trials of any kind. With my dads sudden passing, this song is such a comfort that I need to sing over myself. There is something so peaceful about knowing that God goes before us and never leaves us. Even when we struggle to feel God working, He is never far away. I love this reminder of His faithfulness.
While Kari Jobe writes some gut-wrenching worship songs that bring you to your knees…she also writes some beautiful celebratory songs. We must worship in the good and the bad and this is a great song to cry out your thankfulness to the Lord. This song is just asking for the spirit to come and breathe on us. To touch our lives so that we will be forever changed. I love songs that make you praise and be thankful for the life God has given you.
I love this song because so often we don't spend enough time on our knees before God. I know I don't. But this song is an example of when everything is falling apart, sometimes we need to just kneel before God and place all our burdens at His feet. There is a line that says, "Find you in the place I'm in, find you when I'm at my end," and I love that because God will always meet us where we are.  He is faithful and will meet us when we need Him, even if that is at our wits end or in the middle of a trial.
I would say this is one of the first Kari Jobe songs I ever fell in love with. A beautiful piano part that is always so solemn and nice to listen to while you're reading the Word or journaling. But beyond the music, the words of this song have been written on my heart for years and is a song I often turn too in times of need. In life we will be let down with friends and family, at some point they won't be there for us…but God is always there and always rooting for us. The verses are talking about all the things God is: faithful, patient, etc. and there is nothing more comforting.
Another more upbeat song that is one of my favorites! For a person who struggles with severe anxiety, this song is a beautiful reminder that God is the ultimate source of peace and He can steady my racing heart. I love the message of this song because I think it is one we all need to hear daily- God is faithful and ready to hold us when things get messy.
One of my favorite upbeat songs that just make me smile! Worship songs are for all times so of course, we need to sing and praise about how thankful we are for God. This song is about how we love God's presence and we are ready for Him to come. I've always found this song to be a great one to start off a worship session with; it's telling God we want to see Him and we are standing with our hands to the heavens awaiting His arrival. The bridge is simply asking God to come like a fire and change us.
Another beautiful song about asking God to come and fall on us. He is always there and ready to minister, sometimes we just need to acknowledge it and ask Him to come and meet us. I find this song fairly similar in meaning to Hands to the Heaves but I still love this one. It helps me remember that we need to seek Gods will and His presence at all times.
I find this song to have an infectious beat that makes me want to instantly stand and worship. Just like all her other songs, Kari Jobe's songs are always full of meaning and are straight from the heart. I love this song because it reminds us WHOSE we are-God holds our hearts. I love to sing this song to show how I believe and trust God to always be there and that He will never fail us.
There is nothing more special than asking God to speak to us. I think so often we are selfish and just expect God to come to us when we really should be asking/begging/calling out for God to come and speak to us. We should want more of His presence and to hear more of His word. This is such a simple song but so impactful.
Are you a Kari Jobe fan? If so, what's your favorite song? Also, are you liking this series?? Xoxo and happy Valentine's Day!