A new year, a new start, and a brand new time to get things accomplished. As you know, worship music is always dear to my heart. The words I can't say, the worship music speaks for me. Worship songs are my prayers, my anthems in an audible declaration to the Lord.
The words I can't say, the worship music speaks for me. Worship songs are my prayers, my anthems in an audible declaration to the Lord.
Click To Tweet
This year, instead of picking a word, I wanted to pick some phrases-some anthems for the new year. I want to start my year out in worship. By immersing myself in Gods presence. My time is wrapped up in so much that I don't dedicate enough time to the Lord like I need too, this year, I'm changing that. My first step is prepare myself for this new year.
These anthems are my hearts cry, my prayers for every minute of every day. I have chosen a few phrases from some worship songs that have been on my mind lately as my anthems for this year. I, of course, wanted to share them with you.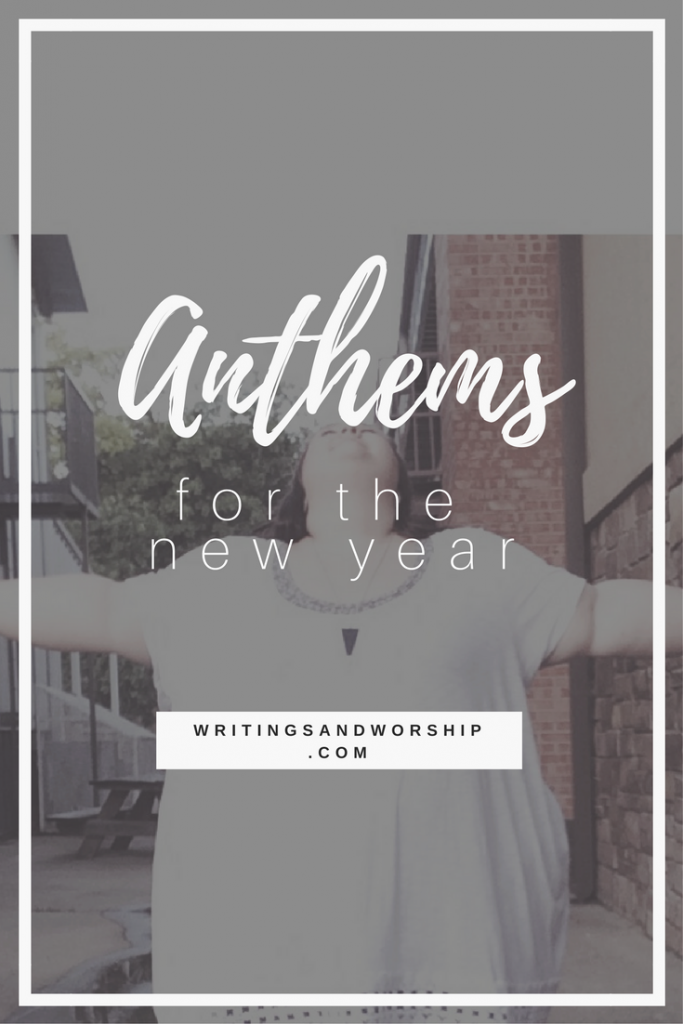 "Until all my fears are shattered
Until every mountain is moved
You are all my heart is after
I wanna stay here, stay here with You"
This phrase is from the song, Stay Here by the Belonging Co. One of my favorite worship leaders, Meredith Andrews, leads it. I want to do a whole post on what this song means to me but for now, I want to focus on sitting in His presence this year. How many times do we sit and pray for something and get distracted or bored and move on. The anthem of this song is to sit with Him until He breaks our fears and moves our mountains. It might mean we spend hours praying, weeks praying, etc. but we sit there until He shows us the way. God will always moves, He will always show up, and will always work in HIS timing.
"You are here so it is well"
Another song by the Belonging Co called Peace Be Still, is one I have been dwelling on for months. I could have used many, many phrases from this song, but I settled on this simple but powerful one.  Because He is here, it's well. He alone brings us peace and I want to remember that no matter what this year brings, because He is here…it is well. We often forget that just because we can't see the next step that God isn't there…but He is always there.
"When I thought I lost me, You knew where I left me
You reintroduced me to Your love, You picked up all my pieces
Put me back together, You are the defender of my heart"
Kari Jobe has sang a song called Defender in some resent live shows that was originally by Rita Springer. Kari sings just the bridge most of the time, and that is the part I resonate with the most. I love this because its so true and relevant to real life. How often does God pick up our pieces? How often does God remind us of His overwhelming love? How many times has He put us back together? The answer is all the time. Every time. And for always. It's a beautiful reminder for our ever forgetful heart. I included this in my anthem post because honestly, the last few months I have felt lost in life and that first line of this bridge is so poetic. He knows all about us and when we have been close to giving up on our dreams or our faith. He always brings us back to who He created us to be.
"On the mountains, I will bow my life
To the one who set me there
In the valley, I will lift my eyes to the one who sees me there
When I'm standing on the mountain aft, didn't get there on my own
When I'm walking through the valley end, no I am not alone!
You're God of the hills and valleys!"
Hills and Valleys by Tauran Wells is a beautiful reminder to be content and thankful no matter what life throws us. Whether we are up on the mountains we need to rejoice, when we are in the depths of the hills, we must rejoice. God gives and takes away and we must remain thankful for where we are and what He has done. Even if Jesus never did one more thing for you, He already did more than enough by dying for you to bring salvation. When live is good and going well, we must remember it isn't you alone that made it up that mountain. God is the God of the hills and the valleys we face.
Even if Jesus never did one more thing for you, He already did more than enough by dying for you to bring salvation.
Click To Tweet
"Though my waiting prolongs even greater
Your promise for me like a seed
I believe that my season will come"
Hillsong Worship recently released a song called Seasons, and I feel like it was written for me.  I'm planning to write a specific post on just this song so I won't go into too much detail. If you are new, you'll know I have been in a long season of waiting..and still am. I'm struggling to keep composure because I am so overwhelmed by how much this song is speaking to me. Our walk with Christ is not just one big happily ever after. We go through seasons; we have times where we feel like we are in a season of pain or waiting. Maybe a season of joy and deliverance. Either way, we all go through these "seasons" in our walk with Christ. This is my anthem because it is reminding me that the seasons don't last forever, and my season will come.
What is your word for the year? Or maybe your anthems for the new year? I can't wait to hear about yours!