Hello friends! Welcome to a new week here on W&W, I hope your week is off to an incredible start. Yesterday, I woke to the best site…frosty dew on the ground! Oklahoma is considerably warm this season and I loved seeing that sign of fall. That got me thinking about fall, and I wanted to share a fall beauty post with everyone. And what better way to do that than with a berry lips post.
Ya'll know that I am obsessed with berry lips this season. I've shared a few of my favorite berry lip colors in various posts through the years but today I wanted to do one full post dedicated to my go-to fall berry lips! Some of these colors might seem forever, but hey, I talk about what I love!
For my berry lip loving friends, this whole post is for you! Go grab some of these colors!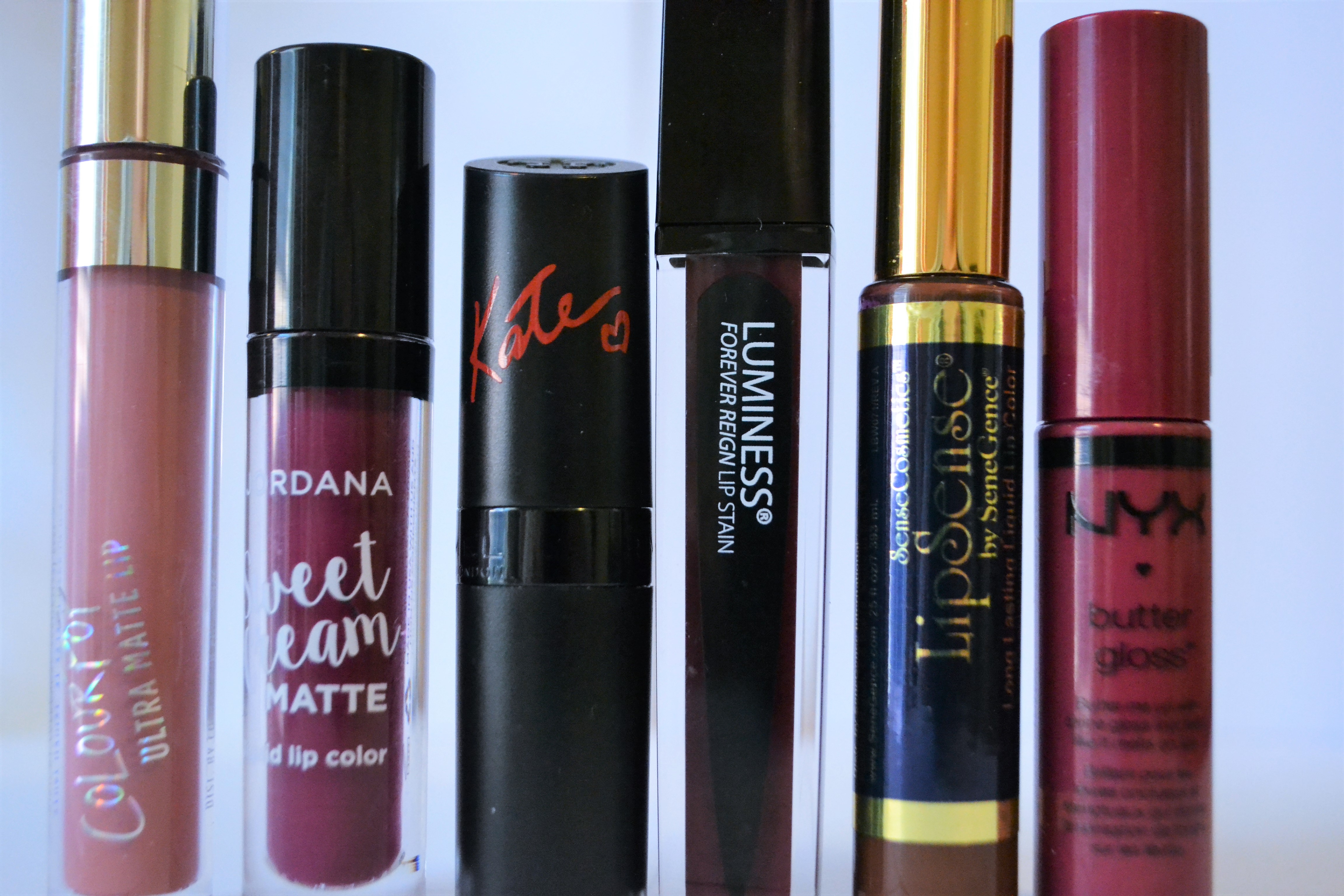 I have always enjoyed the Kate Moss collection with Rimmel and this one is one of the best ones. It is a gorgeous berry color that seems to switch from purple undertones to red undertones depending on what you wear with it! This is a deep color but definitely not too dark and perfect for daily use. Rimmel Kate Moss is some of the most moisturizing but lasting lines of lipstick that I have found at the drugstore. I love this berry lip for any occasion.
Recently, I did a full post dedicated to this color and how Lipsense has some perfect shades for fall! I still have a coupon attached to that post so make sure you take a look. "Berry" is honestly just stunning on the lips. It has the power to be a little sheer if you only apply it thin but it is definitely a color that looks gorgeous with the three layers that Lipsense promotes. This shade is on the deep, vampy side of the berry lip scale but it is so lovely on the lips and definitely wearable. Some vampy berry shades just look black but not this one!
Lumiere was a recent purchase that has quickly jumped its way to being one of my top favorites this season. I add this in my berry lips post because I consider this a nude shade with beautiful purple undertones. It is a much more wearable shade for those that don't like them too dark. Colourpop is killing it with these Ultra Matte colors. I wore it most of the day Saturday and it stayed! It balled up a little on the outer corners but I blotted that off and the color was still there and I was good to go for a few more hours after that. This shade is a must have this fall!
I won this shade from a local consultant's giveaway. The color is the prettiest dark berry shade. The wear is something I had to work with but I am just loving that color so much that it's worth the learning curve. Sometimes you just have to play around with application on a new product line you're trying! They are long lasting and very affordable! I had to include this in my berry lips because it is another perfect shade for this season.
Lip Gloss seems to be a product that people either love or hate. I actually like it but don't want it too sticky that my hair gets caught in the gloss. I used to wear gloss all the time in junior high and high school but didn't after that for a long time. When I found this butter gloss, I changed my mind! These glosses are so smooth and pigmented. I love this shade for things like interviews or meetings because I get a little touch of color but I don't worry about it being on my teeth or bleeding out the corners of my mouth. This shade is perfect for fall and so easy to apply if you are up for giving gloss a try. And NYX is always a good and affordable drugstore brand.
Jordana Sweet Cream's are definitely unsung heroes from the drugstore. I happened upon these cream lippies at a Walgreens last year and love the formula and the price. So far I haven't found them anywhere but Walgreens and on their website. I'm planning to pick up a few more shades this season. Anyway, Current Jam is a beautiful berry lip shade that is a cross between a purple berry and a red berry in my eyes. It's just a beautiful traditional berry shade that wears beautifully and is long lasting.