2022 was a year of reading/listening for me. Because of the incredible power of audiobooks, I read more books this year than ever before! I don't consider myself a book reviewer by trade…but I always look up reviews for books when I'm looking at what should be my next pick.
FYI, I also prefer books that are fairly clean. I love romance…but I don't like spicy books. Just a personal preference. I tend to look more for romance, mystery, whodunit, or even Christian romance or mystery. Today I am going to share the books I read this year and whether or not I would recommend them.
Please keep in mind that these are just my opinions and what I consider too dramatized or too spicy might not be for you. This is a good mix of YA fiction, Christian romance, and murder mystery books – so there is something for everyone! Also, I kept titles together if I read the whole series for space reasons…some of these series have like 5 books in them and that would take forever to add to a list, so make note if it says trilogy or series that I read all of them!
Books I read in 2022 & if I recommend them
The Testing Synopsis: "The Seven Stages War left much of the planet a charred wasteland. The future belongs to the next generation's chosen few who must rebuild it. But to enter this elite group, candidates must first pass The Testing—their one chance at a college education and a rewarding career."
This dystopian trilogy consists of three books The Testing, Independent Study, and Graduation Day. You will enjoy this series if you are a fan of books like the Hunger Games. It is fairly typical of the YA dystopian genre, with the female protagonist and POV. She's young, has a love interest, and really has no business being the sole person who can help the world-yet she seems to be the only one that can. Cia is the main character in this series and I did enjoy her POV for the most part. She wasn't as lovesick as some female leads can be. The whole premise of the book has great depth and isn't something I've seen done too often. I enjoyed the way it played out.
My rating: 3.7/5
Thoughts: Great for teens and older. Good storyline. The later books are a little slow for me but they are more geared toward YA.
Do I recommend it? Yes!
Synopsis: These books follow a Montana family, the Marshalls as they face dire circumstances and crazy adventures. The family includes a SEAL, a former Bull Rider, and more.
I absolutely loved these Christian romance/adventure books. There are 5 books and each of them follows one of the siblings from the Marshall family. Each one has an incredible storyline with adventure and mystery and romance. You get updates on all the other siblings throughout the other books which I loved. The books teach great life lessons and keep you wanting to turn the page.
My rating: 5/5
Thoughts: Overall great books that keep you entertained and invested. If you enjoy action or underlying romance, these are for you!
Do I recommend it? Absolutely!
Synopsis: The Guest List—set at a ritzy wedding-gone-wrong on a remote Scottish isle—starts with a murder, and then plays a game of keep-away with the victim's identity until the very last pages. This juicy murder mystery is a perfect Agatha Christie–esque summer read.
As a writer, Lucy Foley is an incredible writer to learn from. The way she intertwines multiple timelines and POVs as well as the mystery into her books…. is just incredible. There were a few moments that were a little spicy for me personally. It also contains adult language so beware of that if that is something you don't prefer. But the way you follow these characters through the weekend is amazing. You don't know who has been killed until near the end and it just adds another layer of mystery to it. Very Agatha Christie like and she did it so well.
My rating: 4/5
Thoughts: Incredible writing and storyline. Note that there are scenes I considered a little spicy and some language in the book.
Do I recommend it? Yes but not for young readers and keep in mind the notes I said above.
Synopsis: The Hunting Party follows a group of nine close friends as they go on holiday in the Scottish Highlands. It's a remote retreat, but although most of these friends have known each other for a decade, tensions are high within the group. By the end of their trip, one of these friends will be murdered.
Honestly a lot of my thoughts from the Guest List apply here. Lucy Foley does mystery so well. Once again there were a few scenes too spicy for me and there is some language but as a writer…I have learned so much from seeing how Lucy intertwines her multiple POVs and timelines. Her mysteries are very entertaining and keep you wanting to turn the pages. There were definitely twists I did not see coming in this book. I love a good whodunit mystery and this is a good one with an interesting group of characters.
My rating: 4/5
Thoughts: A great mystery that you can't wait to unravel! Note that there are scenes I considered a little spicy and some language in the book.
Do I recommend it? Yes but not for young readers and keep in mind the notes I said above.
Synopsis: Jess needs a fresh start. She's broke and alone, and she's just left her job under less-than-ideal circumstances. Her half-brother Ben didn't sound thrilled when she asked if she could crash with him for a bit, but he didn't say no, and surely everything will look better from Paris. Only when she shows up – to find a very nice apartment, could Ben really have afforded this? – he's not there. The longer Ben stays missing, the more Jess starts to dig into her brother's situation, and the more questions she has. Ben's neighbors are an eclectic bunch, and not particularly friendly. Jess may have come to Paris to escape her past, but it's starting to look like it's Ben's future that's in question. Everyone's a neighbor. Everyone's a suspect. And everyone knows something they're not telling.
The Paris Apartment was definitely a different approach than Foley's other 2 best-selling novels. While still a mystery, this one was not as whodunit Agatha Christie-esque. It reminds me of a more dramatic, serious version of "Only Murders in the Building." It is a spin on the locked door mystery. I will admit, it has a slow start. The ending was much more complicated than I was expecting. I do feel like there was a tendency to be chasing a few too many plots and it could get confusing. But in the end, I was still shocked by some of the twists and I liked how it slowly unfolded like Foley is good at. I enjoyed this one but it seemed to be met with mixed reviews by the masses.
My rating: 3.5/5
Thoughts: Good mystery, but slow to unravel. Still has strong language but a little less spicy-ness.
Do I recommend it? Yes but not for young readers and keep in mind the notes I said above.
Synopsis: Years after a young girl was murdered in a small town, supposedly by her boyfriend, Pip sets out to investigate if it was really him who committed the murder or not.
Who better to solve murders than a teenage girl in HS, right? I know the premise sounds silly but the first two books of this series really impressed me. Pip sets out doing real investigative journalism and begins to realize this case goes wider than she thought. In the whole series, she continues to investigate other crimes in her town. There is some adult language which I was surprised about since it seems mainly geared to YA audiences. But the storyline was pretty well written in the first two books.
The first book actually mimics a lot of an actual true crime case with Adnan Syed being accused of killing his girlfriend Hae Min Lee. Anyway, I will say the third book was one of the worst books I read this year. I made myself finish it just because I didn't want to give up halfway through. It was confusing and honestly had some major character personality switches that I felt made no sense. I was really disappointed with the third installment.
My rating: First two books are 4/5 and the third book is 1.5/5
Thoughts: Good YA mystery that is solved by an unlikely source.
Do I recommend it? I recommend the first two for sure, but I wouldn't read the third one unless you want to be disappointed!
Synopsis: The Montana Rescue Series follows the PEAK rescue team who saves people from the beautiful but dangerous Glacier National Forest. Each book follows one main member of the team as you find out more about their life as they work in dangerous conditions and usually also fall in love.
There are six main books in this series and I loved basically all of them. Naturally, I was more drawn to a few of them than others but all of them were really interesting reads. They kept me entertained all while getting some good life lessons. This series has it all! Avalanches, daring escapes, tornados, romance, action, and more.
My rating: 5/5
Thoughts: Great adventures and good life lessons to learn as well.
Do I recommend it? Yes, yes! The whole series.
Synopsis: Daisy Darker was born with a broken heart. Now after years of avoiding each other, Daisy Darker's entire family is assembling for Nana's 80th birthday party in her crumbling gothic house on a tiny tidal island. The family arrives, each of them harboring secrets. When the tide comes in, they will be cut off from the rest of the world for eight hours. But at the stroke of midnight, as a storm rages, Nana is found dead. And an hour later, the next family member follows.
Talk about a twist. I don't want to give away anything so I don't want to say much…let's just say this book took a turn that I definitely did NOT see coming. In fact, the twist was so good I wanted to go back and read it again to see if I could catch what I had missed. The twist won't be for everyone, but it was cool how it played out.
My rating: 4.5/5
Thoughts: The twists in this book are well done in my opinion.
Do I recommend it? Yes just to see if you caught on before the end!
Synopsis: Ten teens. Three days. One killer. It was supposed to be the weekend of their lives—an exclusive house party on Henry Island. Best friends Meg and Minnie are looking forward to two days of boys, booze, and fun-filled luxury. But what starts out as fun turns twisted after the discovery of a DVD with a sinister message: Vengeance is mine. And things only get worse from there. With a storm raging outside, the teens are cut off from the outside world . . . so when a mysterious killer begins picking them off one by one, there's no escape.
A teen version of Agatha Christie's "And Then There were None." I found this book interesting and the way it brought you to each murder was well-done. However, I read this a few months ago, and as I write this…I can't even tell you what the main plot was or who the mastermind was…so it apparently didn't "wow" me a whole lot. It was a fairly good read that I enjoyed overall as I was reading it…but it didn't stay with me.
My rating: 3/5
Thoughts: A good starter mystery for teens – I think there was some language if I remember correctly
Do I recommend it? Yes and No. It was worth a read once but not sure I'll be thinking of it often.
Synopsis: One of Us Is Lying Five students walk into detention, and only four walk out. According to investigators, the last student's death wasn't an accident. He was planning to post juicy reveals about all four of his classmates the next day, which makes them each suspects. Or are they the perfect patsies for a killer who's still on the loose? One of Us Is Next A ton of copycat gossip apps have popped up since Simon died, but in the year after no one's been able to fill the gossip void quite like he could. The problem is no one has the facts. Until now. This time it's not an app, though–it's a game. Truth or Dare. And if you're smart, you'll always take the dare.
I am only including One of Us is Lying and One of Us is Next in this review because it was the easiest. I have also read Two Can Keep a Secret but it doesn't really fit with the same storyline. Anyway, these are pretty good YA books. They were interesting and kept me engaged. Similar writing to AGGGTM. For the first time in a while, it was teens trying to figure out a crime that seemed on their level. It made more sense plot-wise.
My rating: 4/5
Thoughts: A good YA book. Interesting take on a whodunit.
Do I recommend it? Yes!
Synopsis: a journalist uncovers her hometown's dark secrets when she becomes obsessed with the unsolved murder of her childhood neighbor—and the disappearance of another girl twenty years later.
This book was written by well-known true-crime podcaster Ashley Flowers and let me tell you…I so wanted to enjoy it. I was so looking forward to it and I had high expectations. Sadly, it fell short. Very short. The crime is incredibly similar to Jon Benet Ramsey and the parallels were very obvious. The ending was utterly disappointing. I have never read a book that left me with so many unanswered questions. Twists are awesome but I prefer my books to have resolutions and this one did not. I made my poor cousin read it just so I could talk about how much of a disappointment it was with someone.
My rating: 1/5
Thoughts: No resolution at the end. Left me angry.
Do I recommend it? Sadly, no.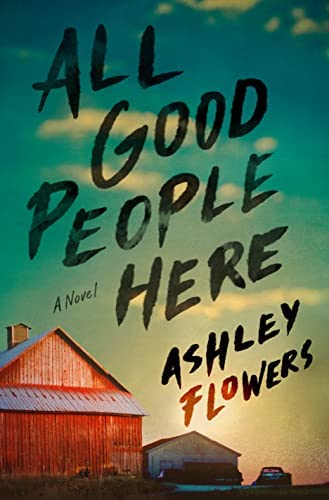 These are most of the books I read in 2022 minus a few. These reviews take forever so there are another handful I didn't mention, maybe I'll do a part 2 if you guys like this post. What books should I read in 2023? Give me some ideas in the comments!