*This post contains affiliate links. If you make a purchase through one of these links I might receive a small compensation.*
I am excited to share that I am once again working with Smile Brilliant! This fantastic company has been featured a few times on W&W in the past. I shared their teeth whitening system and their excellent electric toothbrush, the cariPro. Today I will be sharing my experience with the custom nightguard.
*I received this custom nightguard kit complimentary for testing purposes. All thoughts and opinions are my own.*
Y'all know that I deal with anxiety and one of the physical symptoms I deal with is grinding and gritting my teeth, especially at night. I do it so badly that sometimes I'll wake up in the morning and my teeth and jaw will be sore and painful from grinding my teeth all night and clenching my jaw. All that to say, I had actually been looking into buying some sort of guard. While I was actually considering purchasing a mouthguard, I was contacted by Smile Brilliant about testing out their custom night guard.
My main issue was the fact that I needed a thin, and simple custom night guard because of my small mouth & intense gag reflex. This is exactly why a custom-fitted nightguard is exactly what I needed. I will briefly share the process of making the guard and then my experience using it.
The process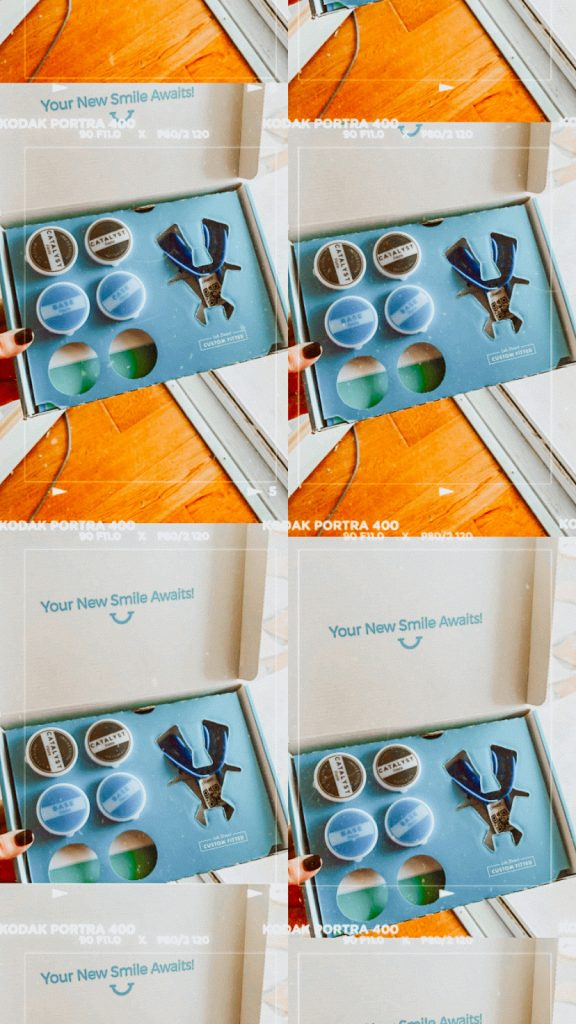 I was sent a kit to make my custom nightguard mold in the comfort of my own home. This was similar to the process of creating your custom teeth whitening trays with the Smile Brilliant teeth whitening system.
The kit came with a tray, 2 tubs of catalyst, 2 tubs of the base, an instruction pamphlet, a prelabeled return envelope, and an information card to fill in your information and send back with the mold. Everything is very well labeled and explained which I found incredibly helpful. All you need to do is mix 1 little tub of base and 1 little tub of catalyst until the white is completely mixed in, then place it into the tray. Once the mix is in the tray, you put it in your mouth (top or bottom) and leave it for 3 minutes. The instruction pamphlet gives you detailed instructions and steps on how to do all of those things. They even include pictures for those who do better with visual examples like me.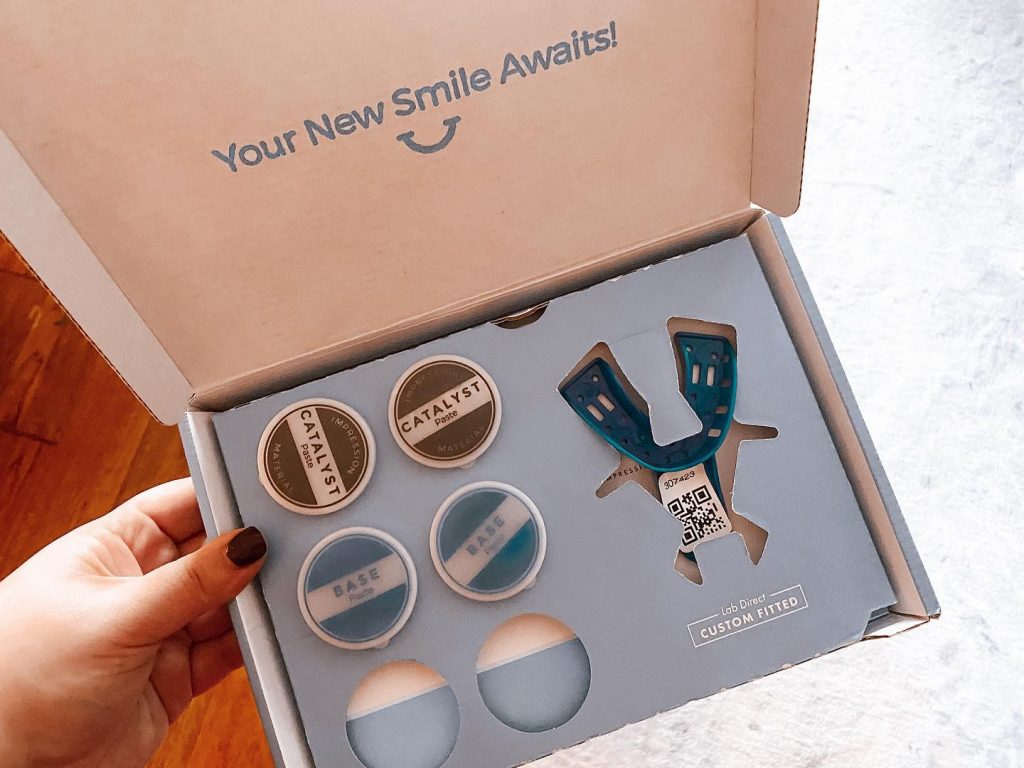 Custom Night Guard with Smile Brilliant + Discount Code #ad #smilebrilliant
Click To Tweet
The impression molds
Once you have your molds, you are ready to fill out your information card and place those items in the return envelope that is already filled out and ready to go. If like me, you aren't sure if you did the mold right, you can send pictures to their support email and ask before sending your molds.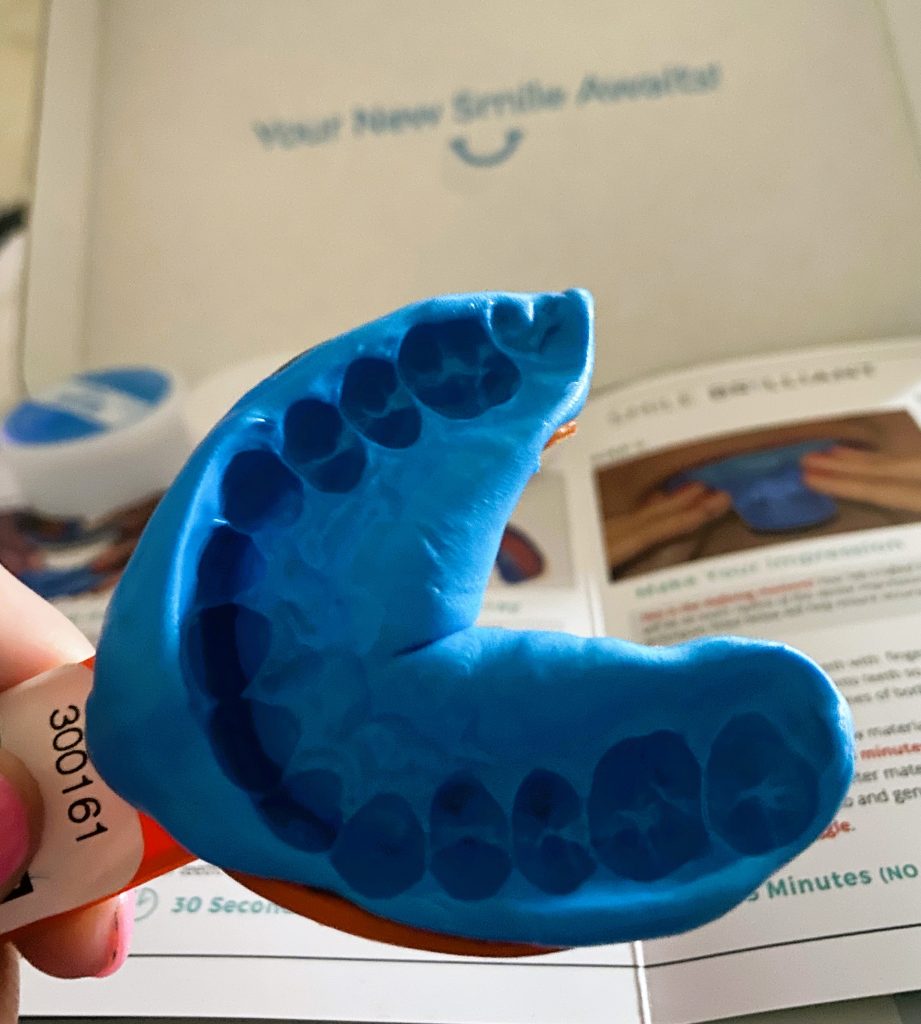 I want to be honest with you friends, I had a few issues with making the molds this time. I had no issue when I made my molds for my teeth whitening molds. So I was pretty shocked that I had issues with making my custom night guard. But Smile Brilliant was amazing & worked with me every step of the way. They send me another kit free of charge and ended up getting me a smaller impression tray to see if that would help. As mentioned above, I have a pretty small mouth & bad gag reflex so impressions are a real struggle for me. I was so thankful that the fantastic people at Smile Brilliant suggested trying a child-size tray and Voila! it worked! I was so pleased with their help and patience with me as I tried to get the impression to go correctly.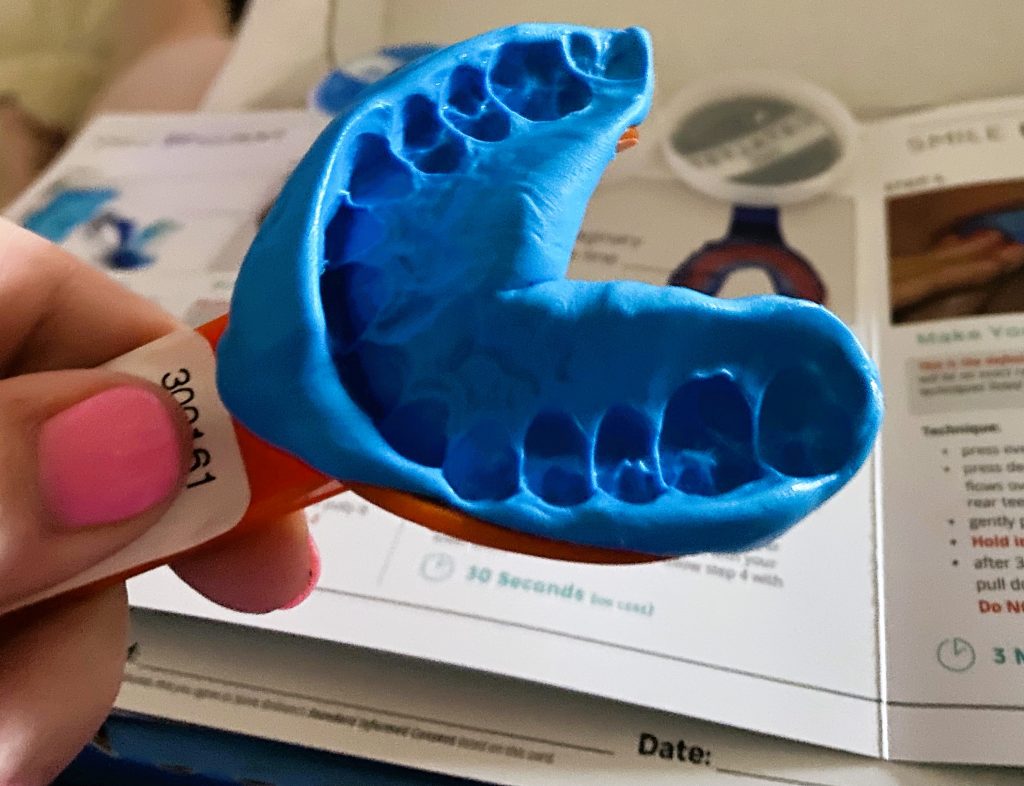 The whole process is so much less stressful being able to do it from home. And they still make sure you have all the information you need to produce a good impression. I want to mention that the issues I had were nothing with the product. It was strictly because of my own issues I have with a gag reflex. The impression process itself is relatively stress-free and can be done within the span of a few quick minutes.
The results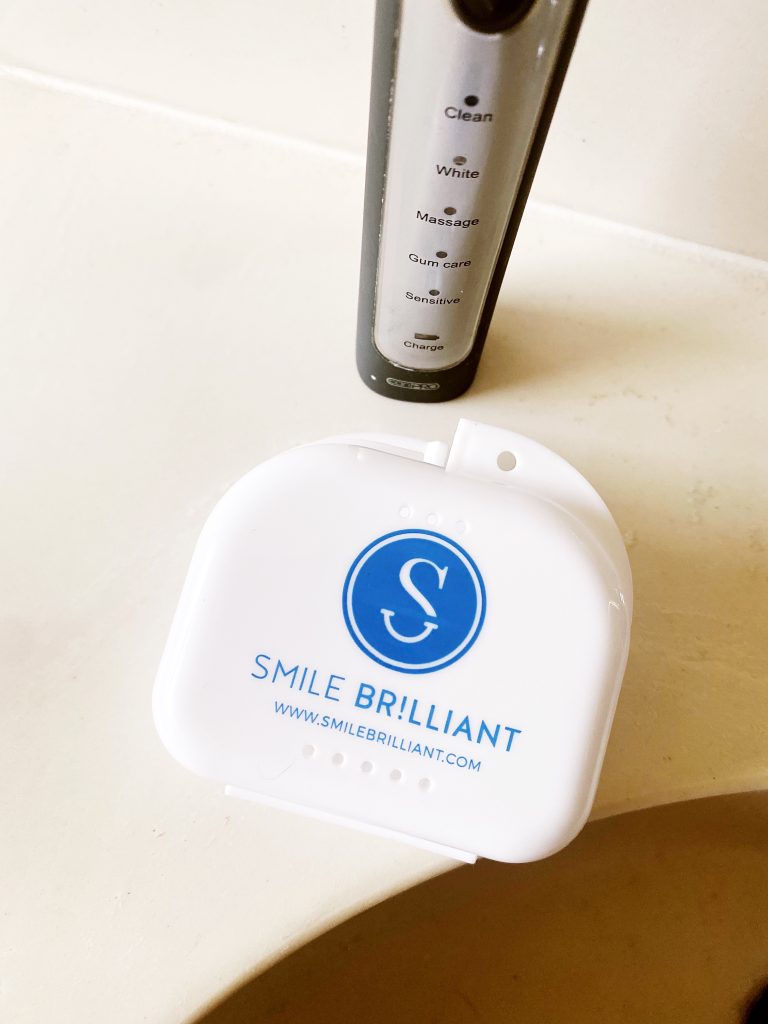 Finally, I had my custom night guard and travel case in my hands from Smile Brilliant! The results were even better than I had hoped. The result is a thin, durable guard that slides onto my teeth and protects them against grinding, gritting, and clenching. I was worried that the guard would be too thick for my liking and I would hate it but this is thin and wears very comfortably.
The guard is clear much like the whitening trays but I actually found this even more comfortable than those were. The mold comes with a travel case so you always have a safe place to keep them. Smile Brilliant says that the mold can last you anywhere from 3 to 12 months depending on how hard you grind. And guess what?? Impression molds are now kept on file. That way you won't have to keep doing an impression tray each time you reorder your night guard! YAY!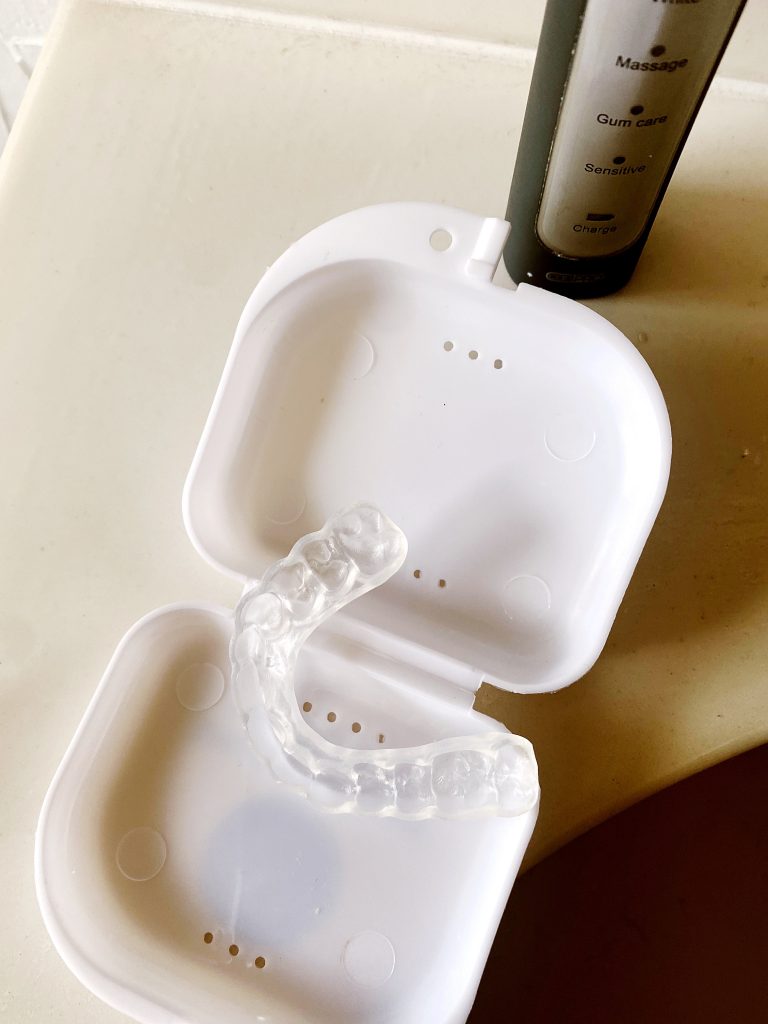 But I 100% was not expecting to love this as much as I do. I've only used it for a few days, and I can already tell a huge difference. I didn't realize how much I was grinding my teeth because this has really changed my sleep. When I wake up now, I wake up with no jaw pain and no sore teeth. I seem to get fewer tension headaches in the morning. The other day I fell asleep too quickly to have put it in and couldn't believe how uncomfortable I was when I woke up. It showed me truly how well the guard is working! As I said, this has been a game-changer for me!
The coupon code
Smile Brilliant has generously offered my readers a discount code to use on their website. This code is worth 20% off which is a great deal! Seriously, that is a steal! You know I don't offer my readers brand deals and affiliate links unless I truly respect and love the products. The electric toothbrush is a favorite of mine, in fact, I just purchased more replacement toothbrush heads for mine. And I am planning to buy some more whitening gel to go in my teeth whitening molds.
The coupon code for you to use is:
writingsandworship20
I highly recommend grabbing any of the amazing products that Smile Brilliant offers not just because I'm working with them but because I seriously love all their products and have nothing but the best things to say about them. This nightguard is already bringing me such relief and I hope you can find something from that to help you as well! Let me know if you've ever used anything from Smile Brilliant!