The e.l.f. holiday sets are always a highlight of the season. Especially if you've never purchased any before! These are great, affordable gift sets for any makeup lover. Once again, it was a little hard to find sets that I hadn't already reviewed…but I think I grabbed a few good ones.
e.l.f. has always been a favorite drugstore brand of mine so I was so excited when they started producing holiday sets. I've purchased 4 sets to review for you and they seem like great ones. But if you want to see more reviews of e.l.f. holiday sets, see my previous posts because they still have similar ones for sale.
e.l.f. Holiday Sets 2021
I knew this was one of the sets I wanted to purchase as soon as I saw it. I'm always looking for products to help me do a quick, easy eye look. The set comes with 4 creamy eyeshadow sticks in neutral, brown, taupe metallic shades. One of my issues with the set is that there is no type of savings from getting it as a set…the prices of these sticks are $5 a piece and the whole set is $20 so there is no kind of savings, but at least they aren't more expensive.
So far I am really impressed with how these swatch and feel. They are gorgeous metallic shades that really impressed me for such a simple little eyeshadow stick. Gorgeous colors, overall great set.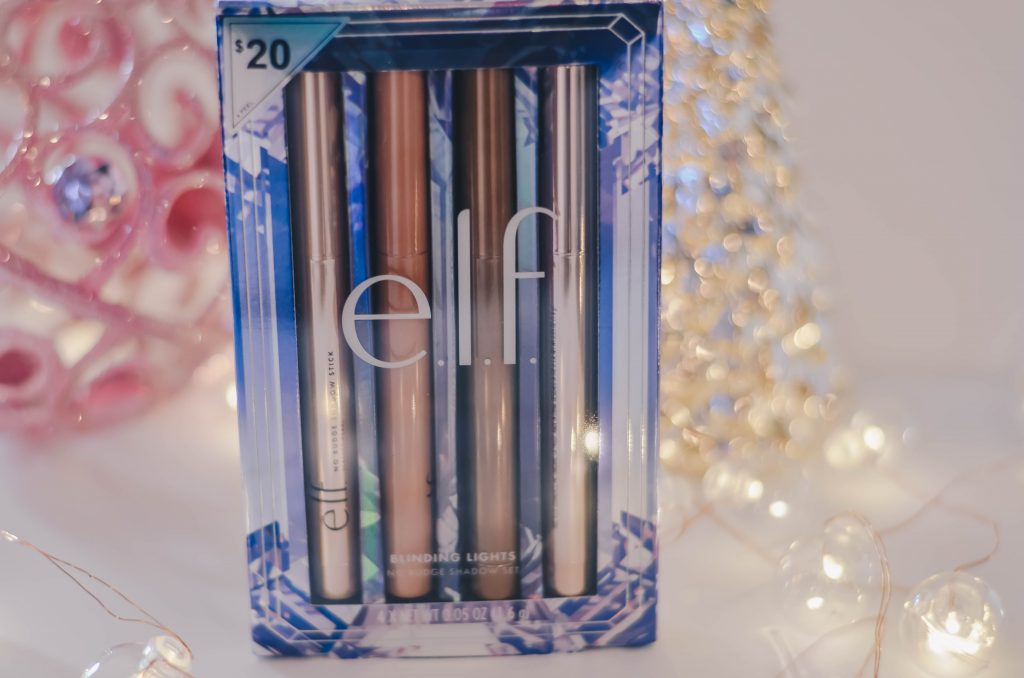 One of my favorite type of sets that e.l.f. does is any kind of sponge and brush set. I do wish, like usual, that they would switch up the kinds of brushes they put in the sets…but you can never have too many brushes. This set comes with 2 sponges, one smaller one normal size. Then three brushes and a spoolie/liner brush. Two of the brushes in this set are dual ended.
Here are the types of brushes included: Complexion Duo Brush, Total Face Sponge, Camo Concealer Sponge, Eyebrow Duo Brush, Fluffy Eye Blender Brush, and Eyeshadow "C" Brush. Overall some pretty great brush options even though they are the smaller type of brushes. They are this gorgeous light blue shade which fits perfectly with snow globe, ice theme they have this year for their sets.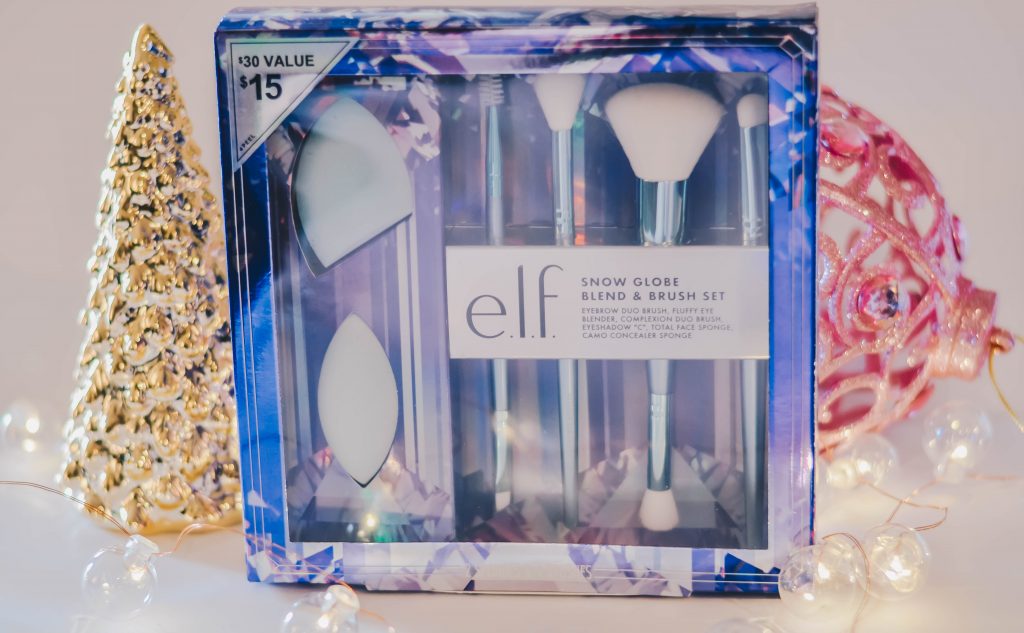 You guys know I love the Stila Glitter and Glow shadoes. I feel like these liquid glitters from e.l.f. are their response to the popularity of those. I will need to use them more, but so far, I'm not overly impressed with these liquid shadows. It is a great set that includes 3 liquid glitters in gold, purple, and red plus a black eyeliner that comes with a sharpener on the cap. As far as their formula, they definitely seem cheap. There is a lot of pigment without a lot of glitter. I can do a full review on them later. I think you could get these to work for you just might take a little practice.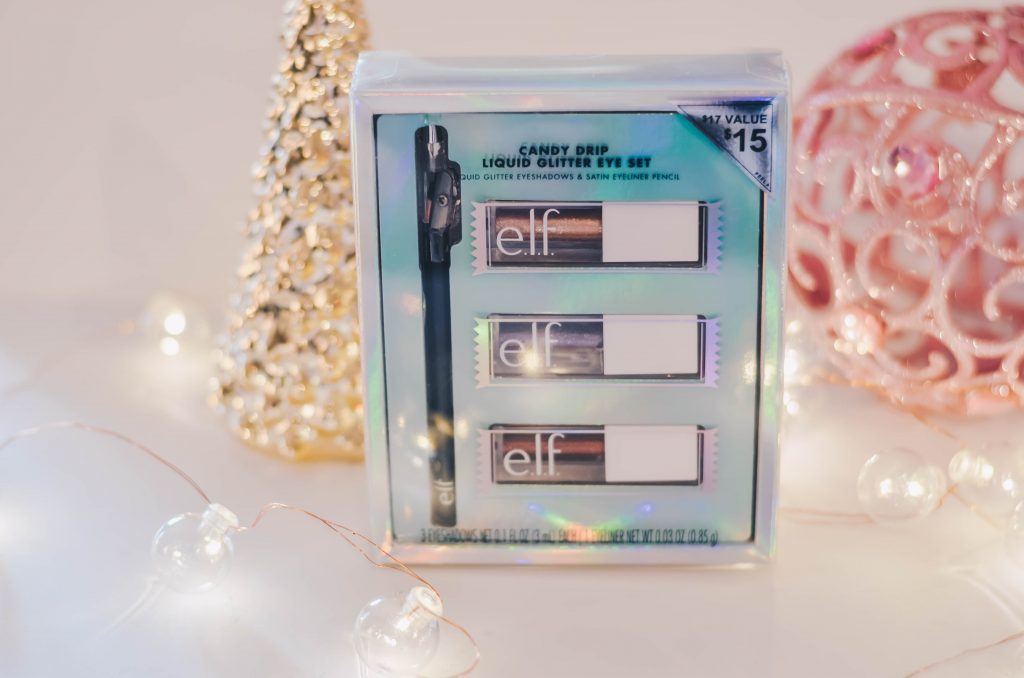 Last up is this eyeshadow duo set. I actually purchased this same kind of set a few years ago for blogmas and absolutely loved it. I hadn't purchased it again only because the colors seemed so similar that I had always passed on this set- which was a bummer, because it is by far one of their best holiday sets. It includes 3 eyeshadow duos and a brush. Each duo comes with a matte and a shimmer shade. These are perfect for anyone who is new to makeup or likes really fast simple eye looks. The shades this year aren't my absolute favorite but they're still nice. They are definitely in the brown family which I don't wear all the time but I'm excited to see what looks I can come up with while using these.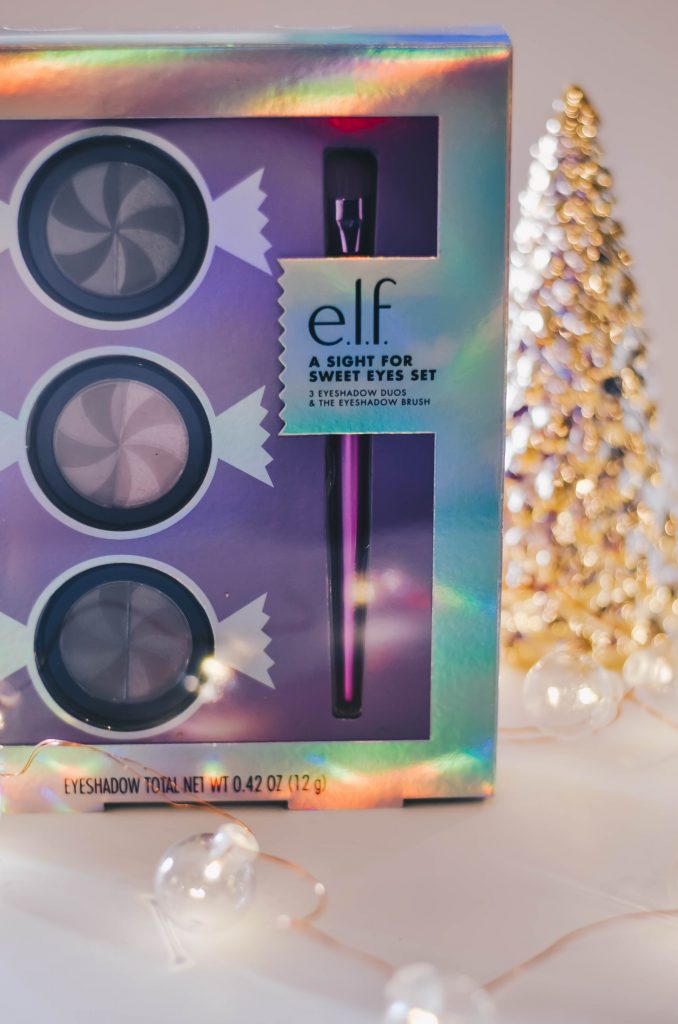 These are just a few of the e.l.f. holiday sets for 2021. They have plenty more great options, they're just sets I've already reviewed. These are great sets for any makeup lover from newbies to avid makeup users. If you'd like any full reviews on the performance of any of these products- let me know in the comments! Happy Blogmas XOX