Sometimes you can find a really good product at TJ Maxx. In fact, sometimes you can hit the motherload of products and get some really good high-end makeup for a fraction of the cost. I've shared a few key tips for makeup shopping at TJ Maxx in the past. Today, I'm sharing a goodie I found a few weeks ago and have been testing- bareMinerals BAREPRO Liquid Foundation!
I rarely ever find foundations in my color at TJ Maxx. They're typically more warm or deeper shades than I can use…but a few weeks ago, I got lucky! I actually found a really light foundation and it happened to be bareMinerals- even better! I knew immediately this would make a great review.
bareMinerals BAREPRO Liquid Foundation || Review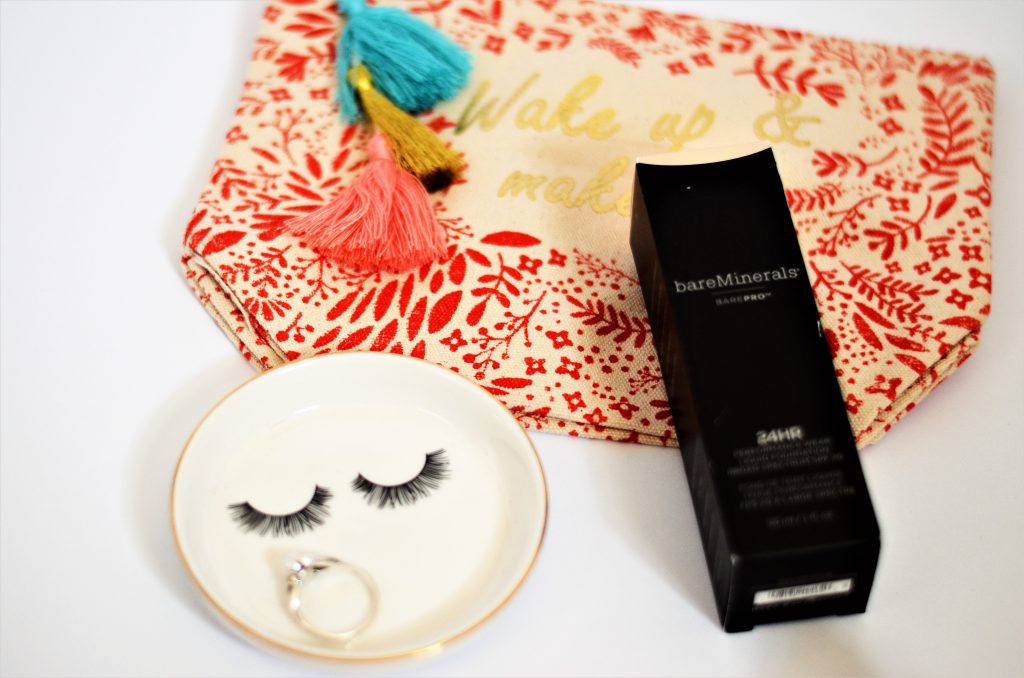 Details & Benefits
I've never tried a liquid foundation from bareMinerals so I was thrilled to find one in my shade at TJ Maxx. I purchased 01 Fair which is the second shade in the collection. The foundation comes in 35 shades and is sold at Ulta, Sephora, and the bareMinerals website for sure. All those locations are selling it for $34.00. Here are a few of the details of the foundation:
contains 20 SPF
Dermatologist tested
Oil-free
Non-acnegenic
Non-comedogenic (won't clog pores)
Makeup so pure you can sleep in it
And more importantly what does this foundation claim?
lightweight, oil-free, photo-friendly full-coverage
Clinically shown to improve skin's hydration by up to 30% after just one week
Shown to improve the appearance of skin's texture by up to 50% after 6 weeks
Clinically shown to minimize the appearance of pores over time
a high-performance formula that blurs pores
natural matte finish
Natural Bamboo Stem Extract provides a smooth, soft-focus finish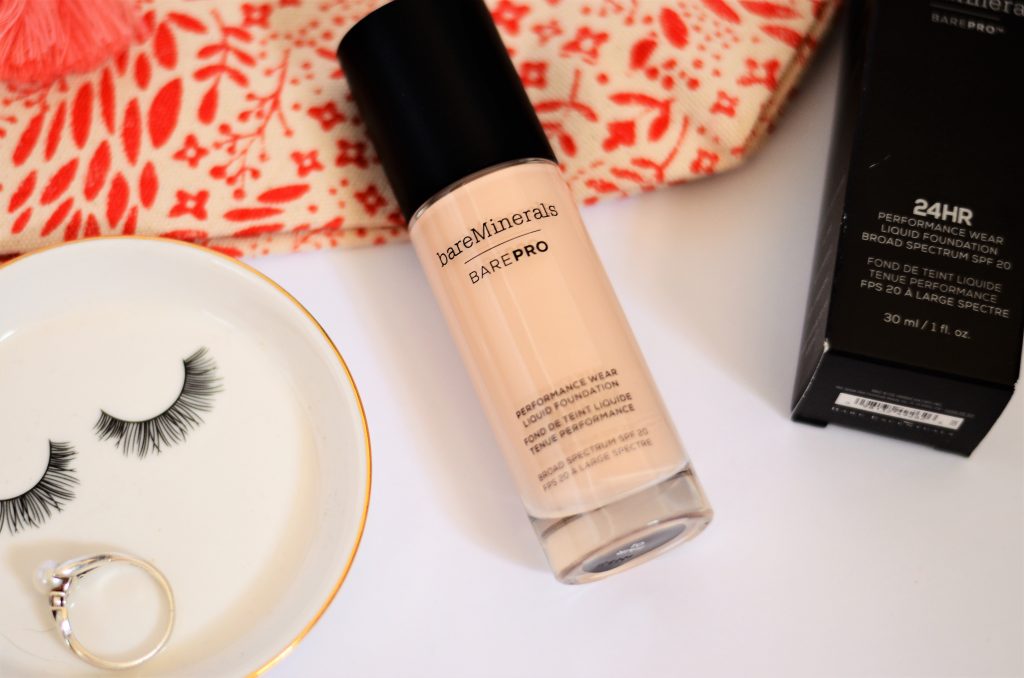 My thoughts: application & wear
I've had this foundation for a while, but I kept needing to test it out to really decide my thoughts. Overall, here are a few of my thoughts and then I'll explain more in detail:
Coverage = light to medium at best (nowhere near full coverage)
Doesn't do well with multiple coats – you end up just wiping it all off
Seems to do better with a sponge than a brush
thin and lightweight formula for easy makeup days
good staying power even with its light/medium coverage
Here are a couple real-life pictures of the foundation on with full makeup on.
The two pictures above are just normal, phone pictures. Everyday light and nothing special. You can tell it's a pretty smooth finish. It bunches around my lips a little-but all foundations do that…it's just one of those spots! It's almost too light for me..which is surprising. But with bronzer on and everything it works pretty well. Below is a picture with my makeup lights and with my professional camera. You can see that it doesn't look patchy or too cakey.
I completely agree with the statements about it being a lightweight formula. However, I would never call this full coverage (in my opinion). But just because it isn't full coverage doesn't mean it isn't good. I have to remind myself that I don't always have to have really high coverage makeup…this is a great example! While it is maybe medium coverage for me- it's still a great foundation overall.
If you've tried a lot of foundations, you'll know that some just look better once you get a full face of makeup on. This is one of those. My biggest tip or takeaway from using this over the last few weeks is that it's better with a sponge. I can use brushes…but it almost just brushes it all around. The brush leaves streaks on my face and doesn't really get the makeup to settle into my skin. Personally, I would say that the bareMinerals BAREPRO Liquid Foundation should be used with a sponge for the best and fastest results. Using a brush just takes a lot of buffing and applying. Below are pictures of the foundation, I wanted ya'll to see how thin it was!