Disclaimer: I haven't even seen the musical Dear Evan Hansen. This post doesn't actually have anything to do with the musical itself. This is all about my personal thoughts on the song "Waving Through a Window" that comes from it. I'm not implying I know what the song was really intended to mean but this is what I get from it. The metaphors in this song can mean something different to each person. And like I said, my thoughts on this have no real context from the actual musical since I haven't seen it.
I'm a writer- I love a creative analogy. I also have anxiety. A few weeks ago I somehow heard a clip of Ben Platt singing the hit song "Waving Through a Window" from the musical Dear Evan Hansen. After hearing that clip, I went and listened to the song. The longer I sat and listened to it…the more I couldn't believe how accurately this song described social anxiety and any anxiety disorder.
I've never seen Dear Evan Hansen but I've read enough to know that the main character suffers from very severe social anxiety. And I would go ahead and guess that this song is used in the musical to sort of describing what goes on in his head. Today I wanted to go ahead and share a few of my thoughts on this song. I've been listening to it on repeat because it reminds me I'm not alone in my anxiety. I hope others that are struggling with some kind of anxiety disorder also find some comfort in this song and post. Before we go any further, make sure you listen to the song…I'll post it below.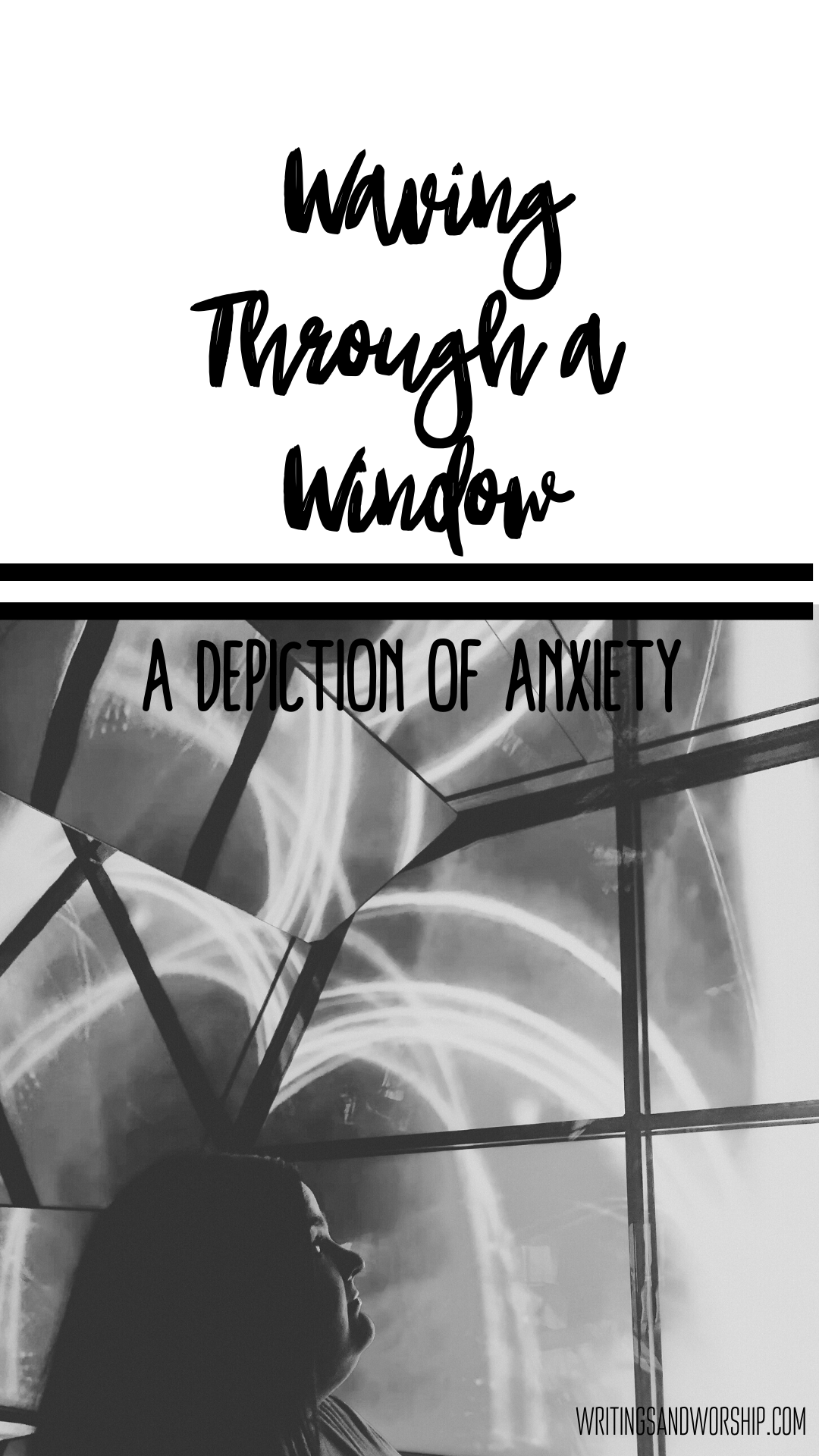 "I've learned to slam on the brake
Before I even turn the key
Before I make the mistake
Before I lead with the worst of me

Give them no reason to stare
No slipping up if you slip away
So I got nothing to share
No, I got nothing to say"
The first verse was what first really grabbed my attention. To me it describes self-sabotage. I learn to slam on the brakes before I turn the key…meaning I give up before I even start. That way there isn't anything for people to judge, laugh at, or criticize. With anxiety, you assume you'll do badly before you even do anything. You expect the worst outcome. It's a pretty poetic way of saying "I don't do anything so no one can stare/judge." You can't fail if you don't try. Especially with social anxiety, you focus on what others will think.
I think this more than any part of the song was the most accurate for my personal battle with an anxiety disorder. I hate trying new things, I don't speak up. I can't fail at what I don't try…so for me, I slam on the break before I even turn the key to keep from experiencing failure or humiliation.
"While I'm watch, watch, watching people pass
Waving through a window, oh
Can anybody see, is anybody waving?"
If I had a nickel for every time I sat back and watched people pass…scared to step out myself. Because of your fear, you watch people go by without you. They apply for that job you're too scared to apply for. They go on the trip you're too afraid of. You feel like you're watching life through a window- seeing it go by but not taking part. When you struggle with social anxiety or another anxiety disorder you seem to watch people pass by you a lot while you sit on the sidelines. Sometimes you wonder if anyone remembers you, out here, away from it all. You want people to see you, hoping they will wave.
It's this weird mix of not wanting to be around people but also want to feel accepted. For me at least. The line "can anybody see, is anybody waving?" really depicts the loneliness that comes with social anxiety and anxiety in general. The self-inflicted loneliness is better than rejection for many. I think in the musical the "window" is actually meant to refer to a cell phone, I'm assuming like social media. But that is what I love about music…everyone interprets it differently.
"On the outside, always looking in
Will I ever be more than I've always been?
'Cause I'm tap, tap, tapping on the glass
I'm waving through a window"
The actual title "Waving Through a Window" holds some really powerful insight into anxiety and specifically social anxiety. Most of my life has been spent watching life go by from my window. A figurative window. Just like I said that you sit on the sidelines watching people go by…you also wave from your safe space at the world around you. You always feel like you're on the outside, watching from your window because your fear keeps you from being able to take part in life.
The biggest thing is that often you want to leave your window, you want to not be on the outside but your fear feels debilitating. So you continue to watch things go by and wave from your window, looking in at what you are too afraid to experience yourself. The fear compounds the loneliness and you feel like an outcast. Do you know how that feels? You tap on the glass desperate to break free but sometimes your anxiety feels too overwhelming. I feel like I'm being a bit repetitive but I just want to explain how I interpret these lyrics. You are too afraid to be on the inside so you constantly sit, looking in from the outside.
There are many more parts of this song that I could sit here and discuss. And I'm sure I could do a whole new post on what the musical itself actually says about this song but this was just about me today. What I took away from the metaphors and poetic analogies. There are probably many different interpretations of this song but I wanted to share mine. As someone who struggles with an anxiety disorder, these lyrics ring true in many ways. A constant battle to conquer your fear and actually let the world see you. Yeah, you might get burned but you might not. For me, God is stronger than my fear so I have to lean on Him to get out of my comfort zone and not set myself up for failure. Anxiety is something numerous people deal with and it affects people in different ways sometimes. So long story long…you're not alone. Step out of your "window." Don't let your fear debilitate you.