Last year one of my favorite Blogmas posts was by far the review of the elf sets I purchased. I think that elf has some of the best and most affordable Christmas kits and sets. I couldn't get all the sets, of course, but I grabbed a few of the sets I thought looked the best. They have sets that are pretty much identical to my post from last year so make sure you check that out that post.No matter which e.l.f. holiday gift set you to purchase, I'll all but guarantee you'll like it!
They have a lot of multisets and repeat items in their sets-so keep that in mind. I picked up a few makeup toolsets and some makeup ones as well. Hopefully, these sets look interesting to you and you'll enjoy this review. I also thought I would share a few of the other sets I thought looked worth buying at the end of the post- so stay tuned.
e.l.f. Holiday Gift Sets || Review
First off, how cute is this packaging?? I love the sweets/candy theme this year on their packaging. I had never tried any of the elf sponges so I was really interested in trying this trio or sponges. I've actually tried two of these and was pleasantly surprised. When you wet them they really expand and are extremely soft and bouncy. I was surprised about how well they performed. My one thought was that did seem to soak up a little more than I prefer…but it wasn't too bad- I've used sponges that were much worse than these and I actually liked using these for my foundation and concealer. For 10 dollars, these were a great buy and I highly suggest them.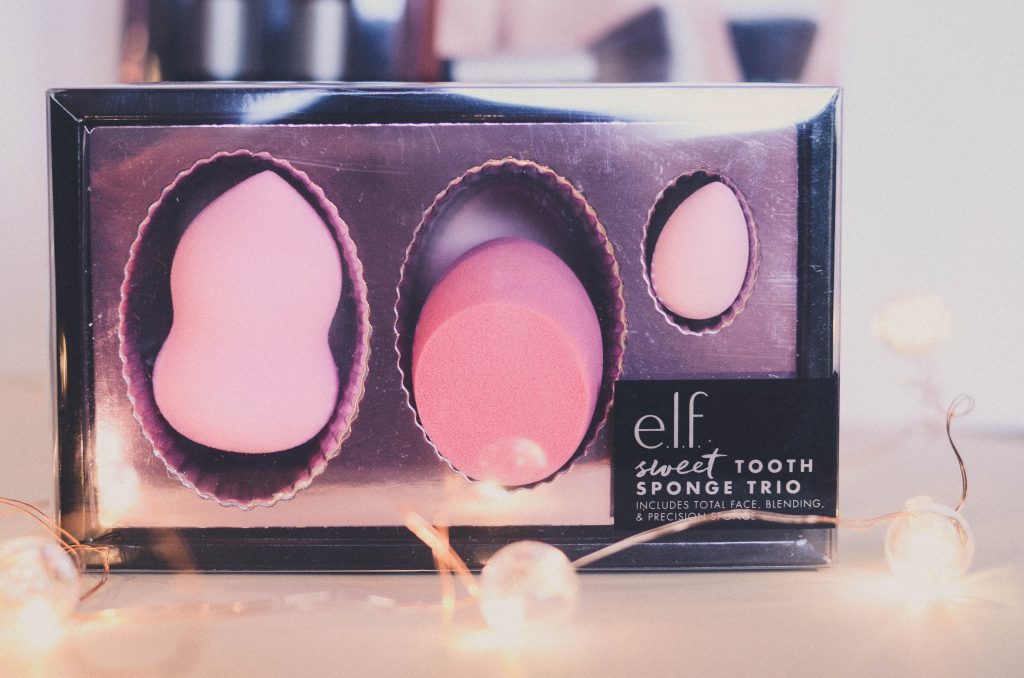 I loved the lip balm kit last year and I wanted something similar this time. However the balm kit appears to be the exact same, so I went with the lip kit instead. This kit includes 2 lip products- a matte liquid lipstick and a lip gloss. The colors are great-the matte color is a gorgeous shade for fall and the gloss is a bit of a goldy/shimmer shade. I really liked the combo together. However, I think the gloss would also be a really pretty shade on its own for just a little shine. And once again, for the price, its a great little lip duo. The kit isn't something shocking, however, it is a really nice e.l.f. holiday gift set if you like lip products.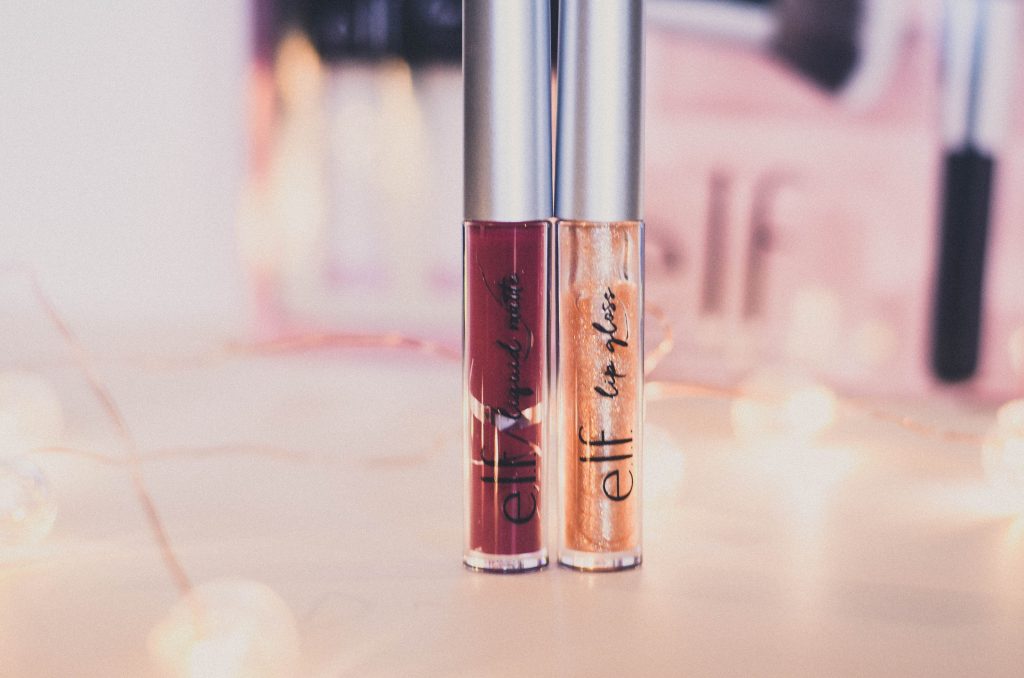 I actually wasn't sure how I would like these. I wanted to pick another "tools" set because if you're like me, you don't necessarily need more makeup…but you can always use more brushes. For only $5, I didn't have an overwhelmingly high expectation for these. However, I was wrong, these are incredible brushes! The blender brush, which looks like a thicker fan brush, is amazing for bronzer/contour. It's the perfect size for getting into there and warming up the skin. It's not too big so you don't get a huge line of product- just a nice size amount. The blender brush is also very soft and didn't seem to shed on my skin at all.
The stipple brush is also a good one. I don't use stipple brushes as much as other kinds, but it's still a really good quality brush. I've found that I prefer to use a stipple brush for a light wash of blush on the cheeks. In my opinion, a stipple brush gives you a light application than a typical brush. Both brushes are actually really high quality. I was surprised by how sturdy the brushes were and they have a good weight to the handle which I wasn't expecting for a travel brush and under $5! I've actually just put these in my normal makeup…they aren't overly small even though they are considered a travel brush. This might actually be one of my favorite e.l.f. holiday gift sets to date.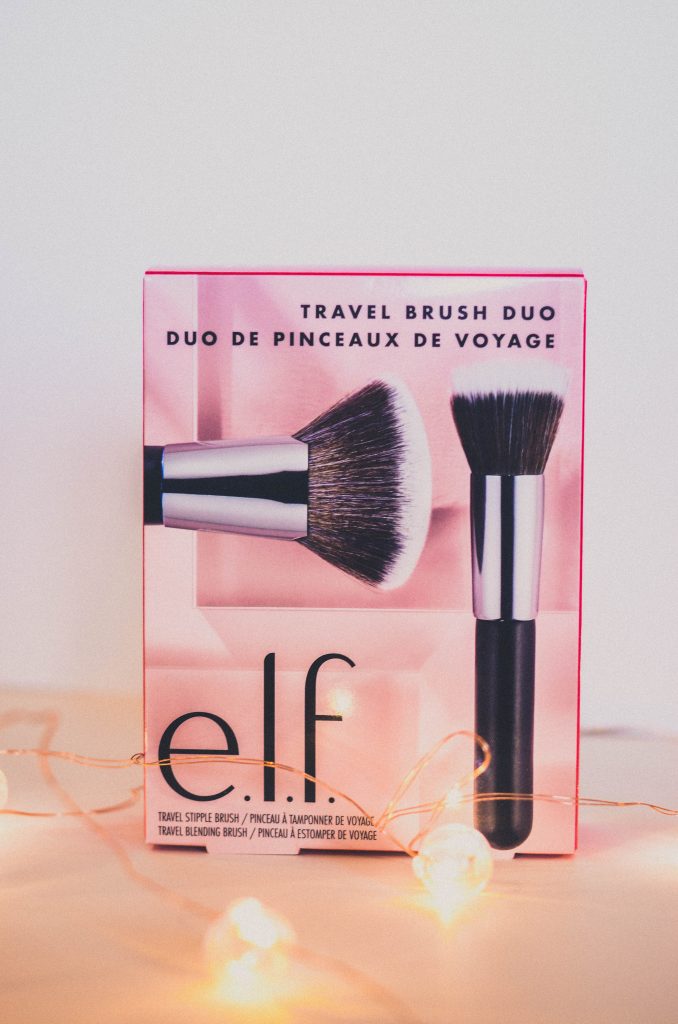 e.l.f. holiday gift sets || review Are they worth trying out? #makeup #elfcosmetics #blogmas
Click To Tweet
When I decided to do another e.lf. holiday set review, I knew immediately I had to pick a set that had the putty primer in it. If you've never heard of this primer, oh girl, you need it in your life. I've only been using it for a few weeks/months and am still in love with it. So this set comes with:
poreless putty primer (full size)
mineral infused face primer (travel size)
hydrating face primer (travel size)
These are 3 really great primers to try- they all have different purposes! This is a great set to try if you're wanting to play around with different primers or even to break up between a family. For instance, my mom needs to use a hydrating primer…so I plan to let her have that one. The mineral primer is a more typical silicone type primers but it has no scent which I loved. I actually like to pair the mineral prime with the putty primer on my T-zone. All three of these are really good quality and make up a great little primer set. Like I noted above, two of the primers are considered "prime on the go" products so it's a smaller or travel size- but it's still a good size to test out!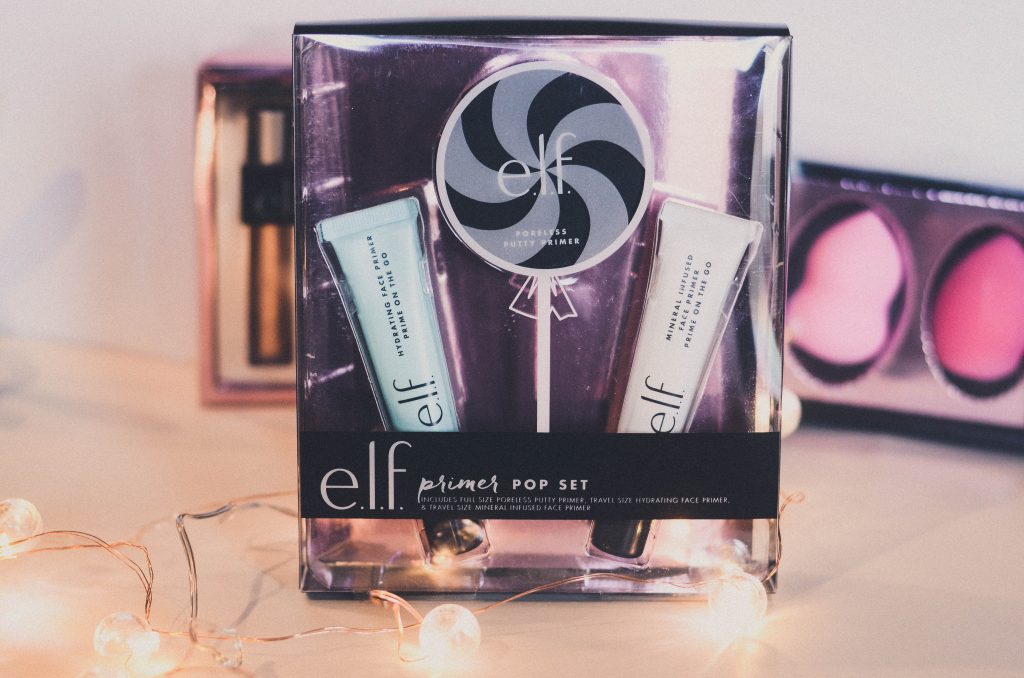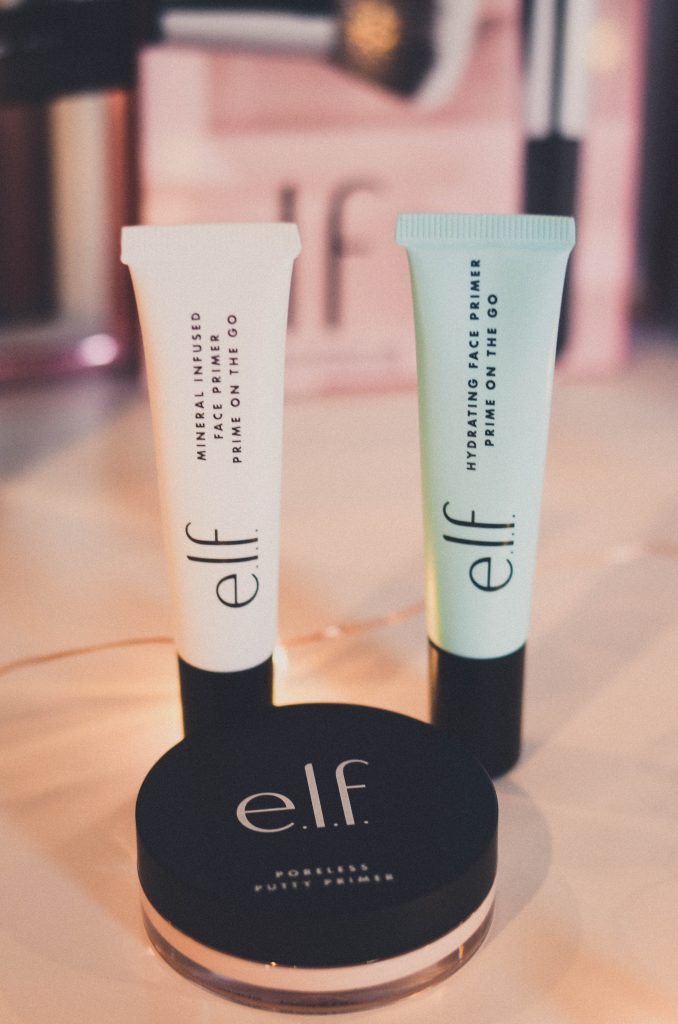 e.l.f. holiday gift sets are always a great part of the holidays! They really know how to make a good set at a good price. I will say one thing: think about what is in each set before buying it! For instance, like 2 or 3 sets have the putty primer and 2 sets have a sponge in them. So make sure you aren't buying duplicates of everything in the sets you pick.
Have you tried any of these? Let me know in the comments which e.l.f. holiday gift set you want to buy and try!