Hello Summer! One of the best things about our new house is that it came with a gorgeous inground pool! I've never actually lived in a place with an actual pool and I love the water so this was a dream come true! We finally got the pool open and are loving it! Because of my increase in pool time, I've added many great items to my poolside favorites. I wanted to share a few of my favorites and guess what!? They're all affordable and definitely easy on the budget.
If you've ever owned an inground pool, you'll know it can be costly when you're first learning how to take care of it…so we've been wanting to keep our pool accessories at low cost! 🙂 I'm sure we all have different must-haves for the pool so I thought I would share mine. Make sure to share yours in the comments below!
Affordable Poolside Favorites
I'll be honest…I didn't have high hopes for this. When something says waterproof and it's only five dollars…I expect it not to last long. But, as I said, we didn't want to spend a ton of money yet so I picked this one up at Five Below. Guys, this has worked so well!
It has a good volume on it and has a pretty far reach for the Bluetooth. I was honestly shocked that this is as powerful and handy as it has been. You can charge it through a typical USB base with the cord that comes with the speaker. I would say it's got a good 2-3 hour battery- maybe longer. We are planning to grab another one or two to keep around so we can rotate them as they charge. It also comes with a suction cup on the bottom in case you want it for the shower.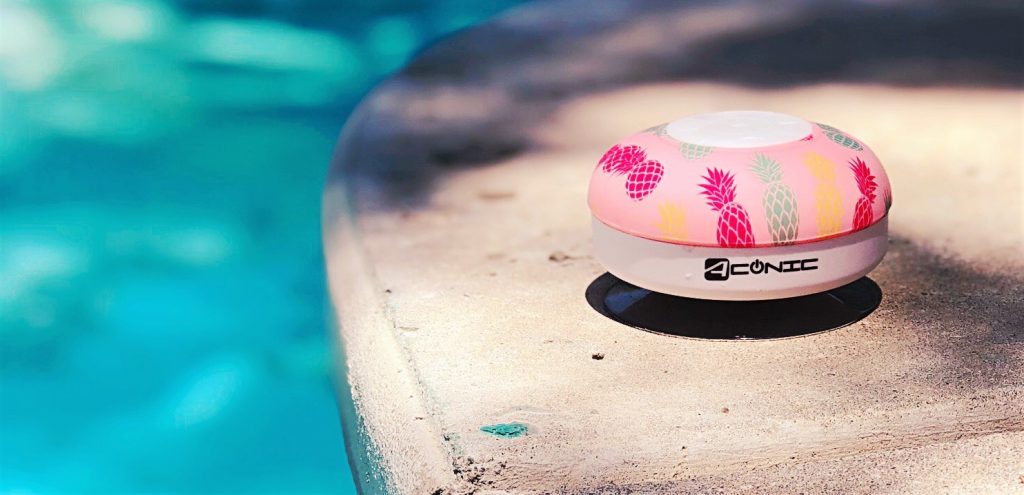 Pool Inflatable Floats || $5-$10
Obviously, right?? I mean what pool is fun without a few tubes or inflatables. There are hundreds of options at any store you go to. Here are a few of the inflatables I've been loving specifically: inflatable chair, gold glitter tube, drink-holder inflatables. Most of the ones I prefer are from Five Below, Walgreens, and Walmart. So far, all the ones we've purchased have been great quality for such a cheap price. I personally like a variety of inflatables: tubes, chairs, etc. They sell such cute ones now! Which one is your favorite to use?
I do want to point out that most drink inflatables are made more for cans than cups. I only have one or two cups that actually fit in the holder…but they're still so cute! And they're perfect for my San Pelligrino!
Sunscreen. The most important item! Because I'm in the sun so much more because we have our own pool- I've been taking my sunscreen application even more seriously. My mom has actually had a form of skin cancer already in the past, not from the sun, but still.
I personally use the off-brand of sunscreen and it has worked just as well. Equate sells both spray and lotion- I typically like to use some of both. Personally, I use either 50 or 70 SPF. So different from my younger years where I could care less if I burned. Guys, sunscreen is so important! I don't care what brand you use…just use it!
If you know me at all, you'll know my obsession with mugs and cups. So no poolside day is perfect without a cute cup! I have tons of great cups to choose from but I found these glittery cups from Target. Target actually had these on sale in my store. I bought 3 for my mom, sister, and I. I love the mix of glitter, fun colors, and cute sayings.
Intex Double Quick III Hand Air Pump || $9
Now I bought some sunglasses from Wish specifically for the pool. I have a nicer pair that stays in my purse or car but these are cheap and for the pool. They're very lightweight and plastic. I didn't want to spend a lot of money on glasses that would just get sunscreen and water on them all the time. I love these! They're polarized so they're honestly perfect for reflection of the water. But they're super light and almost bendable so I don't get a headache from wearing them too long. I love having specific sunglasses designated for the pool- I don't ruin any other pairs that way!