Welcome friends to another lipstick collection post! Its been a while since I shared a section of my lip colors so I thought today I should share my lipstick nude colors. I never used to wear nude lipsticks but I am loving them now! Nude colors are perfect for everyday wear and to throw on when you're in a hurry. I find nude shades to be the least hassle and much easier to use and wear daily.
There are also many different shades of nude lipsticks- most of mine tend to be on the rose side rather than the browns. I prefer a really nice mauve/dusty rose nude color and you'll see they're all pretty close to the same shade; I mean hey, I know what I like. Nude shades that are just a couple shades deeper than my natural lip color are my favorite!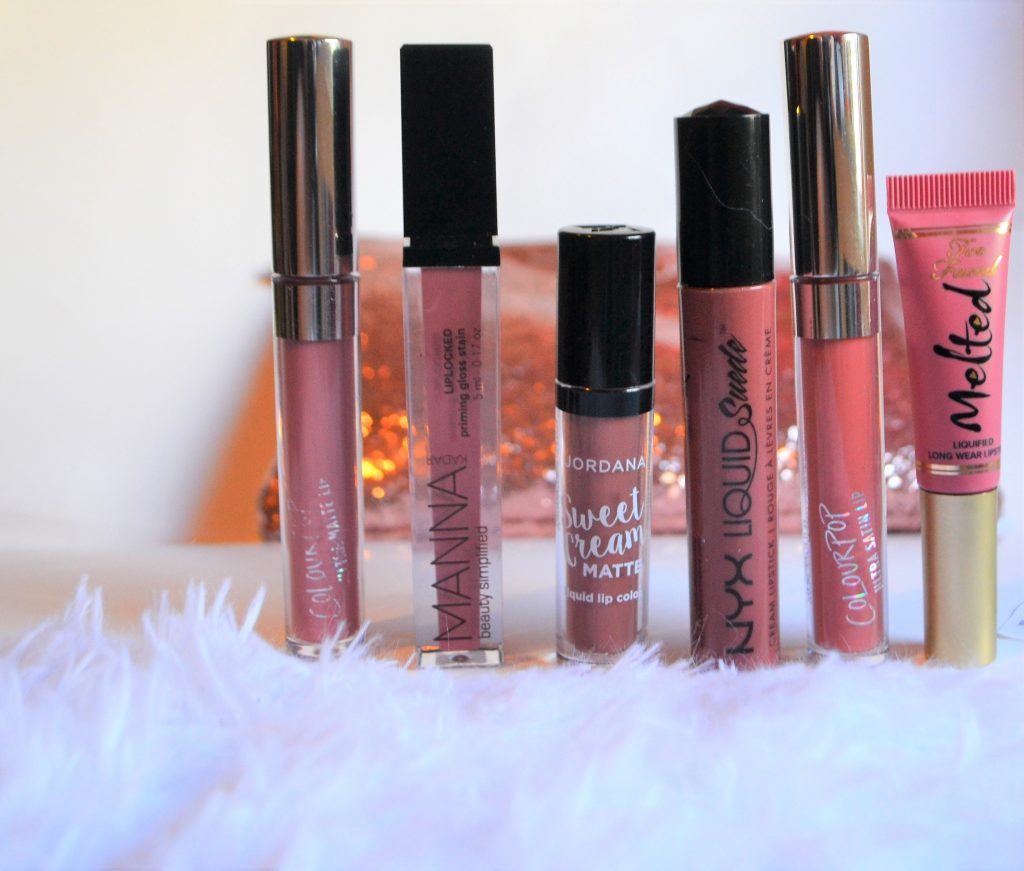 I went back and forth on if I should include this one in the nudes or the berry post because depending on lighting and what you are wearing, it could go with either. This color has an incredible purple undertone that looks gorgeous with a purple smokey eye or even simple makeup. I have only had this a few weeks and have seriously fallen in love with the formula.
I received this in a FabFitFun editors box and have always loved this mauve-nude color. It has pretty dusty rose undertones but still very much a nude in my book. I prefer more rosy nudes than brown. Brown just isn't my color. But this formula is wonderful! It isn't drying like many liquid stains, and has very good lasting power. This is another go-to nude lippie for me!
If you aren't familiar with Jordana Sweet Cream lippies, you should definitely go get one! I have only ever found this sold online or at Walgreens. I have 3 colors and this Cinnamon Toast is a perfect everyday nude color- it's probably the brownest color I have. I love this formula and this color is great for any season-that's why I love a good nude color!
Soft Spoken is probably one of my favorite nude lip colors to wear. Ya'll know I love the liquid suede formula and this color is just gorgeous! It's wearable like most nudes but the tones in it just look lovely with my skin. It gives my lips a deepness they don't normally have. The shade Tea & Cookies is also a beautiful color, but while it is a slight nude shade, I would consider it more of a pink I think.
Calypso was actually in my November Ipsy this month and I loved it. One of the best Ipsy items I have ever received so far. It's also a really nice almost rust colored nude shade. I'm always a fan of Colourpop ultra lips and this is another great one to add to the list. I haven't even been able to use this much but I am already sure that it will be a great everyday color.
This lippie tends to be one I forget about most of the time. It's a great formula and color but I always forget about it! After this I'll have to try and remember it more ha! Chihuahua has an interesting name, but it is a great everyday shade as most of these are; I love how then this applies and its long lasting!
One of the first real nude colors I ever bought! I've only been really into makeup for the past 5 years or so and this was one of my first ever MAC lipsticks. I do like them, I have some others just as good though. But this is a great color! I throw it on all the time when I just want a little bit of color on my lips but don't want to deal with a lot of hassle. It's a gorgeous nude color that's just a little richer than my normal lip color. This is a satin finish, which I tend to prefer. Also, I completely left this shade out of the pictures my accident-whoops!