As the crowds were dismissed, Jesus commanded the disciples to go and get on the boat while he went up the mountain alone to pray. By the time Jesus had finished His time alone the boat with the disciples had drifted far into the water.
Jesus began to walk toward them on the water. When Peter, Jesus' disciple, saw that He was walking toward them on the water, He began to panic thinking it was a ghost. Who else could be walking ON the water, it must be a ghost. But Jesus, being the patient and loving master, reassured them that it was Him.
Peter was still unsure, he couldn't be sure that this figure walking toward them was indeed his master. "If you're really Jesus, call me to you onto the water." Now Peter, figured that this would get the figure to go away, but because it was Jesus, He commanded Peter to join him on the water.
In that moment, Peter stepped out of the boat and onto the water and he stayed standing. He began to walk on the water toward Jesus. Peter began to look around and saw the waves were crashing and the wind was building up and he was instantly scared. As he took his eyes off Jesus, he began to sink and cried out to Jesus to save him. But Jesus, let out a hand and picked Peter up and brought him to the boat. It was then that Peter realized that Jesus truly was the Son on of God.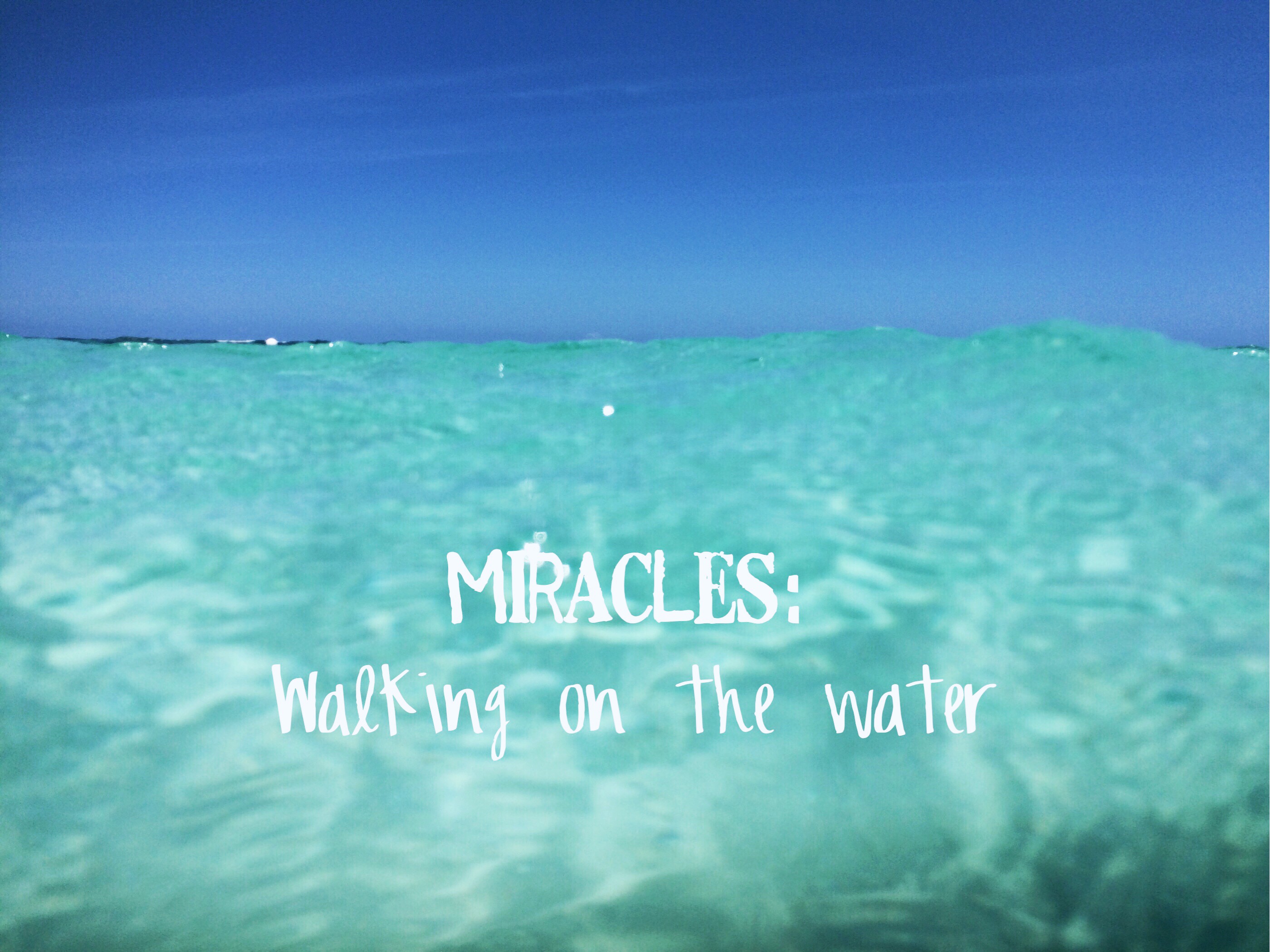 22 Immediately he made the disciples get into the boat and go before him to the other side, while he dismissed the crowds. 23 And after he had dismissed the crowds, he went up on the mountain by himself to pray. When evening came, he was there alone, 24 but the boat by this time was a long way[a] from the land,[b] beaten by the waves, for the wind was against them. 25 And in the fourth watch of the night[c] he came to them, walking on the sea. 26 But when the disciples saw him walking on the sea, they were terrified, and said, "It is a ghost!" and they cried out in fear. 27 But immediately Jesus spoke to them, saying, "Take heart; it is I. Do not be afraid."

28 And Peter answered him, "Lord, if it is you, command me to come to you on the water." 29 He said, "Come." So Peter got out of the boat and walked on the water and came to Jesus. 30 But when he saw the wind,[d]he was afraid, and beginning to sink he cried out, "Lord, save me."31 Jesus immediately reached out his hand and took hold of him, saying to him, "O you of little faith, why did you doubt?" 32 And when they got into the boat, the wind ceased. 33 And those in the boat worshiped him, saying, "Truly you are the Son of God."

Matthew 14:22-33 (ESV)
I can see this miracle play out in my head. I've heard it so many times that I can almost quote it. But it never fails to teach me something every time I read it again. There are many, many points I could bring up for ya'll with this miracle but it all draws back to one main point. Peter began to sink when he took his eyes off Jesus.
How many of us are guilt of this? I know I am. Peter was in the middle of doing something that no human had ever done, something only Jesus could make happen: he was walking on water! But in that small instant, he allowed the things around him, the winds and waves, take his eyes and trust off Jesus and he began to sink.
We let our fear, our failures, our past, our hurt, and our anger to take our eyes off Jesus. The one thing that can keep us on top of the water, we look away from. We focus on the bad instead of the good. Jesus is calling us out into the water and we don't fully give Him our trust. I see myself in Peter a lot of times, and this miracle is just an example of how I need to focus completely on Jesus and walk straight towards him.
It's about trusting Him and it's about wanting to walk toward Him. My prayer is that I would 1. Step outside that boat to begin with and 2. Never take my eyes off Jesus. Have you been in this situation before? Has God called you outside that boat but you have remained where you were out of fear? I pray this miracle refreshes and uplifts you.