When the Jonas Brothers got back together, I shared my Top 10 Jonas Brothers songs with you in honor of their return. However, that was before they released many new songs. Since I just saw them again this weekend, I figured it would be the right time to share a part II with my friends. Think of this as the top 10 songs of the new era of the Jonas Brothers.
One of the things I loved the best about seeing them live again in 2019 was the fact that 98% of the crowd was my age, even older! Their audience truly did age with them and are now still fans even to this day. It was great because it didn't make me feel childish or silly- the whole audience was my age and we all just had the time of our lives. While the Remember This Tour was incredible…there will never be anything as good as the Happiness Begins Tour. In the words of the cool kids these days, the Happiness Begins Tour just hits differently.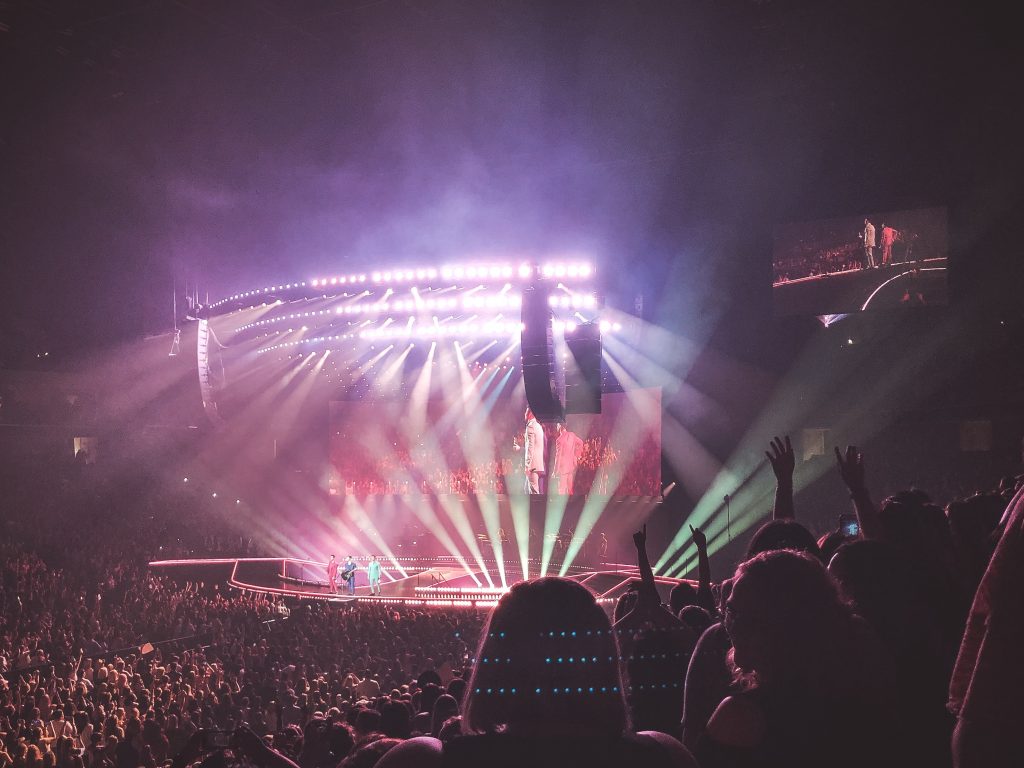 Top 10 Jonas Brothers Songs || part II
#1 Sucker
The song that started it all again. Not only was Sucker a great song because it was their debut back…it is honestly just such a great, catchy song. I also loved the music video with all their wives. But I mean, who doesn't love this catchy song? I could listen to it on repeat.
#2 Strangers
I would have to say this might be my favorite song from the Happiness Begins album. From the very first, this was one of my favorites and it still is to this day. I was so sad they didn't sing it at the Remember This Tour night I went to, but it is still a great song both live and on the album.
#3 Cool
Honestly, I wasn't a huge fan of this song at first but after a while, it just wedges itself into your head and you catch yourself singing it (same with Only Human). I also love the hints of other pop culture sprinkled through this song such as Post Malone, Jane Fonda, and Game of Thrones. Most of those I know nothing about- but it was still cool (no pun intended) to head them mentioned in the song.
#4 Rollercoaster
Ahh, Rollercoaster. I have no idea why, but this song makes me emotional. It was their opening song in the Happiness Begins tour and I wrote a whole post about that which you can read here. But that tour was right after losing 3 family members one of which was my dad suddenly and that song just resonated with me. I don't want to sound like a crazed fan, I just really connected with the song. I also think it fits their story so well.
#5 Remember This
The title song of the latest tour. The tour which I just watched live right before writing this. Great song, great live, and a great premise to the song. I think after the pandemic this song was a great song to release because we have become so much more appreciative of things and people around us.
#6 I Believe
"I Believe" is another great song from their new album. I'm such a romantic at heart so I love these love songs knowing they are all married- don't ask me why but I think it makes the songs so much more special. I hope this song can be a song I listen to and think of my husband one day.
#7 Used to Be
"Used to Be" is also another great one from their debut album back as a band. I would consider this one of my favorites but that isn't saying much because most of them are, haha. But I do really enjoy listening to this song so I had to add it to the list.
#8 What a Man Gotta do
I love the throwbacks in this music video! And once again I loved that the wives were in the video. But this song is a simple but fun one. Seriously love the Grease vibes in the song and video.
#9 Only Human
Just like "Cool," this song tends to get in your head. I will say, this is also a great song to clean your house to because it is just a great song to dance around to. If you've heard it you'll know what I mean! It has a great beat and is such a fun song all around.
#10 Lonely
To be completely honest, I hadn't heard this song until the concert this week. It is actually a collaboration with Diplo, who I actually know nothing about so please forgive me if he isn't appropriate. But the Jonas Brothers sang this song at the concert and I loved it so much I thought I'd add it to my list.
What new era Jonas Brothers song is your favorite? Let me know in the comments!