I've already done a post previously sharing some of my all-timefavorite podcasts. Podcasts that I listen to all the time and highly recommend. If you've never seen that post I suggest you go read it—you can click here to read it. But just a few of the podcasts on that post is Culpable, Crime after Crime, and more true crime focused podcasts.
I listen to podcasts everyday and often for many hours a day. Ever since I started my new job, I listen to music, books, and podcasts most of the day. It gives me something to listen to while I'm doing my work. Anyone else like that? This post will be a little more variety of kinds of podcast…not just true crime (but definitely some of those too). And by variety I mean Christian life & true crime podcasts…but don't worry- I'm currently testing and reviewing some more podcasts to share in the future. So hopefully I'll include some more genres than just those two.
5 (more) podcasts u

recommend

!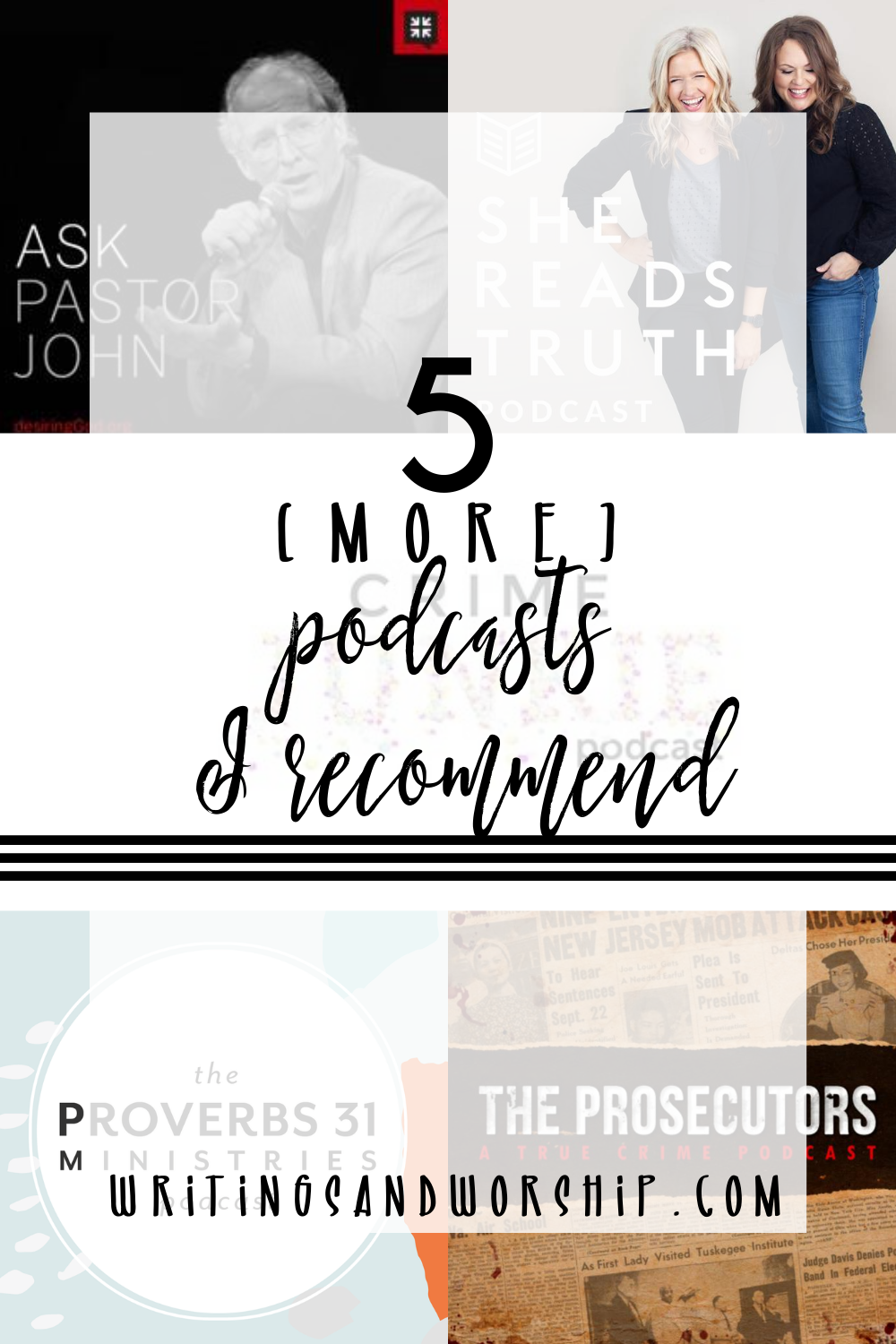 #1 Ask Pastor John
I asked a few months ago on my Facebook what apologetic or Christian life podcasts people enjoyed. Several people said "Ask Pastor John" so I subscribed and started listening to them. Oh my, so good. If you enjoy good theology and easy to listen to podcasts, this is a great one. I've always loved John Piper and this whole podcast is basically him answering questions from viewers. Both in studio and snippets from previous sermons that answer the question. One thing I love about these is the length. They have a lot that are at the 15-30-minute mark which are perfect for drives to work, getting ready, etc. They're easy to listen to so you pay attention and not zone out. John answers questions such as: how do I lead someone to Christ, how do I find freedom from worry, and what is grace? If you have a hard time spending time in God's word or meditating on it, I'd suggest listening to one of these and then rereading the scripture that he references.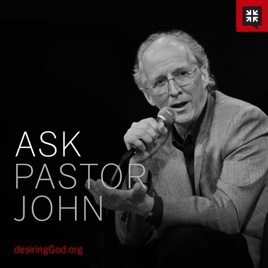 #2
The Proverbs 31 Ministries Podcast
If you enjoy theological or Christian life podcasts, Proverbs 31 Ministries Podcast is a great one for ladies. They're typically a little longer than the Ask Pastor John ones, so these are perfect for longer drives, baths, or just listening during your workday. On average, they're about 30-40 minutes long. Each one covers a theme and really engages you. One thing I love- they don't appear to be shy about the tough questions. They have a whole mini–series called Therapy and Theology, which I can't wait to finish. But while they tackle those big questions, they also have really practical themes such as "6 practical steps to forgive" and "how to pray for the armor of God." Easy to listen to and perfect for a wide age range of ladies. It really feels like you are just sitting down the with girls and having a chat.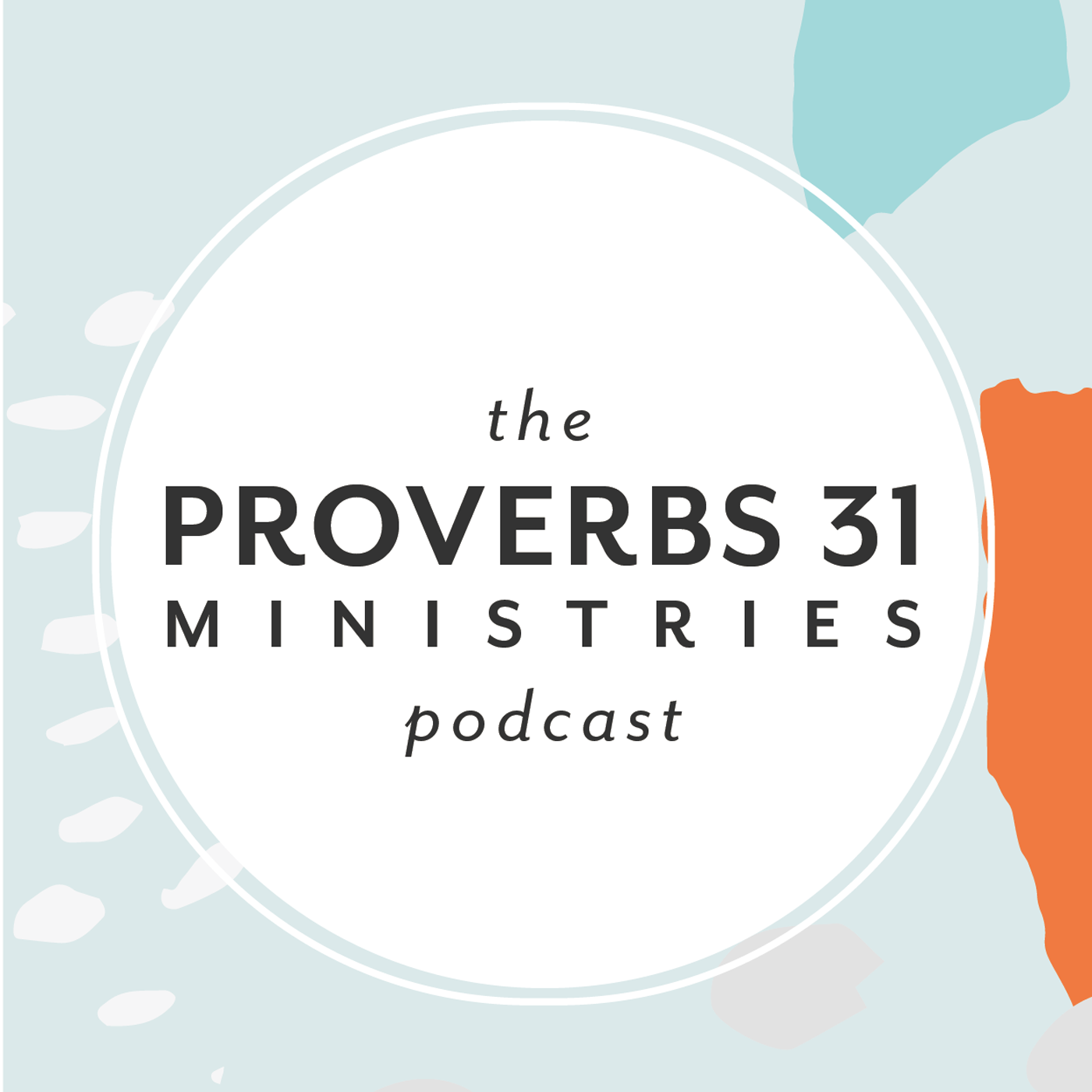 #3 The Prosecutors
First off, you guys know I am a big fan of podcasts, especially true crime podcasts. However, a lot of them are just like every other true crime podcast. However occasionally, you'll find a gem that is better than the rest. Culpable is one of those. But so far, the Prosecutors is also one of the gems. The #1 reason I say that is because of the sole fact that they are prosecutors. Their POV on these cases are interesting because they come from a law perspective. Most of the time true crime podcasts are done by private detectives, webslueths, etc. But Alice and Brett offer a rare look at these cases from a lawyer perspective. They know a lot about warrants, trials, witness statements and more. They have only been podcasting for a few months I believe, but I'm hooked. They've also covered some big cases already such as Elisa Lam, Missy Bevers, and Rey Rivera. If you enjoy learning different things and seeing things from different angles, listen to this!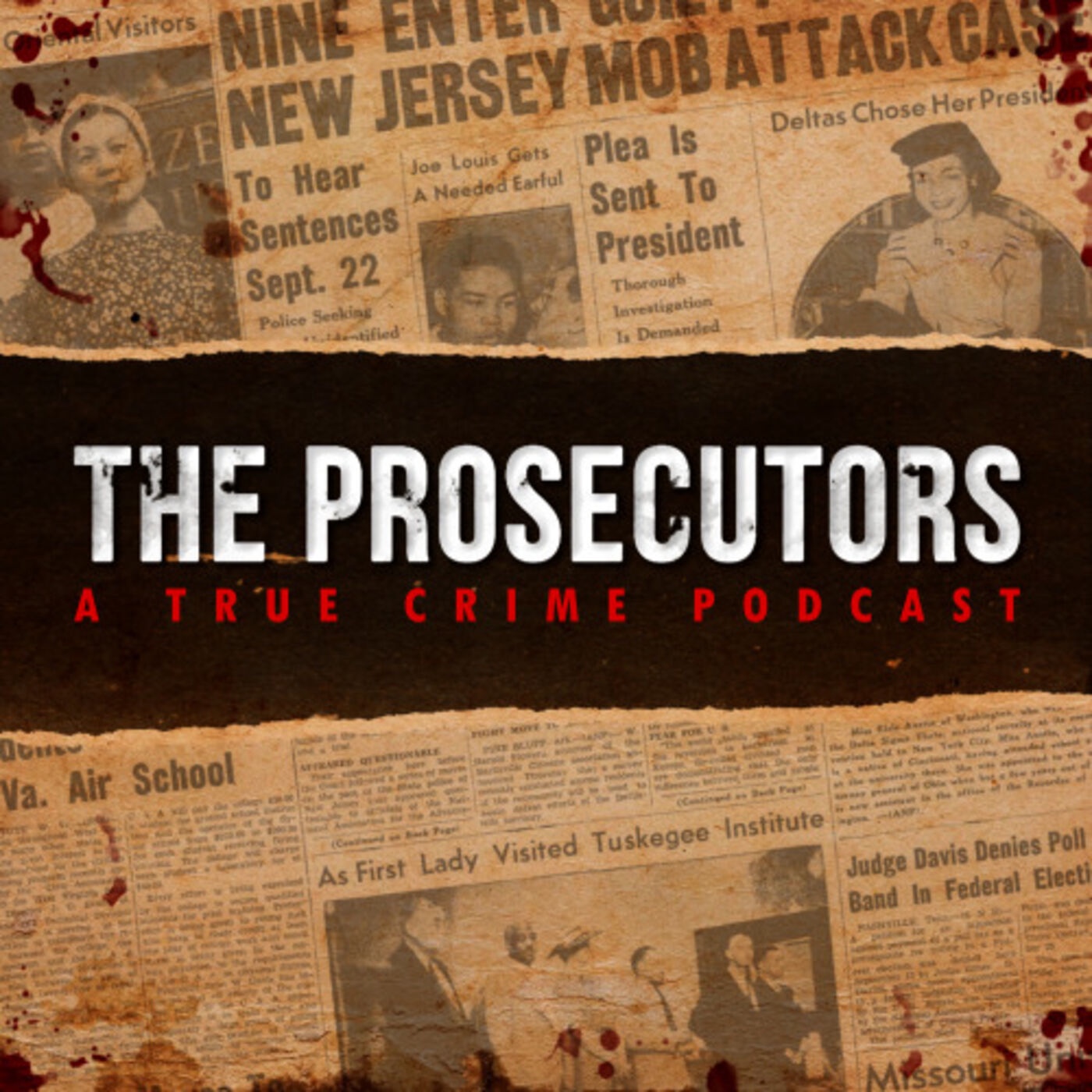 #4 She Reads Truth
I love She Reads Truth. I love the app, their mission, the podcast…all of it. I think a really awesome concept and group for getting women to engage in the Word. The podcast is similar to the Proverbs 31 podcast but the episodes are more focused on their Bible Studies. That's one little pet peeve, I don't want to have to buy the study to understand the podcast…but overall they still explain things enough to where you don't have to have read the study to enjoy the podcast. However if you are looking for a deeper dive into a study, then this podcast is truly perfect for you because you can hear more expanded thoughts on the Bible studies they're going through. They also have a lot of guest speakers so they have a good amount of variety in their episodes. The episodes are pretty long– just FYI. For faith and Christian life episodes I prefer ones a little shorter so I can make sure I'm paying attention for it. But She Reads Truth is just a great company I wanted to mention!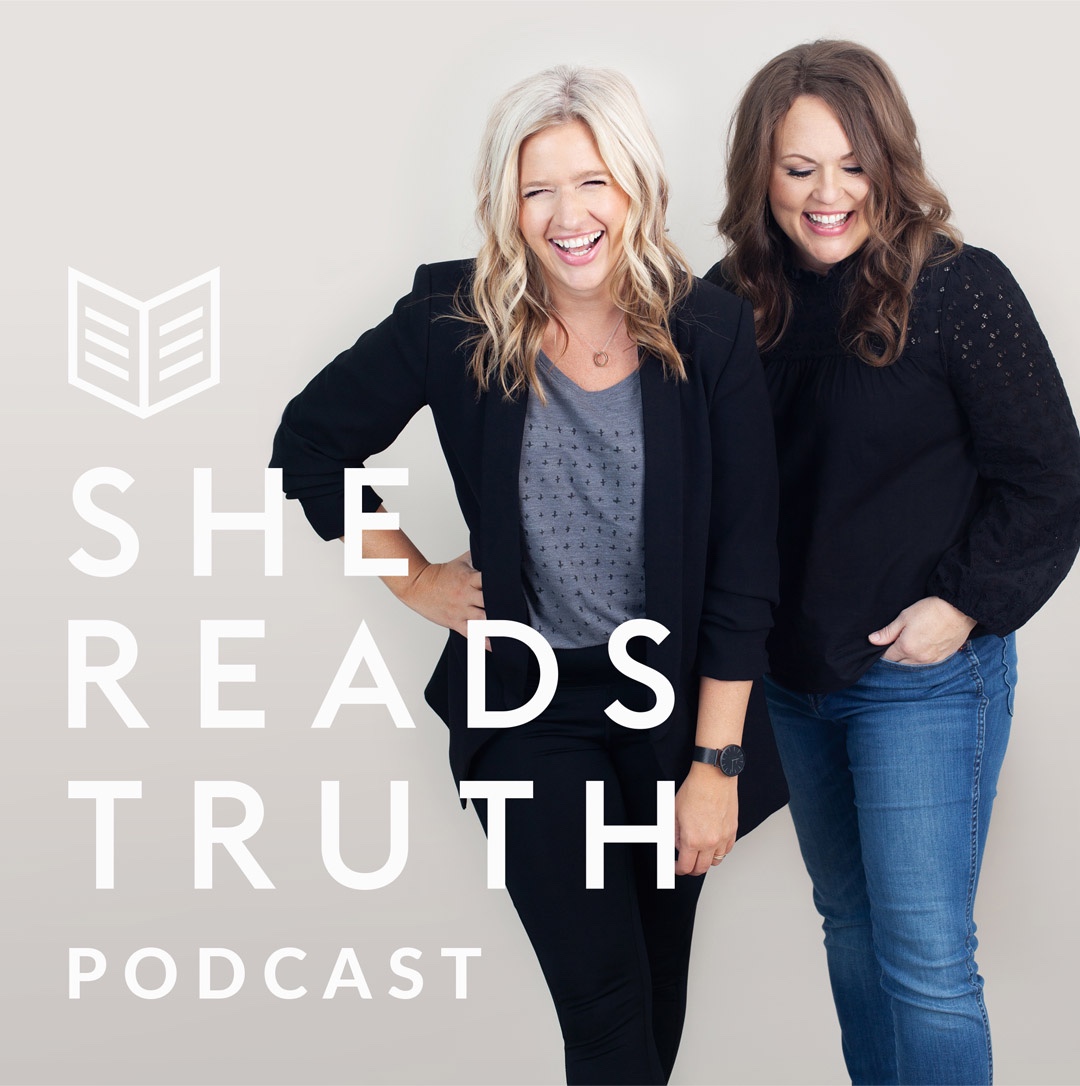 #5 Crime Junkie
Warning! I must give a disclaimer that this podcast can include an explicit word in some of their episodes. Its not in all of them but I still wanted to make you aware. Crime Junkie is a great podcast if you enjoy hearing about lesser known crimes. Ashley and Brit do their best to get cases out in the public so they could possibly be solved. They do a great job of remember that every story is a real person and deserves justice. They work closely with Crime Stoppers as well. The podcast is in narrative style and tell the story of these crimes. While they have covered well-known cases like Rey Rivera, Lacy Peterson, and Darlie Routierthey also do many cases that aren't known at all. They also have a few main topics they talk about murdered, infamous, mysterious death, missing, serial killer, and conspiracy. So, if you don't like conspiracy cases, it's easy to identify which ones you want to skip.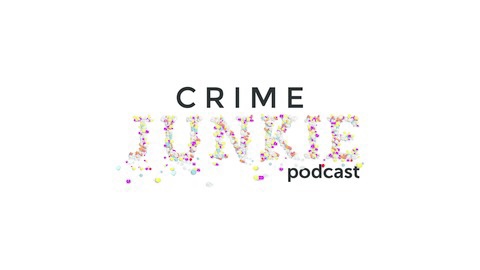 Are you a podcast listener? I've been falling in love with them more and more every day. I love the unique perspective they give and how many different kinds of podcasts there are! If you have some you love, let me know in the comments! I always need new things to listen to!
If you don't listen to podcasts, what kind of podcasts do you think you'd listen to? There's seriously a podcast for everyone!