Walking in the desert, your feet are constantly dirty. You walk miles a day following the one they call the Messiah. Your "shoes" do nothing to keep the dust and mud off your feet. Your heels and toes are covered in blisters and cracked skin.
You finally get to rest during the evening meal. Maybe you even sit by Jesus-you can tell there's something different about him…he's more solemn…determined. During the meal Jesus gets up and takes his outer garment off and ties a towel across his waist. And then he does something unthinkable, he bends down to your feet. He poured water into a basin and began to wash your feet. Your tired, dirty, disgusting feet. The dust and grime begins to disappear as Jesus continues to wash off your feet. The Lord, the Messiah…just did a servants job on his hands and knees as we washed away the dirt from your feet.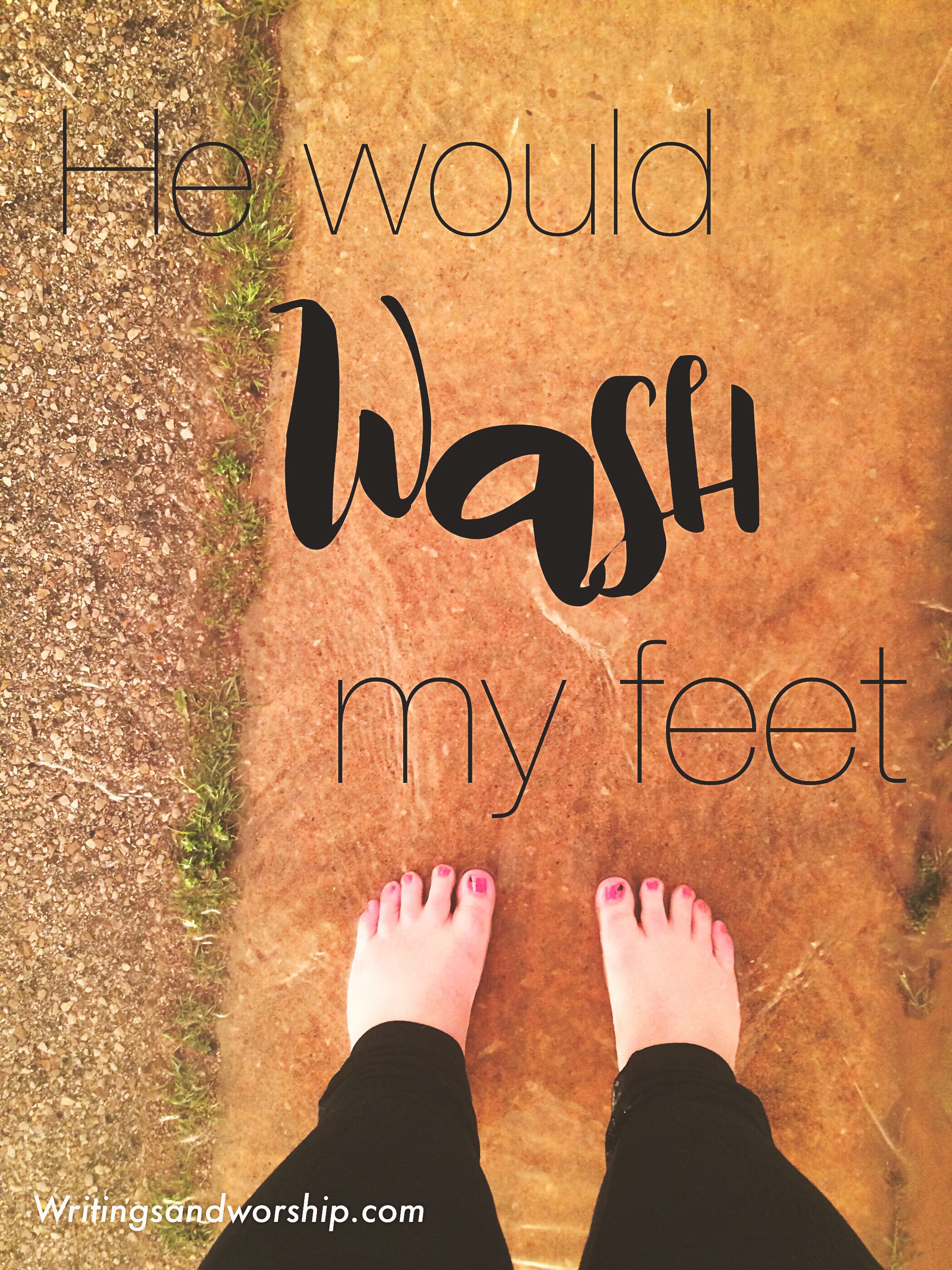 Can you imagine? Sometimes I try to think about what it would have been like to be a disciple of Jesus or a follower of his during the time before the crucifixion. The passage in John 13:1-17 where Jesus washes the feet of the disciples has always been a favorite of mine. It's a beautiful and selfless example of who Jesus was and still is.
I came to this realization lately, he would wash my feet. The God of all, creator of everything, and the God that knows how many hairs are on my head-would lower himself to wash my feet. This might seem obvious but if you really think about it, it's incredible and humbling.
Sometimes this world makes it easy to hate on yourself-to be unhappy with who you are. We don't feel like we're enough. We don't feel worthy. But God says differently. He loves me enough to wash my feet. He cares about me enough to wash my feet. I wouldn't deserve it but he would do it.
God deserves to be the one getting his feet washed. But not only did he send Jesus to die for our sins but he sent him to be an example for us. Jesus washed the feet of the disciples even though he is King of Kings because he was showing us how to act.
Are we willing to wash others feet? Would we be ready to get on the floor and serve people like Jesus did? I'm talking to myself here- I need to hear this just as much if not more than anyone else.
I want to be like Jesus and that means being ready to serve in anyway possible and loving the unloveable.
There are 2 things I pull from this scripture. 1. Jesus would wash my feet. He would love me enough to serve me. He finds value in me when no one else does. 2. I must be ready and willing to wash the feet of the people I come in contact with.
In a world that's full of hate and violence it's comforting to know both of those things. It's comforting to know that I am loved by a God that would humble himself and we selfless and it's encouraging to know that I need to be the same way.